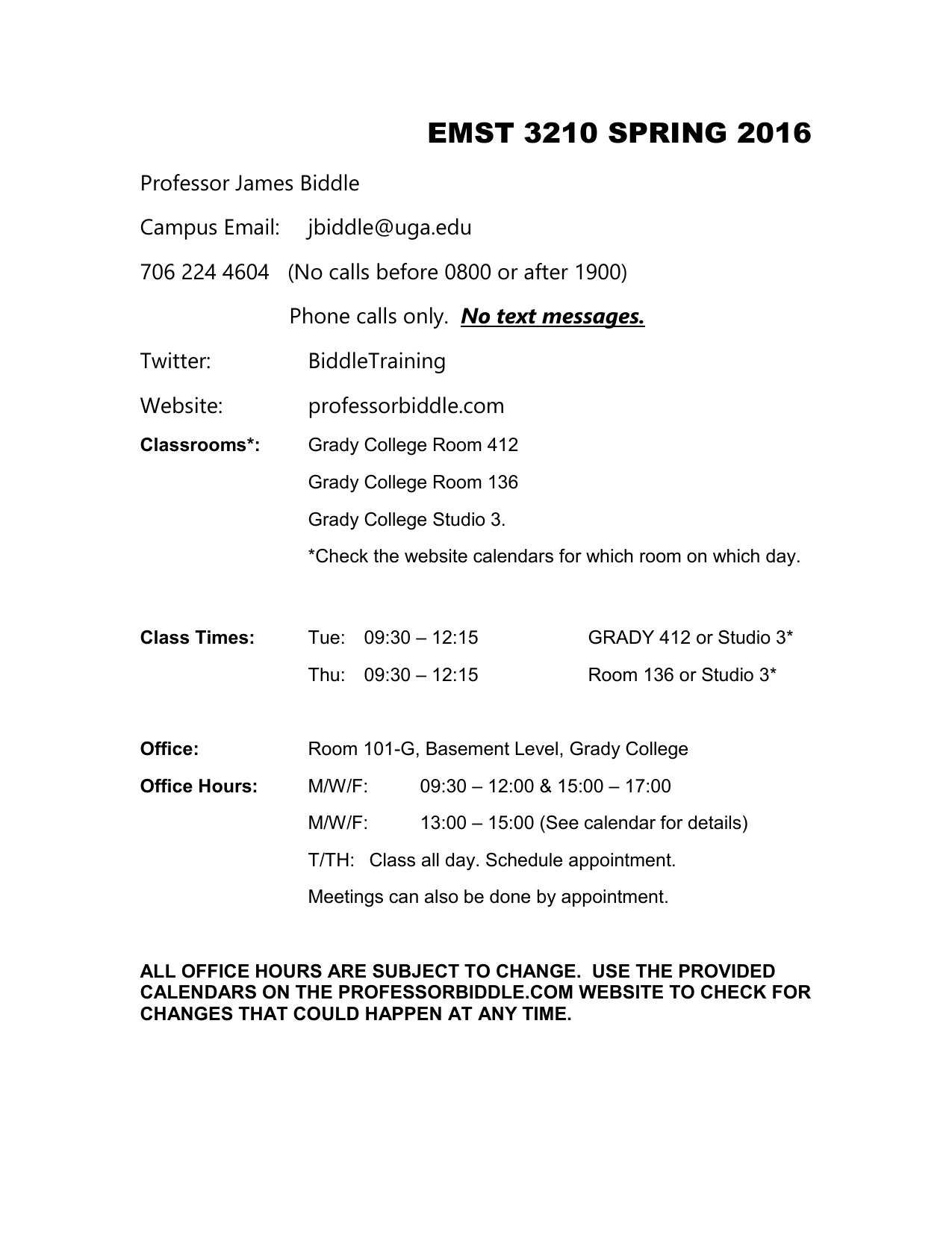 EMST 3210 SPRING 2016
Professor James Biddle
Campus Email:
jbiddle@uga.edu
706 224 4604 (No calls before 0800 or after 1900)
Phone calls only. No text messages.
Twitter:
BiddleTraining
Website:
professorbiddle.com
Classrooms*:
Grady College Room 412
Grady College Room 136
Grady College Studio 3.
*Check the website calendars for which room on which day.
Class Times:
Tue: 09:30 – 12:15
GRADY 412 or Studio 3*
Thu: 09:30 – 12:15
Room 136 or Studio 3*
Office:
Room 101-G, Basement Level, Grady College
Office Hours:
M/W/F:
09:30 – 12:00 & 15:00 – 17:00
M/W/F:
13:00 – 15:00 (See calendar for details)
T/TH: Class all day. Schedule appointment.
Meetings can also be done by appointment.
ALL OFFICE HOURS ARE SUBJECT TO CHANGE. USE THE PROVIDED
CALENDARS ON THE PROFESSORBIDDLE.COM WEBSITE TO CHECK FOR
CHANGES THAT COULD HAPPEN AT ANY TIME.
This syllabus is well into the double-digits of pages. The syllabus has been
designed to represent a deal memo (look it up). If you want to work in this
business, learn how to read/negotiate a deal memo…trust me. Learning
how to make coffee, use Excel and Word efficiently, fill out an I-9 properly,
and fill out a work order (and/or invoice) would be very beneficial skills as
well.
Class Resources: *Voice & Vision, Second Edition: A Creative Approach to
Narrative Film and DV Production by Mick Hubris-Cherrie
Paperback: 600 pages
Publisher: Focal Press; 2 edition (July 12, 2011)
ISBN-10: 02400811585
*The Complete Film Production Handbook by Eve Light
Honthaner
Paperback: 544 pages
Publisher: Focal Press
ISBN-10: 024081150X
*"The Checklist Manifesto" by Atul Gawande
Paperback: 240 pages
Publisher: Metropolitan Books
ISBN-10: 312430000
*The Creative Habit: Learn It and Use It for Life
by Twyla Tharp
Paperback: 260 pages
Publisher: Simon & Schuster
ISBN-10: 743235274
*"The Hollywood Assistants Handbook: 86 Rules for Aspiring
Power Players" by Nowak and Stamm
Paperback: 208 pages
Publisher: Workman Publishing Company
ISBN-10: 761147462
*These resources are required for this course. You must purchase
them. The professor will not provide free copies of these resources. All
books are available as "used books", however you must purchase the
correct edition as listed on this syllabus. The professor will not
compensate any of the reading assignments for older editions. These
books are worth keeping as references.
Kindle editions of these books are fine, so long as you read
them.
The following books are recommended, but not required:
"The Hollywood Standard: The Complete and Authoritative
Guide to Script Format and Style." by Christopher Riley
Paperback: 208 pages
Publisher: Michael Wiese Productions
ISBN-10: 1932907637
Goals:
EMST 3210 is designed to introduce new EMST
students to professional production practices,
professional production techniques, and visual
storytelling. Students must demonstrate a strong
knowledge of the following in order to pass EMST
3210 and move on to the higher-level classes:
- Proper and professional use of production equipment
including but not limited to basic 3-point-lighting,
basic sound recording, basic camera usage, and basic
editing
- Use of proper production terminology
- A demonstrated knowledge and practice of
preproduction, production, and postproduction
- A demonstrated knowledge and practice of production
team etiquette, protocol, and organization
- A demonstrated knowledge of proper production
paperwork including, but not limited to storyboards,
cast/crew calls, location releases, shot logs, batch lists,
shooting scripts, etc.
Grading:
100 – 93
A
72 – 70 C –
92 – 90
A–
69 – 68 D +
89 – 88
B+
67 – 63 D
87 – 83
B
62 – 60 D -
82 – 80
B–
59 – 0
79 – 78
C+
77 – 73
C
F
Standards for letter grades for individual assignments
A = Excellent: Work that earns an A grade is ready to be used on set, the production
office, for professional pitches, etc. The writing is clear, crisp, well-organized, and virtually
error free. The formatting is to professional standards, well-organized, and virtually error
free. The piece is turned in by the given deadline.
B = Good: This grade will be assigned to work that is near but not quite up to
professional standards. The writing is reasonably well organized and may contain some
grammar, spelling, or style errors, but relatively few. The work meets the criteria of the
assignment, but may lack the tactful crafting and formatting required for industry ready
work.
C = Acceptable: This grade will be assigned when there is a major issue with one of the
three areas of assessment listed above. The writing and formatting do not meet
profession standards, but a thorough edit could save the piece in revision.
D = Unacceptable: This grade is earned when the work fails to meet the standards for
two of the three areas of assessment listed above. The writing is choppy and confusing,
containing several grammar, spelling, and style mistakes. The formatting is not precise
Often the writing and formatting are not well targeted or the objectives are unclear.
F = Failing: As a student, you did not take the assignment seriously or did not put forth
the required effort to even approach passable writing. This grade may also be assigned if
you fail to meet a given deadline. LATE WORK WILL NOT BE ACCEPTED IN THIS COURSE
AND WILL RECEIVE A GRADE OF ZERO. PR practitioners must learn the importance of
meeting deadlines; failing to do so consistently in "real world" won't earn you a poor
grade, but rather a pink slip.
If you feel an error was made in the grading process, you have three business days
to bring it to my attention. Also, if you are confused by any of the comments made
on your paper, please arrange to meet with me and I will be happy to clarify. Be
aware that a meeting about grades is NOT a license to negotiate for a higher
grade, but rather a forum for us to discuss what you have done well, what you have
done poorly, and how you can improve.
Attendance: I officially hate that word, so if you want to truly be in this class,
then come to class* and be on time. Treat this class* like the
career you eventually want to have: you want to be there, and
you want to be on time. If you do not come to class*, or have an
acceptable reason for not coming to class* or not coming to
class* on time, then you will be penalized, just like at a
job/career. Penalties are:
1 unexcused absence
Loss of one complete letter grade for the class
(i.e. Your "A" drops to a "B")
2 unexcused absences
Loss of two complete letter grades for the class
(i.e. Your "A" drops to a "C")
3 unexcused absences
Loss of three complete letter grades for the
class (i.e. Your "A" drops to a "D")
4 unexcused absences
Removal from the class with a WF.
Class/lab, shooting, etc. Lecture ends at the time I dismiss you, not before. Do
NOT start packing up your things while I'm still addressing the class/crew. It is
distracting, unprofessional, and rude.
Lateness (and/or leaving early with permission) has the value of a letter grade
reduction.
*"Class" includes organized, outside of the classroom production and all labs
and post-production work.
Please note that I do keep track of your attendance through two applications, but
I am not obligated to tell you how many days you have missed, been late, left
early, etc. You are responsible for keeping track of yourself.
Professionals are on-time and ready to go (i.e. prepared). If you cannot do
this, you will not pass this class and you will not keep a job in this business.
Excused absences:
Illness with doctor's note only. Note must be on
letterhead with a number to contact the attending
doctor. Emails or phone calls will not be accepted.
Family emergency. A note (not call or email) from a
family member must accompany your return to class.
DUE TO PROBLEMS IN THE PAST, NO EXCEPTIONS
WILL BE MADE ON THIS MATTER.
Non-excused absences:
Family vacations.
Friend/Family Marriages**
Extra-curricular events.**
Job-related events.**
Illness emails ("I think I have food poisoning"), calls, texts
that do not have a proper note from a doctor.
"I woke up late, it will never happen again" emails, calls,
texts, etc.
Atlanta and/or Athens traffic. A person who does not
know that traffic in both areas is ridiculous is someone
who should not be on a production crew.
Basically, if you're not going to make it to class for any of these reasons, just take the penalty and
move on.
**If these absolutely need to be discussed, bring them to Professor Biddle as soon as possible for
discussion. Discussion means in person, not over email, text, or phone. These matters will only be
discussed (and approved!) in person during office hours or by appointment
Pet Peeves about attendance and lateness:
1.) If you are going to be late to class and you want to call me and tell me, you may do so.
This will not change the penalty, but is the professional thing to do.
2.) Do not draw attention to yourself if you walk in late to class or lab. If you come in late to
lecture, find the first open seat in the front row (reserved for the late) and start taking
notes. If you come late to lab, walk in and listen to Professor Biddle's lecturing. When he
finishes, then you may store your gear and begin working.
3.) If you do need to discuss being late, an absence, etc. please set-up a meeting with
Professor Biddle. Do not try to discuss the issue before, after, or during class.
Grade Distribution:
Category
Total Pts.
Percentage
Quizzes*
500
10%
Midterm
1000
20%
Final Project:
3500
70%
TOTAL
5000 100%
A complete breakdown of the points for the final project can be
found on the last pages of the syllabus.
*Quizzes will be both written and technical. This means that quizzes will
occur either during the lecture or during the lab.
Required paperwork (with formatting) will be posted on the Professor
Biddle's website. Every Tuesday, students must bring a stuffed animal to
class and show it to Professor Biddle.
Where Biddle is, what Biddle is doing, assignment parameters,
timetables for assignments, test dates, project deadlines, etc. will
be posted on Biddle's website, professorbiddle.com. This website
can be accessed by a computer, tablet, or smartphone. Biddle's
calendar is YOUR calendar. Get used to this in this business.
Please note that you must consult three (3) calendars for this
course: Professor Biddle's Calendar, the 3210 Class Calendar, and
the Room 136 Calendar. All calendars are available on the
website professorbiddle.com
All grading is based on results, not effort or "extra effort". No exceptions!
No one ever paid to see an excuse.
Make-up Policy:
Make-ups are allowed in cases of illness or
emergency (i.e. If you miss a class, or are late to a
class with a quiz, you missed the quiz. If you show
up late to a class shoot, the producer can fire you or
demote you, which will affect your grade).
In cases of emergency or illness, you must provide
the same note as required for any excused absence.
In the cases of tests or midterms (not quizzes), you
have 48 hours to reschedule a make-up with
Professor Biddle. After 48 hours, Professor Biddle is
not obligated to provide you with a make-up of any
type.
Special Needs:
If you are student with a documented disability and
anticipate needing accommodations in this course,
please make arrangements with Professor Biddle
within the first week of class. Please request that the
Counselor for Students with Disabilities send a letter
to me verifying your needs.
A Culture of Honesty: All Academic work must meet the standards
contained in "A Culture of Honesty." Each student is
responsible to inform themselves about those
standards before performing any academic work.
The Syllabus:
The course syllabus is a general plan for the course;
schedule deviations announced to the class by the
instructor may be necessary. There are no
deviations or compromises concerning policies and
procedures on grading, attendance, classroom and
location etiquette, assignment rules, etc.
Service Dogs:
If you will be training a service dog at UGA and you
intend to bring the dog to the class, you will need to
discuss this with Professor Biddle. Service dogs will
not be allowed to any lab days in Studio 3 or Room
136.
Service dogs are not to be "the class mascot" and
draw attention from class. If this happens, you and
your service dog will be removed from class.
Outside Work:
Absolutely no work outside work may be done
using the Grady College equipment for this class.
This rule includes all field production items and
postproduction areas. Anyone caught doing this
will be removed from the class and will receive a
"WF".
Your Own Camera:
Due to many semesters of very bad issues with this
request, no one in this course may use their own
camera. Do not ask. Permission will not be
granted. Too many problems have been caused by
this request. I have proof…too much proof.
You must use the camera model assigned to this
class. No exceptions. Blame past students for this
rule.
Phones/Laptops:
Laptops and Tablet Devices are for taking notes
only. Anyone caught using a laptop for Facebook,
instant messaging, watching movies, doing work for
another class, etc. will result in a grade level drop
for the violator and all laptops being banned. No
exceptions.
Cellphones are to be used for note-taking or
camera work only. Cellphones are not be used for
social media, texting, call, or anything else I
determine (as in "I" determine, not someone or
something else) as not class/production work.
If you intend to use your phone for notes, let
Biddle know in advance. If I catch you, I will call
you out and you will need to show Biddle your
notes on your phone. You take the risk, you get
the result.
Biddle's Sovereign Classroom:
My classroom is sovereign. Please, do not bring
your assignments for other courses, or drama about
other courses into the lectures, labs, etc. Same goes
for being on set. When you are in this class, you will
focus on this class. If you choose not to, you will be
asked to leave and you will take a grade deduction.
Not-Biddle's Sovereign Classroom:
Do not take this course into the classroom of other
professors. I have informed all of them, that if you
are caught disrespecting a professor by doing work,
studying, discussing, etc. work for my course while
they are trying to teach, I will call you out for this.
Labs, Classroom, and Equipment (which counts for your group and
individual grades):
Clean up your trash! If you bring it in, take it
you.
with
Organize and "grip" all equipment (cables, C-Stands,
lights, etc.)
Check out and return all equipment in an
organized/professional manner (i.e. learn to love
your idiot list for check out and return).
Follow all safety procedures.
No one leaves set, Studio 3, Lab 136, Room 412, etc.
until Professor Biddle (or the set AD) clears you to
leave.
You must have a completed/printed idiot list for the
FESR when you check-out and return equipment.
No list for check-out or return will result in no
equipment and a long-term penalty defined by
Biddle or the FESR supervisor.
Biddle requires a minimum of two (2) people to
check out and return equipment. No exceptions.
Post-production will progress in stages. Groups are
not allowed to progress through the 7 stages
without approval from the Executive Producer.
Checklists expected.
Heavy penalties will be given for violating these
rules.
The "Forbidden":
This is just one class you will take within the EMST
program, so you will have plenty of time to make
your student "masterpiece". For this class, a strong
knowledge and application of visual storytelling
must be seen and critiqued by the professor and the
audience. Because people can smell a student film
from 100 paces, the following topics/items cannot
be used in works for 3210:
- No weaponry of ANY type.
- No nudity or sex scenes.
- No seated restaurant, classroom, etc. conversation
scenes.
- No projects that are just a conversation.
- No "poop-joke", bathroom, or "Ex-lax"-themed scripts.
- Hand-to-hand fight scenes (no weaponry) are
permitted but only with qualified martial arts
practitioners, a fight/stunt coordinator and/or
choreographer, and a qualified nurse/EMT present.
- "Language" is not forbidden, but must be edited to fit
the story. Foul language rants for the sake of "just
being funny" will be cut from all projects. No
exceptions.
- No animals (unless a licensed animal trainer is hired).
Yes, this includes ALL animals: mammals, amphibians,
reptiles, insects, crustaceans, service dogs, etc. Home
aquarium fish are exempt.
- No children (unless listed as a working actor as has a
parent on set at all times).
- No Internet, social media, etc. related topics.
- No visual alcohol or drugs.
- No scenes in bars unless all crew and cast are of legal
age and on file with the producer as such.
- No "we'll just have a party and film it" projects. This is
an "F" for the course. No exceptions.
- No, "we'll just go away for the weekend/on a road trip
and film it" projects. This is an "F" for the course. No
exceptions.
- No montages to a popular song, especially a bathroom
montage of someone getting ready.
- No "buzzing alarm clock" wake-up scenes.
- No, "Our friends our so funny, they're gonna be in our
movie!" You will CAST your movies like professionals
do and design/shoot/edit like professionals do.
- No "death" topics. Dead girlfriends, boyfriends,
suicides, etc.
- Nothing where we are to "learn a moral lesson" or
"think higher thoughts".
- Absolutely no rape, sexual assault, gender identity,
race, etc. jokes of any type!
- Nothing about/associated with The University of
Georgia…not even logos on shirts, posters, etc.
- Nothing that is an attempt to do work for someone, on
organization, etc. outside of this class (i.e. a job, an
internship, your family, CMF, etc.). Projects are for this
class, only. This will be considered academic
dishonesty and all team members will receive an "F" for
the class, and will need to meet with the department
chair on this matter. No exceptions.
- No voice over or narration.
- Unless you are actually married, nothing about
marriage or married characters.
- Nothing that just "ends".
- No "twist endings".
- No, "We got bad sound, so we'll just make a music
video". No music videos in this class at all.
- Nothing about high school. Nothing!
- Nothing about a broken printer, broken computer, etc.
causing problems.
- No "late for class" movies.
- No postproduction done outside of Room 136. No
exceptions, unless written approval is given by
Professor Biddle.
- No use of anyone outside of this class as a major part
of the production (i.e. Producer, Director, DP, Editor,
Sound, Boom Operator, etc.). This will be considered
academic dishonesty and all team members will receive
an "F" for the class. No exceptions.
- No "doing the paperwork after-the-fact". All
productions will be properly planned and executed.
This is an "F" for the course. No exceptions.
- No "corrective" work. Applications such as Photoshop,
After Effects, etc. were developed as creative
applications, not "push a button and correct all the
stuff we shouldn't have screwed-up" applications.
Using these applications in this way is for hacks. Use of
such applications without planning and consulting with
Professor Biddle will result in an overall grade of "F".
No exceptions.
- No posting footage to Youtube, Vimeo, etc. before
your final work is complete.
- No missing deadlines. You miss a deadline, you get an
"F": No negotiating.
- Professional decorum is expected on any/all sets and
locations. This means how you dress, how you act,
how you clean-up, etc. You are guests. Failure to act
professional will result in an "F" for the group.
- All scripts will be anonymous. All those who wish to
write scripts for this course will sign a NDA (NonDisclosure Agreement) to not tell anyone (aside from
Professor Biddle) you are the writer of the script. You
will turn-in scripts for producer read days and pitch
days to Professor Biddle. You may not work with any
group that is producing your script. You may not
consult on how the story should be done. You may
not rewrite the script once the script is purchased. You
may not discuss anything about your script, even while
writing it. If anyone finds out you are the writer, you
will fail the course.
- Budgets. All production "companies" are now under a
budget. The Producer, Line Producer, Production
Manager, and Post Production Manager must maintain
the budget. The budget includes script purchases,
hiring, hours people work, etc. Professor Biddle will
establish the budget each group must work with. All
groups must come in at budget. Over-budget, too far
under budget, or "cheating" on the budget will result in
penalties.
- Below-the-line crew members will need to submit
invoices for work. No exceptions.
…and finally…
If you wrote, co-wrote, re-wrote, consulted-on, etc. the
script used for your final project, then you cannot be the
director, producer, editor, etc. for any reason for that final project.
I will grant no exceptions on this matter for any reason.
Concerning the phrases, " I am so busy" and "I'm TypeA"…
You chose to be as busy as you are. If you are "so busy" with other
things that I cannot control, it will not be used as an excuse for not
giving this course 100%. If you expect me to allow you slack for
giving 100% to everything else you are busy doing, but not to giving
this course 100%, then you should drop this course. I expect 100%. If
you use being "so busy" as an excuse I must endure, then take the
grade you earn and don't complain…the other situations you are "so
busy" with is your focus instead of this course.
As for being "Type-A"…I don't care. This is a childish excuse to claim
all the glory for the work, show no trust in the team you are working
with, and "be my friend". I will not accept this excuse, and your entire
group will pay the price for you using "I'm Type-A" as your modus
operandi.
"It's not fair!"
This is not a defense for anything.
I will not listen to this excuse for any reason.
No one at this college, no
one in this business will tolerate this excuse.
"I was kinda hoping…"
Never say this, especially to me. Be definitive
and prepared. Deal with it when you don't.
Final Project Crew Rules
All crew members must have a job during the three process areas of
your final work: Pre-Production, Production, and Post-Production.
The rotation sheet that you will need to fill out will be on the
professorbiddle.com website and Professor Biddle will review this sheet
several times, and all producers will need to have this completed sheet
on file in the production book.
Anyone avoiding these requirements, and anyone assisting
others in avoiding these requirements will receive an "F" and
will be required to repeat this course. No exceptions.
How to Fail EMST 3210
"Copywritten lyrics so they can't be stolen
If they are SNAP!!!"
- The Power by Snap!
There will be no discussion on this matter because it is the law:
If you use copywritten music that you have not received written permission
to use by the entity (entities) that hold the licensing and performance
rights, you are breaking the law and your entire group will receive an "F"
for the course. "Fair Use" does not exist for anything other than news.
There is no mythical, "You can use up to - insert bogus amount of time
here - in your movie". If you even use one note, one beat, one word, etc.
from a piece of copywritten music, you are breaking the law and you will
fail this course. Buying music from ITunes, Amazon MP3, etc. does not
grant you performance rights of any type.
The same policy goes for any images taken from the Internet. No logos,
images, Youtube videos, scenes ripped from DVD's, etc.
This also goes for posters, DVD cases, songs playing on the radio/on an
Ipod, ringtones, etc. that are in your narrative. Because you have control of
what is used in your narrative, you are breaking the law by not getting the
rights to use these
Works for this course are to be original works, not theft from other
sources.
If you can't find a musician in Athens, GA to do original music for your
movie, you are just lazy.
Concerning The Hope Scholarship, GPA, etc.
The professor of this course will not engage in discussions (meetings,
telephone conversations, emails, texts, Tweets, etc.) concerning the status
of the student's overall or individual school GPA, or scholarships such as
Hope or others. The professor for this course is responsible fro grading
the student on work done in the course, not grading the student to
maintain a specific overall or individual school GPA or scholarships such as
the Hope or others. Only the student is responsible for his/her overall or
individual GPA and scholarships such as Hope or others. Any attempts to
engage the professor of this course on the topic of the student's GPA or
scholarships such as Hope or others, will result in the professor of this
course not granting referrals, references, or resources for employment,
graduate school, The Cannes Program, etc.; as well as denial/removal from
events such as the NYC Trip, The NAB Trip, Steadicam Workshops, editing
workshops, and all other events sponsored by the professor of this course.
Point Breakdown for Final Project
All paperwork for the final projects must be done correctly, and completed before you shoot. Point values are "all or
nothing". Paperwork must be professional, organized, easy for the executive producer to read, and on-time.
Production Book:
Paperwork
Pt. Value
Penalty*
Budget(s)
200
-200/Fired
Invoices**
100
See below
Crew Contact List
10
-10pts
Crew Agreement
10
-10pts
Cast Contact List
10
-10pts
Cast Agreements
10
-10pts
Headshots/Casting
10
-10pts
Script Breakdown
50
-50/Fired
Locations Scouts
25
-25/Fired
Location Releases
25
-25/Fired
Shooting Schedule(s)***
25
-25/Fired
Shooting Script***
25
-25/Fired
Shot List***
25
-25/Fired
Storyboards
25
-25/Fired
Overhead Storyboards
25
-25/Fired
Idiot Lists (all depts.)
25
-25/Fired
Camera Reports**
25
See Below
Revised Scripts***
25
-25
TOTAL FOR BOOK:
650 points
*Penalty means this is the amount lost/position termination for unprofessional/late paperwork.
** The items will be assessed for penalties for the book and for the individuals responsible. Example: if two people fail to submit
four invoices, this will be a penalty of $400.
*** Updates/Final Versions must be color-coded on colored paper with a legend!
Final Work:
Event
Pt. Value
Penalty****
Rule of Thirds Usage
25
-25 per
Proper DOF
25
-25 per
Subject(s) Lit Properly
25
-25 per
Controlled FG/MG/BG
25
-25 per
Manual Focus
25
-25 per
Manual Exposure
25
-25 per
Controlled Shutter Speed 25
-25 per
Proper Shooting Ratio
25
-25 per
Proper Slating
25
-25 per
Use of Zebra
25
-25 per
Controlled Aspect Ratio
25
-25 per
Controlled FPS
25
-25 per
No Camera Burn-In's
25
-25 per
Improper Workflow
100
-100 per
Failure to use MFS
100
-100
Dailies
200
-200
Assemblies
200
-200
Rough Cuts
200
-200
Picture Lock
300
-300
Audio/EFX/CC
300
-300
Titles
300
-300
Closed Captions
200
-200
Proper Exports
400
-400
TOTAL FOR PRODUCTION:
2625 points
****Penalty means failure to accomplish these basic techniques of visual storytelling. "Per" means points will be
taken off "per shoot used". Example: 3 shots have auto focus = 75 points off.
Crew Position:
Event
Pt. Value
Penalty
Invoices
125
-125 per
Book/Project Results
50
-50
Group Evaluation
50
-50
TOTAL FOR CREW POSITION:
225points
SAFETY PROCEDURES
On-set (and in-lab) safety procedures are non-negotiable. You need to
treat all labs, locations, sets, etc. with respect. This is, in our business, a
"no-brainer". Those who do not show the proper respect and professional
procedure will be removed from this class. No exceptions. Here are the
basics:
- No open-toed shoes. Equipment is heavy, and often hot, sharp,
dirty, etc. A smashed toe, lost toe, cut foot, etc. holds up
production, causes insurance problems, and will cost you a job for
being unsafe…and yes….stupid! Do not show up to lab without
close-toed shoes (please note that Professor Biddle wears steel-toed,
safety-rated Doc Martins daily!). You will be removed from lab (or
your set/location) for failure to wear close-toed shoes. Every
violation after the first one will result in from lab (or your
set/location) and a letter grade will be dropped.
Clean up your trash! No matter what set or location you are on,
you are a guest, and you will act as such. Just because you are
making a movie doesn't mean you act like you run the world. You
will be courteous and respectful to everyone! You will inspection
before you bring a crew to the set/location/lab. You will properly
secure the area before, during and after shooting. You will clean
up all trash and remove it from the area, you will reset all items you
moved, you will clean up any and all spills/floor marks/etc., you will
report and accept all the consequences for all damage caused (which is
why you should inspect the area for damage before you shoot there).
Trash removal from Studio 3, Room 136,
sets, etc. will be
GRADED!!!!
Fire and Emergency Safety
Everyone in this course will be trained and tested on basic fire
and emergency safety. Sets can be very dangerous, and those
who know how to handle these situations are far more valuable
than those who do not. You will be tested and graded on
this!
The Safety Waiver
All students in productions courses must sign a waiver to not
indemnify the school for any injury, damage, etc. caused during
production of student projects.
Lab Fee
All students in EMST 3210 must pay a lab fee for general
equipment usage and repairs (general ware and tear). This fee does
not include damages caused by students during production. This fee
also includes the 1Tb GTech Drive to be used in all Grady College
production courses (3210, 4250, 5250, etc.)
Yes, your lab fee paid for the drive, so you own it. You do not
need to return it.
BE PROFESSIONAL AND RESPONSIBLE, NOT SCARED!!!
FESR and Room 136 Equipment Policies
Field Equipment Supply Room (FESR) check out/in guidelines
- The FESR is located in Room 119.
- FESR hours of operation are M-F from 0900 - 1200 and M-F from 1300 - 1700.
- The FESR is closed M-F 1200 - 1300.
- The FESR is not open on weekends.
1)
Instructor is responsible for teaching the student the proper handling and application of FESR
equipment for appropriate course assignments.
2)
Instructor provides the student with the standard "Statement of Responsibility" (SOR) form. SOR
form is signed and dated by both instructor and student.
3)
SOR forms are submitted to FESR personnel for registration/documentation purposes. This
process must be completed each semester the student is registered for a course requiring
the use of FESR and Room 136 equipment. The registration process does not cover an entire
academic year.
Check out policies:
4)
Student must present current UGA identification card to check out/in field equipment. Instructor
determines duration (overnight, weekend, etc.) of the check out period.
5)
Student who checks out equipment becomes the student of record and is responsible for using
the gear properly and returning it on time. The student of record cannot depend upon another
student to return the equipment.
6)
After student of record receives equipment, he/she needs to immediately inspect it to make
sure:
a. it is the proper equipment for their course and assignment
b. the equipment package, or kit, is complete (all parts accounted for)
c. the equipment is in proper working condition for the student's intended use.
7)
Student of record must notify FESR personnel before leaving the check out/in area if there is
anything missing or if there is a problem with the equipment.
Check in policies:
8)
The student of record must inform FESR personnel about any problems experienced with the
equipment and provide access for a visual inspection/inventory.*
9)
If there are any missing/broken/defective components that were not noted during the check in
process, FESR personnel will fill out a payment form (with available pricing information) and give
it to the student of record for restitution payment to the Grady College Business Office. In
addition:
a. FESR personnel are to immediately suspend the student of record's access to
equipment and document the reason on the student's account
b. As soon as possible, the equipment will be physically tagged and flagged from the
available check out inventory.
c. When the student of record provides a receipt for payment, FESR personnel will
document the receipt number on the account and lift the suspension.
* Sometimes it may be necessary for the student of record to set up and demonstrate the working
condition of the equipment (such as cameras/tripods) upon check out/in.
All these rules apply to equipment checked out from Room 136 by Professor Biddle.
All students in classes taught by Professor Biddle must use a proper "Check Out/Idiot List" when
checking out equipment from the FESR or Room 136. Failure to use a proper "Check Out/Idiot List"
will result in FESR and class grade penalties.
Changes to the Spring 2016 Course
Every semester, I make changes to the course based on the efforts of
the previous class. The Fall 2014, Spring 2015, and Fall 2015 classes
set new standards for the course based on professional methods I
worked into the course. Thanks to the efforts of those classes, I will
not add the following to the Spring 2016 course:
-
Casting. Once an actor is cast for a 3210 work, that actor
cannot be in another 3210 project. No exceptions. If I see
the same actor/actress in EVERY 3210 project one more
time, I will do something drastic.
-
Weekly meetings for Directors, DP's, Editors, etc. are
mandatory once groups are formed. Meetings will NOT be
virtual and a schedule of what is to be discussed will be
made and sent to the producer and Professor Biddle at least
24 hours before the meeting.
-
After groups have formed, each group must meet with
Professor Biddle weekly in his office. No exceptions.
-
The final viewing is mandatory.
Professional Pet Peeves you should know about:
1.
I do not like it when people sit in the hallway floors, block hallway doors, block office
doors, stand in doorways, etc. especially on the Grady College first floor. Not only is
this a fire hazard, this is very rude to the staff of people working here. Use the
seating areas in Grady, or go over to the MLC where you can be loud.
2.
I do not like it when people try to "con", "play", "work", etc. Mr. Dixon, Miss Cheryl, etc. I
do not like this behavior, and I will not accept it if it is being done for my classes.
And, Kevin…get over it, will ya? I had an apartment when I graduated from college
which I paid for myself thanks to a job and I left college behind. Move on, man.
Yeesh.
3.
If you come to me with a question before or after class and I say that you should come to
my office hours so we can address the question, do not press me for an answer.
Come to my office hours. Do not ask me when my office hours are, use the calendar
and schedule an appointment with me via email or come to my open office hours. If
you press me to give you an answer, I will give you the answer you do not want to
hear and that will be my non-negotiable final answer.
4.
I have a calendar. Use it. I will not answer questions that my calendar, syllabus, website,
etc. will answer if you simply make the effort. If you ask me a question that you can
answer with some effort, I will not answer your question.
5.
Emails concerning class need to be professional. I will not read emails concerning class
that are not professional: these emails I will delete. Please note the following
examples:
Not Professional (actual email sent to me the second day of class):
Yo, Bids!
I know you said traffic was not an excuse, but can you cut me some slack on this?
Thanks.
Professional (actual email sent to me):
Professor Biddle,
Thank you for taking the time to read my email. I am trying to understand the difference
between the shooting script and the shot log. Is the shot log strictly for organizing the shoot
while the shooting script is for shot composition? I noticed the log also has some composition
elements, so would these elements only be critical to organizing the shoot?
Thank you. I can come to your open office hours on Wednesday if that would be a good time
to discuss this.
The first email I deleted and never answered. The second email is concise, raises a
good question, and presents me with an option for a meeting. That is professional.
6.
You are welcome to come to my office and "hang out" to ask questions, get advice, etc.
However, many people come to see me, so I might ask you to leave if others come to
see me. I might also ask you to wait if I am speaking with someone else. Please do
not hang out in the hallway and make noise waiting to meet with me. The professors
in the hallway are working, having meetings, etc. If you are loud, I will ask you to wait
in the seating area.
7.
Again, Please do not hang out in the hallway and make noise waiting to meet with me.
The professors in the hallway are working, having meetings, etc. If you are loud, I will
ask you to wait in the seating area.
8.
I am in charge. Everything I say is important. In this business, please know that people in
charge have egos…and deserve them. I am human. I have an ego. If you want to
essentially "blow-off" what I say, that is your choice…but don't expect me to give you
advice, help, etc. in the future.
Items you should consider purchasing to be in EMS production courses, production
internships, and professional set work:
1.) Production Assistant/Camera Assistant Pouch
I use Cinebags and Setware
2.) Gloves. I am fed-up with people asking if they need to have gloves. The answer will
now always be yes. Production equipment is dirty and dangerous. Get some gloves.
I prefer Setware.
3.) Walkie Headset. Having a headset will most-likely get you a walkie…which means you
have power…and responsibility. I prefer Code red.
4.) Flashlight. Any solid, small, bright LED light will do. Target and Home Depot have tons
of these.
5.) Multi-tool. Does not have to be a Leatherman, but it is my preferred brand.
6.) Band-aids.
7.) Cigarette Lighter
8.) Pens which include: Black Sharpie, Red Sharpie, Dry Erase Black Pen, Black Ball Point
Pen, Black Gel Ink Pen.
9.) Breath Mints, but nothing that rattles around in a tin. I get the rolls of Lifesavers.
10.) Gum. Mint. No stupid flavors.
11.) American Spirit Cigarettes. I do not smoke, but someone who has power and
connections is always looking to bum a cig.
12.) Spare socks/hose. Trust me.
13.) Wet Naps. Some prefer the liquid sanitizer. I prefer wet naps.