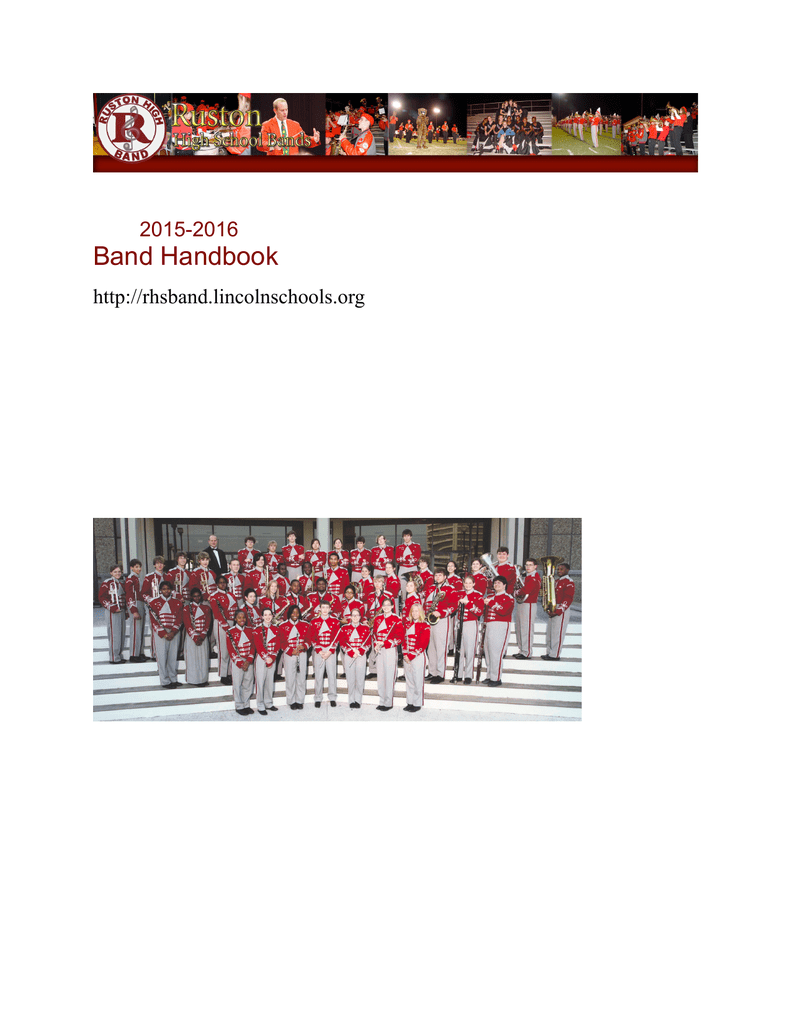 !
2015-2016
Band Handbook
!
http://rhsband.lincolnschools.org
Table of Contents
Introduction
1
Attendance
Excused Absences
Unexcused Absences
Effect of Absences on Grade
2
3
3
3
Behavior
Student Behavior
In-Stands Behavior
Bus Behavior
4
5
5
5
Uniforms
General Uniform
Summer Uniform
Footwear
6
7
8
9
Officers
Directors
Band Officers
10
11
11
Maintenance
Band Room Maintenance
Equipment Maintenance
12
13
13
Schedules
Camp Schedule
Football Schedule
Concert and Festival Schedule
General Events Schedule
Rehearsal Schedule
14
15
15
16
16
16
Glossary
17
Index
18
References
19
Addendum – Letterman Jacket Qualifications
20 - 22
Introduction
I can think of no better way to make such a dramatic impact on the lives of the children in
Louisiana than through a vibrant music education program that is an integral part of the
curriculum (Carpenter, par. 2).
The purpose of this manual is to assist Ruston High School's band director and students in
answering general questions about the band. With enough planning, anything is possible (Moss).
The manual is broken down into the following topics.
•
•
•
•
•
•
•
Attendance – Excused Absences, Unexcused Absences, Effect of Absences on Grades
Behavior – Student Behavior, In-Stands Behavior, Bus Behavior
Officers – Directors, Band Officers
Uniforms – General Uniform, Summer Uniform, Footwear
Maintenance – Band Room Maintenance, Equipment Maintenance
Schedule – Camp Schedule, Football Schedule, Concert and Festival Schedule, General
Events Schedule, Rehearsal Schedule
Addendum – Letterman Jacket Qualifications
Attendance
Excused Absences
It is necessary at times for absence from an event. These guidelines should be followed if one is
to be excused.
•
•
•
•
Doctor's appointments will be excused absences when accompanied by a doctor's excuse.
Excusing due to emergencies require a written excuse and a phone call from a parent or
guardian.
If absences are necessary, please inform the director at least one week in advance or as soon
as possible.
Only academic trips will be excused from band events.
Excuses for non-emergency situations including doctor's appointments will only be accepted if
notification is given at least 48 hours in advance.
(One week advance notice is recommended)
Unexcused Absences
Because of the necessity of attending band practice and events, any absence that is not due to a
doctor's appointment or an emergency will not be excused.
Effect of Absences on Grade
Absences will strongly affect one's grade. Unexcused absences from any rehearsal will reduce a
grade by one-half letter. Unexcused absences from any performance will reduce a grade by two
letters. Specific grading instances will be announced as needed.
Behavior
Student Behavior
You must practice good behavior in order for the band to function properly. Because the band is
a group activity, good behavior must be followed so all events run smoothly. If it is seen that
you cannot behave properly, the following actions must be taken.
• First offense – The band director will hold a conference with you. A copy of the conference
will be signed by both and placed in your folder.
• Second offense – The band director will hold a conference with you again. A phone call will
•
be placed to your parent and documentation of the phone call will be placed in your folder.
Third offense – You can and will be removed from the band during your third offense.
If your behavior is severe, the actions taken for the third offense will be used. Please use your
best judgement in any situation to avoid behavior problems. If you receive two behavioral
suspensions from the school, your membership in the band can be eliminated. The only
exception for this is suspensions due to tardies.
In-Stands Behavior
All school rules will be in effect in the stands of an event because these events are considered
school events. You must use the following guidelines on behavior in-stands.
•
•
•
•
•
•
Do not throw anything from the stands.
Remain in your designated area.
Store your instrument, music, *shako, *plume, and other items before leaving for break.
Return promptly from break to the performance area.
Do not eat during the game, except on break.
Be ready to play your instrument at all times.
Bus Behavior
It is necessary for you to be on their best behavior while on a bus. Stereos, walkmans, and CD
players will be acceptable only if headphones are used. Misbehavior of any sort while on a trip
will not be accepted. If you do misbehave, you will receive an automatic band suspension for
three days. If deemed necessary by the director, you can be removed from the band. When
leaving a game, please abide by the following guidelines.
•
•
•
•
Hang your uniform bag on the bus window.
Wear your shako.
Remain at attention until the bus is at the main road.
Stand at ease and remove your shakos once the main road is reached.
Uniforms
General Uniform
The uniform is an important part in the appearance of the band. The uniform that is generally
worn throughout the year consists of the pieces that follow.
•
•
•
•
•
•
•
Appropriate head cover.
Red collared tee shirt from the band or section tee shirt.
Jacket (This includes the jacket, collar insert, shoulder cords, and all buttons and zippers).
Suspenders.
Uniform pants.
Black socks.
Black shoes.
There are three head coverings that can be worn with the uniform. Each is used for certain
events.
•
Shako (worn with all chains, buttons, and your plume) – worn into arenas, during
performances at the arenas, and leaving arenas.
• Red beret – worn outdoors.
• No head covering – worn indoors and during concerts.
All uniform pieces must be returned to the band room after all performances.
Summer Uniform
The summer uniform is worn to events generally during the summer. It consists of the following
items.
•
•
•
•
•
Red Beret.
Red polo style shirt.
Black slacks.
Black socks.
Black shoes.
The red polo style shirt is purchased through the band. You will furnish your own black slacks.
They must be black, cotton, twill, pleated, slacks.
Footwear
The footwear used by the band is a black, flat colored, traditional band shoe. The band orders
the shoes. They should be cared for as follows.
• Use a mild detergent to clean.
• Rinse gently with a cloth dipped in warm water.
• Do not use polish.
Officers
Directors
The Band Director and Assistant Director oversee all band activities. Mr. Walter Moss is the
Band Director, and Mr. Dennis Hensley is the Assistant Director. If they need to be reached
please call the school at (318) 255-0807 or the band room at (318) 255-0547.
Band Officers
Select members of the band have been chosen to oversee different elements of the band. The
officers also have staffs working with them to help carry out the duties assigned to them. The
following chart shows what each officer is in charge of.
Office
Drum Major
Staff Manager
Section Leader
Duties
Oversees field command
Makes sure that the other managers are
carrying out their duties
Inspects equipment and lockers, oversees
loading of equipment for trips. Maintains the
upkeep of storage areas, makes
arrangements for repairs.
Maintains the upkeep, fitting and
disbursement of the uniforms and
organization of the uniform room.
Dispenses music and flip folders, Replaces
lost music. Organizes the Music Library
workspace.
Leads their section in playing and marching
Secretary
Takes roll and notates absences and tardies.
Equipment Manager
Uniform Manager
Library Manager
Maintenance
Band Room Maintenance
The following rules will be followed in the band room.
• No food or drinks (unless approved by the Band Director)
• No gum chewing.
• No baseball caps.
• Store only your instrument in your locker.
• Return items to their proper place.
Equipment Maintenance
Please take care of all equipment used by the band. Students must care for their own
instruments. Any damaged school-owned instruments, music stands, or furniture must be
brought to the director's attention immediately. If you have school-owned equipment must care
for it as if it was your own.
Schedules
Camp Schedule
Date
8/3 – 8/8
8/8
Event
Freshman Band
Camp
Flag Camp
August 10-15
Full Band Camp
August 14
Ruston High School
Band Sneak Peek
8/5–
Place
Ruston High School
Band Room
Ruston High School
Band Room
Ruston High School
Band Room
Band Field
Time
8:00 AM
8:00 AM
8:00 AM
7:00 PM
Football Schedule
Date
Opponent
Place
Time
August 15
Bearcat Madness
Home
TBA
August 28
Jamboree
Home
6:00PM
September 4
Neville
Away
7:00 PM
September 11
East Feliciana
Home
7:00 PM
September 18
Airline
Home
7:00 PM
September 25
Jonesboro - Hodge
Home
7:00 PM
October 2
Wossman
Away
7:00 PM
October 9
West Monroe
Home
7:00 PM
October 16
Pineville (Homecoming) Home
7:00 PM
October 23
Alexandria Senior High Away
7:00 PM
October 30
Ouachita
Away
7:00 PM
November 6
Natchitoches Central
Home
7:00 PM
Playoff games will be held as determined by the football team. They are scheduled for the
following dates.
•
•
•
•
•
November 13
November 20
November 27
December 4
December 12 – State Finals in the New Orleans Superdome 8:30 PM
Concert and Festival Schedule
Date
Event
Place
Time
September 12
Bandoree
WMHS
TBA
September 26
All State – First Round
WOHS
11:00am
October 10
All State – Second Round Lafayette
TBA
October
Cotton Country Marching
Band Competition
Sterlington High School
Marching Band
Competition
District Marching Festival
Caldwell Parish High
School
Sterlington High School
TBA
ULM
TBA
NSU Marching
Competition
District Marching Festival
Rain Date
LMEA Solo and
Ensemble Festival
LMEA State Convention /
All State Band
Christmas Concert
Nachitoches
TBA
ULM
TBA
TBA
October 24
October 27
October 31
November 3
November 14
TBA (Afternoon - ACT
Date)
January 14 - 16, 2015
All-District Clinic
Ouachita Junior High
School
Crowne Plaza Executive
Center, Baton Rouge
Ruston High School
Auditorium
West Ouachita High
School
La Tech
March 10-11, 2016
Large Ensemble Festival
WOHS
TBA
April 25 , 2016
Solo and Ensemble
WOHS
TBA
April, 2013
Spring Concert
RHS Auditorium
6:00 PM
April 18-22, 2015
Regional Festival
TBA
TBA
November 19-23
December 17
Thursday Before Break
January 9, 2016
All-District Audition
TBA
6:00 PM
8:00 AM
8:00 AM
General Events Schedule
Date
Event
Place
Time
December , 2015
Christmas Parade
Ruston
TBA
May, 2016
Band Trip
Orlando Florida
TBA
May 17, 2016
Graduation
Tech – Thomas Assembly TBA
Center
Rehearsal Schedule
This schedule only applies to the school year. Extra rehearsals can be called if the directors see
that it is necessary. You will have one week's notice of these.
Section
Full Band
Day
Tuesday / Thursday
Time
3:35 – 5:35 PM
Glossary
Plume: a large, showy pom-pom used in the band hat, p. 5.
Shako: a large, traditional band hat used in marching activities, p. 5.
Index
Absences
Effect on Grade
Excused
Unexcused
Behavior
Bus
In-Stands
Punishment for
Student
Directors
Maintenance
Band Room
Equipment
Officers
Drum Major
Equipment Manager
Library Manager
Section Leader
Staff Manager
Uniform Manager
Schedules
Camp
Concert
Festival
Football
General Events
Rehearsal
Uniforms
Footwear
General
Summer
3
3
3
3
5
5
5
5
5
11
13
13
13
12
12
12
12
12
12
12
15-16
15
16
16
15
16
17
7-9
9
7-8
8
References
Carpernter, Karl. The President Speaks. 29 Oct. 2000. Louisiana Music Educators Association.
31 Oct. 2000 http://www.menc.org.
Moss, Walter. Personal Interview. 31 Oct. 2000.
Letterman Jacket
Qualifications for Letterman Jacket
Students who are to be considered for the title of Letterman in the RHS Band must meet the
following requirements:
•
•
•
•
•
•
•
•
Two semesters of Marching Band with a passing grade (25 pts. each)
Two semesters of Concert Band with a passing grade (35 pts. each)
Attend one summer band camp other than Ruston High School's (25 pts.)
Audition for LMEA All State at least once (10 pts.)
Audition for Louisiana District One Band Director's Association Honor Band at least twice
(10 pts. each)
Participate in at least one solo at LMEA Solo and Ensemble festival (10 pts.)
Participate in at least one ensemble at LMEA Solo and Ensemble festival (10 pts.)
Accumulate a total of 250 pts. towards Letterman Participation Scale
Total of required activities:
plus 55 additional points
Required points for Letterman:
195 pts.
250 pts.
Approved Activities for points towards the Letterman Participation
Scale
Includes but not limited to the following activities:
•
•
•
•
•
•
•
•
•
•
RHS Beginning Band
RHS Music Theory Class
RHS Applied Music Class
RHS Woodwind Ensemble
RHS Brass Ensemble
RHS Percussion Ensemble
USM All South Honor Band
Four States Honor Band
Private Lessons (with proof from instructor)
Any other band related activity approved by the Director of Bands
Number of points will be determined by degree of difficulty of the activity
Passing grades and/or completion of activity required in order to receive points
Mandated camps or activities may not count towards points
Service Bars
For every 100 points accumulated after the Letterman status is achieved, a service bar will be
awarded up to four bars total (650 pts.)
Application Process
To apply for points towards the Letterman participation scale, the official Ruston High School
Letterman Participation Scale application must be used. A copy of this form may be obtained
through the Band Office.
The Director of Bands has the right to deny points towards any band related activity for any
reason.
BEARCAT BAND
PLEDGE
WHEN I DO SOMETHING WRONG
OR DON'T DO MY BEST,
IT NOT ONLY HURTS ME, BUT IT
HURTS THE REST.
WE WORK AS A TEAM, AND
EACH INDIVIDUAL COUNTS.
SO WHEN WE PERFORM,
IT'S A TOTAL AMOUNT.
THERE ARE GOALS TO ACHIEVE
THEREFORE WE MUST GIVE IT OUR ALL.
IF ONE OF US DOSEN'T TRY,
THE WHOLE UNIT WILL FALL.
THE BAND REPRESENTS DIGNITY AND TRADITION,
WHICH WE LEARNED FROM OUR PAST.
IF ONE IS IN THE BAND,
THEN HE SHOULD DEFINITELY SHOW CLASS.
I AM IMPORTANT TO THIS GROUP.
I'M NOT JUST "ALONG FOR THE RIDE."
I WILL NOW ADJUST MY ATTITUDE
TOWARD MORE BEARCAT PRIDE.