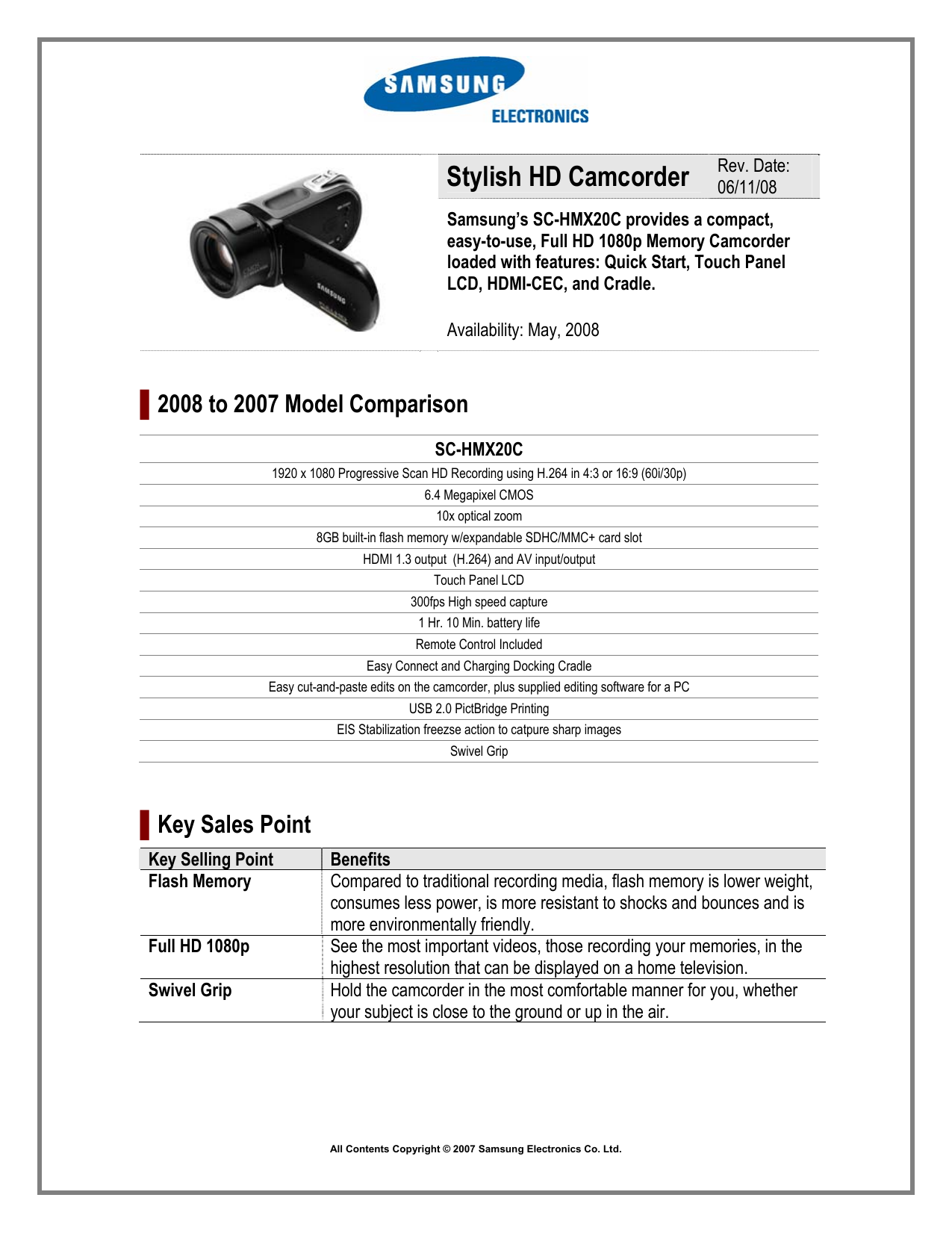 Stylish HD Camcorder
Rev. Date:
06/11/08
Samsung's SC-HMX20C provides a compact,
easy-to-use, Full HD 1080p Memory Camcorder
loaded with features: Quick Start, Touch Panel
LCD, HDMI-CEC, and Cradle.
Availability: May, 2008
▌2008 to 2007 Model Comparison
SC-HMX20C
1920 x 1080 Progressive Scan HD Recording using H.264 in 4:3 or 16:9 (60i/30p)
6.4 Megapixel CMOS
10x optical zoom
8GB built-in flash memory w/expandable SDHC/MMC+ card slot
HDMI 1.3 output (H.264) and AV input/output
Touch Panel LCD
300fps High speed capture
1 Hr. 10 Min. battery life
Remote Control Included
Easy Connect and Charging Docking Cradle
Easy cut-and-paste edits on the camcorder, plus supplied editing software for a PC
USB 2.0 PictBridge Printing
EIS Stabilization freezse action to catpure sharp images
Swivel Grip
▌Key Sales Point
Key Selling Point
Flash Memory
Full HD 1080p
Swivel Grip
Benefits
Compared to traditional recording media, flash memory is lower weight,
consumes less power, is more resistant to shocks and bounces and is
more environmentally friendly.
See the most important videos, those recording your memories, in the
highest resolution that can be displayed on a home television.
Hold the camcorder in the most comfortable manner for you, whether
your subject is close to the ground or up in the air.
All Contents Copyright © 2007 Samsung Electronics Co. Ltd.
▌Solution Selling
Qualifying Questions
What happened to your old camcorder? Most people will claim that it just stopped working.
This will allow you to point out the durability of flash memory as a recording media.
What kind of High Definition Television do you own? Even if they don't own one now, most
people are looking for one in the near future. This will allow you to point out the Full HD 1080p
recording capability of the HM-X20.
Tell me about the subjects you'll be recording. If your customer mentions children, you will be
able to show them how the swivel grip lets them get the camcorder to child height without breaking
their back.
Presentation/Demonstration
Flash Memory: Hand the camcorder to your customer and point out how light it is. Point out that
there are fewer moving parts making the camcorder both more durable and more efficient in its use
of power. Finally, point out that because there is no media to buy and eventually throw out so they
are saving money and the environment.
Full HD 1080p: Connect the HM-X20 to a Samsung Full HD 1080p television via HDMI; this will
require that the camcorder be on it's docking station. Point out the level of detail on the television.
Swivel Grip: To demonstrate, put the camcorder into your customer's hands and ask them to
imaging that they are recording a young child running toward them. As the child gets nearer, they
will end up pointing the camera straight down on the top of the child's head. Then ask them to
swivel the grip. Point out that the swivel grip allows them to get the camera down to "child" height
and keep the face in frame.
Anynet+™: With the HM-X20 connected to a Samsung Full HD 1080p television via HDMI, hand
the customer the television remote and ask them to hit the "tools" button. Then ask them to select
"Anynet+: camcorder" from the options. They will then be able to operate the camcorder using the
TV remote and playback any of the stored video.
Recommended Accessories
Samsung Full HD 1080p HDTV: This will allow them to see the full capabilities of the HM-X20.
HDMI Cable: They will need this to get the full resolution of the HM-X20 on their television and to
use the Anynet+™ capabilities of the camcorder.
SD Memory Cards: The HM-X20 will accept up to 32GB HC-SD cards.
Carrying Case: This is the easiest way to protect this investment.
All Contents Copyright © 2007 Samsung Electronics Co. Ltd.
For the Samsung Field Team Only
Confidential - Not for Channel Distribution
▌Frequently Asked Questions (FAQ's)
Q:
A:
How long is the recording time?
SC-MX10 records in MPEG4 format with high compression ratio, so users can record about 8 hours in
standard mode and about 2 hours in high quality on 4GB SD Card (1 hr on a 2GB card, etc.) The SCHMX20 records at 60fps Progressive HD Video, so users can record about 90 minutes in HD mode
or 6 hours in Standard Mode using the internal video.
Q:
A:
What is PC & TV Mode recording and why would I need it?
The SC-MX10 records in either PC frame mode at 30p or TV interlaced mode at 60i. Each format will
work better on the intended display device: Progressive Scan for PC and interlaced for most TVs.
Q:
A:
Will these camcorders work with my Mac?
Not at this time. The included software is only for Windows PC. You are able to transfer the video
files on to a Mac, but you may not be able to watch them. The issue is that while there are codecs for
the MPEG-4 video formats that both the HMX-10 (H.264) and MX-10 (ASP) use, Samsung is using a
different audio codec for the HMX-10: AAC. This allows for a single file that incorporates both audio
and video instead of separate ones. Mac certainly supports the AAC audio format as this is the
preferred format for iTunes, however, there may be issues supporting it in conjunction with the video
format. For the MX-10, if your Mac has an MPEG-4 ASP codec in it, then it ought to play the video
files.
Q:
A:
Why does the SC-HMX20C top out at 720p resolution? What about 1080i?
720p was chosen because it provides for smoother playback effects: fast-forward, rewind and pause.
With interlacing, these effects can often show sets of scan lines while scanning or shaky pauses.
Progressive scan makes all of these smooth and clean.
Also, 720p actually records more information per second (see table) for smoother motion
Number of pixels
in horizontal
Number of
scanning lines
Scanning method
Aspect ratio
(Recorded Video)
Frames per
second
Amount of data
(NTSC)
HD (720P/60p)
HD (1080i)
1,280
1,440 (recorded 4:3,
displayed 16:9)
720
1,080
Progressive
Interlace
16:9 (16:9)
16:9 (4:3)
60p
60i
52.3M pixel/sec
(1280x720x60)
46.7M pixel/sec
(1440x540x60)
All Contents Copyright © 2007 Samsung Electronics Co. Ltd.
For the Samsung Field Team Only
Confidential - Not for Channel Distribution
Recorded image
resolution
Smoother motion
High resolution
Smooth motion
Q:
A:
What are my editing options, do I need to connect to a PC to edit?
Easy Cut & Paste allows you to edit scenes you want directly on the camcorder, without loading them
into the PC. The included software on both models allows you to do more elaborate edits, add music
and stylize your movie.
Q:
A:
I'm a YouTube fan, will this camcorder allow me to post my videos on the web?
The SC-MX10 is a YouTube cam. The camcorder is designed to take quick standard definition images
and stills that users can easily place on the Internet in a matter of minutes. Recording are made in
MPEG-4 compression to SD flash memory or the included 512MB card. The SC-MX10 includes PC
software to upload your videos to websites like YouTube in MPEG4 ASP format.
Q:
A:
How easy is it for me to watch my recorded videos on my TV?
The SC-HMX20C has HDMI 1.3 connectivity, so you can simply connect to an HDTV for the best
resolution and picture. Also, HDMI Connection with Anynet+ ™ enables you to control with your
Samsung TV Remote. Or with either the SC-HMX20C or the SC-MX10, the included docking cradle
lets you connect to any television with a composite (yellow video input) jack.
Q:
A:
What functions does the docking cradle offer?
With the included docking cradle, you can recharge, connect to AV or USB easily, even do all at the
same time
Q:
A:
If the memory is full, how can I save and store my videos?
You can transfer your recorded movies to the PC via the USB 2.0 connection on the SC-MX10. The
HMX20C also supports USB 2.0 at a data transfer rate of 40Mbps. Transferring a 1 hour HD movie
(4GB) takes about 10 minutes.
Q:
A:
How do I playback a recorded video on my DVD, PS3 or BluRay player?
The editing Software provided supports transcoding & burning features so you can easily make an
AVCHD disc (for HD) or DVD disc (for SD). The AVCHD disc can be played on BluRay player or PS3,
and a burned DVD disc can be played on a standard DVD player.
Q:
A:
What is High Speed Capture and what is it used for?
On the SC-HMX20C, 300fps High Speed Capture allows you to record fast motion during a 10 second
interval, by increasing the frame rate from 60 to 300 frames per second. You can analyze your golf
swing, or capture motion that is too fast for the human eye to capture, for instance a hummingbirds
wings.
Q:
A:
Why does the SC-HMX20C have a shorter zoom than the SC-MX10
This is because of the better resolution of the HMX10. This makes the CMOS Sensor (the digital
"film") larger and thereby changes the optics. Due to the limitations of physics, 10x is the largest
All Contents Copyright © 2007 Samsung Electronics Co. Ltd.
For the Samsung Field Team Only
Confidential - Not for Channel Distribution
zoom possible without making the camcorder significantly bigger.
Q:
A:
What are MPEG-4 ASP and H.264?
Both ASP (Advanced Simple Profile) and H.264 are versions or "profiles" of the MPEG-4 standard.
Each "profile" is balances file size, picture quality and resolution in order to optimize all three for
different types of use:
• ASP is optimized for lower resolutions (non-HD) for web and streaming. This is the same format
used by most digital still cameras for their movie modes.
• H.264 (also known as AVC for Advanced Video Coding) is designed for HD resolutions. It uses
new compression software that offers small file sizes while maintaining a high level of picture
quality.
All Contents Copyright © 2007 Samsung Electronics Co. Ltd.