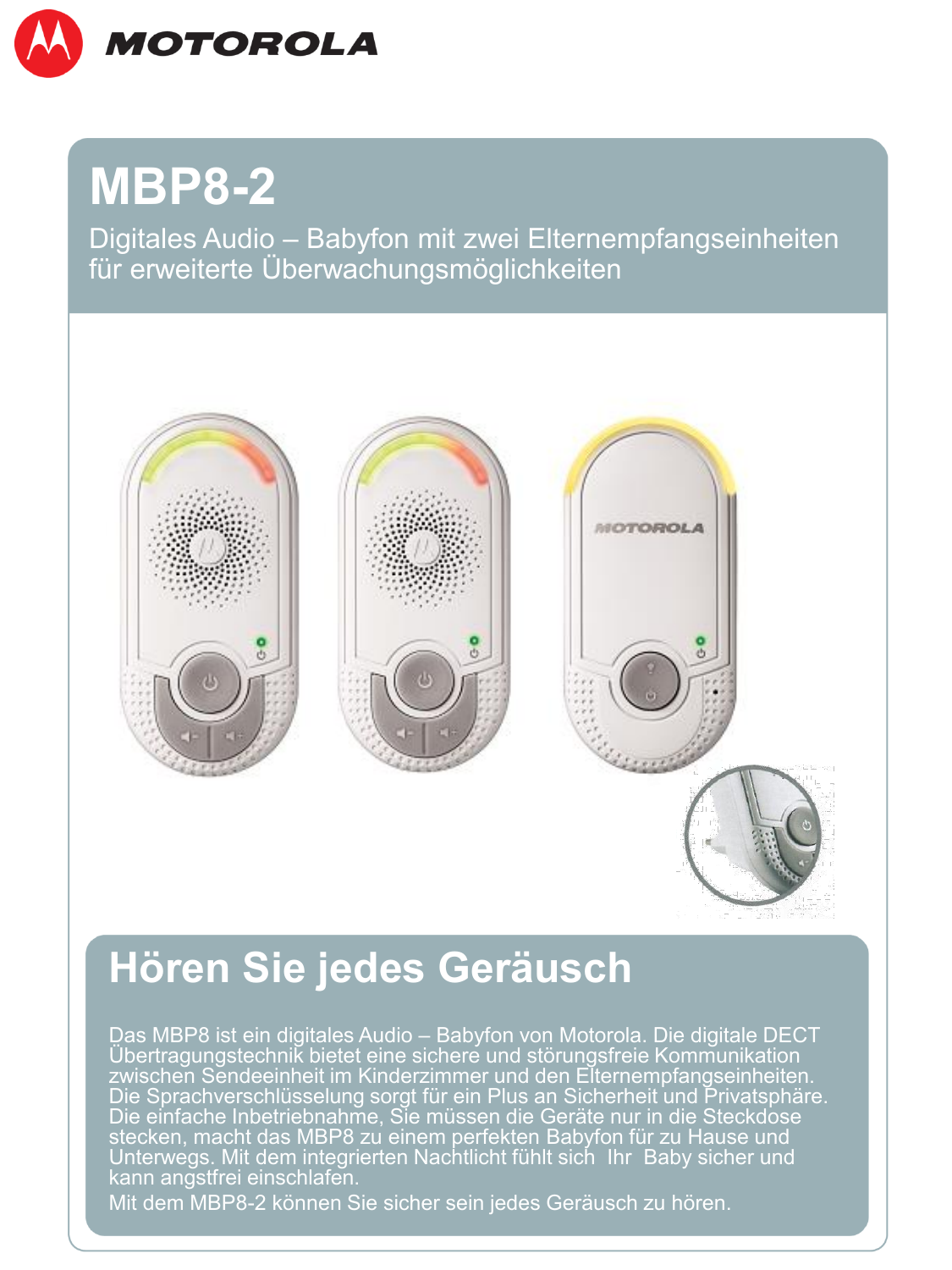 MBP8-2
Digitales Audio – Babyfon mit zwei Elternempfangseinheiten
für erweiterte Überwachungsmöglichkeiten
Hören Sie jedes Geräusch
Das MBP8 ist ein digitales Audio – Babyfon von Motorola. Die digitale DECT
Übertragungstechnik bietet eine sichere und störungsfreie Kommunikation
zwischen Sendeeinheit im Kinderzimmer und den Elternempfangseinheiten.
Die Sprachverschlüsselung sorgt für ein Plus an Sicherheit und Privatsphäre.
Die einfache Inbetriebnahme, Sie müssen die Geräte nur in die Steckdose
stecken, macht das MBP8 zu einem perfekten Babyfon für zu Hause und
Unterwegs. Mit dem integrierten Nachtlicht fühlt sich Ihr Baby sicher und
kann angstfrei einschlafen.
Mit dem MBP8-2 können Sie sicher sein jedes Geräusch zu hören.
MBP8-2
Digitales Audio Babyfon
Leistungsumfang
Lieferumfang
• DECT-Technologie für störungsfreie
Funkübertragung
• Sichere Datenverschlüsselung des
Funksignals
• ECO Modus für reduzierte Funkstrahlung und
niedrigen Energieverbrauch
• Empfangsreichweite bis zu 50m Meter*
• Alarm an der Reichweitengrenze
• Hochsensibles Mikrofon
• Integriertes Nachtlicht in der Sendeeinheit
• Einfache Inbetriebnahme über in der
Wohnung vorhandene Steckdosen
•
•
•
•
2 Elternempfangseinheiten
1 Sendeeinheit für das Kinderzimmer
1 Bedienungsanleitung
1 Kurzanleitung
* Bei freier Sichtverbindung zwischen Sendeeinheit und
Elternempfangseinheit. Jedes Hindernis zwischen
Sendeeinheit und Elternempfangseinheit, kann die
Reichweite deutlich reduzieren.
Logistische Informationen
Modell / Typ
MBP8 EU
10N8028
EAN Code
VPE
Abmessungen
Geräte (cm)
Abmessungen
Verpackung (cm)
Gewicht
Produkt
Gewicht mit
Verpackung
Gewicht
VPE
5012786180284
6
B:11,6 x H:7 x T:12
B:18,8 x H:7 x T:13
0,21 kg
0,36 kg
2,16 kg
All features, functionality, and other product specifications are subject to change without notice or obligation. Manufactured, distributed, or sold by Binatone Electronics
International LTD., official licensee for this product. MOTOROLA and the STYLIZED M Logo are trademark of Motorola Trademark Holdings, LLC. and are used under license.
All other trademarks are the property of their respective owners. © 2011 Motorola Mobility Inc. All rights reserved. The actual product may vary slightly from the photograph.

* Your assessment is very important for improving the work of artificial intelligence, which forms the content of this project