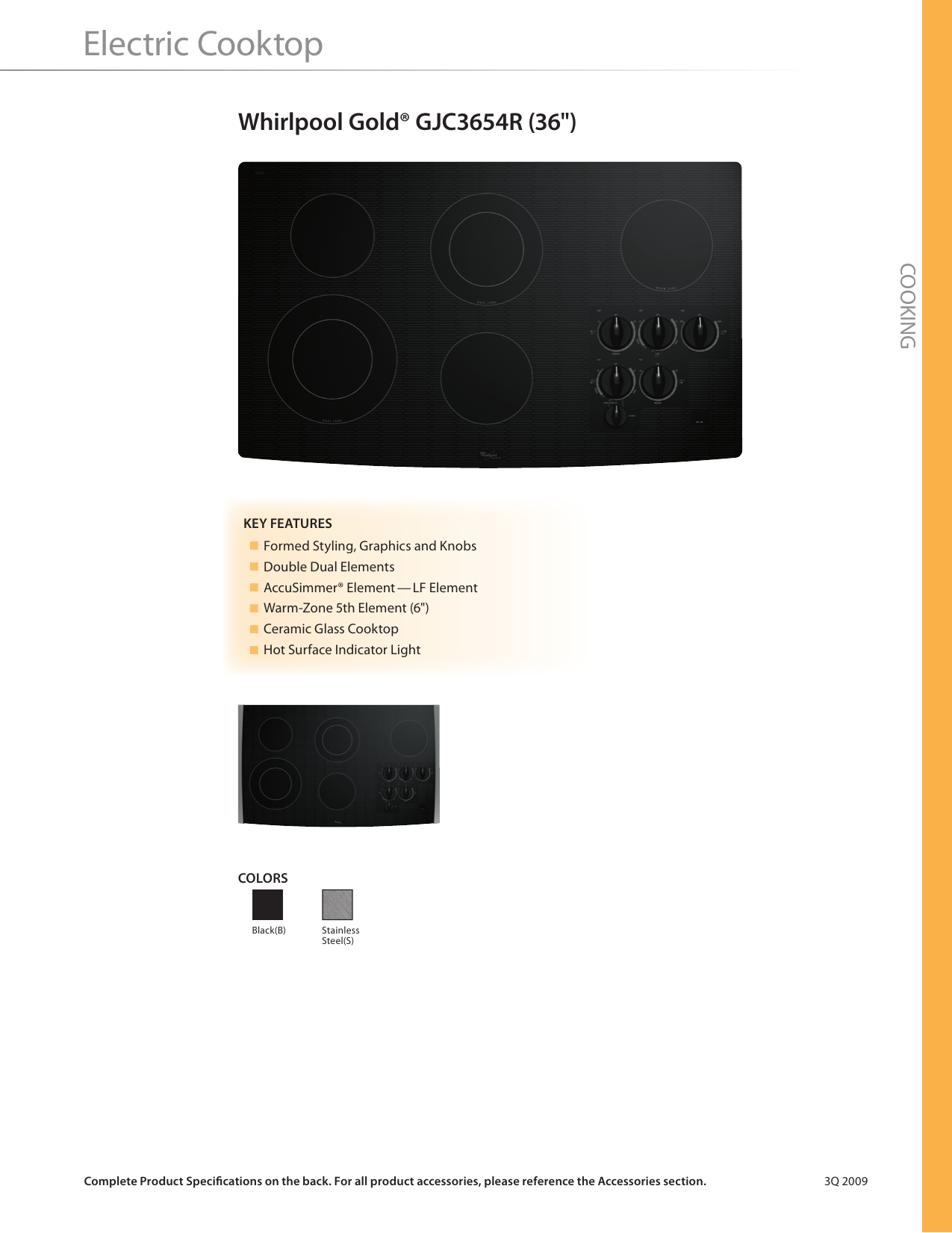 Electric Cooktop
Whirlpool Gold® GJC3654R (36")
COOkiNg
KEY FEATuRES
■ Formed Styling, graphics and knobs
■ Double Dual Elements
■ AccuSimmer® Element — LF Element
■ Warm-Zone 5th Element (6")
■ Ceramic glass Cooktop
■ Hot Surface indicator Light
COlORS
Black(B)
Stainless
Steel(S)
Complete Product Specifications on the back. For all product accessories, please reference the Accessories section.
3Q 2009
Electric Cooktop Features & Specifications
Model No.
36"
Cooktop
Ceramic-Glass Cooktop
Surface Units
Right Front
Left Front
Right Rear
Left Rear
Center
Warm Zone 5th Element
AccuSimmer® System
Element
Infinite-Heat Controls
Hot-Surface Indicator Light
Lift-Off Control Knobs
General Information
Total Connected
Load (kwh)
@ 240 Volts
@ 208 Volts
Approval Over Single Oven
Approval with Downdraft
Approx. Shipping Wt. (lbs.)
Whirlpool Gold®
GJC3654R
Product Dimensions
Yes
Radiant
6"
6/9" Dual
7"
6"
5/8" Dual
Yes
Yes
Cut-Out Dimensions
Yes
Yes
Yes
8.1
6.0
Yes
Yes
40
Optional Accessories
Description
Griddle
Part #
4396096RB
GJC3654R
A
35 1⁄2
B
20 1⁄2
36" models require a 30" minimum base cabinet. If cabinet has a
drawer, a 4" depth clearance from the countertop to the top of
the drawer (or other obstruction) in base cabinet is required. All
dimensions are shown in inches.
* Note: 24" (61 cm) min. clearance if bottom of wood or metal cabinet
is protected by not less than 1⁄4" (0.6 cm) flame retardant millboard
covered with not less than No. 28 MSG sheet steel, 0.015" (0.04
cm) stainless steel, or 0.024" (0.06 cm) aluminum or 0.020" (0.05
cm) copper. 30" (76.2 cm) min. clearance between top of cooking
platform and bottom of unprotected wood or metal cabinet.
Important note on base cabinet construction:
After making the countertop cutout, some installations may
require notching down the base cabinet side walls to clear
the burner box. To avoid this modification, use a base cabinet
having side walls wider than the cutout.
Cutout dimensions have not changed from previous Whirlpool
Gold® Electric Cooktops.
Dimensions are for planning purposes only. For complete details, see Installation Instructions packed with product.
Specifications subject to change without notice.

* Your assessment is very important for improving the work of artificial intelligence, which forms the content of this project