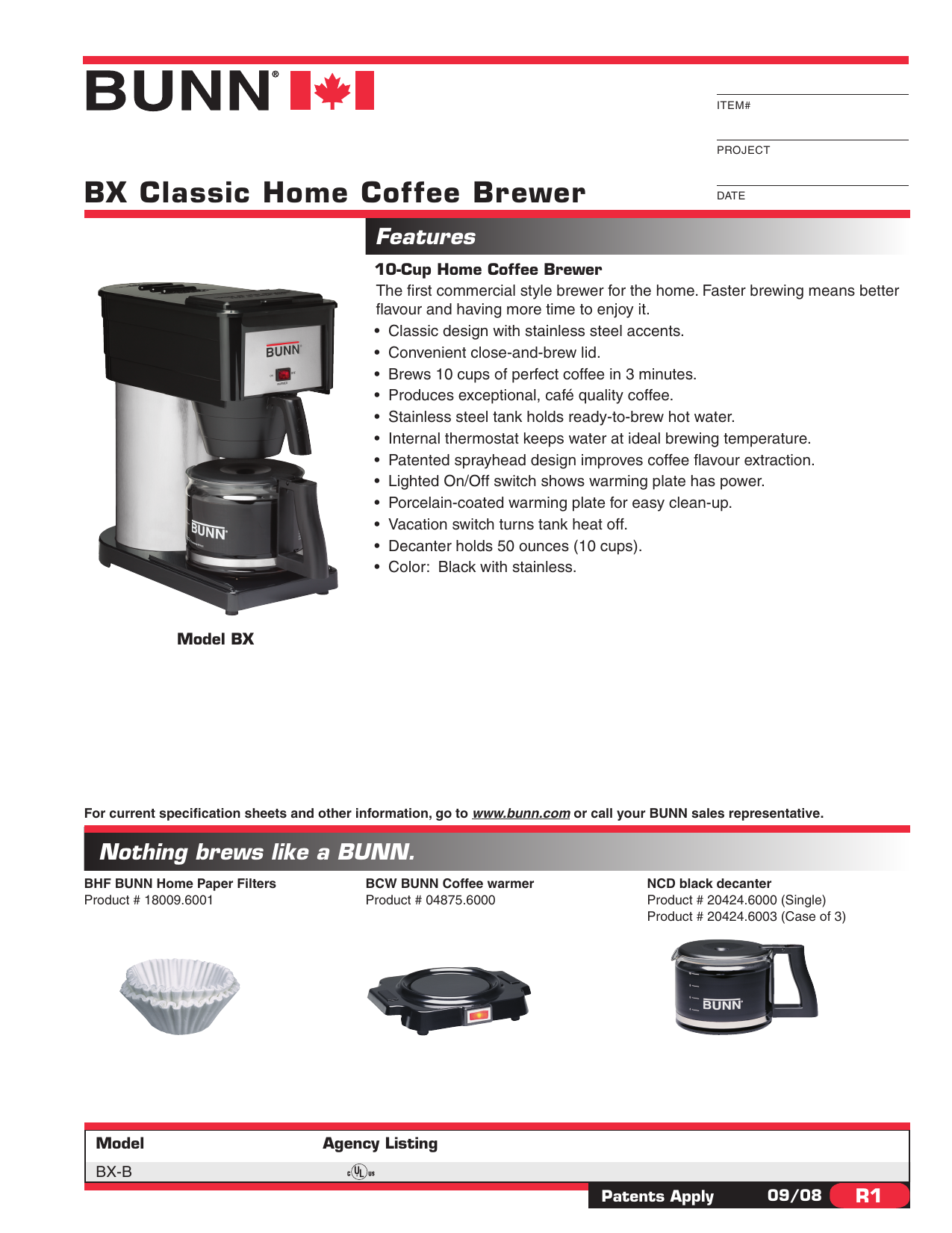 Item#
Project
BX Classic Home Coffee Brewer
Date
Features
10-Cup Home Coffee Brewer
The first commercial style brewer for the home. Faster brewing means better
flavour and having more time to enjoy it.
• Classic design with stainless steel accents.
• Convenient close-and-brew lid.
• Brews 10 cups of perfect coffee in 3 minutes.
• Produces exceptional, café quality coffee.
• Stainless steel tank holds ready-to-brew hot water.
• Internal thermostat keeps water at ideal brewing temperature.
• Patented sprayhead design improves coffee flavour extraction.
• Lighted On/Off switch shows warming plate has power.
• Porcelain-coated warming plate for easy clean-up.
• Vacation switch turns tank heat off.
• Decanter holds 50 ounces (10 cups).
• Color: Black with stainless.
Model BX
For current specification sheets and other information, go to www.bunn.com or call your BUNN sales representative.
Nothing brews like a BUNN.
BHF BUNN Home Paper Filters
Product # 18009.6001
Model
BCW BUNN Coffee warmer
Product # 04875.6000
NCD black decanter
Product # 20424.6000 (Single)
Product # 20424.6003 (Case of 3)
Agency Listing
BX-B
Patents Apply
09/08
R1
Dimensions & Specifications
Model
Product #
Volts
Amps
Tank Heater
Total
Brewing
Shipping
Watts
Watts
Capacity
Weight
BX-B
38300.0057
120 7.5 800
900
50 oz.(10 cups)
7.1 lbs.
(Black) (3.2 kg)
Electrical: Model has attached cordset and requires 2-wire grounded service rated 120V, single phase, 60 Hz.
Bunn-O-Matic Corporation of Canada - 280 Industrial Pkwy. S. Aurora, Ontario L4G 3T9 • 905-841-2866 • Fax 905-841-2775 • www.bunn.com
BUNN® practices continuous product research and improvement. We reserve the right to change specifications and product design without notice. Such
revisions do not entitle the buyer to corresponding changes, improvements, additions or replacements for previously purchased equipment.
All dimensions shown in inches.
Bunn-O-Matic Corporation owns all copyrights relating to materials in this publication. Please contact BUNN to request permission to reproduce any portion of this publication.

* Your assessment is very important for improving the work of artificial intelligence, which forms the content of this project