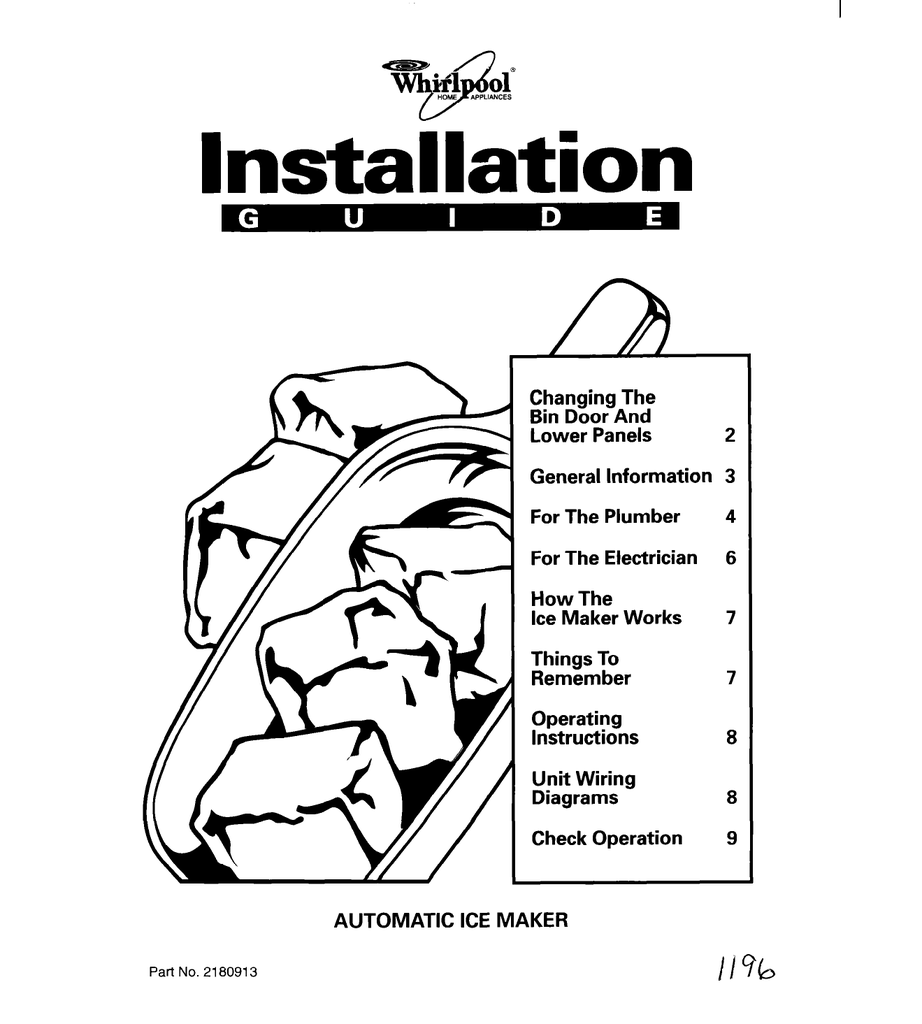 Installation
AUTOMATIC
Part No. 2180913
Changing The
Bin Door And
Lower Panels
2
General Information
3
For The Plumber
4
For The Electrician
6
How The
Ice Maker Works
7
Things To
Remember
7
Operating
Instructions
8
Unit Wiring
Diagrams
8
Check Operation
9
ICE MAKER
/I%
Changing The Bin Door
And Lower Panels
The storage bin door is designed to accept an
optional decorative wood panel of your choice.
The wood panel should be no more than
l/4 inch (6 mm) thick. Cut it to the same size as
the production metal panel.
To change
the bin door panel:
I. Open the bin door.
2. Remove the two screws on top of the door
which hold the handle.
3. Remove the handle and handle insert.
4. Slide the metal panel out.
5. Break off all door insulation ribs to allow
room for the wood panel's thickness.
6. Slide the wood panel into the door frame.
7. Replace the handle and screws.
To change
the lower
I
Bin door
11 'AI"
(266 mm)
,
II
DIMENSIONS
Lower
panel
11'%6"
(303 mm)
panel:
1. Remove the three screws that hold the
lower panel assembly to the ice maker.
2. Remove the two screws on the top of the
panel assembly.
3. Slide the metal panels and spacers out.
4. Slide the wood panel into the door frame.
5. Replace the top of the panel assembly.
Break off all door
insulation ribs to
accept 1/4"(6mm)
thick wood panels
NOTE: Make sure the galvanized panel is
replaced in back of the panel assembly.
Thermostat
calibrations
If ice maker is installed above 2000 feet (600 m)
above sea level, the Bin and Ice Thickness
Thermostats must be adjusted to a warmer
setting. Disconnect electricity, remove
Shipboard
thermostat, and follow the directions for turning
the altitude adjustment screw as shown in the
label on each thermostat.
operation
When this ice maker is installed aboard a ship,
it may be necessary to purchase and install a
water deflector. The deflector hangs between
the lower edge of the evaporator and the cutter
grid. It keeps the water flowing over the
evaporator from spilling into the storage bin
area. Order the necessary parts from your
local ice maker dealer.
General
Information
Unpack
1. Lay carton on rear face and break open
bottom flaps.
2. Set carton upright with all four flaps outward.
3. Lift carton up and off of machine.
4. Remove all tape and packaging materials
from the outside and inside of the cabinet.
5. Remove the lower access panel by removing the two screws securing the grille at the
bottom and the one screw at the top, and lift
it free of cabinet.
6. Turn the fan by hand to make certain it
moves freely.
7. Loosen thumb screws holding cutter grid
and water pan to "thumb tight."
Remove interior
Utilities
OBSERVE LOCAL CODES
Each installation is unique but will require:
1. A cold water inlet of W (6 mm) OD soft
copper tubing and a shut-off valve.
2. A properly grounded 115 Volt, 60 Hz.,
AC only, 15 or 20 ampere electrical circuit,
installed in accordance with the National
Electrical Code and with local codes and
ordinances.
3. Either a gravity drain system or a sump
pump to lift the water to an existing drain.
Locate
Electricity
unit
1. Place unit so the front side will be completely
unobstructed to provide proper airflow.
2. Area should be well ventilated with temperature above 55°F (13°C) and below 110°F
(43°C). Best results are obtained between
70°F (21 "C) and 90°F (32%).
3. Provisions for electricity, water, and drain
connections should be determined.
4. The unit may be closed in on the top and
three sides, but the front MUST BE unobstructed for air circulation and proper operation. Installation should be such that the
cabinet can be moved forward for servicing,
if necessary.
This unit
MUST be
installed in
an area
protected
from the
elements,
such as
wind, rain,
and water
spray or
drip.
BEST
RANGE
3
Level unit
1. After placing unit in position, check to make
certain the unit is level side-to-side and
front-to-back.
2. Accurate leveling is essential for proper
operation.
3. Unit should be shimmed so that it is solid as
well as level. The shims should be of hard
permanent type material such as Masonite.
4. If you are installing this ice maker in a
commercial setting that requires National
Sanitation Foundation (NSF) installation
procedures, NSF requires that the ice
maker be sealed to the floor at the bottom
rail. For compliance with this NSF sealing
procedure, we recommend a silicone-type
sealer.
For The Plumber
connect
water
to
(observe
1. Use VI" (6 mm) OD soft copper tubing for
the cold water supply.
2. Provide a convenient manual shut-off valve
in the water line.
3. Position the tubing so it can enter the
access hole located in the right hand rear of
the cabinet. The tubing should extend
beyond the cabinet front when the
cabinet is pushed back into position.
NOTES:
Always purge the water line before making the
final connection to the inlet of the water valve
to prevent possible water valve malfunction.
local
codes)
I
RIGHT END VIEW
Y." 119 mml
l/4" (6 mm)
OD water line
compression
fitting at
water valve
\
Bend field-
/
\I
water valve
After the cabinet is in place, bend the tubing to
meet the connection at the water valve. The
garden hose-threaded compression fitting is
found in the parts bag. This joint provides a
convenient disconnect for service. Be sure the
tubing is clear of compressor to prevent rattle.
BACK VIEW
+200
lT/Bp/s"
mm)-
34%"
(674 mm]
BUILT-IN OPENING DIMENSIONS
I
I
4
-
90"
--
4-112"
(114mm)to
center
line
34-l/2"
(676 mm)
I
water line
3"
7 mm)
(76
7%"
mm)
9" (229 mm)
max.
16" (457 mm)
--\
4" (102 mm)
long 5/e" (16mm) rubber
drain tube run to open
drain
-I
1/
/
IIii
f$l+
2 \-I
7d
S"
6
" -
-
1 Vi" (32 mm)
minimum
diameter
standpipe
II J--L
e
(36 mm)
,i
L
(19
L
900,
Do Not kink or
pinch power
supply
cord
behveen
ice
maker and
cabinet.
Hole for
fieldsupplied
:\
I '%
1:
Water
inlet
solenoid
valve
9" (23 mm)
Connect
to drain
(observe
local
codes)
1. The unit is provided with a gravity drain.
2. The ideal installation has a standpipe (1 -l/4"
[32 mm] minimum) installed directly below
the outlet of the drain tube. Refer to figures
for the proper location of the standpipe.
3. It may be desirable to insulate drain line
thoroughly up to drain inlet.
Connect
drain
pump
If a drain connection directly below the drain
tube outlet is not available, install a drain pump
in the rear compartment of the ice maker. The
drain pump must meet these specifications:
It must be U.L.-listed and have a U.L.listed, 120 VAC, 3-wire, grounded power
supply cord.
Overall maximum outside dimensions: 15"
(381 mm) wide x 6" (152 mm) deep x 9-l/2"
(241 mm) high.
Minimum pump flow rate: 24 gallons
(91 liters) per hour [0.4 gallons (1.5 liters) per
minute] at 12 feet (3.7 m) lift.
Operating temperature range: 55°F (13°C) to
110°F (44°C).
l
l
l
l
5
For The Electrician
Electrical1
requirements
A 115 Volt, 60 Hz., AC only, 15 or 20 ampere
electrical supply circuit, properly grounded in
accordance with the National Electrical Code
and local codes and ordinances is required.
Grounding
method
! AA
It is recommended that a separate circuit,
serving only this appliance, be provided. Use a
receptacle which cannot be turned off with a
switch of pull chain. DO NOT use an extension
cord.
3-prong grounding-type
*
Electrical
Shock Hazard
Electrical ground is required on this
ice maker.
Do Not ground to a gas pipe.
Do Not change the power supply cord
plug. If it does not fit the outlet, have
a proper outlet installed by a qualified
electrician.
Do Not have a fuse in the neutral or
grounding circuit. A fuse in the
neutral or grounding circuit could
result in an electrical shock.
Do Not use an extension cord with
this ice maker.
Check with a qualified electrician if
you are in doubt as to whether the
appliance is properly grounded.
Failure to follow these instructions
could result in death or serious
injury.
For your personal safety, this appliance
must be grounded. This appliance is
equipped with a power supply cord having
a 3-prong grounding plug. To minimize
possible shock hazard, the cord must be
plugged into a mating
3-prong grounding type wall receptacle,
grounded in accordance with the National
Electrical Code and local codes and
ordinances. If a mating wall receptacle is
not available, it is the personal responsibility and obligation of the customer to have
a properly grounded 3-prong wall receptacle installed by a qualified electrician.
How The Ice Maker
Compressor runs
. Condenser fan runs
l Water pump runs (circulates water)
l Cutter grid is warm to touch
l
WHEN THE DESIRED ICE SLAB THICKNESS IS REACHED, THE HARVEST CYCLE
BEGINS AND THE FOLLOWING HAPPENS:
l Evaporator thermostat is satisfied
. Compressor keeps running
l Condenser fan stops or turns very slowly
l Water pump stops
l Hot gas solenoid opens
l Water inlet valve opens
l Excess water is flushed out of the drain pan
l Cutter grid is warm to the touch
Things
l
l
l
Works
NOTE: Normal harvest cycle takes 1 to
2 minutes.
MACHINE RESUMES FREEZING AFTER
SLAB IS RELEASED FROM EVAPORATOR
AND THE CUlTING PROCESS BEGINS.
WHEN THE STORAGE BIN IS FILLED, BIN
THERMOSTAT OPENS.
l Cutter grid remains on
To Remember
Water enters only during the defrost cycle
Therefore the first cycle will be completed
without water in the system.
As the room and water temperatures vary, so
will the amount of ice produced. This means
that higher operating temperatures will result
in reduced ice production.
The unit will shut off when ice in the storage
bin touches the bin thermostat well and will
automatically cycle to keep the bin full.
l
l
l
The storage bin is not refrigerated and some
melting will occur. This also varies with the
room temperature.
The unit needs good air circulation to
perform efficiently. Keep the front grille and
the condenser clean.
The water system, including filter screen in
the water inlet solenoid valve, needs to be
cleaned periodically for good circulation.
Instructions are located on the inner door
panel.
7
Operating
Instructions
For complete operation information, refer to
the Use and Care Guide.
Before starting, wash out interior of cabinet
with a Baking Soda solution (2 tablespoons
[26 grams] soda to 1 quart [l liter] of warm
water). Rinse thoroughly.
Make certain the water is turned on.
Turn switch to the "ON" position.
l
l
l
l
CUBELET GRID
3/4"
x 3/i" (19 mm x 19 mm)
IMPORTANT: Allow unit to run for 3 hours
before expecting ice and for 24 hours before
trying to set the thickness control.
If installed above 2,000 feet (600 m) above
sea level, see page 2 for thermostat
adjustments.
Unit Wiring
Diagrams
This model operates at 115 volts except for the
cutter grid circuit which operates at 8.5 volts at
1 amp.
The compressor runs at all times except when
the Bin Thermostat becomes satisfied and
opens the circuit. This de-energizes the system
except for the transformer and cutter grid.
Under normal operating conditions, when the
evaporator reaches the preset temperature
(+lO" to -3°F [-12" to -19%], depending on
thickness of ice) the evaporator thermostat
opens, terminating operation of the fan motor
and pump motor. The hot gas solenoid and the
water valve solenoid are energized at this time
and remain so until the evaporator reaches
38" + 2°F (3" + 1"C).
Electrical
Shock Hazard
Disconnect power before servicing
unit.
Failure to do so could result in
electrical shock.
NOTE: A 15 or 20-ampere time-delay fuse
or circuit breaker is recommended.
8
Check
Operation
Start the unit by turning the service
switch to "ON" and opening the line
water valve.
d
NOTE: Left is "OFF" - Middle is "ON" Right is "CLEAN." In "CLEAN" position,
only the pump operates.
Check condenser fan to make sure it is
revolving. Check for airflow. Do not
insert hand into fan area.
Check for even water flow over freezing
plate. Unit must be level for proper
operation.
Check for desired cube thickness and
after 24 hours adjust if necessary. Maximum ice yield will be obtained with ice
thickness at %" (13 mm) to %" (16 mm).
d
Replace grille.
Water will not enter pump pan until
freezing plate gets cold and machine
goes into a harvest cycle.
9
d'installation
MACHINE
Pike
no2180913
A GLACONS
Changement
du
panneau de la
Porte du receptacle
et du panneau
inferieur
2
Renseignements
generaux
3
Instructions a
I'intention du
plombier
4
Instructions a
I'intention de
I'electricien
6
Mode de
fonctionnement
7
Ne pas oublier
7
Instructions
d'utilisation
8
Schema de cdblage
8
Controle du
fonctionnement
g
AUTOMATIQUE
Changement
du panneau
de la Porte du rkeptacle
du panneau inferietir
et
La Porte du rkeptacle
2 glaGons peut recevoir un
panneau dkcoratif en bois (facultatif) choisi par
I'utilisateur. L'Bpaisseur du panneau en bois ne
doit pas dbpasser 6 mm ('I4 PO). DBcouper le
panneau aux m&mes dimensions que le panneau
mktallique d'origine.
Pour changer le panneau de la Porte du
rkeptacle
:
1. Ouvrir la Porte du rkeptacle.
2. &er les deux vis de fixation de la poignke, en
haut de la Porte.
3. Enlever la poignbe et la bande decorative de
la poignke.
4. Retirer le panneau m6tallique.
5. Briser les nervures de I'isolant de la Porte,
pour qu'il soit possible de placer le panneau
en bois d'bpaisseur convenable.
6. lnsbrer le panneau en bois dans le chksis de
la Porte.
7. FIbinstaller la poignbe avec ses vis.
Porte du
rkeptacle
286 mm
(11% po)
Panneau
inf&ieur
303 mm
(11% po)
1
1 ENBo'S
u ;mpmo)
~ZEKm(17+jF
Pour changer le panneau infkieur
:
1. Oter les trois vis fixant le panneau infbrieur 2
la machine A glaCons.
2. &er les deux vis en haut du panneau.
3. Retirer les panneaux mbtalliques et plaques
d'espacement.
4. lnsker le panneau en bois dans le chkssis de
la Porte.
5. RBinstaller la pat-tie supkieure du panneau.
Briser toutes les
nervures de I'isolant
pour pouvoir inkrer
le panneau en bois
de 6 mm (% po)
d'6paisseur
REMARQUE : Veiller Ace que le panneau
galvanisk soit rknstalle $I I'arrikre du panneau.
italonnage
des thermostats
Si la machine & glaGons est instalke A une
altitude supkrieure & 600 m (2 000 pi) au-dessus
du niveau de la mer, on doit effectuer un rbglage
des thermostats (pour rkeptacle et bpaisseur de
la glace). DBbrancher I'appareil du circuit
Utilisation
bateau
de la machine
Lorsque cette machine A glaCons est installke A
bord d'un bateau, il peut &re wkessaire
d'installer un dkflecteur d'eau. Le dkflecteur est
suspendu entre le bord infkieur de I'Bvaporateur
2
Blectrique; 6ter le thermostat et executer les
instructions dkrivant le rbglage de la puissance
de refroidissement en fonction de I'altitude (vis)
comme ceci est indiqub sur I'ktiquette de chaque
thermostat.
6 glaqons
sur un
et la grille de dkoupage.
Ce deflecteur empkhe
I'eau qui s'kcoule par-dessus Mvaporateur de se
repandre dans le rkeptacle.
Commander les
pikes nkcessaires auprks du concessionnaire
local de machines A glaqons.
Renseianements
-
cwh6raux
Dbballage
1. Placer la boite en appui sur la face arriere, et
ouvrir les rabats du fond.
2. Placer la boite verticalement, en veillant a
ecarter les rabats.
3. Soulever la boite en carton pour degager la
machine.
4. Retirer tous les rubans adhesifs et materiaux
d'emballage a I'exterieur et a I'interieur de la
caisse.
5. &er le panneau d'acces inferieur; pour cela,
oter les deux vis fixant la grille en bas, et une
vis au sommet; soulever pour &parer le
panneau de la caisse.
6. Faire tourner le ventilateur a la main pour
verifier qu'il tourne librement.
7. Desserrer un peu les vis fixant la grille de
decoupage et le plateau de collecte de I'eau
(vis serrees seulement a la force des pouces)
Raccordements
(dectricit6
&J/p7 zgi:ge
karter
les rabats de la boite
et plomberie)
OBSERVER LES DISPOSITIONS DES CODES
LOCAUX
Chaque installation est spbciale, mais peut
ndcessiter :
1. Une arrivee d'eau froide (tube en cuivre
malleable de 6 mm (j/4 po) de dia. ext., avec
robinet d'arret).
2. Une prise de courant de 115 volts, 60 Hz, CA
seulement, convenablement reliee a la terre;
circuit electrique de 15 ou 20 amperes, installe
conformement aux dispositions du Code national
des installations electriques, et aux codes et
reglements locaux.
Choix
Eau
3. Un systeme de rejet a l'egout par gravite ou
pompe de refoulement rejetant I'eau dans une
canalisation d'egout existante.
de l'emplacement
1. Placer I'appareil de telle man&e
que la face
avant ne soit soumise a aucune obstruction, pour
qu'il y ait une circulation d'air convenable.
2. L'emplacement d'installation doit etre bien a&e;
la temperature doit etre superieure a 13 "C
(55 "F) et inferieure a 43 "C (110 "F). On obtient
les meilleurs resultats lorsque la temperature est
situee entre 21 et 32 "C (70 et 90 "F).
3. Determiner les modes de raccordement au
reseau d'alimentation electrique et aux
canalisations d'arrivee d'eau et d'egout.
4. L'appareil peut etre enferme en haut et sur trois
c&es, mais pour qu'il fonctionne convenablement, la face avant NE DOIT faire I'objet
d'aucune obstruction entravant la circulation de
I'air. Installer I'appareil de telle maniere qu'il soit
possible de deplacer la caisse vers I'avant si
c'est necessaire pour les travaux d'entretien.
Electricit
Cet appareil
DOIT Btre
install6 dans
un endroit
protege des
intemperies
(vent, pluie,
projection
d'eau, etc.)
Mise d'aplomb
1. Apres avoir place I'appareil a l'emplacement
d'installation, controler I'aplomb, lateralement
et d'avant en arriere.
2. Un reglage p&is de I'aplomb de I'appareil est
essentiel pour un fonctionnement convenable.
3. Si c'est necessaire, placer des tales afin que
I'appareil soit d'aplomb et repose bien sur les
quatre pieds. Utiliser pour les tales un
materiel a rigidite permanente comme
Masonite.
Instructions
plombier
4. Si cette machine a glacons doit etre utilisee
dans une application commerciale assujettie
aux normes de la National Sanitation Foundation (NSF), la NSF stipule qu'il y ait une
jonction etanche entre le plancher et le rail
inferieur de la machine a glacons. Pour
realrser cette etancheite exigee par la NSF,
nous recommandons I'emploi d'un compose
d'etancheite aux silicones.
2 I'intention
du
Raccordement
5 la canalisation
d'arrivge
d'eau (observer les dispositions
des codes
se trouve dans le sachet de petites pieces. Ce
locaux)
point de raccordement facilite la deconnexion pour
1. Pour I'arrivee d'eau froide, utiliser du tube en
cuivre malleable de 6 mm (l/4 po) de dia. ext.
2. Installer un robinet d'arret manuel sur
I'arrivee d'eau, dans un endroit pratique.
3. Positionner le tube d'arrivee d'eau de telle
maniere qu'il puisse passer facilement a
travers le trou d'acces situe a I'arriere de la
caisse, du tote droit. Le tube doit depasser
a I'avant de la caisse lorsqu'on repousse
I'appareil jusqu'a sa position d'installation
finale.
REMARQUES
:
Ne pas oublier de purger la canalisation
d'arrivee d'eau avant d'effectuer le
raccordement final a I'entree de I'electrovanne,
pour eviter tout risque de fonctionnement
defectueux de l'electrovanne.
les travaux d'entretien. Veiller a ce que le tube
d'arrivee d'eau ne puisse entrer en contact avec
le compresseur, pour eviter tout bruit intempestif.
Canalisation
d'arrivee
d'eau, 6 mm
('Apo) de dia. 19
ext.; raccord B
comoression sur
klectrovanne,
entree
, d'eau
Conferer au
tube d'arrivee
d'eau la forme
connecter
sur le raccord
de l'electrovanne
Apres avoir place I'appareil a son emplacement
final, conferer au tube d'arrivee d'eau la forme
necessaire pour pouvoir realiser la connexion
sur l'electrovanne. Le raccord a compression
(filetage du type de celui des tuyaux d'arrosage
de jardin)
DIMENSIONS
VUE DE DROITE
-95mm
(3%
VUE ARRICRE
200mm
t+ (' 7'/sp0) +I
po)
Tube d'evacuation en caoutchouc, dia. int.
16 mm (% po) x
POUR ENCASTREMENT
miner le tuyau
orifice d'evacuala canalid'evacuation,
136mm
(,,h oo,
4
'
23 mm @IJo)
Raccordement
(observer
B I'hgout
les dispositions
des codes
1. L'appareil est dote d'un systeme de d&charge
a l'egout, par gravite.
2. L'installation ideale comporte un tuyau
d'evacuation (minimum 32 mm [I % PO])
installe directement au-dessous de I'orifice
de decharge du tube de decharge. Voir les
Raccordement
l
schemas pour I'emplacement convenable du
tuyau d'evacuation.
3. II peut etre utile d'isoler parfaitement la
canalisation d'evacuation, jusqu'a I'orifice
de decharge.
a la pompe
Lorsqu'il nest pas possible de raccorder le circuit
d'evacuation directement au-dessous du tube
d'evacuation, installer une pompe d'evacuation
dans le compartiment arriere de la machine a
glagons. Cette pompe doit cornporter les
specifications suivantes :
. Elle doit etre homologuee par U.L. et etre listee
U.L. 120 VAC, cordon electrique a 3 broches
relic a la terre.
Dimensions g&r&ales maximales a I'exterieur :
381 mm (15 po) de largeur x 152 mm (6 po) de
profondeur x 241 mm (9 112 po) de hauteur.
* Debit minimum de la pompe : 91 litres
(24 gallons) par heure [1,5 litre (0,4 gallon)
par minute] a une elevation de 3,7 m (12 pi).
. Gamme de temperature : 13°C (55°F) a
44°C (110°F)
loeaux)
d'bacuation
Instructions
Wlectricien
Spkifications
de I'alimentation
Cet appareil doit etre alimente par un circuit de
115 volts, 60 Hz. CA seulement, 15 ou 20
amperes, convenablement
relic ti la terre
conformement aux dispositions du Code national
des installations electriques, et aux codes et
reglements locaux.
M6thode
de
& I'intention
de liaison
klectrique
On recommande I'emploi d'un circuit
d'alimentation independant, ne desservant que
cet appareil. Utiliser une prise de courant dont il
n'est pas possible d'interrompre I'alimentation a
I'aide d'un rnterrupteur. NE PAS utiliser une
rallonge.
ZJla terre
Prise de courant murale B
3 broches, relike k~la terre
ZJ
*
Cordon
d'alimentation
Risque de choc electrique
Cette machine a glacons doit Qtre reliee a la
terre.
Ne pas relier cet appareil a la terre a un conduit
de gaz.
Nepasmodifierlaficheducordond'alimentation
blectrique. Si la fiche ne convient pas a la prise
decourant, faire installer une priseconvenable
par un electricien qualifie.
Ne pas installer de fusible dans le circuit de
liaison a la terre ou dans le conducteur neutre;
ceci susciterait un risque de choc Blectrique.
Ne pas utiliser un cable de rallonge avec cette
machine a glacons.
Encasdedoute,contacterunelectricienqualifie.
Le non-respect de ces instructions peut Qtre la
cause d'un accident mortel ou de blessures
graves.
6
branchement
&
Pour la securite personnelle des utilisateurs, il faut
que cet appareil soit relic a la terre. Cet appareil est
alimente par un cordon d'alimentation comportant
une fiche de branchement a trois broches, pour
liaison a la terre. Pour minimiser le risque de choc
electrique, brancher le cordon d'alimentation sur une
prisedecourantmuralerelieealaterreconformement
aux stipulations du Code national des installations
electriques, et aux codes et reglements locaux. Si
une prise de courant murale compatible avec la fiche
de branchement nest pas disponible, c'est au client
qu'incombe I'obligation de faire installer une prise de
courant murale atrois brochesconvenablement
reliee
a la terre, par un electricien qualifie.
Mode de fonctionnement
0 Compresseur en marche
9 Ventilateur du condenseur en marche
* Pompe B eau en rrarche (circulation de I'eau)
l Grille de decoupage
tiede au toucher
* L'electrovanne de I'entree d'eau s'ouvre
0 L'exces d'eau est rejete dans le plateau de
collecte/drainage
l
La grille de decoupage est tiede au toucher
LORSQUE L'CPAISSEUR Dl%IR~E DE LA
PLAQUE DE GLACE EST ATTEINTE, LE
PROCESSUS DE COLLECTE DES GLACONS
DkBUTE, ET ON PEUT OBSERVER LES
OPkRATIONS SUIVANTES :
REMARQUE : La duree de I'operation de
collecte des glacons est de 1 a 2 minutes.
Thermostat de l'evaporateur satisfait
. Le compresseur continue de fonctionner
l
Le ventilateur du condenseur s'arrete ou tourne
tres lentement
. La pompe a eau s'arrete
l
L'electrovanne des gaz chauds s'ouvre
l
LA MACHINE RECOMMENCE L'OPtRATION
DE CONGELATION Dl% WE LA PLAQUE DE
GLACE A IiTg LIBkReE DE L'th'APORATEUR
ET QUE LE DkOUPAGE A COMMENCk
LORSQUE LE RlkEPTACLE A GLACONS
EST PLEIN, LE THERMOSTAT DU
RkEPTACLE S'OUVRE.
. La grille de decoupage
demeure alimentee
Ne pas oublier
l
l
l
L'eau ne penetre que pendant la phase de
degivrage. Par consequent, il n'y aura pas
d'eau dans le systeme pendant I'execution du
premier cycle.
Comme la temperature de I'eau et de la piece
peut varier, la quantite de glace produite sera
variable. Ceci signifie qu'une temperature
ambiante elevee suscite une reduction de la
production de glace.
L'alimentation electrique de I'appareil est
interrompue lorsque la glace accumulee dans
le receptacle atteint le puits du thermostat du
receptacle; un processus marche/arret cyclique
se repete automatiquement pour que le
receptacle demeure plein.
Le receptacle a glacons n'est pas refrigere, et on peut
y observer une certaine fusion des glacons. Cela
depend de la temperature de la piece.
9 Pour que I'appareil puisse fonctionner efficacement, il
faut qu'il y ait une bonne circulation de I'air. Veiller a la
proprete de la grille avant et du condenseur.
l
II est necessaire de nettoyer periodiquement le
systeme de circulation de I'eau, y compris le tamis de
filtration de l'electrovanne d'entree d'eau. On trouve
les instructions a cet effet sur le panneau de Porte
interne.
l
Instructions
d'utilisation
. Au sujet des instructions detaillees, voir le
Guide d'utilisation et d'entretien.
l Avant la mise en marche de I'appareil,
laver les
surfaces interieures avec une solution de
bicarbonate de sodium (26 g [2 c. a soupe] de
bicarbonate dans 1 litre [l pinte] d'eau tiede).
Rincer parfaitement.
l Verifier que I'arrivee d'eau est ouverte.
l Placer le commutateur
de commande a la
position de MARCHE (ON).
GRILLE DE DECOUPAGE
GLACONS
19 mm x 19 mm 13/4 p0
IMPORTANT : Laisser I'appareil fonctionner
pendant 3 heures avant d'obtenir une production
de glace, et pendant 24 heures avant d'essayer
de regler l'epaisseur de la plaque de glace.
Si I'appareil est installe a une altitude
superieure a 600 m (2 000 pi) au-dessus du
niveau de la mer, voir le reglage des thermostats a la page 2.
Sch6ma
de cgblage
Ce modele est alimente sous 115 volts, a
I'exception du circuit de la grille de decoupage,
qui est alimente sous 8,5 volts/l A.
Le compresseur fonctionne en permanence, sauf
lorsque le thermostat du receptacle a glacons est
satisfait et ouvre le circuit. Ceci interrompt
I'alimentation du systeme, a I'exception du
transformateur et de la grille de decoupage.
Dans les conditions de service normales, lorsque
I'evaporateur atteint la temperature
preselectionnee (-12 a -19 "C [+lO a -3 "F], selon
I'epaisseur de la plaque de glace), le thermostat
de I'evaporateur s'ouvre; ceci interrompt le
fonctionnement du moteur du ventilateur et du
moteur de la pompe. L'electrovanne des gaz
chauds et I'electrovanne d'arrivee d'eau sont
alors alimentees, et demeurent alimentees
jusqu'a ce que la temperature dans I'evaporateur
atteigne 3 ' + 1 "C [38 ' + 2 "F].
Risque de choc electrique
Debrancher I'appareil de la source
d'alimentation electrique avant
d'entreprendre des travaux d'entretien.
Le non-respect de cette instruction peut
Qtre la cause d'un choc electrique.
REMARQUE : On recommande I'emploi d'un disjoncteur ou
fusible temporise de 15 A ou 20 A.
8
DES
X
1
216 mm
(6% po)
%4
po)
Contr6le
du fonctionnement
Pour la mise en marche de I'appareil. placer
le commutateur a la position de MARCHE
(ON) et ouvrir le robinet d'arrivee d'eau.
REMARUUE : Position de gauche OFF =
ARRET, position mediane ON = MARCHE,
position de droite CLEAN = NETTOYAGE.
A la position CLEAN, seule la pompe
fonctionne.
Verifier visuellement que le ventilateur du
condenseur tourne. Controler le debit d'air.
Ne pas introduire la main dans la zone du
ventilateur.
L'eau ne parviendra pas au plateau qui
alimente la pompe avant que la plaque de
congelation se soit refroidie et que la
machine ait atteint la phase de decoupage
des glacons.
d
Verifier qu'il y a un debit d'eau uniforme sur
la plaque de congelation. Pour que
I'appareil fonctionne convenablement,
il faut
qu'il soit d'aplomb.
/
Controler I'epaisseur des glacons; si
necessaire, effectuer le reglage apres 24
heures. On obtient le meilleur rendement de
production des glacons lorsque I'epaisseur
de la plaque de glace est de 13 mm (% PO)
A 16 mm (76 po).
d
Reinstaller la grille.