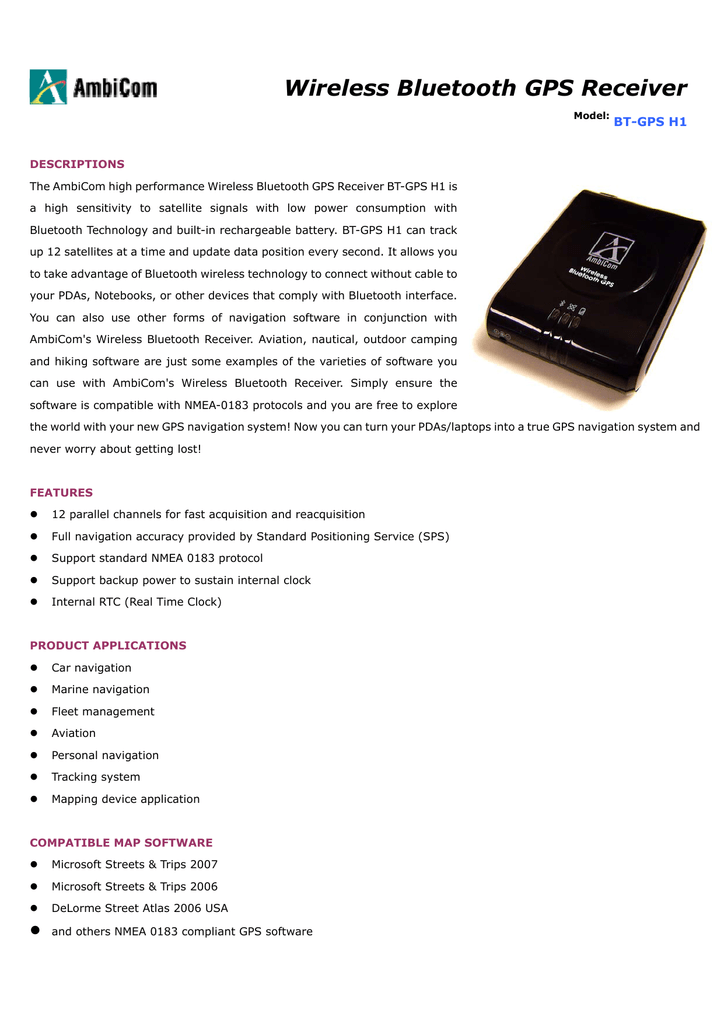 Wireless Bluetooth GPS Receiver
Model:
BT-GPS H1
DESCRIPTIONS
The AmbiCom high performance Wireless Bluetooth GPS Receiver BT-GPS H1 is
a high sensitivity to satellite signals with low power consumption with
Bluetooth Technology and built-in rechargeable battery. BT-GPS H1 can track
up 12 satellites at a time and update data position every second. It allows you
to take advantage of Bluetooth wireless technology to connect without cable to
your PDAs, Notebooks, or other devices that comply with Bluetooth interface.
You can also use other forms of navigation software in conjunction with
AmbiCom's Wireless Bluetooth Receiver. Aviation, nautical, outdoor camping
and hiking software are just some examples of the varieties of software you
can use with AmbiCom's Wireless Bluetooth Receiver. Simply ensure the
software is compatible with NMEA-0183 protocols and you are free to explore
the world with your new GPS navigation system! Now you can turn your PDAs/laptops into a true GPS navigation system and
never worry about getting lost!
FEATURES
12 parallel channels for fast acquisition and reacquisition
Full navigation accuracy provided by Standard Positioning Service (SPS)
Support standard NMEA 0183 protocol
Support backup power to sustain internal clock
Internal RTC (Real Time Clock)
PRODUCT APPLICATIONS
Car navigation
Marine navigation
Fleet management
Aviation
Personal navigation
Tracking system
Mapping device application
COMPATIBLE MAP SOFTWARE
Microsoft Streets & Trips 2007
Microsoft Streets & Trips 2006
DeLorme Street Atlas 2006 USA
and others NMEA 0183 compliant GPS software
SPECIFICATION
Standards
Bluetooth Specification V1.2 Compliant
Receiver
12 Parallel Channels
Frequency
L1, 1.57542 GHz, C/A Code
Acquisition Time
Cold Approximately 50~60 Seconds, Typical TTFF(95%)
Warm Approximately 35~40 Seconds, Typical TTFF(95%)
Hot Approximately 02~06 Seconds, Typical TTFF(95%)
Update Rate
Once Per Second, Continuous
GPS Accuracy
Position 2D RMS: Approximately 5m
Sensitivity
Acquisition -139 dBm (Average) Or Less In Normal Mode
Tracking -152 dBm (Average) Or Less
Dynamics
Altitude (Maximum) 59055.12ft (18000m)
Velocity (Maximum) 1640.42ft/sec (500m/sec)
Acceleration ± 4g
Power
Power Consumption
Under 200mA
Power Supply
+4.5VDC To +5.5VDC
Dimensions (LxWxH)
2.95 x 2.11 x 0.80in (75 x 53.6 x 20.4mm)
Baud Rate
4800
I/O Protocols
NMEA 0183
Antenna
Build-In Patch Antenna
External Antenna Connector
MMCX Type
Bluetooth Version 1.1 Compliant
Bluetooth Class 2 Operation (Up To 10 Meter Range)
Bluetooth Specification
Modulation: FHSS / GFSK
RF Channels: 79
Input Sensitivity: -80 dBm
Output Level: 4 dBm
Environment Conditions
Operating Temperature -4°F ~ +140°F (-20°C ~ +60°C)
Storage Temperature -4°F ~ +158°F (-20°C ~ +70°C)
Operating Humidity 5% ~ 95% RH, Non Condensing
Certification
FCC, CE
Warranty
1 Year Limited
SKU
BT-GPS H1
Package Contents
Wireless Bluetooth GPS Receiver BT-GPS, Quick Installation Guide, Rechargeable
Battery, Car & Home Charger
AmbiCom. Inc, 405 River Oaks Parkway. San Jose, CA 95134 USA. Phone: 1.408.321.0822 Fax: 1.408.321.0826 Website: www.ambicom.com. Email: sales@ambicom.com.
©2005 AmbiCom, Inc. All rights reserved. AmbiCom logo and AmbiCom name, are registered trademarks of AmbiCom, Inc. All others' trademarks are the property of their respective owners.

* Your assessment is very important for improving the work of artificial intelligence, which forms the content of this project