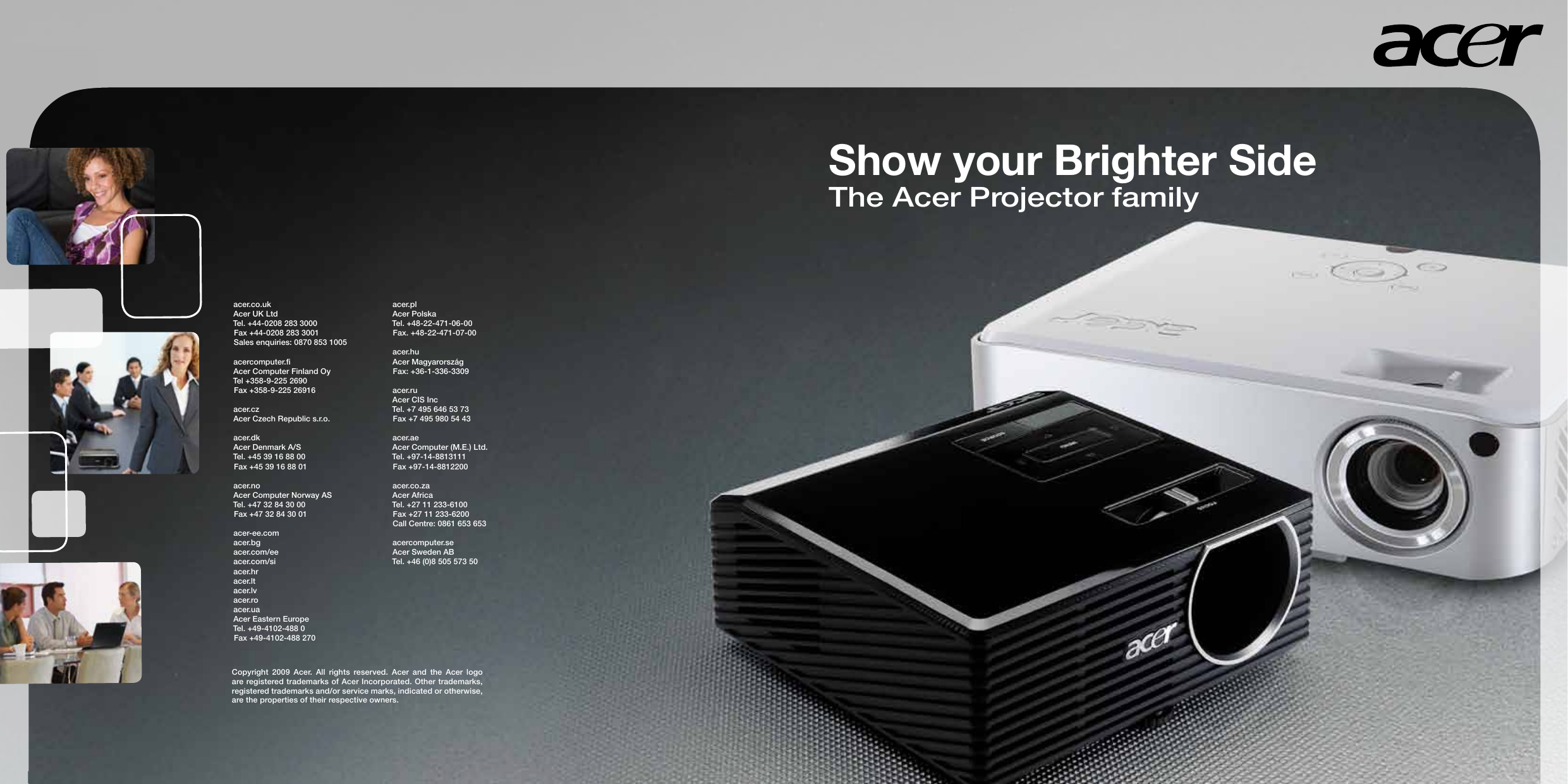 Show your Brighter Side
The Acer Projector family
acer.co.uk
Acer UK Ltd
Tel. +44-0208 283 3000
Fax +44-0208 283 3001
Sales enquiries: 0870 853 1005
acercomputer.fi
Acer Computer Finland Oy
Tel +358-9-225 2690
Fax +358-9-225 26916
acer.pl
Acer Polska
Tel. +48-22-471-06-00
Fax. +48-22-471-07-00
acer.hu
Acer Magyarország
Fax: +36-1-336-3309
acer.cz
Acer Czech Republic s.r.o.
acer.ru
Acer CIS Inc
Tel. +7 495 646 53 73
Fax +7 495 980 54 43
acer.dk
Acer Denmark A/S
Tel. +45 39 16 88 00
Fax +45 39 16 88 01
acer.ae
Acer Computer (M.E.) Ltd.
Tel. +97-14-8813111
Fax +97-14-8812200
acer.no
Acer Computer Norway AS
Tel. +47 32 84 30 00
Fax +47 32 84 30 01
acer.co.za
Acer Africa
Tel. +27 11 233-6100
Fax +27 11 233-6200
Call Centre: 0861 653 653
acer-ee.com
acer.bg
acer.com/ee
acer.com/si
acer.hr
acer.lt
acer.lv
acer.ro
acer.ua
Acer Eastern Europe
Tel. +49-4102-488 0
Fax +49-4102-488 270
acercomputer.se
Acer Sweden AB
Tel. +46 (0)8 505 573 50
Copyright 2009 Acer. All rights reserved. Acer and the Acer logo
are registered trademarks of Acer Incorporated. Other trademarks,
registered trademarks and/or service marks, indicated or otherwise,
are the properties of their respective owners.
index
2
Video Projector Technologies
4
Empowering Technologies
6
Exciting 3D Projection to Mesmerize your Audience
8
Big Screen Entertainment at Home
10
Wide Adaptability for Superior Viewing Comfort
12
Outstanding Image Quality Anywhere
14
Great Performers with a Featherweight
16
High Definition Experience
18
Enliven Your Lessons
20
Capture Your Audience
22
Superior Performance for Large Boardrooms
Acer Projector
Empowering
Technology
Designed to make the use of any Acer projector easy and trouble-free, the
Empowering Key gives instant access to simple setup, viewing and timer
utilities, making you more productive and helping get the right message
across the first time, every time.
Acer eView Management
Acer eView Management provides fast and easy adjusting of the projector
settings to suit any lighting condition and any type of content. It includes a
range of pre-set and custom display profiles to instantly configure colour,
brightness and contrast to deliver best-quality images.
Acer eTimer Management
Acer eTimer Management provides a handy OSD timer to keep users on time.
Complete with countdown and alarm capabilities, Acer eTimer Management
puts precision into your finest presentations.
Acer eOpening Management
Acer eOpening management allows the start-up and standby screens to be
personalised with any number of stored images at the touch of a button.
Acer ePower Management
Acer ePower Management offers quick configuration of power management
options to extend lamp life and reduce power consumption.
Acer Technologies
Acer's family of projectors ensures the best projection in any environment, offer excellent usability
and powerful energy saving solutions thanks to cutting-edge technologies.
Acer ColorBoost II+ Technology
Acer video-projectors reproduce images images with more natural and balanced shades,
achieving truly lifelike tones, thanks to Acer ColorBoost II+ enhancement technology, featuring an
optimised 6-segment colour wheel design, a powerful image processor and an advanced lamp
waveform. As a result, colour performance is vastly improved for incredibly realistic projections.
Acer ColorSafe
When projectors are used for extended periods of time the displayed images might take on a
yellowish or greenish hue. To ensure picture integrity, Acer's projectors use ColorSafe and DLP®
technologies making them virtually immune to colour decay ensuring longer lifespan and consistent
image quality.
3D Projection Solutions
The era of 3D vision has begun. The three-dimensional experience is made possible by certified
solutions that, using high (120 Hz) refresh rates, can transform the flat surface of the room wall into a
3D screen thanks to a combination of a PC with a compatible graphic card and special 3D glasses.
The possibilities unlocked by this simple solution are limited only by our imagination:
exploring the incredible human anatomy or the universe in 3D detail;
touring famous archaeological sites just like being there...
Acer video-projectors are available with DLP 3D Ready or NVIDIA 3D Vision Ready solutions.
Acer EcoProjection
Technologies
Acer EcoProjection is a comprehensive solution that ensures the projector is environmentfriendly by reducing power consuming, by avoiding usage of known hazardous substances and
by adopting a minimalist packaging design made of recyclable materials. Acer projectors with
EcoProjection technology have an energy saving design that reduces power consumption by more
than 50% in standby mode and by up to 20% in EcoMode. Plus, the projector automatically enters
EcoMode if there isn't any input signal for 5 minutes and through Acer ePower Management users
can setup customized power saving configurations. Using Acer EcoProjection projector helps
reduce annual CO2 output as well as total cost of ownership.
LED Technology
LED technology makes lamp replacement virtually unnecessary as LED lifetime lasts up to 20,000 hours.
As a result, the Acer projectors with LED lamps ensure exceptional reliability and great savings while
delivering a better performance. In fact, LED lamp technology allows the reproduction of a larger color
range with better saturation. The result is extraordinary realism, unobtainable with standard technologies.
On top of this, LED lamps are free of hazardous substances such as mercury or halogen gases and can
reduce power consumption up to 30%.
Model Name
Acer S5200
Resolution
Native XGA (1,024 x 768); Maximum UXGA (1,600 x 1,200), WSXGA+ (1,680 x 1,050)
Aspect Ratio
4:3 (Native), 16:9
Contrast Ratio
2500:1
Enliven your Lessons
Brightness
3,000 ANSI Lumens (Standard), 2,400 ANSI Lumens (ECO)
Projection Lens
F = 2.6, f = 7.5mm; Manual Focus
Acer S5200 Projector
Projection Screen
Size (Diagonal)
40" (102cm) ~ 300" (762cm)
Projection Distance
1.6' (0.5m) ~ 12.2' (3.7m)
Throw Ratio
161"@2m or 81"@1m (0.61:1)
Vertical Refresh
Scan Rate
56 ~ 120 Hz
Lamp Life
2,000 Hours (Standard), 3,000 Hours (ECO)
Keystone
Correction
+/-40 Degrees (Vertical ), Manual
Projection Mode
Front, Rear, Front-Ceiling, Rear-Ceiling
Audio
Two Internal Speaker with 5 watts Output
Weight
3.5 Kg (7.7 lbs)
Dimensions
290 x 254 x 99 mm (10.6" x 10.8" x 4.1")
Remote Control
IR remote control
Digital Zoom
2X
Power
Consumption
315 Watts (Operation), <1 Watt (Standby)
Noise Level
33 dBA (Standard mode), 28 dBA (ECO mode)
Input Interface
Analog RGB/Component Video (D-sub) x 2; Composite Video (RCA) x 1; S-Video (Mini DIN) x 1; HDMI (Video, HDCP) x 1; PC Audio
(Stereo mini jack) x 1; AV Audio (RCA L/R) x 1
Output Interface
Analog RGB (D-sub) x 1; PC Audio (Stereo mini jack) x 1
Contol Interface
RS232 (DE-9) x 1
Network Interface
Ethernet port (RJ45) x 1; Crestron Network Control
3D Projection
DLP 3D ready
The S5200 is especially well suited to being bring
engaging presentations and visuals in schoolrooms.
With Ultra Short Throw Distance this projector can be
placed very close to the screen and still deliver very
clear images.
To make any lesson really engaging and captivate the
classroom, the S5200 supports 3D projection.