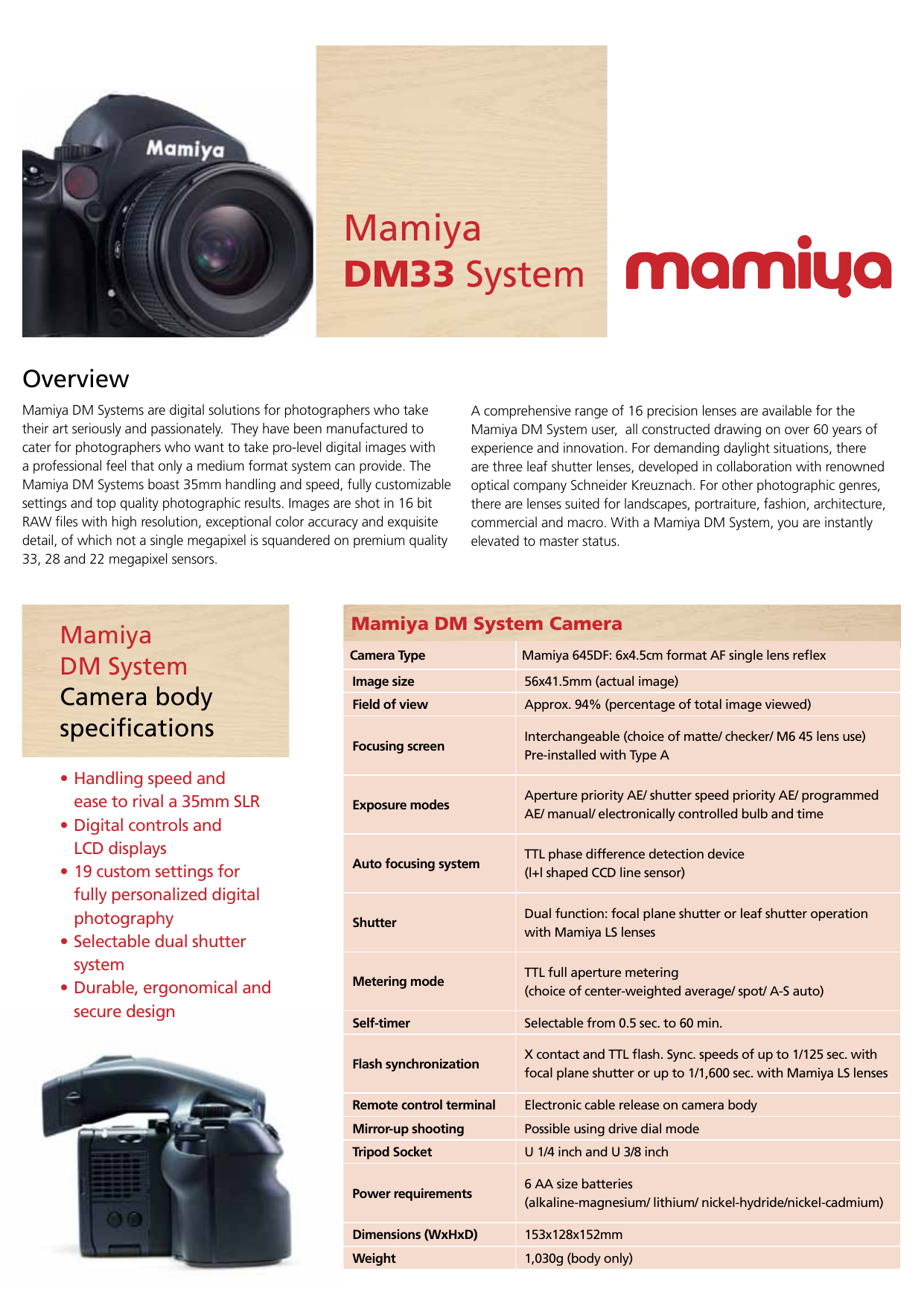 Mamiya
DM33 System
Overview
Mamiya DM Systems are digital solutions for photographers who take
their art seriously and passionately. They have been manufactured to
cater for photographers who want to take pro-level digital images with
a professional feel that only a medium format system can provide. The
Mamiya DM Systems boast 35mm handling and speed, fully customizable
settings and top quality photographic results. Images are shot in 16 bit
RAW files with high resolution, exceptional color accuracy and exquisite
detail, of which not a single megapixel is squandered on premium quality
33, 28 and 22 megapixel sensors.
Mamiya
DM System
Camera body
specifications
•Handling speed and
ease to rival a 35mm SLR
•Digital controls and
LCD displays
•19 custom settings for
fully personalized digital
photography
•Selectable dual shutter
system
•Durable, ergonomical and
secure design
A comprehensive range of 16 precision lenses are available for the
Mamiya DM System user, all constructed drawing on over 60 years of
experience and innovation. For demanding daylight situations, there
are three leaf shutter lenses, developed in collaboration with renowned
optical company Schneider Kreuznach. For other photographic genres,
there are lenses suited for landscapes, portraiture, fashion, architecture,
commercial and macro. With a Mamiya DM System, you are instantly
elevated to master status.
Mamiya DM System Camera
Camera Type
Mamiya 645DF: 6x4.5cm format AF single lens reflex
Image size
56x41.5mm (actual image)
Field of view
Approx. 94% (percentage of total image viewed)
Focusing screen
Interchangeable (choice of matte/ checker/ M6 45 lens use)
Pre-installed with Type A
Exposure modes
Aperture priority AE/ shutter speed priority AE/ programmed
AE/ manual/ electronically controlled bulb and time
Auto focusing system
TTL phase difference detection device
(l+l shaped CCD line sensor)
Shutter
Dual function: focal plane shutter or leaf shutter operation
with Mamiya LS lenses
Metering mode
TTL full aperture metering
(choice of center-weighted average/ spot/ A-S auto)
Self-timer
Selectable from 0.5 sec. to 60 min.
Flash synchronization
X contact and TTL flash. Sync. speeds of up to 1/125 sec. with
focal plane shutter or up to 1/1,600 sec. with Mamiya LS lenses
Remote control terminal
Electronic cable release on camera body
Mirror-up shooting
Possible using drive dial mode
Tripod Socket
U 1/4 inch and U 3/8 inch
Power requirements
6 AA size batteries
(alkaline-magnesium/ lithium/ nickel-hydride/nickel-cadmium)
Dimensions (WxHxD)
153x128x152mm
Weight
1,030g (body only)
Mamiya
DM33 System
Digital back
specifications
•Mega Sensor detail with high megapixel counts
•16 bit/ channel color palette for
outstanding color accuracy
•Rapid capture rate for successive shooting Intuitive and user
friendly controls and functions
•Capture One software compatibility for post-capture development
Mamiya DM33 System digital back
CCD size (mm)
48 x 36
Number of pixels
6726 x 5040
Resolution
33MP
Capture rate (sec/frame)
1.1
File size (MOS)
67MB
MOS lossless compression
47MB
TIFF 16 bit
190MB
8 bit RGB
102MB
8 bit CMYK
136MB
ISO sensitivity
50-800
LCD screen (touchscreen with stylos)
Size
6 x 7 (cm)
Image viewing
Up to 20 images on LCD screen with 1.1 zoom
Viewing tools
Histogram/ spot meter (f-stop)/ average exposure meter/ exposure alarms
Languages
English/ German/ French/ Spanish/ Italian/ Japanese/ Chinese
Properties
Operation conditions
Temperature 0-40o/ Humidity 15%-80% RH (non-condensing)
Portable power supply
1x lithium ion battery 2350Ah power
Image storage
CF card (portable mode) FireWire 800 (tethered mode)
Optional camera interfaces
Mamiya Pro II/ Mamiya Pro IID/ 4x5 Graflock
Dimensions (WxHxD)
95 x 82 x 59 (mm)
Weight
600g
To learn more:
www.mamiya.com
Contact Mamiya at E-mail us at info@mamiya.com
or contact your local Mamiya dealer.
©Mamiya Digital Imaging Co., Ltd., 2010. Mamiya is a trademark of Mamiya
Digital Imaging Co., Ltd. Subject to technical change without notice.

* Your assessment is very important for improving the work of artificial intelligence, which forms the content of this project