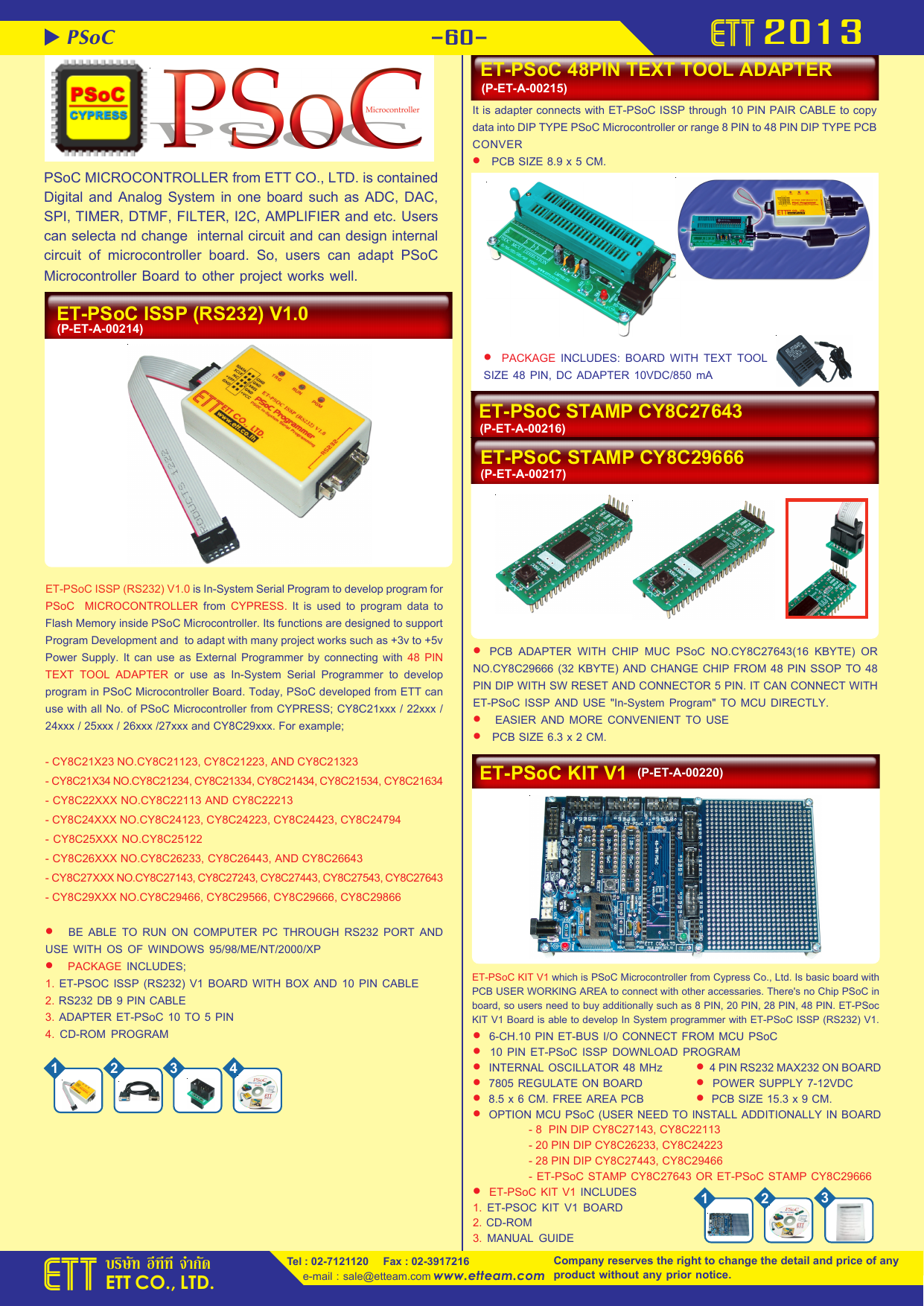 2013
-60-
PSoC
ET-PSoC 48PIN TEXT TOOL ADAPTER
(P-ET-A-00215)
PSoC MICROCONTROLLER from ETT CO., LTD. is contained
Digital and Analog System in one board such as ADC, DAC,
SPI, TIMER, DTMF, FILTER, I2C, AMPLIFIER and etc. Users
can selecta nd change internal circuit and can design internal
circuit of microcontroller board. So, users can adapt PSoC
Microcontroller Board to other project works well.
It is adapter connects with ET-PSoC ISSP through 10 PIN PAIR CABLE to copy
data into DIP TYPE PSoC Microcontroller or range 8 PIN to 48 PIN DIP TYPE PCB
CONVER
• PCB SIZE 8.9 x 5 CM.
ET-PSoC
ISSP (RS232) V1.0
(P-ET-A-00214)
• PACKAGE INCLUDES: BOARD WITH TEXT TOOL
SIZE 48 PIN, DC ADAPTER 10VDC/850 mA
ET-PSoC STAMP CY8C27643
(P-ET-A-00216)
ET-PSoC
STAMP CY8C29666
(P-ET-A-00217)
ET-PSoC ISSP (RS232) V1.0 is In-System Serial Program to develop program for
PSoC MICROCONTROLLER from CYPRESS. It is used to program data to
Flash Memory inside PSoC Microcontroller. Its functions are designed to support
Program Development and to adapt with many project works such as +3v to +5v
Power Supply. It can use as External Programmer by connecting with 48 PIN
TEXT TOOL ADAPTER or use as In-System Serial Programmer to develop
program in PSoC Microcontroller Board. Today, PSoC developed from ETT can
use with all No. of PSoC Microcontroller from CYPRESS; CY8C21xxx / 22xxx /
24xxx / 25xxx / 26xxx /27xxx and CY8C29xxx. For example;
- CY8C21X23 NO.CY8C21123, CY8C21223, AND CY8C21323
- CY8C21X34 NO.CY8C21234, CY8C21334, CY8C21434, CY8C21534, CY8C21634
- CY8C22XXX NO.CY8C22113 AND CY8C22213
- CY8C24XXX NO.CY8C24123, CY8C24223, CY8C24423, CY8C24794
- CY8C25XXX NO.CY8C25122
- CY8C26XXX NO.CY8C26233, CY8C26443, AND CY8C26643
- CY8C27XXX NO.CY8C27143, CY8C27243, CY8C27443, CY8C27543, CY8C27643
- CY8C29XXX NO.CY8C29466, CY8C29566, CY8C29666, CY8C29866
• BE ABLE TO RUN ON COMPUTER PC THROUGH RS232 PORT AND
USE WITH OS OF WINDOWS 95/98/ME/NT/2000/XP
• PACKAGE INCLUDES;
1. ET-PSOC ISSP (RS232) V1 BOARD WITH BOX AND 10 PIN CABLE
2. RS232 DB 9 PIN CABLE
3. ADAPTER ET-PSoC 10 TO 5 PIN
4. CD-ROM PROGRAM
1
2
3
บริษัท อีทีที จำกัด
ETT CO., LTD.
4
• PCB ADAPTER WITH CHIP MUC PSoC NO.CY8C27643(16 KBYTE) OR
NO.CY8C29666 (32 KBYTE) AND CHANGE CHIP FROM 48 PIN SSOP TO 48
PIN DIP WITH SW RESET AND CONNECTOR 5 PIN. IT CAN CONNECT WITH
ET-PSoC ISSP AND USE "In-System Program" TO MCU DIRECTLY.
• EASIER AND MORE CONVENIENT TO USE
• PCB SIZE 6.3 x 2 CM.
ET-PSoC KIT V1
(P-ET-A-00220)
ET-PSoC KIT V1 which is PSoC Microcontroller from Cypress Co., Ltd. Is basic board with
PCB USER WORKING AREA to connect with other accessaries. There's no Chip PSoC in
board, so users need to buy additionally such as 8 PIN, 20 PIN, 28 PIN, 48 PIN. ET-PSoc
KIT V1 Board is able to develop In System programmer with ET-PSoC ISSP (RS232) V1.
•
•
•
•
•
•
6-CH.10 PIN ET-BUS I/O CONNECT FROM MCU PSoC
10 PIN ET-PSoC ISSP DOWNLOAD PROGRAM
INTERNAL OSCILLATOR 48 MHz
• 4 PIN RS232 MAX232 ON BOARD
7805 REGULATE ON BOARD
• POWER SUPPLY 7-12VDC
8.5 x 6 CM. FREE AREA PCB
• PCB SIZE 15.3 x 9 CM.
OPTION MCU PSoC (USER NEED TO INSTALL ADDITIONALLY IN BOARD
- 8 PIN DIP CY8C27143, CY8C22113
- 20 PIN DIP CY8C26233, CY8C24223
- 28 PIN DIP CY8C27443, CY8C29466
- ET-PSoC STAMP CY8C27643 OR ET-PSoC STAMP CY8C29666
• ET-PSoC KIT V1 INCLUDES
3
2
1
1. ET-PSOC KIT V1 BOARD
2. CD-ROM
3. MANUAL GUIDE
Company reserves the right to change the detail and price of any
Tel : 02-7121120 Fax : 02-3917216
e-mail : sale@etteam.com www.etteam.com product without any prior notice.

* Your assessment is very important for improving the work of artificial intelligence, which forms the content of this project