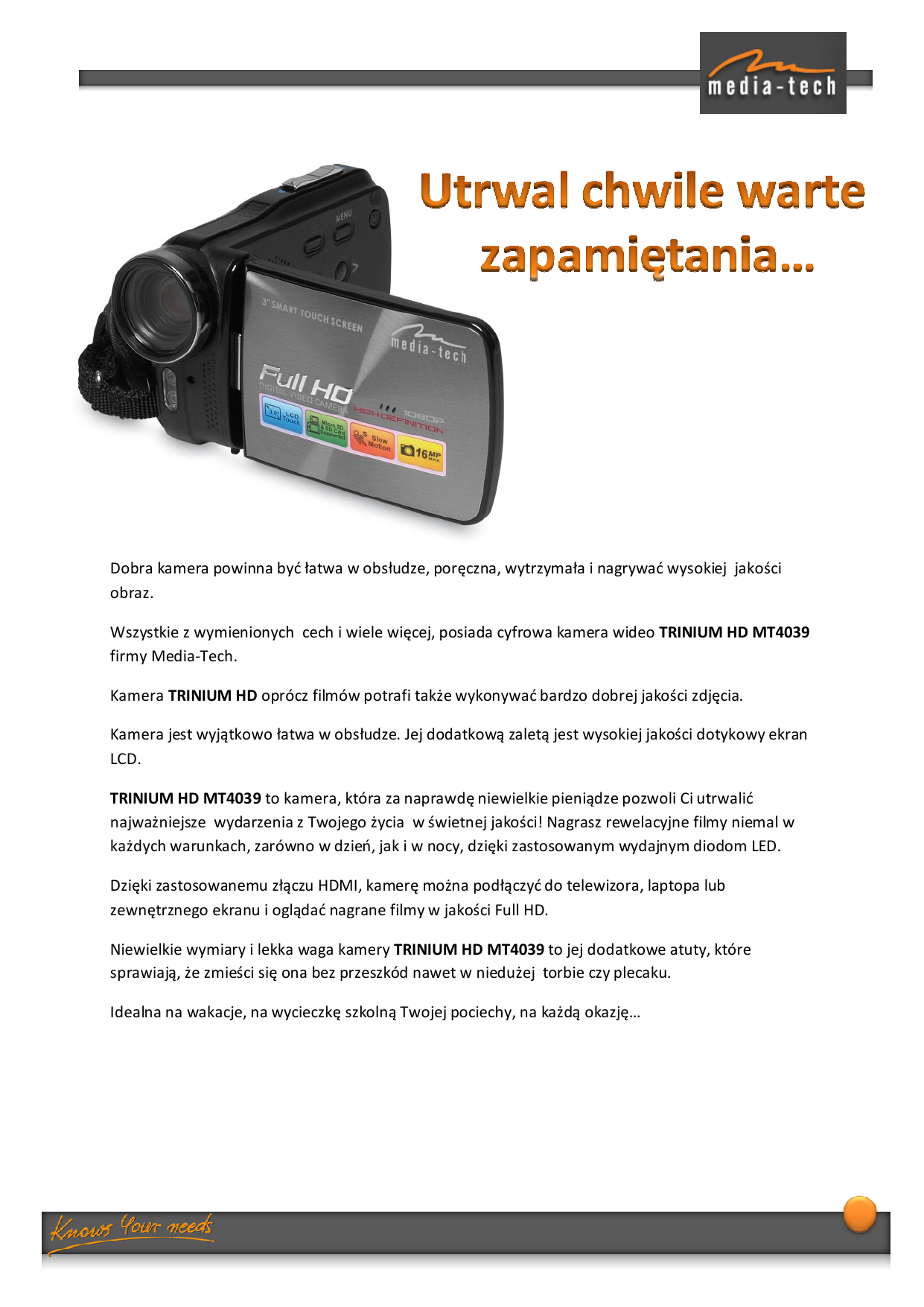 Dobra kamera powinna być łatwa w obsłudze, poręczna, wytrzymała i nagrywać wysokiej jakości
obraz.
Wszystkie z wymienionych cech i wiele więcej, posiada cyfrowa kamera wideo TRINIUM HD MT4039
firmy Media-Tech.
Kamera TRINIUM HD oprócz filmów potrafi także wykonywać bardzo dobrej jakości zdjęcia.
Kamera jest wyjątkowo łatwa w obsłudze. Jej dodatkową zaletą jest wysokiej jakości dotykowy ekran
LCD.
TRINIUM HD MT4039 to kamera, która za naprawdę niewielkie pieniądze pozwoli Ci utrwalić
najważniejsze wydarzenia z Twojego życia w świetnej jakości! Nagrasz rewelacyjne filmy niemal w
każdych warunkach, zarówno w dzień, jak i w nocy, dzięki zastosowanym wydajnym diodom LED.
Dzięki zastosowanemu złączu HDMI, kamerę można podłączyć do telewizora, laptopa lub
zewnętrznego ekranu i oglądać nagrane filmy w jakości Full HD.
Niewielkie wymiary i lekka waga kamery TRINIUM HD MT4039 to jej dodatkowe atuty, które
sprawiają, że zmieści się ona bez przeszkód nawet w niedużej torbie czy plecaku.
Idealna na wakacje, na wycieczkę szkolną Twojej pociechy, na każdą okazję…
Właściwości:
•
•
•
•
•
•
•
•
•
•
•
•
Cyfrowa kamera wideo FULL HD 1080p
Full HD 1080 @ 30fp nagrywanie wideo H.264
Możliwość wykonywania zdjęć o rozdzielczości do 16Mpix (interpolacja)
9-krotny zoom (5 x optyczny/4 x cyfrowy)
Wbudowana dioda LED dużej mocy
Dotykowy kolorowy wyświetlacz LCD 3"
Wyjście HDMI mini umożliwiające podłączenie do telewizora
Obsługa kart pamięci SDHC i MicroSD do 32GB (klasa 10)
Zasilanie: bateria litowa NP60 1050mAh
Wielojęzyczne menu
Kompaktowa budowa
W zestawie oprogramowanie do edycji wideo - Arcsoft Total Media
Gwarancja: 2 lata
PROMOCJA! Kabel mini HDMI < HDMI GRATIS!

* Your assessment is very important for improving the work of artificial intelligence, which forms the content of this project