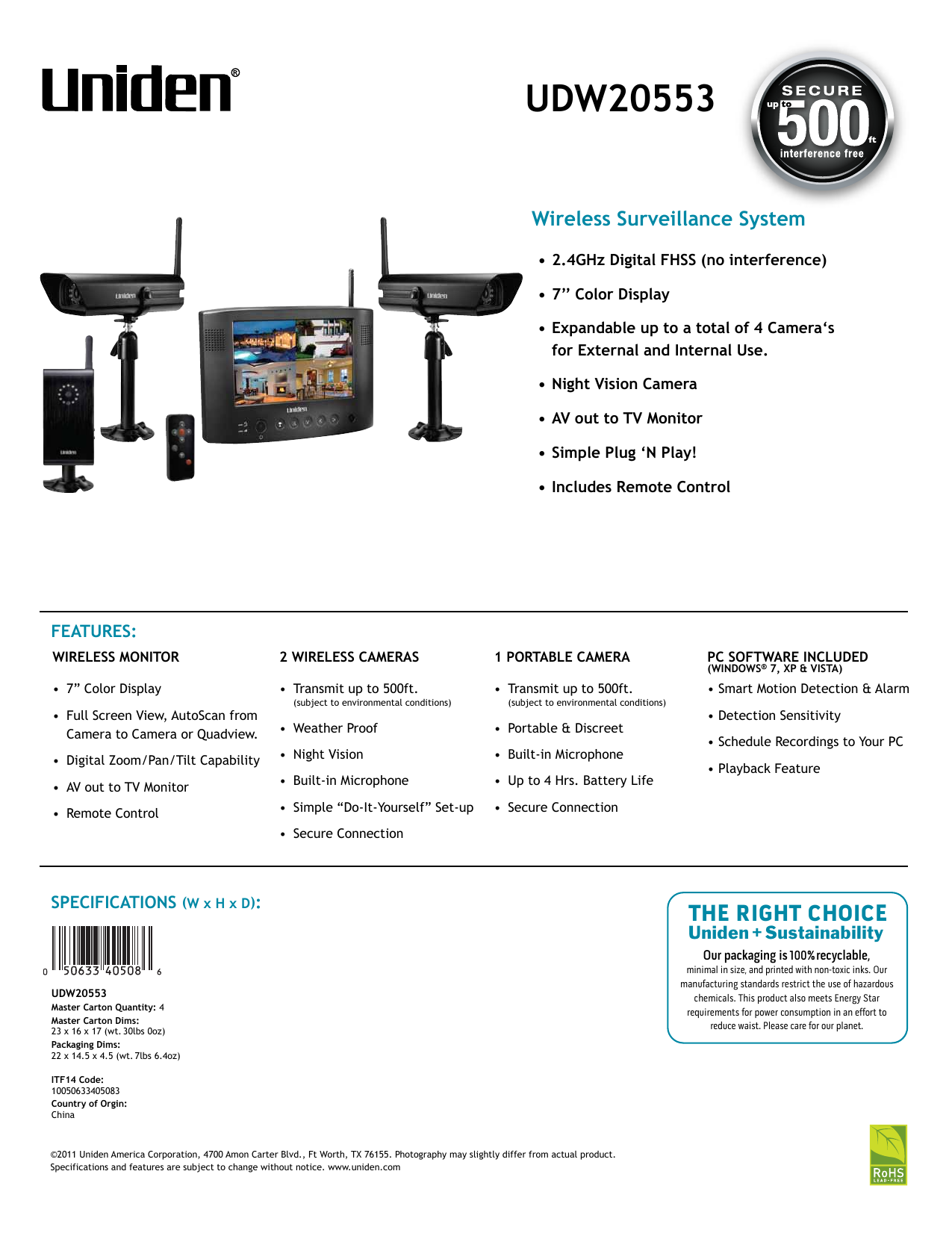 UDW20553
Wireless Surveillance System
• 2.4GHz Digital FHSS (no interference)
• 7'' Color Display
• Expandable up to a total of 4 Camera's
for External and Internal Use.
• Night Vision Camera
• AV out to TV Monitor
• Simple Plug 'N Play!
• Includes Remote Control
FEATURES:
WIRELESS MONITOR
2 WIRELESS CAMERAS
1 PORTABLE CAMERA
• 7" Color Display
• Transmit up to 500ft.
• Transmit up to 500ft.
(subject to environmental conditions)
(subject to environmental conditions)
• Full Screen View, AutoScan from
Camera to Camera or Quadview.
• Weather Proof
• Portable & Discreet
• Digital Zoom/Pan/Tilt Capability
• Night Vision
• Built-in Microphone
• AV out to TV Monitor
• Built-in Microphone
• Up to 4 Hrs. Battery Life
• Remote Control
• Simple "Do-It-Yourself" Set-up
• Secure Connection
PC SOFTWARE INCLUDED
(WINDOWS® 7, XP & VISTA)
• Smart Motion Detection & Alarm
• Detection Sensitivity
• Schedule Recordings to Your PC
• Playback Feature
• Secure Connection
SPECIFICATIONS (W x H x D):
the right choice
Uniden + Sustainability
Our packaging is 100% recyclable,
UDW20553
Master Carton Quantity: 4
Master Carton Dims:
23 x 16 x 17 (wt. 30lbs 0oz)
Packaging Dims:
22 x 14.5 x 4.5 (wt. 7lbs 6.4oz)
ITF14 Code:
10050633405083
Country of Orgin:
China
©2011 Uniden America Corporation, 4700 Amon Carter Blvd., Ft Worth, TX 76155. Photography may slightly differ from actual product.
Specifications and features are subject to change without notice. www.uniden.com
minimal in size, and printed with non-toxic inks. Our
manufacturing standards restrict the use of hazardous
chemicals. This product also meets Energy Star
requirements for power consumption in an effort to
reduce waist. Please care for our planet.

* Your assessment is very important for improving the work of artificial intelligence, which forms the content of this project