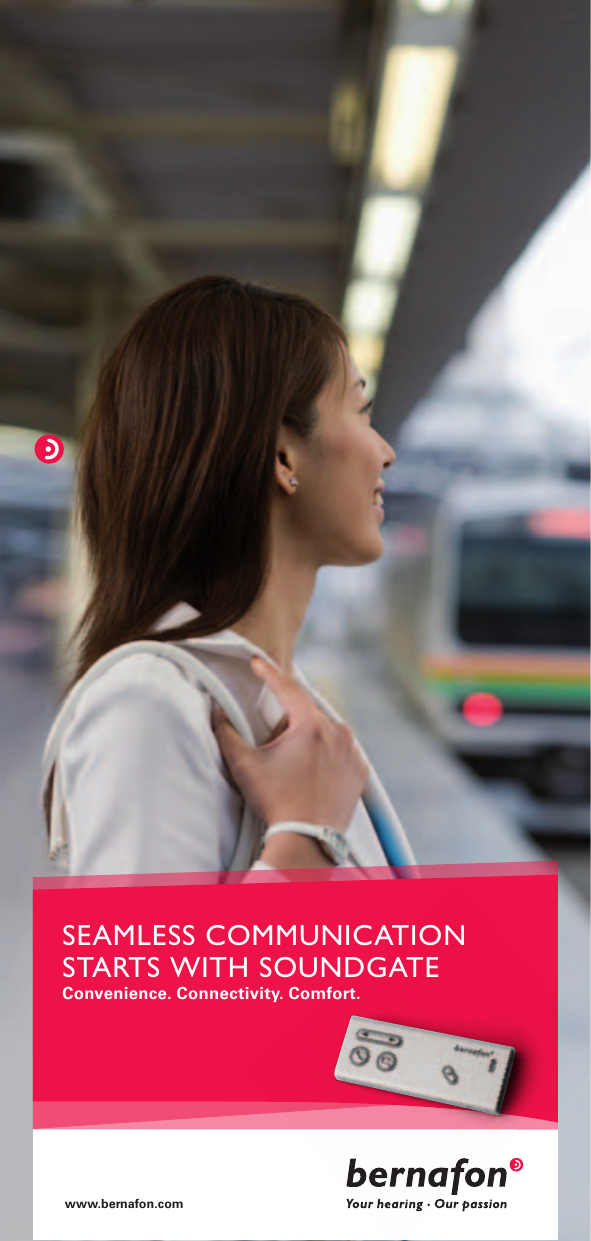 SEAMLESS ­C OMMUNICATION
STARTS WITH SOUNDGATE
Convenience. Connectivity. Comfort.
www.bernafon.com
Go Wireless, Relish the Convenience
You are happy with your hearing instruments.
They cater to your outgoing nature and active
lifestyle as you go to the movies, enjoy
live music, and engage in table conversation.
Voices are clear and natural sounding. Optimal
speech understanding and listening comfort
have significantly improved your quality of life.
And yet, in our communication-technologydriven times, you sometimes wish your hearing
­instruments also worked like …
… Like a Wireless Headset
This is exactly what SoundGate does.
Our easy-to-use interface between hearing
­instruments and Bluetooth®-enabled ­
cellular phones lets you:
∙ talk wirelessly and hands-free – enjoy greater
mobility;
∙ listen to music via cell phone or MP3 ­player – enjoy
greater ­flexibility;
∙ manage volume and program controls – enjoy
greater discretion.
Convenience
One Device. Countless Options. At the Push of a Button.
Pair SoundGate with all your external audio sources. It is compatible with all wireless-enabled, behind-the-ear
Bernafon hearing systems.
Comfort
The TV adapter enables wireless reception
of TV audio signals.
Convenience
The phone adapter provides hands-free
landline phone calls.
Mobility
Pair SoundGate with Bluetooth®-enabled audio devices – including
cell phones, computers, and MP3 players – and enjoy uninterrupted
audio streaming in both ears simultaneously. At home, at work,
and on the go.
Connectivity
Shared TV Enjoyment
Small and portable, the TV adapter easily
­connects to any television set.
Since TV signals are directly transmitted to your
hearing instruments via SoundGate, you can
watch your favorite shows at your preferred
­volume level. And so can your friends and family.
With its AutoConnect feature, the TV adapter is
always ready for use within 10 meters (30 feet)
of SoundGate.
Worried about missing a call? Don't. SoundGate
alerts you of incoming calls on your cell or …
… Your Landline Phone
SoundGate not only enables hands- and
­hassle-free calls from your cellular, but also
from your landline phone.
Paired with our phone adapter, ­SoundGate
transmits the signals from the stationary
­phone straight to your hearing instruments via
­Bluetooth® wireless technology.
Automatically ready for use within 10 meters
(30 feet) of SoundGate, the phone adapter
­delivers uninterrupted landline phone calls in
high fidelity.
To learn more about SoundGate contact your
local hearing care professional today.
Comfort
For more information about hearing and
hearing loss www.bernafon.com
Bernafon Companies: Australia ∙ Canada ∙ Denmark ∙ Finland ∙ France ∙
Germany ∙ Italy ∙ Japan ∙ Korea ∙ Netherlands ∙ New Zealand ∙ Poland ∙
Sweden ∙ Switzerland ∙ UK ∙ USA
06.11/BAG/118045/UK/subject to change
Hearing and understanding are basic human
needs. Hearing problems and the resulting
social consequences represent a challenge to
society. We believe in a world where people
with restricted hearing can communicate
again thanks to advanced technology.

* Your assessment is very important for improving the work of artificial intelligence, which forms the content of this project