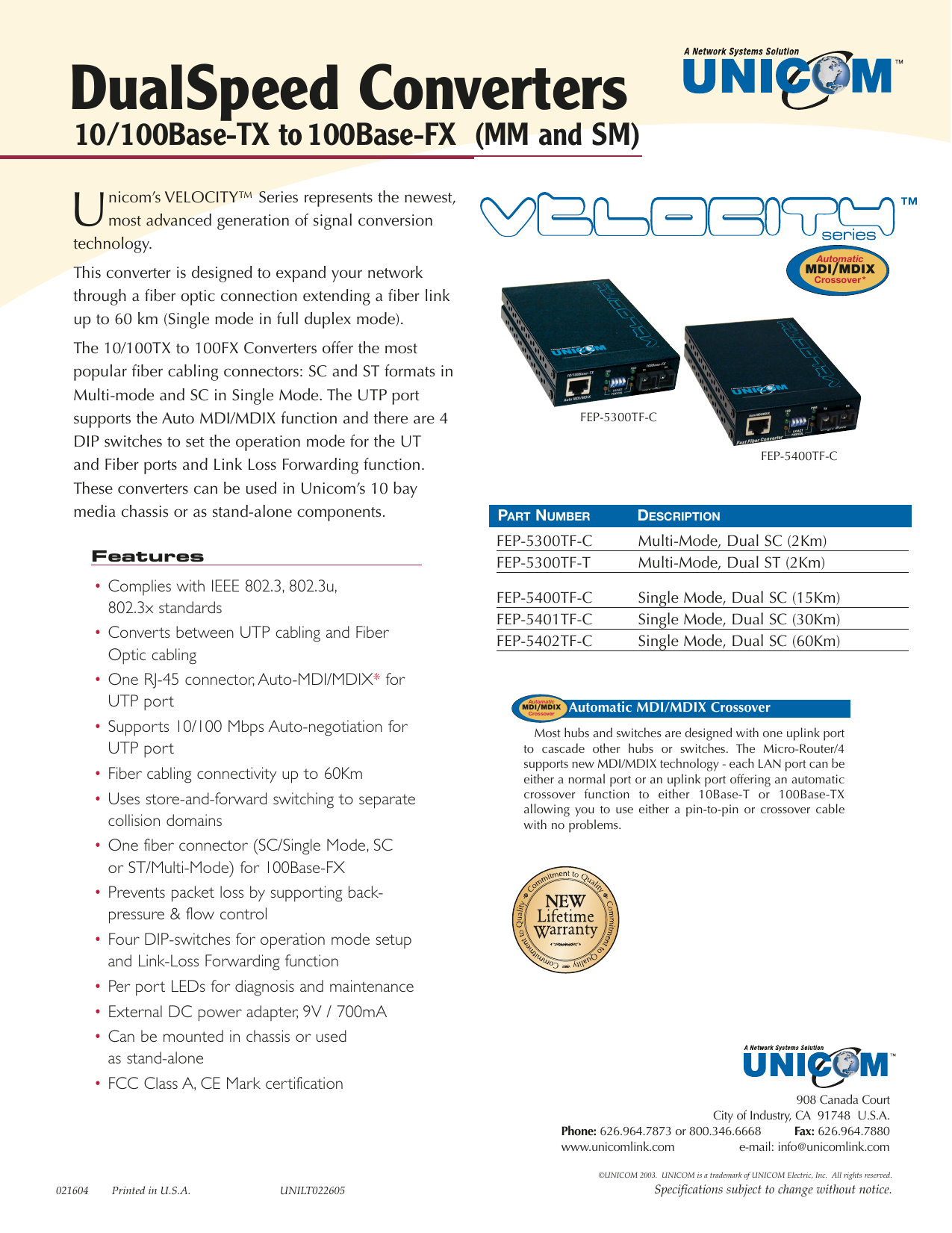 DualSpeed Converters
10/100Base-TX to 100Base-FX (MM and SM)
U
nicom's VELOCITY™ Series represents the newest,
most advanced generation of signal conversion
technology.
Automatic
MDI / MDIX
This converter is designed to expand your network
through a fiber optic connection extending a fiber link
up to 60 km (Single mode in full duplex mode).
The 10/100TX to 100FX Converters offer the most
popular fiber cabling connectors: SC and ST formats in
Multi-mode and SC in Single Mode. The UTP port
supports the Auto MDI/MDIX function and there are 4
DIP switches to set the operation mode for the UT
and Fiber ports and Link Loss Forwarding function.
These converters can be used in Unicom's 10 bay
media chassis or as stand-alone components.
Features
• Complies with IEEE 802.3, 802.3u,
802.3x standards
• Converts between UTP cabling and Fiber
Optic cabling
• One RJ-45 connector, Auto-MDI/MDIX* for
UTP port
• Supports 10/100 Mbps Auto-negotiation for
UTP port
• Fiber cabling connectivity up to 60Km
• Uses store-and-forward switching to separate
collision domains
• One fiber connector (SC/Single Mode, SC
or ST/Multi-Mode) for 100Base-FX
• Prevents packet loss by supporting backpressure & flow control
• Four DIP-switches for operation mode setup
and Link-Loss Forwarding function
• Per port LEDs for diagnosis and maintenance
• External DC power adapter, 9V / 700mA
• Can be mounted in chassis or used
as stand-alone
• FCC Class A, CE Mark certification
Crossover *
FEP-5300TF-C
FEP-5400TF-C
PART NUMBER
DESCRIPTION
FEP-5300TF-C
FEP-5300TF-T
Multi-Mode, Dual SC (2Km)
Multi-Mode, Dual ST (2Km)
FEP-5400TF-C
FEP-5401TF-C
FEP-5402TF-C
Single Mode, Dual SC (15Km)
Single Mode, Dual SC (30Km)
Single Mode, Dual SC (60Km)
Automatic
MDI / MDIX
Crossover
*Automatic MDI/MDIX Crossover
Most hubs and switches are designed with one uplink port
to cascade other hubs or switches. The Micro-Router/4
supports new MDI/MDIX technology - each LAN port can be
either a normal port or an uplink port offering an automatic
crossover function to either 10Base-T or 100Base-TX
allowing you to use either a pin-to-pin or crossover cable
with no problems.
908 Canada Court
City of Industry, CA 91748 U.S.A.
Phone: 626.964.7873 or 800.346.6668
Fax: 626.964.7880
www.unicomlink.com
e-mail: info@unicomlink.com
©UNICOM 2003. UNICOM is a trademark of UNICOM Electric, Inc. All rights reserved.
021604
Printed in U.S.A.
UNILT022605
Specifications subject to change without notice.
ACCESSORIES
Converter Features
Standard Compliance: IEEE 802.3u 10Base-T/100Base TX / 100BaseFX Fast Ethernet Standards
Interface:
(1) 100Base-TX Shielded RJ-45 Jack
(1) 100Base-FX Dual SC or ST connector
Wavelength:
1310nm.
Link Distance:
100 m Max., Category 5e/6 UTP/ScTP
2 km Max., FEP-5300TF-T or FEP-5300TF-C
15 km Max., FEP-5400TF-C
30 km Max., FEP-5401TF-C
60 km Max., FEP-5402TF-C
DIP Switch:
ON/OFF for UTP Auto Negotiation, Fiber
Duplexing, and Loss Link Forwarding
LED Indicators:
Power, Link/Activity, Receive/Full-Duplex, 100
Power Supply:
External power adapter 9V DC / 700mA
MEDIA-CHASSIS/10
10 Bay Media Converter Chassis
Operating Temperature: 0˚C to 55˚C
UNICOM's Velocity™ Media-Chassis/10 accommodates up to 10 Gigabit
and Fast Ethernet converter modules in a single unit. The power supply
system is integrated and provides power protection into each bay's supply.
The Media-Chassis/10 also offers extra protection by isolating each bay from
the power bus. The 10 bay chassis includes two 19" rack mounting brackets,
one fan and 1 power supply. 110/220V, 19" Rackmount
The Media-Chassis/10 is compatible with Velocity Series converters only.
Operating Humidity:
10% - 80% RH
EMI:
FCC Class A, CE Mark
PART NUMBER
DESCRIPTION
Enclosure:
Metal
FEP-593110
10 Bay Media Converter Chassis
Dimensions:
4.72"(L) x 3.36"(W) x .96"(H)
118mm x 84mm x 24mm
Warranty:
Limited Lifetime
Loss Link Forwarding
Configuration Example
DIP Setting
Fast Ethernet
Switch
Back
Bone
DIP Setting
off
on
2
3
4
UTP1
1
2
3
4
UTP2
Fiber
off
on
Work
Stations
off
on
1
UTP
Fast Ethernet
Switch
off
on
1
2
3
4
1
Fiber
2
3
4
UTP
©UNICOM 2003. UNICOM is a trademark of UNICOM Electric, Inc. All rights reserved.
Specifications subject to change without notice.

* Your assessment is very important for improving the work of artificial intelligence, which forms the content of this project