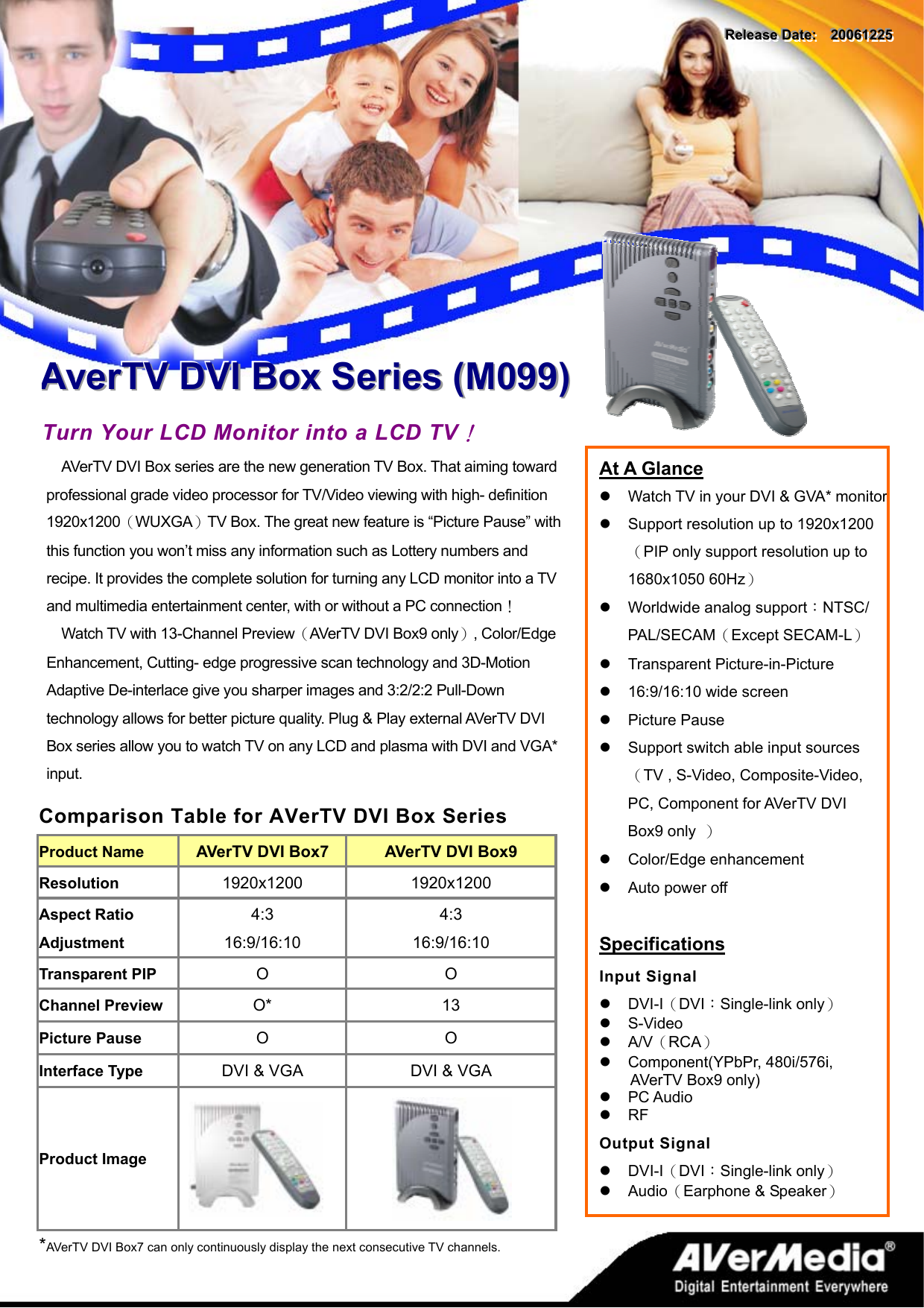 R
R
D
Reeellleeeaaassseee D
Daaattteee::: 222000000666111222222555
AverTV DVI Box Series (M099)
Turn Your LCD Monitor into a LCD TV!
AVerTV DVI Box series are the new generation TV Box. That aiming toward
At A Glance
professional grade video processor for TV/Video viewing with high- definition
z
Watch TV in your DVI & GVA* monitor
1920x1200(WUXGA)TV Box. The great new feature is "Picture Pause" with
z
Support resolution up to 1920x1200
this function you won't miss any information such as Lottery numbers and
(PIP only support resolution up to
recipe. It provides the complete solution for turning any LCD monitor into a TV
1680x1050 60Hz)
and multimedia entertainment center, with or without a PC connection!
z
Watch TV with 13-Channel Preview(AVerTV DVI Box9 only), Color/Edge
Worldwide analog support:NTSC/
PAL/SECAM(Except SECAM-L)
Enhancement, Cutting- edge progressive scan technology and 3D-Motion
z
Transparent Picture-in-Picture
Adaptive De-interlace give you sharper images and 3:2/2:2 Pull-Down
z
16:9/16:10 wide screen
technology allows for better picture quality. Plug & Play external AVerTV DVI
z
Picture Pause
Box series allow you to watch TV on any LCD and plasma with DVI and VGA*
z
Support switch able input sources
input.
(TV , S-Video, Composite-Video,
PC, Component for AVerTV DVI
Comparison Table for AVerTV DVI Box Series
Box9 only )
AVerTV DVI Box7
AVerTV DVI Box9
z
Color/Edge enhancement
1920x1200
1920x1200
z
Auto power off
4:3
4:3
16:9/16:10
16:9/16:10
Transparent PIP
O
O
Input Signal
Channel Preview
O*
13
Picture Pause
O
O
Interface Type
DVI & VGA
DVI & VGA
z
z
z
z
Product Name
Resolution
Aspect Ratio
Adjustment
Specifications
z
z
DVI-I(DVI:Single-link only)
S-Video
A/V(RCA)
Component(YPbPr, 480i/576i,
AVerTV Box9 only)
PC Audio
RF
Output Signal
Product Image
*AVerTV DVI Box7 can only continuously display the next consecutive TV channels.
z
z
DVI-I(DVI:Single-link only)
Audio(Earphone & Speaker)
A
AV
VeerrT
VD
VII B
oxx S
Seerriieess ((M
M009999))
DV
TV
Bo
Transparent PIP
■ The function provides you to work on your PC and watch
TV at the same time, providing more convenience to
watch TV without interrupting your work!
■ You can choose the windows size in 1/4, 1/9 and 1/16
of TV screen when you work on PC!(AVerTV DVI Box9 only)
Progressive Scan
■ With world-leading Progressive Scan technology, you will see no flicker and it
will deliver a sharper, clearer picture.
Package Included
"
AVerTV DVI Box7 or
AVerTV DVI Box9
"
Vertical Stand
"
Remote Control
(Batteries Included)
Video with
Progressive scan
Video without
Progressive Scan
3D-motion Adaptive De-interlace
Advanced 3D-motion Adaptive De-interlace can eliminate jagged edges of TV
"
Power Adapter
"
DVI-D Cable
"
Audio Cable
"
User Manual
& DVD movie to improve the clarity and sharpness of the overall image.
System Requirements
Video with 3D-motion
Adaptive De-interlace
"
LCD/Plasma monitors with DVI
& VGA* input
Video without 3D-motion
Adaptive De-interlace
* When you use the monitor with VGA
input, please prepare the DVI to VGA
connector.
3:2/ 2:2 Pull-Down
World leading progressive Scan Technology and 3:2/2:2 Pull-down(only for
NTSC)correction can eliminate jitters form TV/DVD movies to improve the
clarity and sharpness of the overall image.
※AVerMedia AVerTV DVI Box series
functions only with the TV system of
the country it is manufactured for and
originally distributed in.
AVerMedia's Quality Insistence
AVerMedia's products are not only commit to RoHS/WEEE Directive, but conduct EMI and safety countermeasure to ensure consumers'
health and environment protection. All products are available with lead-free finishes and flame retardant.
© 2007 by AVERMEDIA TECHNOLOGIES, Inc. All right reserved. AVerMedia is registered trademarks of
AVerMedia Technologies, Inc. All other trademarks belong to their respective companies.

* Your assessment is very important for improving the work of artificial intelligence, which forms the content of this project