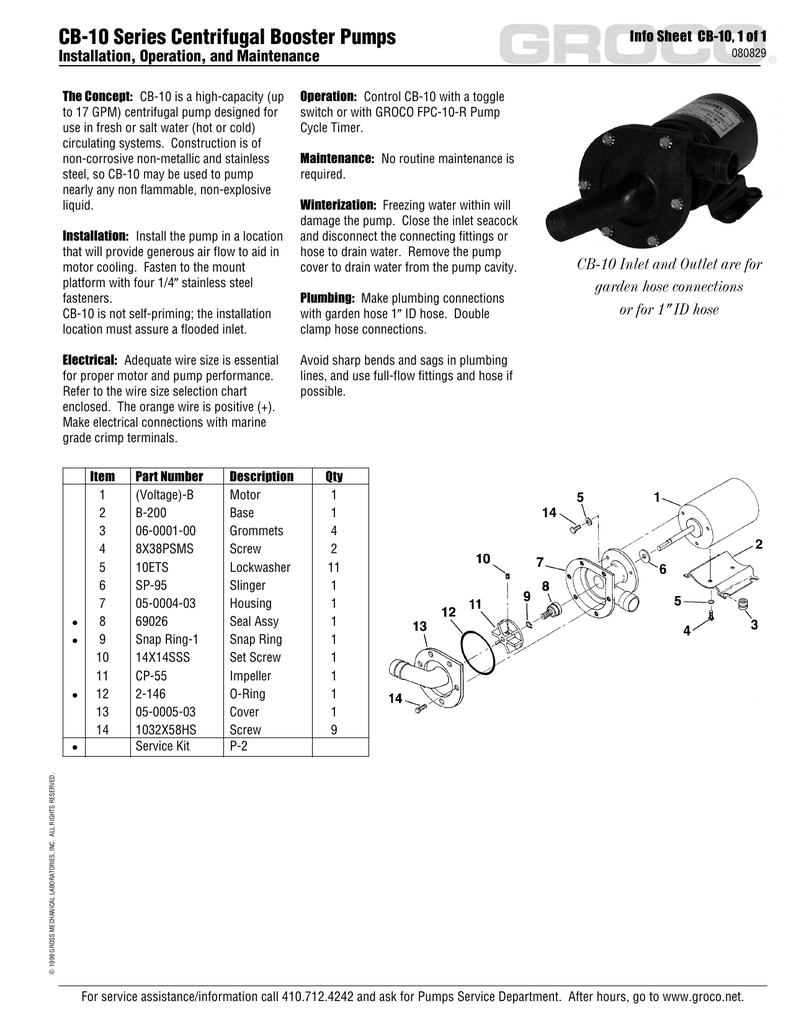 CB-10 Series Centrifugal Booster Pumps
Installation, Operation, and Maintenance
The Concept: CB-10 is a high-capacity (up
to 17 GPM) centrifugal pump designed for
use in fresh or salt water (hot or cold)
circulating systems. Construction is of
non-corrosive non-metallic and stainless
steel, so CB-10 may be used to pump
nearly any non flammable, non-explosive
liquid.
Installation: Install the pump in a location
that will provide generous air flow to aid in
motor cooling. Fasten to the mount
platform with four 1/4 stainless steel
fasteners.
CB-10 is not self-priming; the installation
location must assure a flooded inlet.
Electrical: Adequate wire size is essential
for proper motor and pump performance.
Refer to the wire size selection chart
enclosed. The orange wire is positive (+).
Make electrical connections with marine
grade crimp terminals.
Part Number
(Voltage)-B
B-200
06-0001-00
8X38PSMS
10ETS
SP-95
05-0004-03
69026
Snap Ring-1
14X14SSS
CP-55
2-146
05-0005-03
1032X58HS
Service Kit
Description
Motor
Base
Grommets
Screw
Lockwasher
Slinger
Housing
Seal Assy
Snap Ring
Set Screw
Impeller
O-Ring
Cover
Screw
P-2
080829
Operation: Control CB-10 with a toggle
switch or with GROCO FPC-10-R Pump
Cycle Timer.
Maintenance: No routine maintenance is
required.
Winterization: Freezing water within will
damage the pump. Close the inlet seacock
and disconnect the connecting fittings or
hose to drain water. Remove the pump
cover to drain water from the pump cavity.
Plumbing: Make plumbing connections
with garden hose 1 ID hose. Double
clamp hose connections.
CB-10 Inlet and Outlet are for
garden hose connections
or for 1 ID hose
Avoid sharp bends and sags in plumbing
lines, and use full-flow fittings and hose if
possible.
Qty
1
1
4
2
11
1
1
1
1
1
1
1
1
9
© 1999 GROSS MECHANICAL LABORATORIES, INC. ALL RIGHTS RESERVED.
Item
1
2
3
4
5
6
7
8
9
10
11
12
13
14
Info Sheet CB-10, 1 of 1
For service assistance/information call 410.712.4242 and ask for Pumps Service Department. After hours, go to www.groco.net.

* Your assessment is very important for improving the work of artificial intelligence, which forms the content of this project