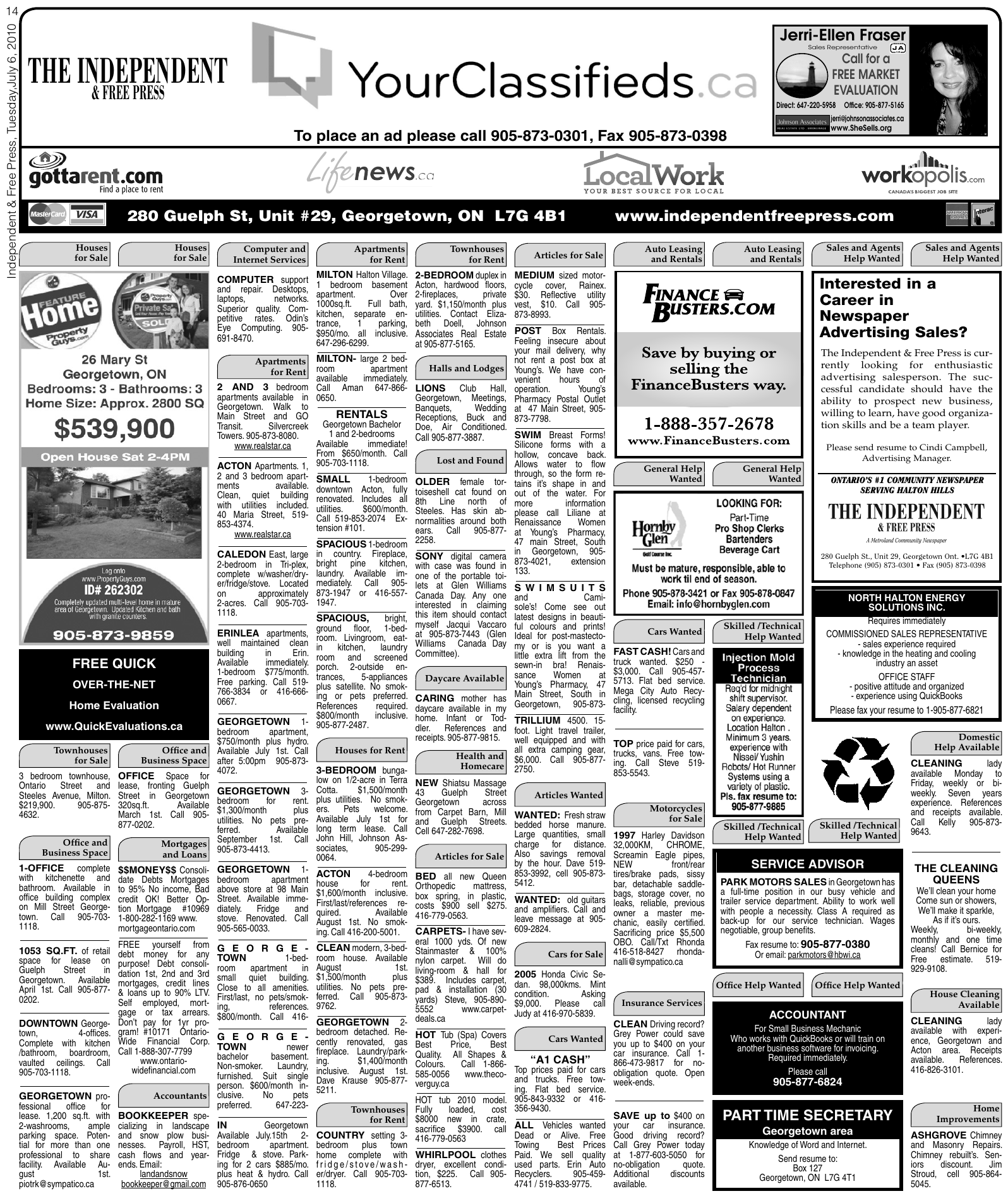 Independent & Free Press, Tuesday,July 6, 2010
14
Jerri-Ellen Fraser
Sales Representative
Call for a
FREE MARKET
EVALUATION
THE INDEPENDENT
& FREE PRESS
Direct: 647-220-5958
To place an ad please call 905-873-0301, Fax 905-873-0398
280 Guelph St, Unit #29, Georgetown, ON L7G 4B1
Houses
for Sale
Houses
for Sale
Computer and
Internet Services
COMPUTER support
and repair. Desktops,
laptops,
networks.
Superior quality. Competitive rates. Odin's
Eye Computing. 905-
691-8470.
OVER-THE-NET
Home Evaluation
www.QuickEvaluations.ca
Townhouses
for Sale
3 bedroom townhouse,
Ontario
Street
and
Steeles Avenue, Milton.
$219,900.
905-8754632.
Office and
Business Space
OFFICE Space for
lease, fronting Guelph
Street in Georgetown
320sq.ft.
Available
March 1st. Call 905877-0202.
Office and
Business Space
Mortgages
and Loans
1-OFFICE complete
with kitchenette and
bathroom. Available in
office building complex
on Mill Street Georgetown. Call 905-7031118.
$$MONEY$$ Consolidate Debts Mortgages
to 95% No income, Bad
credit OK! Better Option Mortgage #10969
1-800-282-1169 www.
mortgageontario.com
1053 SQ.FT. of retail
space for lease on
Guelph
Street
in
Georgetown. Available
April 1st. Call 905-8770202.
DOWNTOWN Georgetown,
4-offices.
Complete with kitchen
/bathroom, boardroom,
vaulted ceilings. Call
905-703-1118.
GEORGETOWN professional
office
for
lease. 1,200 sq.ft. with
2-washrooms,
ample
parking space. Potential for more than one
professional to share
facility. Available August
1st.
piotrk@sympatico.ca
FREE yourself from
debt money for any
purpose! Debt consolidation 1st, 2nd and 3rd
mortgages, credit lines
& loans up to 90% LTV.
Self employed, mortgage or tax arrears.
Don't pay for 1yr program! #10171 OntarioWide Financial Corp.
Call 1-888-307-7799
www.ontariowidefinancial.com
Accountants
BOOKKEEPER specializing in landscape
and snow plow businesses. Payroll, HST,
cash flows and yearends. Email:
landandsnow
bookkeeper@gmail.com
MILTON Halton Village.
1 bedroom basement
apartment.
Over
1000sq.ft.
Full bath,
kitchen, separate entrance,
1
parking,
$950/mo. all inclusive.
647-296-6299.
Townhouses
for Rent
2-BEDROOM duplex in
Acton, hardwood floors,
2-fireplaces,
private
yard. $1,150/month plus
utilities. Contact Elizabeth Doell, Johnson
Articles for Sale
www.independentfreepress.com
Auto Leasing
and Rentals
Auto Leasing
and Rentals
MEDIUM sized motorcycle cover, Rainex.
$30. Reflective utility
vest, $10. Call 905873-8993.
your mail delivery, why
not rent a post box at
Young's. We have convenient
hours
of
operation.
Young's
Pharmacy Postal Outlet
at 47 Main Street, 905873-7798.
SWIM Breast Forms!
Silicone forms with a
hollow, concave back.
Allows water to flow
through, so the form retains it's shape in and
out of the water. For
more
information
please call Liliane at
Renaissance
Women
at Young's Pharmacy,
47 main Street, South
in Georgetown, 905873-4021,
extension
133.
S W I M S U I T S
and
Camisole's! Come see out
latest designs in beautiful colours and prints!
Ideal for post-mastectomy or is you want a
little extra lift from the
sewn-in bra! Renaissance
Women
at
Young's Pharmacy, 47
Main Street, South in
Georgetown, 905-873TRILLIUM 4500. 15foot. Light travel trailer,
well equipped and with
all extra camping gear,
$6,000. Call 905-8772750.
Sales and Agents
Help Wanted
The Independent & Free Press is currently looking for enthusiastic
advertising salesperson. The successful candidate should have the
ability to prospect new business,
willing to learn, have good organization skills and be a team player.
Please send resume to Cindi Campbell,
Advertising Manager.
General Help
Wanted
General Help
Wanted
ONTARIO'S #1 COMMUNITY NEWSPAPER
SERVING HALTON HILLS
A Metroland Community Newspaper
280 Guelph St., Unit 29, Georgetown Ont. •L7G 4B1
Telephone (905) 873-0301 • Fax (905) 873-0398
Cars Wanted
Skilled /Technical
Help Wanted
FAST CASH! Cars and
truck wanted. $250 $3,000. Call 905-4575713. Flat bed service.
Mega City Auto Recycling, licensed recycling
facility.
NORTH HALTON ENERGY
SOLUTIONS INC.
Requires immediately
COMMISSIONED SALES REPRESENTATIVE
- sales experience required
- knowledge in the heating and cooling
industry an asset
OFFICE STAFF
- positive attitude and organized
- experience using QuickBooks
Please fax your resume to 1-905-877-6821
Domestic
Help Available
TOP price paid for cars,
trucks, vans. Free towing. Call Steve 519853-5543.
Articles Wanted
WANTED: Fresh straw
bedded horse manure.
Large quantities, small
charge for distance.
Also savings removal
by the hour. Dave 519853-3992, cell 905-8735412.
Sales and Agents
Help Wanted
Interested in a
Career in
Newspaper
Advertising Sales?
Associates Real Estate POST Box Rentals.
Feeling insecure about
at 905-877-5165.
MILTON- large 2 bedHalls and Lodges
room
apartment
available
immediately.
2 AND 3 bedroom Call Aman 647-866- LIONS Club Hall,
apartments available in 0650.
Georgetown, Meetings,
Georgetown. Walk to
Banquets,
Wedding
RENTALS
Main Street and GO
Receptions, Buck and
Transit.
Silvercreek Georgetown Bachelor Doe, Air Conditioned.
1 and 2-bedrooms
Towers. 905-873-8080.
Call 905-877-3887.
Available
immediate!
www.realstar.ca
From $650/month. Call
Lost and Found
ACTON Apartments. 1, 905-703-1118.
2 and 3 bedroom apart- SMALL
1-bedroom OLDER female torments
available. downtown Acton, fully
Clean, quiet building renovated. Includes all toiseshell cat found on
8th Line north of
with utilities included. utilities.
$600/month.
40 Maria Street, 519- Call 519-853-2074 Ex- Steeles. Has skin abnormalities around both
853-4374.
tension #101.
ears. Call 905-877www.realstar.ca
SPACIOUS 1-bedroom 2258.
CALEDON East, large in country. Fireplace, SONY digital camera
2-bedroom in Tri-plex, bright pine kitchen, with case was found in
complete w/washer/dry- laundry. Available im- one of the portable toier/fridge/stove. Located mediately. Call 905- lets at Glen Williams
on
approximately 873-1947 or 416-557- Canada Day. Any one
2-acres. Call 905-703- 1947.
interested in claiming
1118.
SPACIOUS,
bright, this item should contact
ground floor, 1-bed- myself Jacqui Vaccaro
ERINLEA apartments, room. Livingroom, eat- at 905-873-7443 (Glen
well maintained clean in
kitchen,
laundry Williams Canada Day
building
in
Erin. room and screened Committee).
Available
immediately. porch. 2-outside en1-bedroom $775/month. trances,
5-appliances
Daycare Available
Free parking. Call 519- plus satellite. No smok766-3834 or 416-666- ing or pets preferred.
CARING mother has
0667.
References
required. daycare available in my
$800/month
inclusive. home. Infant or TodGEORGETOWN 1- 905-877-2487.
dler. References and
bedroom
apartment,
receipts. 905-877-9815.
$750/month plus hydro.
Houses for Rent
Available July 1st. Call
Health and
after 5:00pm 905-873Homecare
3-BEDROOM bunga4072.
low on 1/2-acre in Terra NEW Shiatsu Massage
$1,500/month 43
GEORGETOWN 3- Cotta.
Guelph
Street
bedroom
for
rent. plus utilities. No smok- Georgetown
across
welcome. from Carpet Barn, Mill
$1,300/month
plus ers. Pets
utilities. No pets pre- Available July 1st for and Guelph Streets.
ferred.
Available long term lease. Call Cell 647-282-7698.
September 1st. Call John Hill, Johnson Associates,
905-299905-873-4413.
Articles for Sale
0064.
GEORGETOWN 1- ACTON
4-bedroom BED all new Queen
bedroom
apartment house
for
rent.
mattress,
above store at 98 Main $1,600/month inclusive. Orthopedic
Street. Available imme- First/last/references re- box spring, in plastic,
costs
$900
sell
$275.
diately.
Fridge
and quired.
Available
stove. Renovated. Call August 1st. No smok- 416-779-0563.
905-565-0033.
CARPETS- I have seving. Call 416-200-5001.
eral 1000 yds. Of new
G E O R G E - CLEAN modern, 3-bed- Stainmaster & 100%
TOWN
1-bed- room house. Available nylon carpet. Will do
1st. living-room & hall for
room
apartment
in August
plus $389. Includes carpet,
small quiet building. $1,500/month
Close to all amenities. utilities. No pets pre- pad & installation (30
First/last, no pets/smok- ferred. Call 905-873- yards) Steve, 905-890ing,
references. 9762.
5552
www.carpet$800/month. Call 416GEORGETOWN 2- deals.ca
bedroom detached. ReG E O R G E - cently renovated, gas HOT Tub (Spa) Covers
Price,
Best
TOWN
newer fireplace. Laundry/park- Best
Quality. All Shapes &
bachelor
basement. ing.
$1,400/month Colours.
Call
1-866Non-smoker.
Laundry, inclusive. August 1st.
www.thecofurnished. Suit single Dave Krause 905-877- 585-0056
verguy.ca
person. $600/month in- 5211.
clusive.
No
pets
HOT tub 2010 model.
preferred.
647-223Townhouses Fully
loaded,
cost
for Rent $8000 new in crate,
IN
Georgetown
sacrifice $3900. call
Available July.15th 2- COUNTRY setting 3- 416-779-0563
bedroom
apartment. bedroom plus town
Fridge & stove. Park- home complete with WHIRLPOOL clothes
ing for 2 cars $885/mo. f r i d g e / s t o v e / w a s h - dryer, excellent condiplus heat & hydro. Call er/dryer. Call 905-703- tion, $225. Call 905905-876-0650
877-6513.
1118.
Apartments
for Rent
FREE QUICK
Apartments
for Rent
Office: 905-877-5165
jerri@johnsonassociates.ca
www.SheSells.org
Motorcycles
for Sale
1997 Harley Davidson
32,000KM, CHROME,
Screamin Eagle pipes,
NEW
front/rear
tires/brake pads, sissy
bar, detachable saddlebags, storage cover, no
WANTED: old guitars leaks, reliable, previous
and amplifiers. Call and owner a master meleave message at 905- chanic, easily certified.
609-2824.
Sacrificing price $5,500
OBO. Call/Txt Rhonda
Cars for Sale 416-518-8427 rhondanalli@sympatico.ca
2005 Honda Civic Sedan. 98,000kms. Mint
condition.
Asking
Insurance Services
$9,000. Please call
Judy at 416-970-5839.
CLEAN Driving record?
Grey Power could save
Cars Wanted
you up to $400 on your
car insurance. Call 1"A1 CASH"
866-473-9817 for noTop prices paid for cars obligation quote. Open
and trucks. Free tow- week-ends.
ing. Flat bed service.
905-843-9332 or 416356-9430.
SAVE up to $400 on
ALL Vehicles wanted your car insurance.
Dead or Alive. Free Good driving record?
Towing
Best Prices Call Grey Power today
Paid. We sell quality at 1-877-603-5050 for
used parts. Erin Auto no-obligation
quote.
Recyclers.
905-459- Additional
discounts
4741 / 519-833-9775.
available.
Skilled /Technical
Help Wanted
Skilled /Technical
Help Wanted
SERVICE ADVISOR
PARK MOTORS SALES in Georgetown has
a full-time position in our busy vehicle and
trailer service department. Ability to work well
with people a necessity. Class A required as
back-up for our service technician. Wages
negotiable, group benefits.
Fax resume to: 905-877-0380
Or email: parkmotors@hbwi.ca
Office Help Wanted
Office Help Wanted
ACCOUNTANT
For Small Business Mechanic
Who works with QuickBooks or will train on
another business software for invoicing.
Required immediately.
Please call
CLEANING
lady
available Monday to
Friday, weekly or biweekly. Seven years
experience. References
and receipts available.
Call Kelly 905-8739643.
THE CLEANING
QUEENS
We'll clean your home
Come sun or showers,
We'll make it sparkle,
As if it's ours.
Weekly,
bi-weekly,
monthly and one time
cleans! Call Bernice for
Free estimate. 519929-9108.
House Cleaning
Available
CLEANING
lady
available with experience, Georgetown and
Acton area. Receipts
available.
References.
416-826-3101.
905-877-6824
PART TIME SECRETARY
Georgetown area
Knowledge of Word and Internet.
Send resume to:
Box 127
Georgetown, ON L7G 4T1
Home
Improvements
ASHGROVE Chimney
and Masonry Repairs.
Chimney rebuilt's. Seniors
discount.
Jim
Stroud, cell 905-8645045.