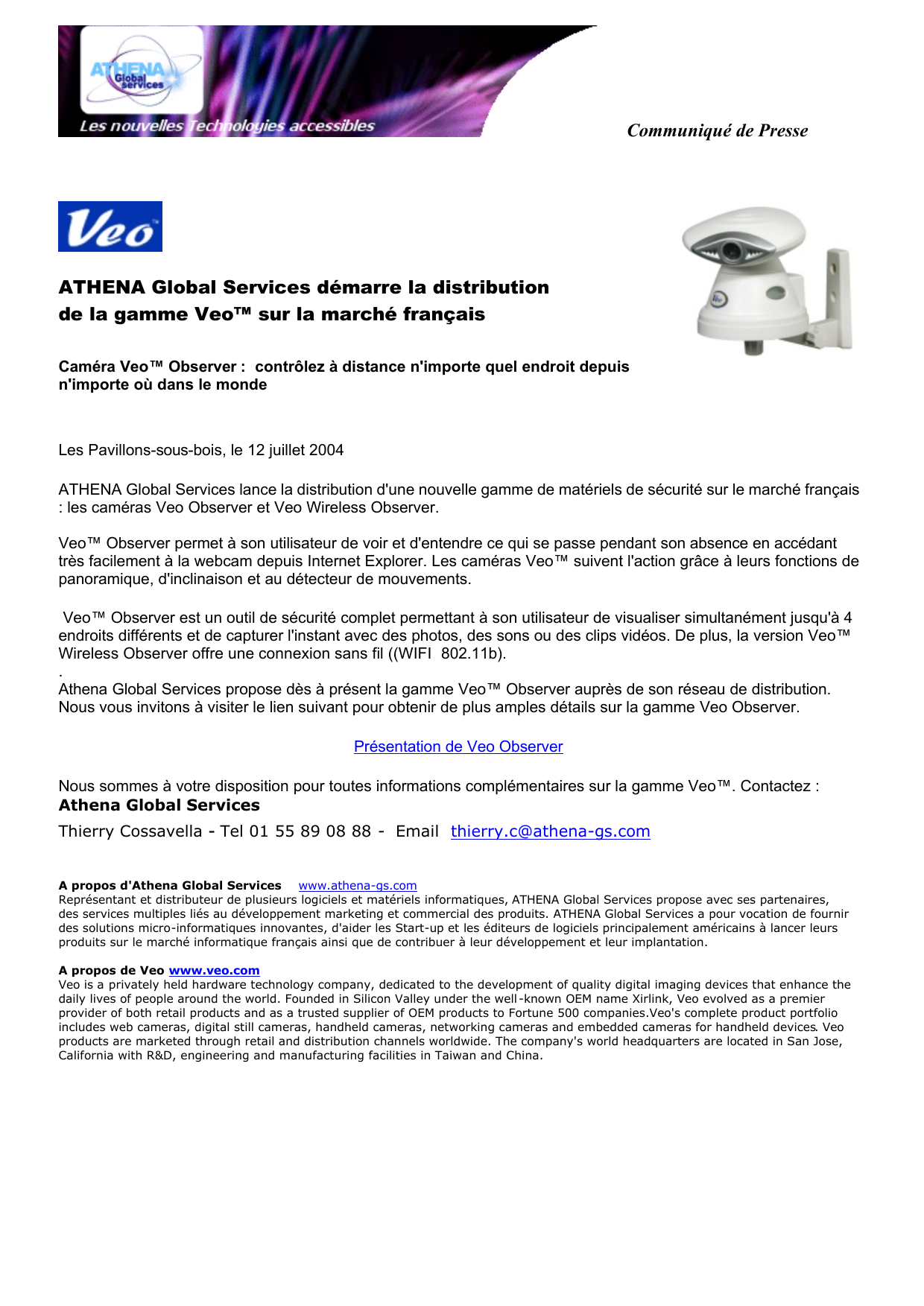 Communiqué de Presse
ATHENA Global Services démarre la distribution
de la gamme Veo™ sur la marché français
Caméra Veo™ Observer : contrôlez à distance n'importe quel endroit depuis
n'importe où dans le monde
Les Pavillons-sous-bois, le 12 juillet 2004
ATHENA Global Services lance la distribution d'une nouvelle gamme de matériels de sécurité sur le marché français
: les caméras Veo Observer et Veo Wireless Observer.
Veo™ Observer permet à son utilisateur de voir et d'entendre ce qui se passe pendant son absence en accédant
très facilement à la webcam depuis Internet Explorer. Les caméras Veo™ suivent l'action grâce à leurs fonctions de
panoramique, d'inclinaison et au détecteur de mouvements.
Veo™ Observer est un outil de sécurité complet permettant à son utilisateur de visualiser simultanément jusqu'à 4
endroits différents et de capturer l'instant avec des photos, des sons ou des clips vidéos. De plus, la version Veo™
Wireless Observer offre une connexion sans fil ((WIFI 802.11b).
.
Athena Global Services propose dès à présent la gamme Veo™ Observer auprès de son réseau de distribution.
Nous vous invitons à visiter le lien suivant pour obtenir de plus amples détails sur la gamme Veo Observer.
Présentation de Veo Observer
Nous sommes à votre disposition pour toutes informations complémentaires sur la gamme Veo™. Contactez :
Athena Global Services
Thierry Cossavella - Tel 01 55 89 08 88 - Email thierry.c@athena-gs.com
A propos d'Athena Global Services www.athena-gs.com
Représentant et distributeur de plusieurs logiciels et matériels informatiques, ATHENA Global Services propose avec ses partenaires,
des services multiples liés au développement marketing et commercial des produits. ATHENA Global Services a pour vocation de fournir
des solutions micro-informatiques innovantes, d'aider les Start-up et les éditeurs de logiciels principalement américains à lancer leurs
produits sur le marché informatique français ainsi que de contribuer à leur développement et leur implantation.
A propos de Veo www.veo.com
Veo is a privately held hardware technology company, dedicated to the development of quality digital imaging devices that enhance the
daily lives of people around the world. Founded in Silicon Valley under the well -known OEM name Xirlink, Veo evolved as a premier
provider of both retail products and as a trusted supplier of OEM products to Fortune 500 companies.Veo's complete product portfolio
includes web cameras, digital still cameras, handheld cameras, networking cameras and embedded cameras for handheld devices. Veo
products are marketed through retail and distribution channels worldwide. The company's world headquarters are located in San Jose,
California with R&D, engineering and manufacturing facilities in Taiwan and China.

* Your assessment is very important for improving the work of artificial intelligence, which forms the content of this project