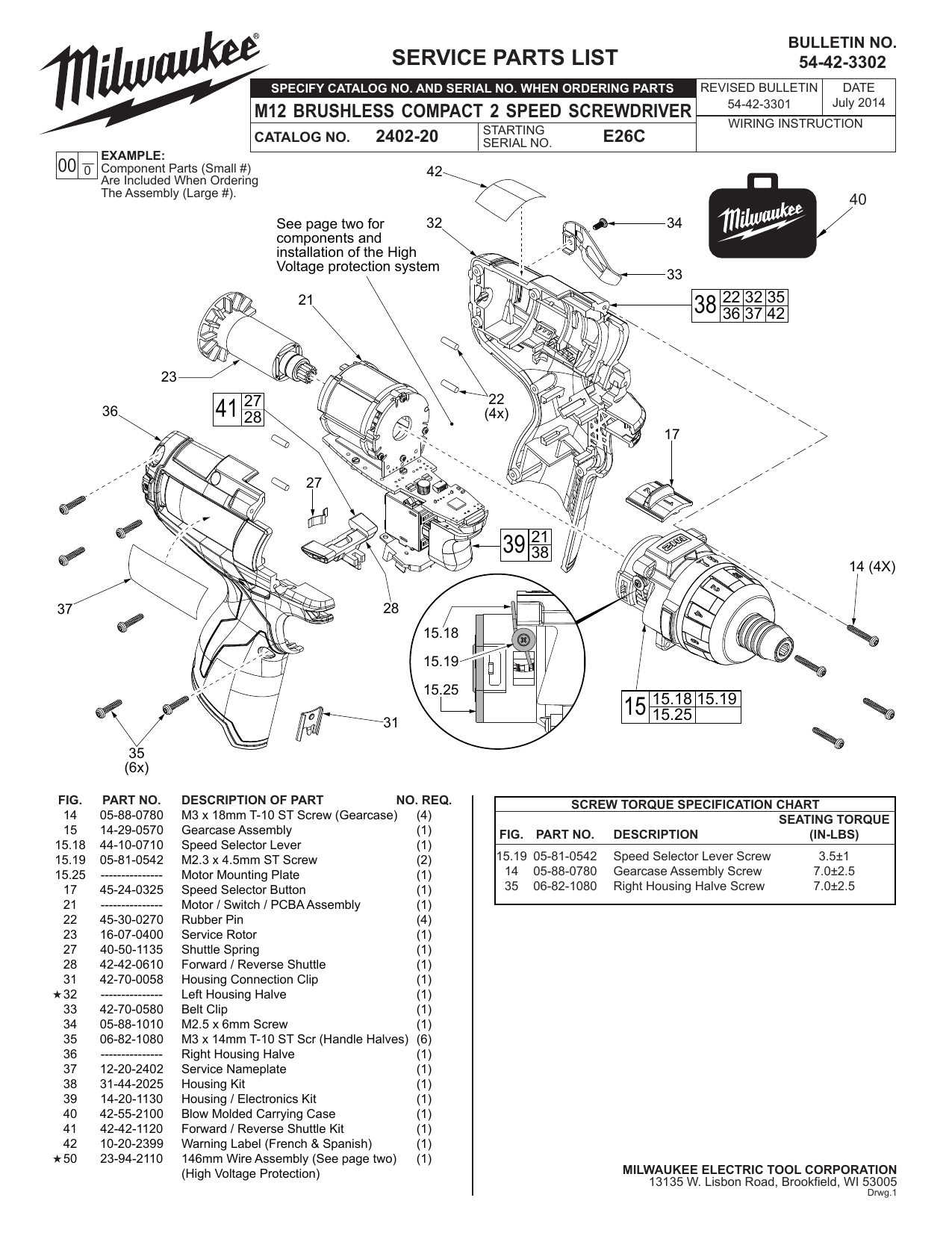 BULLETIN NO.
SERVICE PARTS LIST
54-42-3302
SPECIFY CATALOG NO. AND SERIAL NO. WHEN ORDERING PARTS
M12 BRUSHLESS COMPACT 2 SPEED SCREWDRIVER
CATALOG NO.
00
2402-20
EXAMPLE:
0 Component Parts (Small #)
Are Included When Ordering
The Assembly (Large #).
STARTING
SERIAL NO.
E26C
REVISED BULLETIN
54-42-3301
DATE
July 2014
WIRING INSTRUCTION
42
40
32
See page two for
components and
installation of the High
Voltage protection system
34
33
32 35
38 22
36 37 42
21
23
41 27
28
36
22
(4x)
17
27
39 21
38
14 (4X)
28
37
15.18
15.19
15.25
15.19
15 15.18
15.25
31
35
(6x)
FIG.
14
15
15.18
15.19
15.25
17
21
22
23
27
28
31
 32
33
34
35
36
37
38
39
40
41
42
 50
PART NO.
05-88-0780
14-29-0570
44-10-0710
05-81-0542
--------------45-24-0325
--------------45-30-0270
16-07-0400
40-50-1135
42-42-0610
42-70-0058
--------------42-70-0580
05-88-1010
06-82-1080
--------------12-20-2402
31-44-2025
14-20-1130
42-55-2100
42-42-1120
10-20-2399
23-94-2110
DESCRIPTION OF PART
NO. REQ.
M3 x 18mm T-10 ST Screw (Gearcase)
(4)
Gearcase Assembly
(1)
Speed Selector Lever
(1)
M2.3 x 4.5mm ST Screw
(2)
Motor Mounting Plate
(1)
Speed Selector Button
(1)
Motor / Switch / PCBA Assembly
(1)
Rubber Pin
(4)
Service Rotor
(1)
Shuttle Spring
(1)
Forward / Reverse Shuttle
(1)
Housing Connection Clip
(1)
Left Housing Halve
(1)
Belt Clip
(1)
M2.5 x 6mm Screw
(1)
M3 x 14mm T-10 ST Scr (Handle Halves) (6)
Right Housing Halve
(1)
Service Nameplate
(1)
Housing Kit
(1)
Housing / Electronics Kit
(1)
Blow Molded Carrying Case
(1)
Forward / Reverse Shuttle Kit
(1)
Warning Label (French & Spanish)
(1)
146mm Wire Assembly (See page two)
(1)
(High Voltage Protection)
SCREW TORQUE SPECIFICATION CHART
SEATING TORQUE
FIG. PART NO.
DESCRIPTION
(IN-LBS)
15.19 05-81-0542
14 05-88-0780
35 06-82-1080
Speed Selector Lever Screw
Gearcase Assembly Screw
Right Housing Halve Screw
3.5±1
7.0±2.5
7.0±2.5
MILWAUKEE ELECTRIC TOOL CORPORATION
13135 W. Lisbon Road, Brookfield, WI 53005
Drwg.1
Model
2402-20,
2402-059
shown
No. 23-94-2110
146mm Service Wire Assembly
(High Voltage Protection)
Black wire soldered to
negative terminal & PCBA
Long HV wire assembly
to gearcase
Closed End Connector
Short HV wire soldered
to negative terminal
PRODUCTION WIRING- For ease in production, the
Electronics Assembly (Switch, Stator, PCBA and
BatteryTerminal Block) has a short HV wire presoldered to the negative terminal. During production
a longer HV wire is joined to the short wire with an
open end connector than grounded to the gearcase.
Black wire soldered to
negative terminal & PCBA
23-94-2110 146mm Wire
Assembly. Solder one end
to terminal and ground the
other end to gearcase
Snip short production
HV wire at terminal here
SERVICE WIRING- When installing a service replacement High Voltage Wire (23-94-2110) it is recommended to snip the old HV wire system at the battery
terminal. Remove and discard that short wire, the
open end connector and longer wire. Follow the
instructions to install new wire assembly.
= Wire Traps
Solder the
kit wire
accross the
bottom of the
negative (left
rear) terminal of
battery connector
block.
1. Remove the six handle screws, the housing connection clip and the four gearcase screws.
Remove housing cover (right housing halve). Carefully remove the electronics assembly and
gearbox assembly from the housing support (left housing halve).
2. With a small side cutter, snip the short production HV wire close to the terminal (see illustration
above). Unscrew the ring terminal from the lower right position of the gearcase. Remove and
discard the old HV system (short HV wire, the open end connector and longer HV wire).
3. Place the wire strand end of the 146mm High Voltage Wire (23-94-2110) across the bottom
of the negative (rear left) terminal of the battery connector block and carefully solder in place
(Note wire is to be positioned so wire extends to the left of the terminal, routing into the left
housing halve). See illustration above.
4. As an aid to routing the HV wire, carefully remove the gearcase assembly from the electronics
assembly.
5. Loosely place the electronics assembly into the left housing halve. Route the HV wire under
the switch/battery connector block wires using the same wire trap at the upper left corner of the
switch. Route HV wire behind the PCBA and into the small traps in the left housing halve. Lay
HV wire across the PCBA facing outward to the right.
6. Place the ring terminal of HV wire over the screw opening in the lower right position of the
gearcase (with wire to the inside of the tool) and reinstall the screw to ground the system.
7. Carefully place the gearcase assembly back onto motor assembly. Secure the gearcase
assembly with two of the gearcase screws into the front of the new left housing halve.
8. Take time to make sure that all components are back in place. Press all wires firmly into traps.
Be sure the LED, PCBA, switch assembly and battery connector block are squarely and firmly
in place. Be sure the fwd./rev. shuttle functions properly and that the shuttle spring is in place.
9. Gently put the right housing halve back in place and check for any interferences prior to
securing with the six handle screws and two remaining gearcase screws. Insert housing clip.

* Your assessment is very important for improving the work of artificial intelligence, which forms the content of this project