No category
Employee Hand book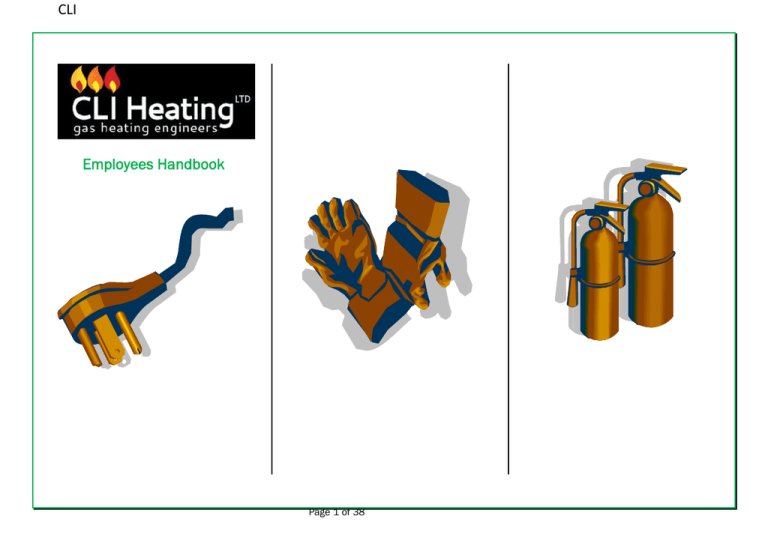 CLI
Employees Handbook
Page 1 of 38
CLI
Introduction ............................................3
......................................3
....................................5
.....................................5
.............................6
Refer to: - 'Working at High Level'.
...........................................6
............................................6
..........................................7
.................................................7
..........................................7
.....................................9
...................................9
..........................................12
..............................12
...............................................13
.....................................13
........................................13
..............................13
........................................14
...................................14
.................................14
................................14
...........................................15
...................................................15
..........................................15
....................................16
...........................................16
..............................17
................................17
If in doubt speak to your doctor.
.......................................17
...................................17
...................................................17
.....................................................18
.....................................18
.....................................19
.........................................19
Page 2 of 38
................................25
walkways should be kept clear.
................................26
...................................27
..................................28
...................................28
....................................29
............................29
.............................................30
...................................32
.........................................34
.............................................35
UNDERSTANDING ....................................35
.....................................................35
............................36
CLI
Introduction
At CLI Heating Ltd we are aware of the importance of Employee
Health & Safety.
This hand book is a initial checklist for all employees.
More detailed information can be found within the safety policy.
Personal Protective
Equipment

Wear safety footwear when working in situations where there is a potential risk of injury to the feet.

Wear helmets when working in areas where there is a risk of injury to the head.
 Wear kneepads or use a kneeling mat to prevent any injury to the knees.
 Wear protective overalls or work-wear to prevent potential health hazards.
 Wear protective gloves handling solvents and other materials to prevent injury or cause allergies to the hands.
 Wear eye protection appropriate to the work being carried out.

Wear ear defenders when working in noisy environments.

Wear the appropriate dust mask or respirator where there is a potential risk of injury to the lungs.
Ensure that you have available all necessary PPE before commencing work.
WORKING ALONE
If it is necessary to work alone (for example: commissioning heating in an empty property or servicing a central heating boiler).
Please ensure the following:
 First aid kit is fully stocked and in the immediate vicinity.
 Fire extinguisher is in good working order and easily accessible.
 You are aware of the nearest exit out of the property.
Page 3 of 38
CLI
 You confirm with the office the estimated time of arrival at the property.
 You are supplied with full details of the work to be undertaken and the approximate length of time this work will take.
 You keep in regular contact with the office, and make them aware of any incidents should they occur.

You inform the office when leaving the premises and confirm the job has been completed.
 You have all the necessary emergency numbers.
Page 4 of 38
CLI
First Aid Provisions
Always check that there is a suitable, appropriately stocked and accessible first aid box within easy access of your work location.
Types of Fire Fighting
Equipment
Fire fighting equipment should be within one meter of your work location. The correct type of equipment should be used should an incident occur. Detailed information regarding fire safety is provided in the section 'Fire
Safety'.
Access Equipment
Confirm that access equipment provided to reach work above or below ground level, is acceptable for the loading to be placed upon it, providing a safe working platform within easy reach of the planned task.
Refer to: - 'Working Safely with
Ladders, Stepladder and Tower
Scaffold'.
Condition of Access
Equipment
Check ladders (aluminium and timber) for loose rungs and stays, ensuring that there are no splits in timber ladders. Check for undue sideways movement which indicates excessive wear or overloading – check the stops on extending ladders.
Check stand steps for loose steps or step support. Ensure there are no splits in timber steps. Again check for excessive wear and ensure that any rope or metal stops are in good condition.
Check mobile scaffold sections for absence of any damage – no cracked welds – no unduly bent sections – wheel brakes operating correctly.
Erection of Access
Equipment
Check that ladders are on a firm base – at the correct angle – firmly secured – at the appropriate height above the working height.
Check that stand steps are on a firm base – are fully opened – long enough to provide safe access to the work.
Check that mobile scaffold is on a firm and level base – brakes are locked – high enough to provide safe access to work area. Battens provided for the working platform should be in good condition and are fastened to prevent movement when in use – guard rail is correctly positioned.
Page 5 of 38
CLI
Complete the ladder inspection sheet before commencing work.
Safe Lifting Techniques
Correctly demonstrate safe-lifting techniques. Consult the Manual
Handling guide as provided by CLI
Heating Ltd.
Follow Risk Assessments for working at Heights
Determine the level of risk for the activity from the risk assessment data provided.
Identify the safe working procedures necessary to counter each risk element.
Identify the personal safety equipment necessary for each risk element.
Ensure that the requirements of the risk assessment are closely followed.
Refer to: - 'Working at High Level'.
Access Routes
Inspect routes to gain access to internal and external work locations for safety. Make sure that all routes are clear of low level hazards, projection, new, waste or flammable materials.
Check both temporary and permanent staircases for safety and ensure that they are clear of hazard.
Ensure that any work being conducted overhead does not constitute a danger to persons using access routes.
Check that there are adequate levels of lighting to allow for safe access.
Page 6 of 38
Place warning notices where appropriate, ensuring your safety and that of the customer and general public.
Van Condition
Company vehicles must be kept clean and tidy at all times. They must be washed down each week.
Any damage or repairs must be reported to the appropriate person on the same day that the incident occurs. Ensure the safety and condition of the vehicle that you have been allocated by completing the checklist provided.
Use and condition of 'Dust –
Sheets'
Clean dust sheets must be used on each installation.
Used dust sheets must be handed in for washing and a clean one will be re-issued.
CLI
Customer Care
Before leaving the site or property:-
 Check that all works have been completed and are in line with the specifications.
 Check that the customer has been given full instruction on the use of the new heating system and hand out one of our customer advice booklets.
 Ensure that all paper-work is filled in correctly and signed by the customer and the engineer in attendance.
 Ensure that any waste is cleared up and if necessary arrange for any large items to be collected as soon as possible.
 Should any damage occur at the property inform management immediately so that they are able to visit the customer in order to rectify the situation and maintain our high level of customer satisfaction.
 Always conduct yourself in the proper manner in accordance with

CLI Heating Ltd Customer
Care Policy.
FOOTNOTE
The following documents have been devised with the safety of our employees and others in mind. They are to be read in conjunction with
CLI Heating Ltd Health and
Safety Policy.
COMPANY PROCEDURE FOR
REPORTING, INVESTIGATING
AND RECORDING
ACCIDENTS AND INCIDENTS
INTRODUCTION
CLI Heating Ltd has established arrangements for the reporting and investigation of accidents leading to injury or ill health. It is the responsibility of the directors, managers and employees to report these, dangerous occurrences including near misses to:
 Ensure compliance with the reporting of Injuries,
Diseases and Dangerous
Occurrences Regulations
(RIDDOR).
Page 7 of 38
CLI
 Ensure that the thorough investigation of accidents is undertaken immediately to establish the cause and identify appropriate remedial action.
 Ensure that the information gathered from the reporting and investigation of accidents is used to help develop control strategies to prevent accidents and minimize the possibility of occupational ill health and help reduce financial loss.
An accident is defined as:
"An undesired event, or sequence of events causing (or with the potential to cause) injury, ill health or damage".
Therefore this includes events where people are hurt, dangerous occurrences as defined in RIDDOR, near misses where incidents may not have resulted in personal injury but could include property damage and also cases of occupational ill health.
As central heating engineers this also applies to incidents arising on other premises where the work activity has been authorized by the company. It applies to others such as those employed on work experience.
It is not intended to apply to incidents that are not arising out of or are in connection with work, for example sports or violence.
Procedure for RIDDOR
Reporting.

If an accident occurs which results in death or major injury then the appropriate person
Page 8 of 38
(director Lee Edwards) should be informed immediately. This information is then reported to the RIDDOR
Incident Contact Centre by telephone. This initial report will then be followed up with a completed accident report within ten days of the incident occurring.

Should the outcome of an accident result in major injury or an injury lasting more than three days then the incident becomes
RIDDOR reportable and the appropriate form is filled in by the appropriate person.

Should the Company receive notification from a doctor that an employee suffers a reportable work
CLI
related disease then the appropriate form is completed and returned to the relevant body.
 In the event that an incident takes place which does not result in a reportable injury but clearly could have done, then this may be considered a dangerous occurrence. The incident will be considered and if necessary reported to the enforcing authority by telephone.
General Guidance.

All accidents should be reported to the immediate superior immediately.

All accidents should be reported using the accident report form.
 Accident reports should record sufficient details of the accident and if possible the circumstances leading up to the accident. Report any contributory factors.
Try and refer to the work being undertaken, the risk assessment and control measures.
 It is not essential that the injured person sign the
Accident Report Form. It is essential however that the accident is reported promptly and investigated so that appropriate action can be taken to prevent recurrence.

The accident report form should then be handed into the health and safety department.

An initial investigation takes place by an authorized person. Depending on the nature of the accident and resulting injury, they may then decide to review the risk assessment and its effectiveness.
MANUAL HANDLING
The directors at CLI Heating Ltd recognise that one third of reportable accidents results from handling or lifting activities. It is our aim to keep the risks to a minimum by providing instruction and following good handling techniques.
Manual handling should be avoided wherever possible. Where it cannot be avoided an assessment must be carried out and the handling task made safer by suitable control measures.
Page 9 of 38
CLI
Correct Lifting
Procedure
1. Stop and Think
Plan the lift.
Where is the load to be placed?
Use appropriate handling aids if possible.
Do you need help with the load?
Remove obstructions such as discarded wrapping materials.
For a long lift, such as floor to shoulder height, consider resting the load mid-way on a table or bench to change grip
.
2. Position the feet
Feet apart, giving a balanced and stable base for lifting (tight skirts and unsuitable footwear make this difficult).
Leading leg as far forward as is comfortable and if possible pointing in the direction you intend to go.
3. Adopt a good posture
When lifting from a low level, bend the knees. Do not kneel or overflex the knees. Keep the back straight, maintaining its natural curve (tucking in the chin helps). Lean forward a little over the load if necessary to get a good grip.
Keep the shoulders level and facing the same direct as the hips.
4. Get a firm grip
Try to keep the arms within the boundary formed by the legs. The best position and type of grip depends on the circumstances
Page 10 of 38 and individual preference, but must be secure. A hook grip is less tiring than keeping the fingers straight. If you need to vary the grip as the lift proceeds, do it as smoothly as possible.
5. Keep Close to the Load
Keep the load close to the trunk for as long as long as possible.
Keep heaviest side of the load next to the trunk. If a close approach to the load is not possible, slide it towards you before trying to lift.
6. Do not jerk
Lift smoothly, raising the chin as the lift begins keeping control of the load.
7. Move the feet
CLI
Do not twist the trunk when turning to the side.
8. Put down then adjust
If precise positioning of the load is necessary, put it down first then slide into the desired position.
The risk of injury is a matter of judgement in each case, but there are certain things to look out for, such as people puffing and sweating, excessive fatigue or bad posture. Areas which are unpopular difficult or arduous should be highlighted.
Be aware that there is no such thing as a 'safe' manual handling operation. But the guidelines should help to identify if a more detailed risk assessment is necessary.
General Risk Assessment
Guides
Shoulder Height
Elbow Height
Knuckle Height
Mid Lower
Leg Height
Each box in the diagram above shows guideline weights for lifting and lowering.
Observe the activity and compare to the diagram. If the lifter's hands enter more than one box during the operation, use the smallest weight. Use an inbetween weight if the hands are close to a boundary between boxes. If the operation must take place with hands between the boxes, make a more detailed assessment.
Page 11 of 38
The weights assume that the load is readily grasped with both hands.
The operation takes place in reasonable working conditions with the lifter in as stable body position.
Any operation involving more that twice the guideline weights should be rigorously assessed even for very fit, well trained individuals working under favourable conditions.
There is no such thing as a completely safe manual handling operation. But working within the guidelines will cut the risk and reduce the need for a more detailed assessment
.
Twisting
Reduce the guideline weights if the lifter twists to the side during the
CLI
operation. As a rough guide reduce them by 10% if the handler twists beyond 45 degrees and by
20% if the handler twists beyond
90 degrees.
Frequent Lifting and
Lowering
The guideline weights are for infrequent operations – up to about thirty operations per hour – where the pace of work is not forced, adequate pauses to rest or use different muscles are possible, and the load is not supported for any length of time. Reduce the weights if the operation is repeated more often. As a rough guide reduce the weights by 30% if the operation is repeated once or twice a minute, by 50% where the operation is repeated five to eight times a minute, and by 80% where the operation is repeated more than 12 times per minute.
PLEASE NOTE
These risk assessment guidelines are not safe limits for lifting. But work outside these guidelines is likely to increase the risk of injury so you should examine it closely for possible improvements.
Remember make the work less demanding if is at all possible to do so.
WORKING SAFELY WITH
LADDERS, STEPLADDERS
AND TOWER SCAFFOLD
CLI Heating Ltd recognises the importance of all aspects of working at high level and recommends that it is avoided whenever possible.
As central heating installers however, it is sometimes necessary to work on a roof (for
Page 12 of 38 example when providing a vertical flue).
We have devised this document with the safety of our employees and others in mind. It should be read in conjunction with our working safely with ladders, step ladders and scaffolding document.
Working at High Level

All work at high level e.g.
on a roof, is high risk.
Safety standards are high for long or short term work. Precautions needed vary from job to job but
 NOT PROVIDING
SAFEGUARDS IS
UNACCEPTABLE.

Our training programme sets out precautions that are relevant for all roof work.
Safety Precautions and Risks
CLI
The first precaution you should always take when faced with a risk is to ask yourself whether it is even necessary. If there is a 'no risk' alternative then consider that first.
If there is not then the procedure is:-

On inspection – carry out a full Risk Assessment.

Describe clearly the precautions and safe system of work.
 Check with supervision if necessary.
Getting on and off the roof
High Risk:-

Getting on and off the roof is a major risk.

A properly secured ladder is a minimum requirement.

Roof ladders are provided when necessary
Edge protection:-
Wherever anyone could fall more than 2m the first line of defence is to provide adequate edge protection. The minimum required standards are:-

Main guard rail should be at least
910mm above the edge.

The toe board should be at least 150mm high.

Intermediate guard rail or other barrier should be in place so that there is never a gap of more than
470mm

A roof parapet may provide equivalent protection but if not extra protection will be required
.
Work Platforms
It is important to provide an adequate and secure working platform. In many cases the roof itself will provide this.
However, if it does not (e.g.
when working on a chimney or a pitched roof) a platform should be provided.
Fall Arrest Equipment
If adequate platforms and edge protection is not possible or reasonably practicable provisions should be made so that the following is in place:-

Safety nets or harnesses are provided

Nets are installed by a competent rigger.

Harnesses are used: ensure that they are securely attached to a sufficiently strong
Page 13 of 38
CLI
anchorage point and that they are damaged or worn in any way.
Falling Material
When working below ladders, scaffold etc always wear safety hard hats.
Sites must be kept clean and tidy at all times not just the end of the day. Accumulating materials are a potential hazard to anyone working below.
Material should never be thrown down from a roof or high working area.
Use of a rubbish chute to a skip is used if necessary or material can be lowered to ground level.
Preventing Access
Access to danger areas underneath or adjacent to roof work or building work should be prevented using the following:-
 Safety tape or safety chain
 Debris netting
 Traffic cones with warning sign
 Flashing hazard lights

Warning notices should be displayed
Weather Conditions
 You must not work on roofs in:-

Icy conditions

Rainy conditions

High wind conditions

High Building

As above unless you are protected by appropriate covers
 Sunlight

Avoid excessive exposure to sunlight by wearing appropriate clothing and using sun-cream.
Too much exposure to sunlight can cause skin cancers.
Short Duration Work
Short duration work means work lasting minutes rather than hours.
Before short duration work it may not be practicable to provide full edge protection, but consideration still needs to be made during assessment and should not be discounted automatically.
All roof work is dangerous even if it only takes a short time to complete. It is therefore essential that appropriate safety measures are taken.
Page 14 of 38
CLI
Short duration work on sloping roofs
An example of this would be to replace a few tiles. When using ladders in this situation the following should always take place to ensure there is a safe means of access to the roof:-

The main ladder should be tied to a wall fixing

The roof ladder should be tied to the main ladder
Fragile Roofs
What is meant by fragile?
 Material which is not safe to support a person or the load they may be carrying.
The following factors should also be considered:-
 Thickness of the materials
 Sheet/Tile/Slate profile
 The span between supports The design of the supporting structure
(e.g. the purlins) Type, number, position and quality of the fixings

The age of the materials
 Check if the roof has been disguised in any way
If after conducting the risk assessment we find it necessary we will employ a registered company to erect scaffolding.
Training
Training is given regularly on all aspects of Safe Working Practices and staff must endeavour to attend all courses and workshops scheduled for them.
All staff should have:-
 The appropriate knowledge, skills and experience to work safely alone or under supervision.
 The ability to be able to recognise the dangers and risks that accompany the work in hand

An understanding of the appropriate safe systems of work
 Competency in the skills required to complete the work
If at any point you feel you are unsure about how to proceed you
MUST STOP WORK and consult your manager.
INSPECTIONS
 Pre-use and detailed visual inspections are looking for obvious visual defects.
Page 15 of 38
CLI
 These details are covered in the CLI Heating Ltd training program.
 All inspections must be recorded.
 All devices must be inspected in accordance with manufacturer's instructions, eg. ladder stability devices.

Rubber ladder/stepladder feet are an essential part of the equipment if missing could cause the equipment to wobble.

Feet inspection.

In good condition at all times.

The feet should be in contact with the ground at all times.

The feet are clean, free from soil, loose sand and stone embedded in the feet.
Use of ladders & stepladders.

A competent person means:

A person who has been trained in the use of ladder/stepladder practices.

When using ladders do not use the top three rungs.

Ladders used for access should project at least 1m above the landing point and tied wherever possible a secure handhold should be looked for where-ever possible.
 Stepladder - Top two steps of the ladder should not be used unless a suitable hand rail is available.
 Swing back or doublesided step ladders. Do not use the top three steps of this type of stepladder.
Use of Ladders &
Stepladders
Level your ladder/stepladder correctly.
Do not use bits of brick to level your ladder. Use the correct device which is designed for this.
Do not use the equipment in bad weather conditions.
E.g. snow and ice.
Strong winds.
Page 16 of 38
CLI
Or any other condition which can be hazardous to the person using the equipment.
Follow good working practice at all times.
The competent person must follow the following code.
Wear safety footwear.
No soles hanging off
No long dangling laces
No mud on the soles of the footwear.
Or any other contaminants.
The competent person is fit to carry out this type of work
.
Certain medical conditions or medication, alcohol or drug abuse could stop this person from using this type of equipment.
If in doubt speak to your doctor.
That the competent person can tie the ladders correctly.
Tower Scaffolds
There are many accidents every year involving tower scaffolds that are caused by the tower being badly constructed or not being used properly. It is essential that a tower is only subjected to the loads it is design for and that no parts are left out during its construction.
Erecting the Tower
You should not attempt to erect a tower unless you have been trained to do so. Even if you are competent to erect a tower you should not attempt it on your own.
Stability
The base of the tower should rest on firm level ground with the wheels or feet properly supported.
Bricks or building blocks should not be used to take the weight of any part of the structure.
The taller the tower the more likely it is to become unstable. If it is to be used in exposed conditions or outside, the height of the working platform should be no more than 3 times the minimum base dimension. If the tower is to be used inside, on firm level ground, the ratio may be extended to 3.5.
The height to base ratio should be checked by reference to the manufacturer's instruction manual. The tower might become unstable despite the dimension ratios outlined above if the tower is:
Page 17 of 38
CLI
 Sheeted and likely to be exposed to strong winds
 Loaded with heavy equipment or materials
 Used to hoist heavy materials or support rubbish chutes

Used for operations involving heavy or awkward equipment
To prevent the tower overturning when any of the above applies, additional support must be provided. This may be achieved by rigidly tying the tower to the structure it is serving, or by using ballast weights, guy ropes or ground anchors.
Before using the tower check:
 That the scaffold is vertical
 That the wheel brakes are on
Access
There must be a safe way to get to and from the work platform. It is not safe to climb up the end frames of the tower. The only exception to this is:
 Where the frame has built-in ladder sections with rungs no more than
300mm apart and stiles no more than 480mm apart
 Where a purpose-made ladder can safely be attached to provide adequate hand and foot hold, on the inside (or the outside of a tube and fitting tower).
N.B. If a ladder is to be fitted to the outside you must check with the supplier/manufacturer whether this is acceptable as the weight of someone climbing the outside may make the tower unstable.
Alternatively safe access can be achieved by means of internal
Page 18 of 38 ladders. Where internal ladders are used there must be a secure handhold at the landing place
.
Guard rails and toe boards
Platforms from which a person could fall more than 2m must be fitted with guard rails and toe boards. This also applies to the intermediate platforms. The guard rails should be 910mm above platform with the toe boards at least 150mm high with no more than 765mm between the top of the toe board and the guard rail.
Moving the tower
Before attempting to move a mobile tower you should check that there are no power lines or other overhead obstructions. The ground should be firm and level.
When moving a tower:
CLI
Push or pull only from the base – never use powered vehicles
Never move it while there are persons or materials on the upper platforms
Never move it in windy conditions.
Protecting others
When towers are used in public places additional precautions may be necessary. Barriers should be erected at ground level to prevent people from walking into the tower or work area. If it is to remain in position unattended, the access ladders should be removed or boarded over to prevent unauthorised access.
If used on a pavement, in addition to the precautions listed above, a license may be required from the local authority.
Should additional scaffolding be required then CLI Heating Ltd employ a fully qualified and registered scaffolding company.
Equipment you may use
.
Podium for low level access where a ladder or steps is not suitable.
Platform steps. Ideal for maintenance work.
Roommate access platform for single operative.
Tower Scaffold
Suitable stepladder with handholds for short term low risk work.
Page 19 of 38
User maintaining three points of contact.
K n
CLI
Two clear steps.
Don't work any higher on this type of steps.
Tie and secure roof ladder to main upright ladder.
Access ladders should be tied and extend at least 1m above the landing point to provide a secure handhold.
h o w i d e g o t o
To judge the angle of 75 degrees use the stiles of the ladder or 1 unit out to every 4 units up.
t o u a b s e to wall fixing.
t c l e i n
Page 20 of 38
Securing at the base.
t g h i r g t h e f d d l a r e t r s o f o
CLI
Tie the ladder to a suitable point at all times.
LADDER CHECK
Working off ladder with anchor bet system.
Ladder showing 1 in 4 angle.
t i
.
u s e h o w t o a n d
K
Ladders tied h o w n o w
Page 21 of 38
Ladders used to access another level should be tied.
t o access another level unless designed for this type of work.

Ladder showing maximum angles at 16 degrees on a slide slope and 6 degrees o k l o on a back slope.

Firm Ground-or spread the load (e.g. use a board).
r t e f a

Use manufacturer's instructions for ladders as per design 1 & 2 (unless manufacturer states otherwise).
i t
.

Ladders tied to scaffold bar.

Correct for working on (not for access)
T a k e tie to wall fixing.
s e i n s
CLI
Selection process.

Avoid work at heights where possible.

To reduce and prevent a fall from height.

When working at height if necessary consider the most appropriate equipment to use.

Ladder or Stepladder.
Don't support stepladder by the rungs or the base.
Don't stand stepladder on moveable objects.
For example:

Pallets

Bricks

Lift trucks

Tower Scaffolds

Vans or mobile elevating work platform
Don't extend a ladder whilst standing on the rungs.
Type of Work and Its Duration

Only use a ladder or step-ladder.

In one position for a maximum of 30 minutes.

For light work – they are not suitable for strenuous or

Heavy work. A task involving a worker carrying more than a weight of 10kg up a ladder or steps will need to be justified by a manual handling assessment.

Try to maintain three points of contact at all times.
Check for damage to ladders.
Check access ladder to attic. Only use retractable access ladder.
Page 22 of 38
CLI

No visible defects.

Check each working day. in accordance with manufacturers data.

Ladders which are part of a scaffold system must be inspected every seven days.

Only use in work the following class or ladders or stepladder.
1.2.3. or EN131 4

Class 3.2. are suitable for domestic use only.

Storage of ladders or stepladders in accordance with manufacturer's instructions.
Note:

Only use ladders or stepladders where they will not be struck by:

Vehicles - by protecting them with suitable barriers or cones.

Pushed over by hazards.

Opening of doors or windows.

Fire exits.

If this is impractical inform others not to open doors or windows until they are told to do so.

If necessary have a person standing guard until work is completed.

This would include the use of stepladders.

Prevent pedestrians from walking within the area with suitable barriers or cones.

Overhead cables.

Do not work within 6m of overhead power lines.

Keep ladders or steps away from e.g. glazing or plastic gutters.

Use an effective spreader bar or a standoff bar.
Page 23 of 38
CLI
Check for damage
To steps.
FIRE SAFETY
At CLI Heating Ltd we are aware of the importance of fire safety.
As central heating engineers we recognize the risks involved and follow the correct procedures in accordance with the Fire
Precautions Workplace regulations
All firefighting equipment and buildings are checked on a regular basis by Blackwood Fire, a registered fire maintenance company and all reports are recorded.
Prevention of fire – Site Procedure
To help prevent the risk of fire all employees at CLI Heating Ltd are instructed to comply with the following:
Page 24 of 38
CLI
 The lead engineer acting as fire warden will carry out a detailed fire risk assessment and develop a safe system of work and fire evacuation procedure which must be conveyed to the customer.
 Housekeeping
 Any combustible materials should not be allowed to accumulate.
 Walk ways should be kept clear.

Fire exits to be clearly kept clear and accessible.

The engineers on sight will ensure that a fire
.
extinguisher is by their side when carrying out any hot work.

If any hot work is required in the loft space two engineers
MUST be present with a fire extinguisher, consideration may be give to using push fit or compression fittings in the loft space where fire presents an unacceptable risk.
 Electrical equipment is maintained and repaired to ensure correct use and overloading of sockets is not allowed.

A fire safety check will be carried out by the lead engineer acting as fire warden and documented at least one hour before the end of each installation to ensure that nothing has been left smoldering which could later ignite.
In the event of a fire
Page 25 of 38
Should a fire occur the first priority is the safety of employees and others. This is followed by containment of the fire.
 Sound the alarm; shout a warning make sure everyone in the home knows about the fire.
 Only tackle a fire in its early stages.

Do not delay; do not go looking for tools, if possible prevent the customer from looking for valuables.

Evacuate; use your escape route and get everyone out, you may need to consider neighboring properties.

Shut doors and isolate services; close any open
CLI
doors and if it safe to do so isolate the gas supply.
 Call 999; telephone the fire brigade, speak clearly and give the whole address, say what is on fire.

Do not go back in and wait nearby.
 Phone Office 01443
828100
Prevention of fire Office Procedure
To help prevent the risk of fire all employees at CLI Heating Ltd are instructed to comply with the following:
Any combustible materials should not be allowed to accumulate.
Walkways should be kept clear.
Fire exits to be clearly marked and accessible.
Location of fire extinguishers clearly marked and accessible.
Electrical equipment is maintained and repaired to ensure correct use and overloading of sockets is not allowed.
A fire
Should a fire occur the first priority is the safety of employees and others. This is followed by containment of the fire.
The action to be taken by employees in the event of a fire and arrangements for evacuation are printed in highly visible areas throughout the workplace.
Fire drills take place on a regular basis by the appointed person.
This person will also help tackle small outbreaks of fire by using fire extinguishers.
Page 26 of 38
Management and employees are required to do the following:
 Raise alarm.
 Only tackle a fire in its early stages.
 Ensure it is possible to escape. Never block a fire exit.
 If the fire cannot be extinguished or the extinguisher becomes empty, the building should be evacuated immediately ensuring all doors are closed.

Telephone the fire brigade.
CLI
Extinguishing Fires
There are different types of fire so therefore they need to be dealt with in different ways:-
1.
Combustible Solids
2.
Wood, paper, cloth etc.
Cooling water is the most effective way of extinguishing fires involving these materials. The jet of water should be played on the base of the fire and then gradually upwards
.
3.
Liquids – petrol, paraffin's
Fires involving flammable liquids should be smothered. The aim is to cover the entire surface of the burning liquid; this has the effect of cutting off the supply of (and thus oxygen) to the fire and stifling the flames.
Foam, dry powder or carbon dioxide extinguishers, fire blankets or sand may be used on fires of this type. Water should never be used on burning liquids it spreads the fire.
4.
Gases – butane, propane
Extreme caution is necessary in dealing with gases.
If an appliance fed from a cylinder catches fire, the supply of gas should be turned off at the cylinder.
When the cylinder itself is endangered by fire there is a risk of explosion: the safest course is to raise the alarm and leave the fire to be dealt with by someone that understands the dangers.
Dry powder extinguishers are used on this type of fire, although overheated gas cylinders must be cooled with jets of water.
5.
Electrical Equipment
.
Carbon dioxide, dry powder and vaporizing liquid (BCF) extinguishers can be used to deal with fires in electrical equipment.
Dry sand or fire blankets may also be suitable in some circumstances.
Portable fire equipment should not be used, however on electrical apparatus which has not been disconnected from the supply.
Foam or liquid (e.g.) water extinguishers must not be used on electrical equipment at all.
All fires however small are to be investigated.
The purpose of an investigation is to ensure that the causes are learned and steps are taken to avoid reoccurrence.
It is the responsibility of each individual to report any incident to the appropriate person and if necessary the governing contractor.
Page 27 of 38
CLI
Working safely with electricity
CLI Heating Ltd recognizes that electricity can kill and have devised this policy with this in mind.
Even non-fatal shocks can cause severe and permanent injury.
Shocks from faulty equipment may lead to falls from ladders, scaffolds or other work platforms.
Employees using electricity may not be the only ones at risk: poor electrical installations and faulty electrical appliances can lead to fires which may also cause death or injury to others.
Most of these accidents can be avoided by careful planning and straightforward precautions.
What are Hazards?
 Contact with live parts causing shock and burns. (Normal mains voltage 230 volts AC can kill).
 Faults which could cause fires.

Fire or explosion where electricity could be the source ignition in a potentially flammable or explosive atmosphere, for example where there is an undetected gas leak
.
Assessing the Risk
Hazard means anything which can cause harm.
Risk is the chance, whether great or small that someone will actually be harmed by the hazard.
The first stage in controlling risk is to carry out a risk assessment in order to identify what needs to be done.
When carrying out a risk assessment we:-
 Identify the hazards.
 Decide who may be harmed and how.

Evaluate the risks arising from the hazards and decide whether existing precautions are adequate or whether more should be taken.

Review our assessment and revise when necessary.
The risk of injury from electricity is strongly linked to where and how it is used.
The risks are greatest in harsh conditions, for example:
Page 28 of 38
CLI
 In wet surroundings unsuitable equipment can easily become live and make its surroundings live.
 Outdoors - equipment may not only become wet but may be at greater risk of damage.
 In cramped spaces with a lot of earthed metalwork such as inside a tank or bin - if an electrical fault developed it could be very difficult to avoid a shock.
Some items of equipment can also involve greater risk than others.
Extension leads are particularly liable to damage - to their plugs and sockets, to their electrical connections, and to the cable itself. Other flexible leads, particularly those connected to equipment which is moved a great deal can suffer from similar problems.
Reducing the Risk
Once we have completed the risk assessment, we use our findings to reduce un-acceptable risks from the electrical equipment on our place of work.
Provide Safe and Suitable
Equipment
 Chose equipment that is suitable for its working environment.
 Electrical risks can sometimes be eliminated by using air, hydraulic or hand powered tools. These are especially useful in harsh conditions.

Ensure that equipment is safe when supplied and then maintain it in a safe condition
.

Provide an accessible and clearly identified switch near each fixed machine to cut off power in an emergency.

For portable equipment, use socket-outlets which are close by so that equipment can easily be disconnected in an emergency.
Provide a safety device
If equipment operating at 230 volts or higher is used, an RCD
(residual current device) can provide additional safety.
An RCD detects some, but not all, faults in the electrical system and rapidly switches off the supply.
The best place for an RCD is built into the main switchboard or the
Page 29 of 38
CLI
socket outlet, as this means the supply cables are permanently protected.
Sometimes this is not possible so a plug incorporating an RCD or a plug-in RCD adaptor also provides additional safety.
RCD's for protecting people have a rated tripping current (sensitivity) of not more than 30 milliamps
(MA).
An RCD is a valuable safety device, we never bypass it.
If the RCD trips, it is a sign there is a fault.
We check the system before using it again.
The RCD has a test button to check that its mechanism is free and functioning.
The unit must be tested before every use.
Preventative Maintenance
All portable electrical equipment is maintained to prevent dangerous occurrences.
We carry out a simple, inexpensive system of looking for visible signs of damage or faults, most of the electrical risks can be controlled.
We also do regular portable appliance testing.
Equipment users must report any damage or defects they find.
Work Safely
We ensure that people who are working with electricity are competent to do so.
Even simple tasks such as wiring a plug can lead to danger.
Page 30 of 38
We ensure that people know what they are doing before they start.
Suspect or faulty equipment is taken out of use, labeled 'DO NOT
USE' and kept secure until properly examined by a qualified person.
Where possible, tools and power socket-outlets are switched off before plugging or un-plugging.
Equipment is switched off and/or un-plugged before cleaning or making adjustments.
More complicated tasks, such as equipment repairs or alterations to an electrical installation are only tackled by people with knowledge of the risks and precautions needed.
We do not allow work on or near exposed live parts of equipment unless it is absolutely unavoidable and suitable precautions have been taken to prevent injury to our employees, our customers and
CLI
anyone else who may be in the area.
WORKING SAFELY WITH
ASBESTOS
This policy has been prepared for all at CLI Heating Ltd to meet fully its legal requirements regarding asbestos. CLI Heating Ltd ensures that we are in accordance with the following acts:
The Health and Safety at Work Act.
The Management of Health and
Safety at Work Regulations
The Construction Design and
Management Regulations
The Control of Asbestos at Work
Regulations.
The Asbestos (licensing)
Regulations
The Asbestos (prohibition)
Regulation
The control of Pollution (social waste) Regulations
The Control of Asbestos
Regulations
CLI Heating Ltd through the implementation of this policy and relevant codes of practice ensures that asbestos in all properties is managed effectively and consistently.
CLI Heating Ltd carries out a proactive program of surveying.
We identify, assess and record the presence, type and condition of asbestos should it arise in the properties we work in.
When identified, appropriate action is taken dependant on the type, condition and location in accordance with the Company
Page 31 of 38 policy for the management of asbestos.
Every property subject to the finding of asbestos is recorded and referred to the customer for further action. This information is kept at our main office.
Prior to any works being undertaken reference to the asbestos information must be approved by the contractor/customer and the subcontractor to ensure works will not disturb any asbestos containing materials.
CLI Heating Ltd stresses that should we be employed as a subcontractor then we abide by the controlling contractor and their instructions on dealing with asbestos.
No work will commence with-out a suitable assessment of the risk of exposure being made and a safe
CLI
system of work developed and approved.
CLI Heating Ltd where and when necessary, appoint licensed contractors to remove asbestos.
CLI Heating Ltd when necessary only appoint accredited
Environmental consultants for the management of asbestos as per codes of practice.
Courses and training are provided at CLI Heating Ltd to all relevant employees within the company.
Records of all training are kept on file and copies available upon request.
Personal Protective Equipment is provided to all employees should they be required to work with asbestos.
It is the duty of the employee to use this equipment correctly.
Should it become necessary then medical examinations will be made available to any member of staff who is believed to have been exposed to asbestos.
CLI Heating Ltd do not purchase or install any new materials containing asbestos.
Replacement materials used for the purpose of fire protection will be to an equivalent or higher standard.
The policy provided by the
Company of CLI Heating Ltd covers the code of practice laid down to date.
It is subject to the monitoring and review of the health and safety executive, changes in arrangements or standards of new or existing legislation.
What is Asbestos?
There are three main types of asbestos.
 Chrysotile
 Amosite
 Crocidolite
They are usually called WHITE -
BROWN - BLUE asbestos respectively.
However, they cannot be identified just by their colour.
BROWN AND BLUE asbestos, the two more dangerous forms (not imported for the past 20 years.)
WHITE asbestos was banned
(except for a small number of specialized uses) in 1999.
Page 32 of 38
CLI
What are the risks from
Asbestos

Asbestosis or fibrosis (scarring of the lungs).

Lung Cancer.

Masothelioma - a cancer of the inner lining of the chest wall or abdominal.
There is no cure for asbestos related diseases.
What types of buildings are likely to contain asbestos?
 Buildings built or refurbished between 1950 and 1980 and particularly -
 Steel frame units.
 Boiler with thermal insulation.
 Asbestos cement has also been used widely in building materials since the 1950s.
 Examples:
 Sprayed Asbestos
 Moulded or preformed sprayed coatings

Thermal insulation

Insulation boards

Corrugated Sheets
 Rainwater pipes and water tanks

Gutters

Central heating boilers/fires
Page 33 of 38
Employees are advised to:-

Keep the asbestos containing materials damp?

Use hand tools.

Clean up as you go along
(do not let waste pile up).

Use the personal protective equipment given to you including a respirator
(mask).

Clear up asbestos dust using a special type H vacuum cleaner or damp cloths as necessary.

Wash your hands and face when you take a break, and at the end of the day's work.
CLI
 Put asbestos waste into a suitable sealed container, or heavy duty polythene bad, put that in a second bag and then label it to show that it contains asbestos.

REMEMBER
 That in most cases asbestos waste needs to be taken to a licensed tip.
Employees are advised NOT to:-
 Use power tools. (they create more dust)
 Take home to wash the overalls you have worn whilst working with asbestos.
 Eat or drink in work area.
 Smoke - the risk of lung cancer from asbestos is higher amongst smokers .
Permit to Work
A Permit to Work procedure is a formal written system used to control certain types of work which are potentially hazardous. The term 'Permit to Work' refers to a specific authorization which forms part of an overall safe working system.
A Permit to Work:

Clearly defines who may authorize particular work.
 Clearly identifies who is responsible for specifying the necessary precautions to be taken.

Effectively instructs and trains all personnel in the issue and use of permits.
 Monitors performance in order to ensure that safe systems are implemented as intended.
The permit is therefore a written document that authorizes certain people to carry out specific works within a certain time and which sets out the main precautions need to complete the work safely and without any risks to the health of employees and of others who may be involved.
The issue of a Permit does not: simply give permission to carry out dangerous work or in itself make a job safe.
RESPONSIBLE PERSON
For the purpose of this permit to work the responsible person is deemed to be a departmental manager under advice and
Page 34 of 38
CLI
supervision of the health and safety manager. They are familiar with the relevant current survey and any accompanying documentation.
ASSESSMENTS OF RISK
The purpose of a Permit to Work system is to ensure that proper consideration is given to the risks of particular work and these are assessed and controlled before work starts.
OBJECTIVES
The primary objectives of the procedure are to ensure that the designated work is properly authorized.
UNDERSTANDING
Directors and managers must ensure that the person involved in such work fully understand the exact identity, nature and extent of the job. The hazards involved, the precautions to be taken, the limitations to the extent of the work and of the time during which the work may be carried out.
Management
It is important that the manager directly in charge is fully aware of all the work being done.
A system of control must be provided.
Provision must be made for a record showing that the nature of the work and the necessary precautions have been checked by the appropriate persons.
Individual Responsibilities
Clear information, instruction, training and guidance should be given to all those who have
Page 35 of 38 responsibilities under Permit to
Work procedures including:
Directors
Managers
Employees
Owner occupiers
Contractors
COSHH
Introduction
Using chemicals or other hazardous substances at work can put peoples' health at risk.
CLI Heating Ltd makes every effort to protect employees and others by controlling exposure to hazardous substances to prevent ill-health.
We comply with the Control of
Substances Hazardous to health regulations (COSHH – as amended).
CLI
There are detailed COSHH reference sheets within our Risk
Assessment Booklet.
 Complying with COSHH enables us to:

Keep employees and others safe.
 Prevent any prosecution under COSHH regulations.

Avoid the risk of loss of productivity.

Employees have an improved understanding of health and safety requirements.
Hazardous Substances
 include the following:

Substances used directly in work activities for example adhesives, cleaning fluid and soldering paste (flux).
 These can also be called solvents and the same precautions must be taken with regards to their use.

Products or by-products – these can be generated or naturally occurring (grain dust, dust, fumes etc.)
 Pesticides and other chemicals.

Carcinogens (cancer causing agents).

Micro-organisms (viruses, bacteria etc.)
Effects of hazardous substances
If used incorrectly hazardous substances can cause the following:
Page 36 of 38
 Skin irritation or dermatitis in the event of skin contact.
 Headaches

Nausea

Light headedness – sometimes losing consciousness as a result of being overcome by fumes.

Asthma – allergy developed after using substances in work.

Cancer – which may appear long after exposure to the chemical that caused it.
It is essential when using a hazardous substance that safe work practices and any available
CLI
information is read and understood.
This may include:
 Hazard Data Sheets
 Labels – identity, transporting, protection and emergency action.

All this information may be included on a label.
 Understand the warning signs on labels and the precautions needed.
Working in Confined Spaces
CLI Heating Ltd always checks if work can be done in any other way so that entry or work in confined spaces is avoided.
Unfortunately due to the nature of our work, it is necessary to work in confined spaces such as airing cupboards or attics.
In these instances special precautions are needed and a safe system of work must be followed.
Beware of a buildup of vapors.
Do not use any hazardous materials especially those which may generate fumes unless the area is adequately ventilated and where necessary you are provided with suitable respiratory protection.
Do not enter a confined space where there may be vapors unless you have authorization and that you are sure the space has adequate ventilation.
To ensure compliance with
COSHH CLI Heating Ltd
 Provide instruction and training programs to all relevant employees.
Page 37 of 38
 Complete and review assessments to ensure that new equipment, material, have not created new health risks.
 Maintain, examine and test control measures to ensure that they are in good working order.

Monitoring and recording to ensure these measures are effective.

Provide medical checkups if necessary.

Supply all relevant personnel with the correct protective equipment.

Use less hazardous substances when ever and where ever possible.
CLI
 Keep the level and length of exposure to an absolute minimum.
 Ensure that all substances are labeled correctly.
In order to comply with COSHH employees must:
Play an active part in training programs.
Ask questions if they do not understand any of the information provided
Practice Safe Work Habits – always follow safety procedures.
Always read container labels
Report any hazard or defect to
Management.
Use Personal Protective
Equipment properly.
Inspect equipment before use.
Store equipment and tools properly.
Do not leave anything lying about where they could create a hazard or be damaged.
Report any incidents to management.
Keep any appointments that may have been made for medical check-ups.
Always use control measures properly.
Do not smoke in areas where there are hazardous substances.
Always practice safe work habits – do not take short cuts.
Avoid misusing alcohol or drugs before or during work.
Know first-aid emergency procedures and learn how to use the supplies provided in your firstaid kit.
Practice good hygiene – remove contaminated clothing before eating or drinking.
Page 38 of 38
* Your assessment is very important for improving the work of artificial intelligence, which forms the content of this project