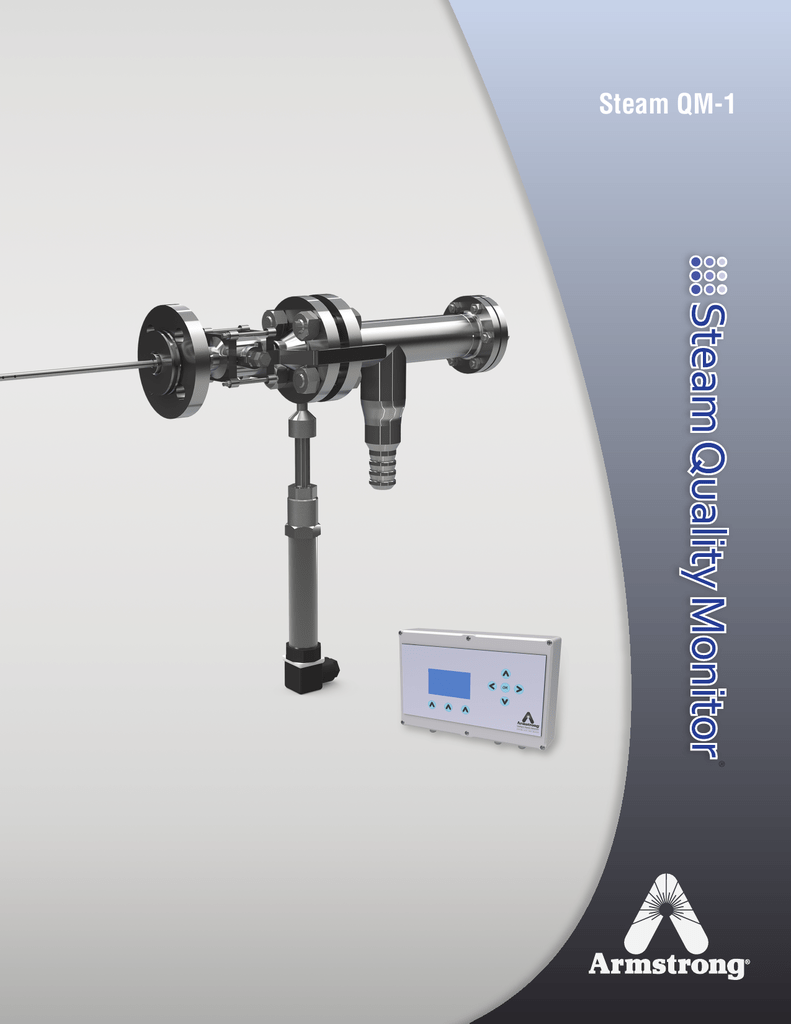 Steam QM-1
Steam Quality Monitor – Steam QM-1
Until now measuring steam dryness fraction has largely been a
manual process, which is time consuming and presents inherent
safety and accuracy risks.
Steam QM-1 is an automatic steam quality monitor that safely
and reliably determines and communicates the dryness fraction
of plant and culinary steam; allowing you to continuously and
efficiently monitor your steam system.
Product Features
• Simple installation
• Reliable/repeatable accuracy
• Steam dryness monitoring
• Safe alternative to the traditional manual method of sampling steam
• RS485 connection for data logging using regulation compliant device; results may be
remotely monitored via MODBUS
• All stainless steel construction
Why measure steam dryness?
• Manage process quality when injecting steam
• Ensure food grade quality of steam (e.g. culinary steam)
• Check dryness of outsourced steam
• Avoid water hammer
• Oversee traps and separators effectiveness
• Monitor boiler carry over
Steam QM-1 Sensing Range
• Avoid erosion in valves, regulators, etc.
• Control the desuperheater (X used instead of P and T)
• Protect turbine LP saturated steam stages
P [psig (barg)]
435 (30)
• Correct flow meter values
362 (25)
Steam QM-1 Specifications
Steam Operating
Pressure Range
43-465 psig (3-32 barg)
Voltage
12 VAC or
15 - 24 VDC
290 (20)
217 (15)
145 (10)
72 (5)
Steam Pressure
Xmin
43 psig (3 barg)
0.97
145 psig (10 barg)
0.95
435 psig (30 barg)
0.92
0.99 0.98 0.97 0.96 0.95 0.94 0.93 0.92 0.91 0.90
Armstrong International
North America • Latin America • India • Europe / Middle East / Africa • China • Pacific Rim
2
armstronginternational.com
Xmin
Steam Quality Monitor – Steam QM-1
Manual Versus Automatic
Until now steam dryness fraction measurement has been a time-intensive, unreliable and potentially
unsafe process. Steam QM-1 is not only more reliable and safer than manual testing, the unit is also
portable, so it can be easily transported to multiple points on your steam line.
When you compare Steam QM-1 to manual testing methods the choice is clear:
Manual Method
Automatic Method
Description
•A sample of the steam is condensed during a limited time frame.
Temperature and mass measurements allow calculation of the
steam dryness.
• Reducing steam pressure to atmosphere allows
measurement of steam dryness.
Disadvantages
Advantages
• Time Consuming: Typically manual steam quality measurement
requires two people, and can take up to one hour per
measurement point. This does not include additional time
required to complete necessary reports.
• Quick and Easy: Steam QM-1 is simple to install.
• Trending: Continuous measurements provide trending
data over time.
• Safe: Once QM-1 is installed it is much safer than
manual measurement methods.
• Trending: Unable to trend steam dryness over a period of time.
• Unsafe: There are inherent safety risks involved in sampling live
steam and condensate in a water receiver.
• Reliable: Steam QM-1 is both reliable and accurate.
• Unreliable: Measurement results depend on the skill of the
technician conducting the test.
Steam QM-1 Dimensions & Weight
in
mm
A – Assembly Width
20
500
B – Assembly Height
15
375
C – Cabinet Width
10
250
D – Cabinet Height
6.5
160
E – Cabinet Depth
2.5
60
Assembly Weight
20 lb
9 kg
Cabinet Weight
2 lb
0.9 kg
Assembly
A
B
Cabinet
C
E
Steam QM-1 Package Includes:
Insulation Cover • All Necessary Accessories
D
Optional Feature:
Data Logger
Armstrong International
North America • Latin America • India • Europe / Middle East / Africa • China • Pacific Rim
armstronginternational.com
3
Armstrong provides intelligent system solutions that improve utility performance, lower energy consumption,
and reduce environmental emissions while providing an "enjoyable experience."
Armstrong International
North America • Latin America • India • Europe / Middle East / Africa • China • Pacific Rim
armstronginternational.com
316-EN
Printed in U.S.A. – 8/2014 © 2014 Armstrong International, Inc.

* Your assessment is very important for improving the work of artificial intelligence, which forms the content of this project