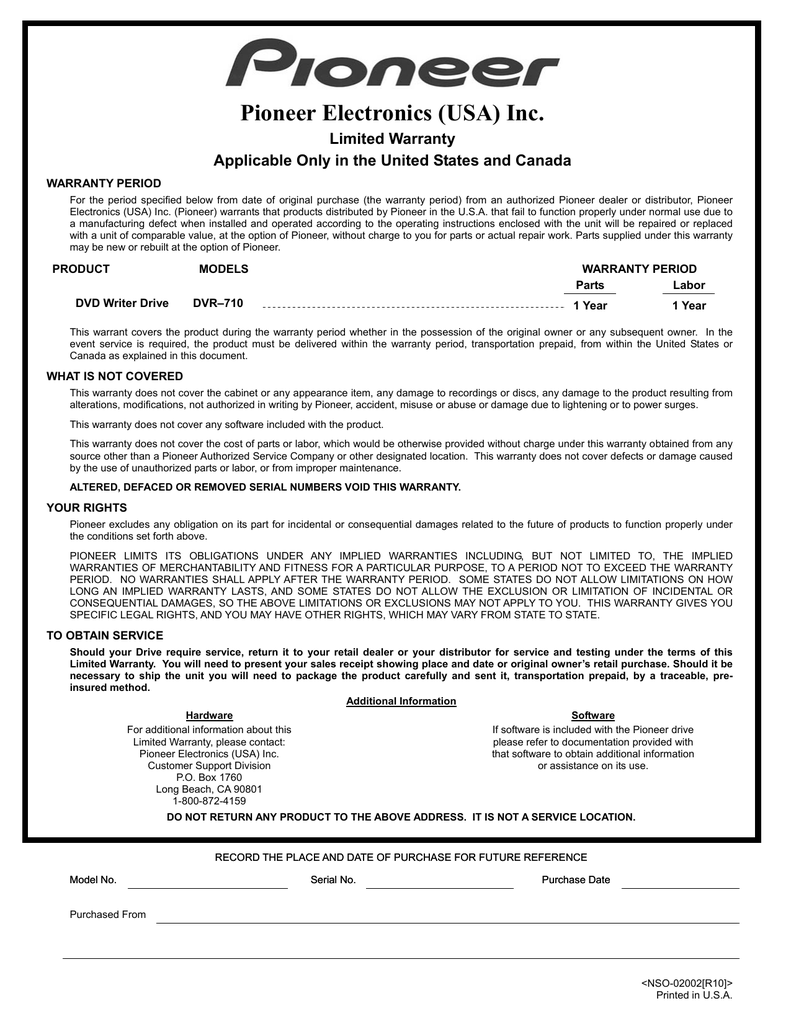 Pioneer Electronics (USA) Inc.
Limited Warranty
Applicable Only in the United States and Canada
WARRANTY PERIOD
For the period specified below from date of original purchase (the warranty period) from an authorized Pioneer dealer or distributor, Pioneer
Electronics (USA) Inc. (Pioneer) warrants that products distributed by Pioneer in the U.S.A. that fail to function properly under normal use due to
a manufacturing defect when installed and operated according to the operating instructions enclosed with the unit will be repaired or replaced
with a unit of comparable value, at the option of Pioneer, without charge to you for parts or actual repair work. Parts supplied under this warranty
may be new or rebuilt at the option of Pioneer.
PRODUCT
MODELS
DVD Writer Drive
WARRANTY PERIOD
Parts
Labor
DVR–710
1 Year
1 Year
This warrant covers the product during the warranty period whether in the possession of the original owner or any subsequent owner. In the
event service is required, the product must be delivered within the warranty period, transportation prepaid, from within the United States or
Canada as explained in this document.
WHAT IS NOT COVERED
This warranty does not cover the cabinet or any appearance item, any damage to recordings or discs, any damage to the product resulting from
alterations, modifications, not authorized in writing by Pioneer, accident, misuse or abuse or damage due to lightening or to power surges.
This warranty does not cover any software included with the product.
This warranty does not cover the cost of parts or labor, which would be otherwise provided without charge under this warranty obtained from any
source other than a Pioneer Authorized Service Company or other designated location. This warranty does not cover defects or damage caused
by the use of unauthorized parts or labor, or from improper maintenance.
ALTERED, DEFACED OR REMOVED SERIAL NUMBERS VOID THIS WARRANTY.
YOUR RIGHTS
Pioneer excludes any obligation on its part for incidental or consequential damages related to the future of products to function properly under
the conditions set forth above.
PIONEER LIMITS ITS OBLIGATIONS UNDER ANY IMPLIED WARRANTIES INCLUDING, BUT NOT LIMITED TO, THE IMPLIED
WARRANTIES OF MERCHANTABILITY AND FITNESS FOR A PARTICULAR PURPOSE, TO A PERIOD NOT TO EXCEED THE WARRANTY
PERIOD. NO WARRANTIES SHALL APPLY AFTER THE WARRANTY PERIOD. SOME STATES DO NOT ALLOW LIMITATIONS ON HOW
LONG AN IMPLIED WARRANTY LASTS, AND SOME STATES DO NOT ALLOW THE EXCLUSION OR LIMITATION OF INCIDENTAL OR
CONSEQUENTIAL DAMAGES, SO THE ABOVE LIMITATIONS OR EXCLUSIONS MAY NOT APPLY TO YOU. THIS WARRANTY GIVES YOU
SPECIFIC LEGAL RIGHTS, AND YOU MAY HAVE OTHER RIGHTS, WHICH MAY VARY FROM STATE TO STATE.
TO OBTAIN SERVICE
Should your Drive require service, return it to your retail dealer or your distributor for service and testing under the terms of this
Limited Warranty. You will need to present your sales receipt showing place and date or original owner's retail purchase. Should it be
necessary to ship the unit you will need to package the product carefully and sent it, transportation prepaid, by a traceable, preinsured method.
Additional Information
Hardware
Software
For additional information about this
If software is included with the Pioneer drive
Limited Warranty, please contact:
please refer to documentation provided with
Pioneer Electronics (USA) Inc.
that software to obtain additional information
or assistance on its use.
Customer Support Division
P.O. Box 1760
Long Beach, CA 90801
1-800-872-4159
DO NOT RETURN ANY PRODUCT TO THE ABOVE ADDRESS. IT IS NOT A SERVICE LOCATION.
RECORD THE PLACE AND DATE OF PURCHASE FOR FUTURE REFERENCE
Model No.
Serial No.
Purchase Date
Purchased From
<NSO-02002[R10]>
Printed in U.S.A.

* Your assessment is very important for improving the work of artificial intelligence, which forms the content of this project