Canon PowerShot A3200 IS User manual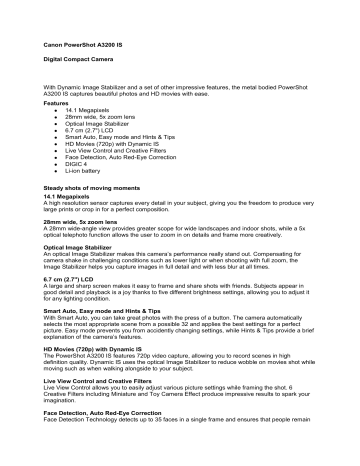 Canon PowerShot A3200 IS
Digital Compact Camera
With Dynamic Image Stabilizer and a set of other impressive features, the metal bodied PowerShot
A3200 IS captures beautiful photos and HD movies with ease.
Features
14.1 Megapixels
28mm wide, 5x zoom lens
Optical Image Stabilizer
6.7 cm (2.7") LCD
Smart Auto, Easy mode and Hints & Tips
HD Movies (720p) with Dynamic IS
Live View Control and Creative Filters
Face Detection, Auto Red-Eye Correction
DIGIC 4
Li-ion battery
Steady shots of moving moments
14.1 Megapixels
A high resolution sensor captures every detail in your subject, giving you the freedom to produce very
large prints or crop in for a perfect composition.
28mm wide, 5x zoom lens
A 28mm wide-angle view provides greater scope for wide landscapes and indoor shots, while a 5x
optical telephoto function allows the user to zoom in on details and frame more creatively.
Optical Image Stabilizer
An optical Image Stabilizer makes this camera's performance really stand out. Compensating for
camera shake in challenging conditions such as lower light or when shooting with full zoom, the
Image Stabilizer helps you capture images in full detail and with less blur at all times.
6.7 cm (2.7") LCD
A large and sharp screen makes it easy to frame and share shots with friends. Subjects appear in
good detail and playback is a joy thanks to five different brightness settings, allowing you to adjust it
for any lighting condition.
Smart Auto, Easy mode and Hints & Tips
With Smart Auto, you can take great photos with the press of a button. The camera automatically
selects the most appropriate scene from a possible 32 and applies the best settings for a perfect
picture. Easy mode prevents you from accidently changing settings, while Hints & Tips provide a brief
explanation of the camera's features.
HD Movies (720p) with Dynamic IS
The PowerShot A3200 IS features 720p video capture, allowing you to record scenes in high
definition quality. Dynamic IS uses the optical Image Stabilizer to reduce wobble on movies shot while
moving such as when walking alongside to your subject.
Live View Control and Creative Filters
Live View Control allows you to easily adjust various picture settings while framing the shot. 6
Creative Filters including Miniature and Toy Camera Effect produce impressive results to spark your
imagination.
Face Detection, Auto Red-Eye Correction
Face Detection Technology detects up to 35 faces in a single frame and ensures that people remain
in focus and with optimum brightness. Red-eye is automatically removed immediately after the shot is
taken or during playback.
DIGIC 4
Canon's DIGIC 4 processor drives responsive operation, superb image quality and colour
reproduction. Advanced Noise Reduction ensures richly detailed, cleaner images, even at high ISO
speeds.
Li-ion battery
Lithium-ion batteries provide a lightweight and easily rechargeable powering solution.
Product Specification
IMAGE SENSOR
1/2.3 type CCD
Approx. 14.1M
Primary Colour
Type
Effective Pixels
Colour Filter Type
IMAGE PROCESSOR
DIGIC 4 with iSAPS technology
Type
LENS
Focal Length
Zoom
5.0 – 25.0 mm (35 mm equivalent: 28 – 140 mm)
Optical 5x. Digital Approx. 4x¹ (with Digital Tele-Converter Approx. 1.7x or 2.1x and
Safety Zoom²)¹. Combined Approx. 20x
Maximum
f/number
Construction
f/2.8 – f/5.9
Image
Stabilisation
7 elements in 6 groups (2 double-sided aspherical lenses (including 1 UA lens), and
1 single-sided aspherical UA lens)
Yes (lens shift-type), approx. 3-stop
Type
AF System/ Points
AF Modes
AF Point Selection
AF Lock
AF Assist Beam
Closest Focusing
Distance
Metering modes
AE Lock
Exposure
Compensation
ISO sensitivity*
Speed
FOCUSING
TTL
AiAF (Face Detection / 9-point), 1-point AF (fixed to centre or Face Select
and Track)
Single, Continuous (Auto mode only), Servo AF/AE¹, Tracking AF¹
Size (Normal, Small)
On/Off Selectable
Yes
3 cm (W) from front of lens in macro
EXPOSURE CONTROL
Evaluative (linked to Face Detection AF frame), Centre-weighted average,
Spot (centre)
On/Off Selectable
+/- 2 EV in 1/3 stop increments.
Enhanced i-Contrast for automatic dynamic range correction
AUTO, 80, 100, 200, 400, 800, 1600
SHUTTER
1 – 1/1600 sec. (factory default)
15 – 1/1600 sec. (total range – varies by shooting mode)
WHITE BALANCE
Type TTL
Settings Auto (including Face Detection WB), Daylight, Cloudy, Tungsten, Fluorescent, Fluorescent H,
Custom
LCD MONITOR
Monitor
6.7 cm (2.7") TFT, Approx. 230,400 dots
Coverage
Approx. 100%
Brightness
Adjustable to one of five levels. Quick-bright LCD
Modes
Slow Sync Speed
Red-Eye Reduction
Flash Exposure Compensation
Flash Exposure Lock
Built-in Flash Range
External Flash
Modes
Photo Effects
Drive modes
Continuous
Shooting
FLASH
Auto, Manual Flash On / Off, Slow Synchro
Yes. Fastest speed 1/1600 sec.
Yes
Face Detection FE, Smart Flash Exposure
Yes
30 cm – 4.0 m (W) / 50 cm – 2.0 m (T)
Canon High Power Flash HF-DC1
SHOOTING
Auto*, Easy*, P, Live View Control, SCN (Portrait, Landscape, Kids & Pets, Smart
Shutter (Smile, Wink Self-Timer, FaceSelf-Timer), Low Light (3.5MP), Beach,
Foliage, Snow, Fireworks, Long Shutter), Creative Filters (Fish-eye Effect,
Miniature Effect, Toy Camera Effect, Monochrome, Super Vivid, Poster Effect),
Discreet, Movie
*with Scene Detection Technology and Motion Detection Technology
My Colors (My Colors Off, Vivid, Neutral, Sepia, Black & White, Custom Color
(limited))
Single, Continuous, Self-Timer
Approx. 0.9 shots/sec.¹ (until memory card becomes full)²
RECORDING PIXELS / COMPRESSION
(L) 4320 x 3240, (M1) 3072 x 2304, (M2) 1600 x 1200, (S) 640 x 480, (W) 4320 x 2432.
Resize in playback (M2, S, 320 x 240)
Compression Fine, Normal
Movies
(HD) 1280 x 720, 30 fps, (L) 640 x 480, 30 fps, (M) 320 x 240, 30 fps
Miniature Effect (HD, L) 6fps, 3fps, 1.5 fps
Movie
(HD) Up to 4 GB or 10 min. 00 sec.¹
Length
(L and M) Up to 4 GB or 1 hour²
Image Size
FILE TYPES
Still Image JPEG compression, (Exif 2.3 [Exif Print] compliant) / Design rule for Camera File system,
Type
Digital Print Order Format [DPOF] Version 1.1 compliant
Movies
MOV [H.264 + Linear PCM (monaural) ]
Canon
Printers
PictBridge
DIRECT PRINT
Canon SELPHY Compact Photo Printers and Canon Inkjet Printers supporting
PictBridge (ID Photo Print, Fixed Size Print and Movie Print supported on SELPHY CP &
ES printers only)
Yes
OTHER FEATURES
Red-Eye
Correction
My Camera /
My Menu
My Category
Intelligent
Orientation
Sensor
Histogram
Yes, during shooting and playback
Start-up image and camera sounds customisation
Image tagging feature
Yes
Yes
Playback Zoom Approx. 2x – 10x
Self Timer
Approx. 2 or 10 sec. or Custom
English, German, French, Dutch, Danish, Finnish, Italian, Norwegian, Swedish,
Menu
Spanish, Simplified Chinese, Chinese (traditional), Japanese, Russian, Portuguese,
Languages
Korean, Greek, Polish, Czech, Hungarian, Turkish, Thai, Arabic, Ukrainian,
Romanian, Farsi
Computer
Other
Type
INTERFACE
Hi-Speed USB (MTP, PTP) dedicated connector (Mini-B compatible)
A/V output, dedicated connector (PAL/NTSC)
MEMORY CARD
SD, SDHC, SDXC, MMC, MMCplus, HCMMCplus
SUPPORTED OPERATING SYSTEM
Windows 7/ Vista SP1-2/ XP SP3
Mac OS X v10.5 – 10.6
PC & Macintosh
SOFTWARE
ZoomBrowser EX / ImageBrowser
PhotoStitch
Browsing & Printing
Other
Batteries
Battery life
A/C Power Supply
POWER SOURCE
Rechargeable Li-ion Battery NB-8L (battery and charger supplied)
Approx. 250 shots¹
Approx. 360 min. playback
Optional, AC Adapter Kit ACK-DC60
Cases / Straps
Flash
Power Supply & Battery Chargers
Operating Environment
Dimensions (WxHxD)
Weight
Zoom
AF Modes
Continuous Shooting
Movie Length
ACCESSORIES
Soft Case DCC-510
High Power Flash HF-DC1
AC Adapter Kit ACK-DC60
PHYSICAL SPECIFICATIONS
0 – 40 °C, 10 – 90% humidity
95.1 x 56.7 x 24.3 mm
Approx. 149 g (including battery/batteries and memory card)
¹ Digital zoom available for still image and standard movie
modes only. Optical zoom may not be available during
movie recording.
² Depending on the image size selected.
¹ Some settings limit availability
¹ Under conditions where the flash does not fire.
² Depending on memory card speed / capacity /
compression setting.
¹ The following Speed Class memory cards are required
for maximum record time: (HD) 1280 x 720 Speed Class 4
or above. (Full HD) 1920 x 1080 Speed Class 6 or above.
² Depending on memory card speed / capacity /
compression setting.
Battery life
¹ Using the batteries and memory card format supplied
with the camera (where included), except where
indicated.
* Standard Output Sensitivity / Recommended Exposure Index.
According to ISO 12232:2006 (20th April 2006) which specifies the method for assigning and
reporting ISO speed ratings for digital still cameras.
All data is based on Canon standard testing methods (according to CIPA Standards) except where
indicated.
Subject to change without notice.

* Your assessment is very important for improving the work of artificial intelligence, which forms the content of this project