No category
Impeller/Wear Ring Shimming Instruction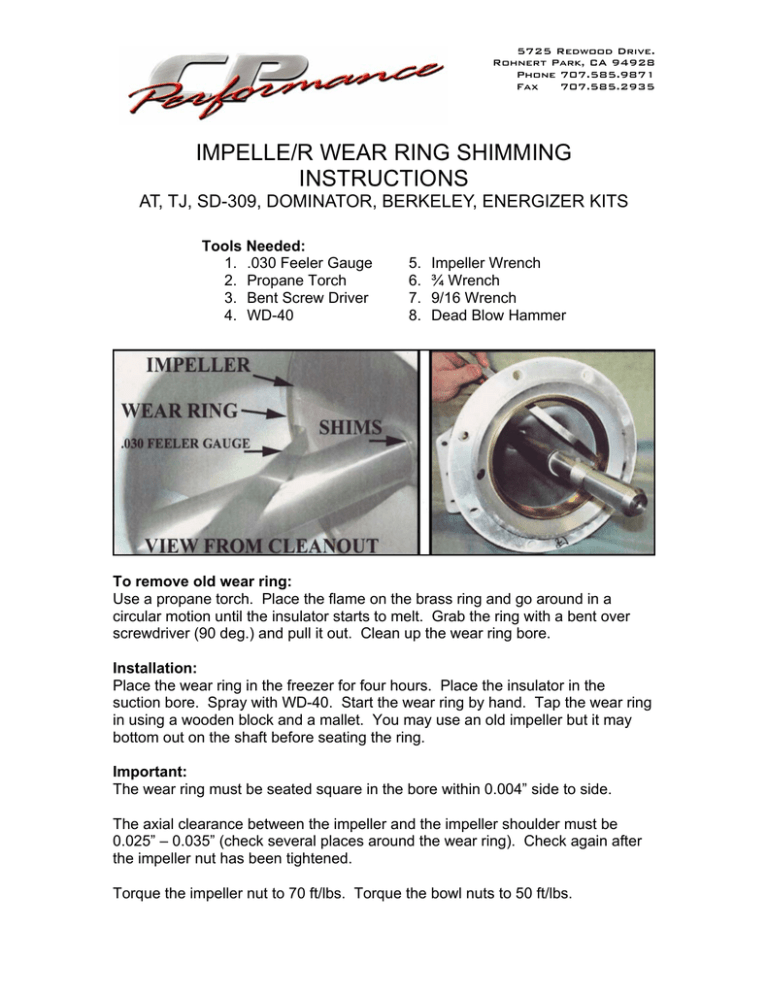 5725 Redwood Drive.
Rohnert Park, CA 94928
Phone 707.585.9871
Fax
707.585.2935
IMPELLE/R WEAR RING SHIMMING
INSTRUCTIONS
AT, TJ, SD-309, DOMINATOR, BERKELEY, ENERGIZER KITS
Tools Needed:
1. .030 Feeler Gauge
2. Propane Torch
3. Bent Screw Driver
4. WD-40
5.
6.
7.
8.
Impeller Wrench
¾ Wrench
9/16 Wrench
Dead Blow Hammer
To remove old wear ring:
Use a propane torch. Place the flame on the brass ring and go around in a
circular motion until the insulator starts to melt. Grab the ring with a bent over
screwdriver (90 deg.) and pull it out. Clean up the wear ring bore.
Installation:
Place the wear ring in the freezer for four hours. Place the insulator in the
suction bore. Spray with WD-40. Start the wear ring by hand. Tap the wear ring
in using a wooden block and a mallet. You may use an old impeller but it may
bottom out on the shaft before seating the ring.
Important:
The wear ring must be seated square in the bore within 0.004" side to side.
The axial clearance between the impeller and the impeller shoulder must be
0.025" – 0.035" (check several places around the wear ring). Check again after
the impeller nut has been tightened.
Torque the impeller nut to 70 ft/lbs. Torque the bowl nuts to 50 ft/lbs.

* Your assessment is very important for improving the work of artificial intelligence, which forms the content of this project