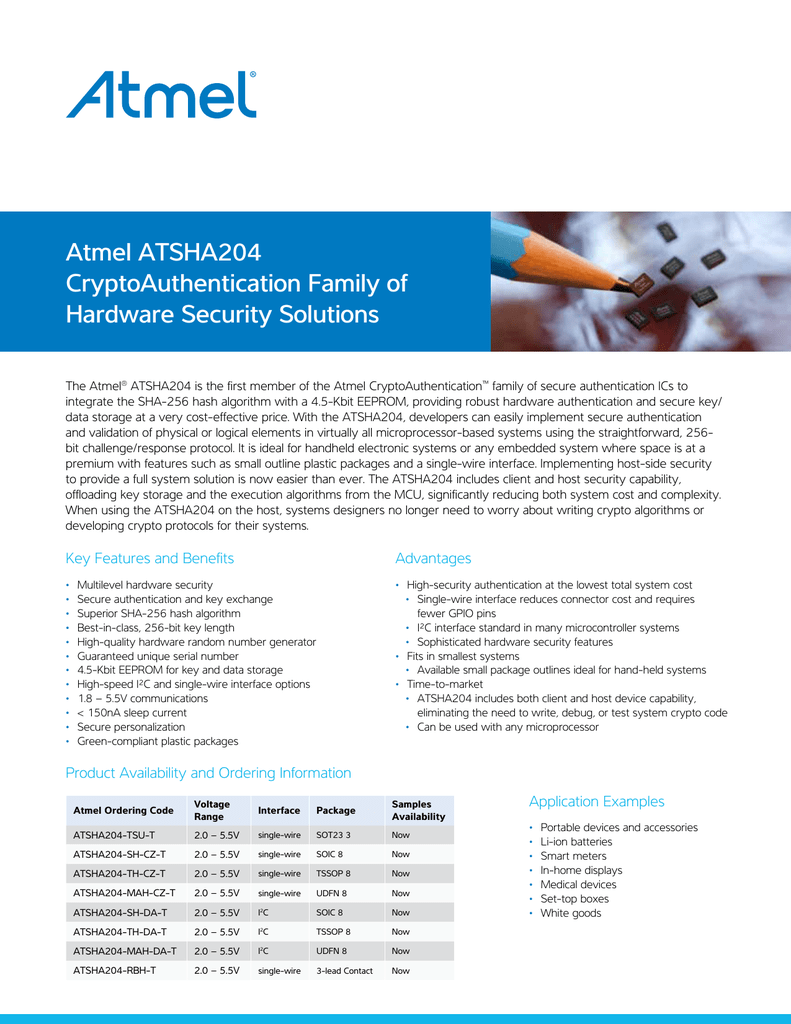 Atmel ATSHA204
CryptoAuthentication Family of
Hardware Security Solutions
The Atmel® ATSHA204 is the first member of the Atmel CryptoAuthentication™ family of secure authentication ICs to
integrate the SHA-256 hash algorithm with a 4.5-Kbit EEPROM, providing robust hardware authentication and secure key/
data storage at a very cost-effective price. With the ATSHA204, developers can easily implement secure authentication
and validation of physical or logical elements in virtually all microprocessor-based systems using the straightforward, 256bit challenge/response protocol. It is ideal for handheld electronic systems or any embedded system where space is at a
premium with features such as small outline plastic packages and a single-wire interface. Implementing host-side security
to provide a full system solution is now easier than ever. The ATSHA204 includes client and host security capability,
offloading key storage and the execution algorithms from the MCU, significantly reducing both system cost and complexity.
When using the ATSHA204 on the host, systems designers no longer need to worry about writing crypto algorithms or
developing crypto protocols for their systems.
Key Features and Benefits
Advantages
•
•
•
•
•
•
•
•
•
•
•
•
• High-security authentication at the lowest total system cost
• Single-wire interface reduces connector cost and requires
fewer GPIO pins
• I²C interface standard in many microcontroller systems
• Sophisticated hardware security features
• Fits in smallest systems
• Available small package outlines ideal for hand-held systems
• Time-to-market
• ATSHA204 includes both client and host device capability,
eliminating the need to write, debug, or test system crypto code
• Can be used with any microprocessor
Multilevel hardware security
Secure authentication and key exchange
Superior SHA-256 hash algorithm
Best-in-class, 256-bit key length
High-quality hardware random number generator
Guaranteed unique serial number
4.5-Kbit EEPROM for key and data storage
High-speed I²C and single-wire interface options
1.8 – 5.5V communications
< 150nA sleep current
Secure personalization
Green-compliant plastic packages
Product Availability and Ordering Information
Atmel Ordering Code
Voltage
Range
Interface
Package
Samples
Availability
ATSHA204-TSU-T
2.0 – 5.5V
single-wire
SOT23 3
Now
ATSHA204-SH-CZ-T
2.0 – 5.5V
single-wire
SOIC 8
Now
ATSHA204-TH-CZ-T
2.0 – 5.5V
single-wire
TSSOP 8
Now
ATSHA204-MAH-CZ-T
2.0 – 5.5V
single-wire
UDFN 8
Now
ATSHA204-SH-DA-T
2.0 – 5.5V
IC
SOIC 8
Now
ATSHA204-TH-DA-T
2.0 – 5.5V
I2C
TSSOP 8
Now
ATSHA204-MAH-DA-T
2.0 – 5.5V
I2C
UDFN 8
Now
ATSHA204-RBH-T
2.0 – 5.5V
single-wire
3-lead Contact
Now
2
Application Examples
•
•
•
•
•
•
•
Portable devices and accessories
Li-ion batteries
Smart meters
In-home displays
Medical devices
Set-top boxes
White goods
Atmel ATSHA204
CryptoAuthentication Family of
Hardware Security Solutions
Integrating hardware security into embedded systems has never been easier than with the CryptoAuthentication family
of hardware security solutions. Multiple evaluation and development support tools are available for the ATSHA204, giving
designers the necessary flexibility to meet the most aggressive development timelines. To gain a basic understanding of
the ATSHA204 device architecture and capabilities, the very low-cost AT88CK454BLACK demonstration kit is a great
choice. For more comprehensive evaluation and development capabilities, designers can choose from client or client and
host kit configurations that include USB connectivity as well as a modular hardware design approach that enables rapid and
easy development in most development environments. Additionally, the Atmel ATAVRSECURITYX Security Xplained
add-on board for the Atmel AVR® Xplained development platform provides a seamless avenue to integrate security into
your embedded application. All ATSHA204 tools are based on Atmel AVR devices, with software and libraries available
at www.atmel.com.
AT88CK454BLACK
AT88CK101STK8
ATAVRSECURITYX
AT88CK109STK8
Tool Availability and Ordering Information
Atmel Ordering Code
Description
Interface
Package
Samples
Availability
AT88CK454BLACK
USB dongle secure authentication
demonstration kit for Atmel ATSHA204
single-wire
3-lead
SOT23
Yes
Now
AT88CK101STK8
Single-socket secure authentication
development kit for Atmel ATSHA204
I2C
8-lead
SOIC
Yes
Now
AT88CK109STK8
Dual-socket secure authentication
development kit for Atmel ATSHA204
I2C
8-lead
SOIC
Yes
Now
ATAVRSECURITYX
Atmel ATSHA204 security add-on board
for Atmel AVR Xplained series
I2C
8-lead
SOIC
Yes
Now
Atmel Corporation
1600 Technology Drive, San Jose, CA 95110 USA
T : (+1)(408) 441. 0311
F : (+1)(408) 487. 2600
|
www.atmel.com
© 2012 Atmel Corporation. All rights reserved. / Rev.: Atmel-8785C-ATSHA204-CryptoAuthentication-E-US-11/12
Atmel®, Atmel logo and combinations thereof, and others are registered trademarks or trademarks of Atmel Corporation or its subsidiaries. Other terms and product names may
be trademarks of others.
Disclaimer: The information in this document is provided in connection with Atmel products. No license, express or implied, by estoppel or otherwise, to any intellectual property right is granted by this document or in connection with the sale of Atmel
products. EXCEPT AS SET FORTH IN THE ATMEL TERMS AND CONDITIONS OF SALES LOCATED ON THE ATMEL WEBSITE, ATMEL ASSUMES NO LIABILITY WHATSOEVER AND DISCLAIMS ANY EXPRESS, IMPLIED OR STATUTORY WARRANTY RELATING TO ITS PRODUCTS INCLUDING, BUT NOT LIMITED TO, THE IMPLIED WARRANTY OF MERCHANTABILITY, FITNESS FOR A PARTICULAR PURPOSE, OR NON-INFRINGEMENT. IN NO EVENT SHALL ATMEL BE LIABLE FOR ANY DIRECT, INDIRECT,
CONSEQUENTIAL, PUNITIVE, SPECIAL OR INCIDENTAL DAMAGES (INCLUDING, WITHOUT LIMITATION, DAMAGES FOR LOSS AND PROFITS, BUSINESS INTERRUPTION, OR LOSS OF INFORMATION) ARISING OUT OF THE USE OR INABILITY TO USE
THIS DOCUMENT, EVEN IF ATMEL HAS BEEN ADVISED OF THE POSSIBILITY OF SUCH DAMAGES. Atmel makes no representations or warranties with respect to the accuracy or completeness of the contents of this document and reserves the right to
make changes to specifications and products descriptions at any time without notice. Atmel does not make any commitment to update the information contained herein. Unless specifically provided otherwise, Atmel products are not suitable for, and shall
not be used in, automotive applications. Atmel products are not intended, authorized, or warranted for use as components in applications intended to support or sustain life.