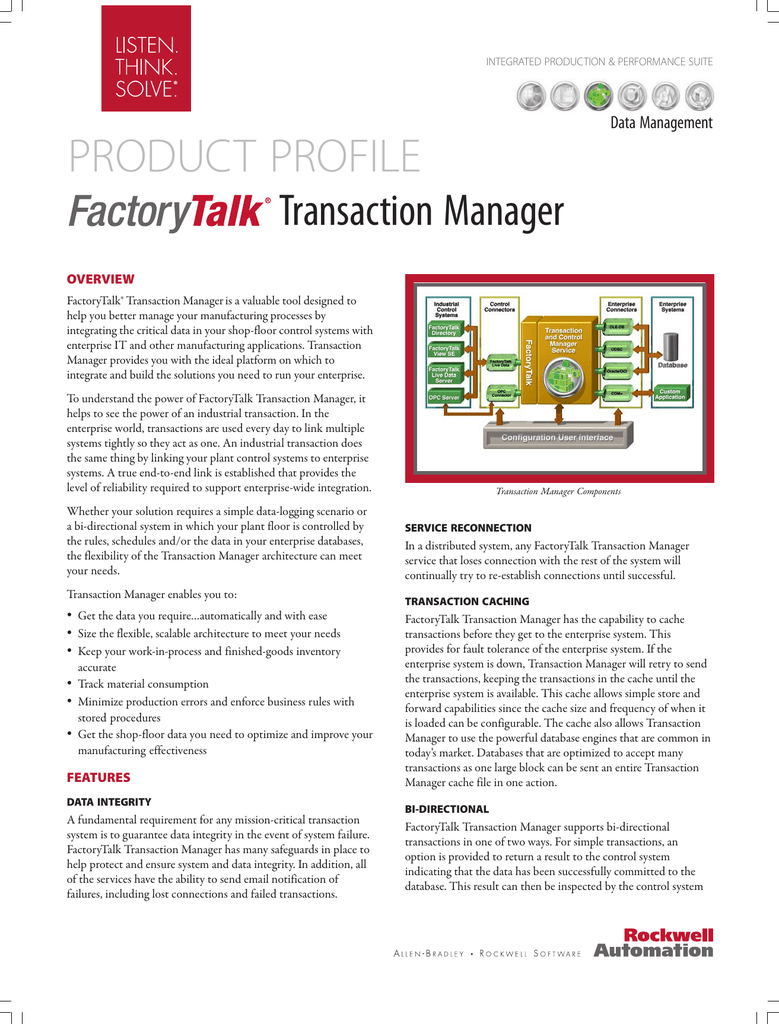 INTEGRATED PRODUCTION & PERFORMANCE SUITE
Data Management
PRODUCT PROFILE
Transaction Manager
OVERVIEW
FactoryTalk® Transaction Manager is a valuable tool designed to
help you better manage your manufacturing processes by
integrating the critical data in your shop-floor control systems with
enterprise IT and other manufacturing applications. Transaction
Manager provides you with the ideal platform on which to
integrate and build the solutions you need to run your enterprise.
To understand the power of FactoryTalk Transaction Manager, it
helps to see the power of an industrial transaction. In the
enterprise world, transactions are used every day to link multiple
systems tightly so they act as one. An industrial transaction does
the same thing by linking your plant control systems to enterprise
systems. A true end-to-end link is established that provides the
level of reliability required to support enterprise-wide integration.
Whether your solution requires a simple data-logging scenario or
a bi-directional system in which your plant floor is controlled by
the rules, schedules and/or the data in your enterprise databases,
the flexibility of the Transaction Manager architecture can meet
your needs.
Transaction Manager enables you to:
• Get the data you require…automatically and with ease
• Size the flexible, scalable architecture to meet your needs
• Keep your work-in-process and finished-goods inventory
•
•
•
accurate
Track material consumption
Minimize production errors and enforce business rules with
stored procedures
Get the shop-floor data you need to optimize and improve your
manufacturing effectiveness
FEATURES
DATA INTEGRITY
A fundamental requirement for any mission-critical transaction
system is to guarantee data integrity in the event of system failure.
FactoryTalk Transaction Manager has many safeguards in place to
help protect and ensure system and data integrity. In addition, all
of the services have the ability to send email notification of
failures, including lost connections and failed transactions.
Transaction Manager Components
SERVICE RECONNECTION
In a distributed system, any FactoryTalk Transaction Manager
service that loses connection with the rest of the system will
continually try to re-establish connections until successful.
TRANSACTION CACHING
FactoryTalk Transaction Manager has the capability to cache
transactions before they get to the enterprise system. This
provides for fault tolerance of the enterprise system. If the
enterprise system is down, Transaction Manager will retry to send
the transactions, keeping the transactions in the cache until the
enterprise system is available. This cache allows simple store and
forward capabilities since the cache size and frequency of when it
is loaded can be configurable. The cache also allows Transaction
Manager to use the powerful database engines that are common in
today's market. Databases that are optimized to accept many
transactions as one large block can be sent an entire Transaction
Manager cache file in one action.
BI-DIRECTIONAL
FactoryTalk Transaction Manager supports bi-directional
transactions in one of two ways. For simple transactions, an
option is provided to return a result to the control system
indicating that the data has been successfully committed to the
database. This result can then be inspected by the control system
to confirm that transactions made it to the database. Not only can
Transaction Manager take "return codes," but it can extract data
out of an enterprise system and send it back to the control system.
When a transaction is connected to something like a database
stored procedure, Transaction Manager can take the outputs of
that stored procedure and send them back to the controller.
When the stored procedure finishes, the return values are written
to the control data points.
Run Screens Anywhere
The FactoryTalk Transaction Manager user interface provides a
single access point for the Transaction Manager system, even
when it is deployed across a network or even over a WAN. The
user interface gives you the ability to configure transactions, start
and stop the system, and troubleshoot. You can also manage
Transaction Manager from the Service Console, either locally or
on a remote computer.
ONLINE CHANGES
Do you ever need to modify what data you told FactoryTalk
Transaction Manager you wanted when the system was
configured? Well, with FactoryTalk Transaction Manager, you
can change nearly anything about a control connector
configuration — even while it's running. This allows data
collection to continue in your application while you add new or
modify existing transactions.
ENTERPRISE CONNECTIVITY
FactoryTalk Transaction Manager has options to connect to
various enterprise systems, including enterprise connectors for
ODBC-compliant databases (virtually any relational database has
an ODBC driver) and native drivers for Microsoft® SQL Server
and Oracle® database. Additionally, FactoryTalk Transaction
Manager can connect to COM+ applications on your Windows®
server. Almost any Visual Basic or C/C++ application can be
connected to FactoryTalk Transaction Manager via COM+.
CONTROL SYSTEM CONNECTIVITY
To connect to plant-floor systems, FactoryTalk Transaction
Manager has added the ability to connect to FactoryTalk®
production and performance suite components that dramatically
simplify data production, movement, and use. With this
FactoryTalk connection in Transaction Manager, you can use one
interface to connect to third-party OPC, Rockwell Automation
OPC servers, or our newest FactoryTalk® Live Data servers such as
FactoryTalk® View Site Edition or RSLinx® Enterprise. FactoryTalk
Transaction Manager can connect to redundant servers in a
FactoryTalk environment without any additional code.
FactoryTalk ensures the data server's redundancy without
affecting the clients, like FactoryTalk Transaction Manager.
FactoryTalk Transaction Manager Configuration Checklist
Watch the Activity
The online transaction monitor provides a real-time look at the
status of all active transactions and the state of the Windows
services. A traffic signal icon (red, yellow, green) is provided for
each Windows service, making it simple for you to check the state
of the FactoryTalk Transaction Manager system even when it is
distributed over a network.
Diagnose Quickly
An integrated log viewer allows you to troubleshoot problems
from a single point using the FactoryTalk Diagnostics log. You can
filter events by levels of severity and service, making it easy to drill
down to the real issue. In addition, the transaction log can be used
for local and remote troubleshooting should database transactions
fail. Many companies use this feature to provide worldwide
support at multiple facilities from a central location.
EASY TO USE
Configuration Checklist
This wizard helps you navigate through the process of creating a
FactoryTalk Transaction Manager configuration. The five-step
checklist links directly to the screens needed to accomplish each
step, and it guides you through creating a complete configuration
and keeps track of which steps you've completed.
Expert System
The verification capability makes creating a virtually error-free
FactoryTalk Transaction Manager configuration faster and easier
by troubleshooting a configuration from end to end. It flags
errors, inconsistencies and incompatibilities within transactions.
Configuration Import/Export Tools
An XML Import/Export utility is provided with FactoryTalk
Transaction Manager to allow experienced users to configure
transactions off-line in Microsoft® Excel or similar programs and
import the configuration into FactoryTalk Transaction Manager.
This time-saving tool is particularly useful for large transaction
configurations or if you want to start with an existing
configuration and make changes to it.
2
GET THE RIGHT DATA TO THE RIGHT PLACE
Cross Reference
The report function in FactoryTalk Transaction Manager
generates a summary of an entire Transaction Manager
configuration (containing the names of everything Transaction
Manager is using), which can be useful for system documentation
or finding out what was used where.
FactoryTalk Transaction Manager moves data not just from
control system to database, but also from a database down to an
HMI or control system. This can aid your plant operations to:
• Control the plant floor using business rules and quality
enforcement — FactoryTalk Transaction Manager provides the
interface for a repository of business rules. A business rule can
be any logic required to run your plant, such as product
specifications or quality parameters. By placing business rules in
a database server in a central location, you can manage them
more easily within an enterprise system. Additionally,
FactoryTalk Transaction Manager can ensure the quality of data
to meet the requirements of today's advanced manufacturing
companies.
Problem Notification
The FactoryTalk Transaction Manager error-logging system can be
configured to log events to dedicated log files, the Windows Event
Log or an SMTP-compatible email address. Each logging
destination can be filtered by level of severity, giving you the
ability to track all events but to send email notification only in the
event of system failures.
• Manage recipes — Keep information about how to make your
products in your corporate database where it can be available,
yet easily secured. When the need arises, FactoryTalk
Transaction Manager allows you to send the data down to your
plant-floor systems and devices. FactoryTalk Transaction
Manager can help you move your data around reliably no
matter whether the need is initial "set point" downloads when a
machine is first initialized or a more comprehensive recipe
management system.
REACT TO EVENTS OR EXCEPTIONS IN THE MANUFACTURING
PROCESS
In addition to automatic data logging, FactoryTalk Transaction
Manager can react to events or exceptions in the manufacturing
process. FactoryTalk Transaction Manager can be configured to
trigger transactions based on certain conditions in the control
systems. This is useful for gathering data around the exception
condition or executing a stored procedure in the Enterprise
system to react and tell the control system what to do next.
Production Area Transaction Log
Manipulate the Data
FactoryTalk Transaction Manager provides a full complement of
arithmetic, bitwise, and logical operators to allow you to filter
and manipulate the data as needed prior to handing it to the
database environment.
FACTORYTALK INTEGRATION
What do you gain by having FactoryTalk Transaction Manager
incorporate the core components of the FactoryTalk Services
Platform?
BENEFITS
AUTOMATE DATA LOGGING
• Transaction Manager embeds the FactoryTalk Tag browser to
provide the same browsing environment as FactoryTalk View
Site Edition (SE) or Machine Edition (ME).
FactoryTalk Transaction Manager can move large amounts of data
in a fast and robust manner. In addition, Transaction Manager has
built-in fault tolerance and the ability to optimize reading and
writing of both control and enterprise data. You can use
Transaction Manager to automate the following types of processes:
• It allows preferred connectivity to FactoryTalk View and
RSLinx Enterprise using FactoryTalk Live Data.
• Monitoring performance of control systems such as machine
usage
• FactoryTalk® Directory provides location transparency to move
hardware assets around with ease, swap out OPC servers, move
or change RSLinx configurations.
• Tracking product information such as work in process (WIP)
status and raw material availability
• RSLinx, RSLogix™, FactoryTalk View Site Edition, FactoryTalk
Transaction Manager and others use the same tags. They
are defined once (in your Logix controller) and then are
used everywhere.
• Updating real-time process information such as temperature,
pressure and alarm states
3
to access a FactoryTalk-enabled system. Through FactoryTalk
Security, FactoryTalk Transaction Manager is provided with
everything necessary to secure configuration and runtime access.
These security services are fully integrated into the FactoryTalk
Directory and are included as part of the FactoryTalk® Services
Platform that installs with many products.
FACTORYTALK SERVICES PLATFORM
The FactoryTalk® Services Platform is the foundation of the
FactoryTalk Integrated Production and Performance Suite. It is a
flexible solution consisting of activation procedures, a common
address book, centralized authentication and access control, and
uniform diagnostics that can help reduce costs and extend the life
cycle of your existing investments.
GET ANSWERS FAST
When you purchase FactoryTalk Transaction Manager, you receive
both industry-leading software and award-winning global support.
Use the MySupport feature to personalize our Support Services
Web site for your needs. MySupport can send you regular email
messages with links to the latest technical notes and software
updates. To register, visit http://support.rockwellautomation.com.
Embedded FactoryTalk Browsing
• The FactoryTalk Directory and Live Data allow RSLinx
servers to be made redundant; even third-party OPC servers
can be made redundant in a FactoryTalk architecture — and
your FactoryTalk Transaction Manager system increases
uptime potential.
GET MORE INFORMATION
SECURITY
For ordering information, contact your local Rockwell
Automation sales office or Allen-Bradley distributor. Or learn
more by visiting http://www.rockwellsoftware.com.
FactoryTalk® Security is a centralized access control that is
intended to improve the security of your automation system by
limiting access to those with a legitimate need. FactoryTalk
Security authenticates user identities and authorizes user requests
FactoryTalk Services Platform
The Facto ryTalk Se rvice s Platfo rm d e live rs value . It is a share d se t o f co mmo n fe ature s that e nab le s sup e rio r inte ro p e rab ility and co mmo nality b e twe e n ap p licatio ns fo r
re d uce d e ng ine e ring , o p e ratio ns and training co sts, while e xte nd ing the life o f e xisting inve stme nts. The Facto ryTalk Se rvice s Platfo rm p ro vid e s a so lid fo und atio n fo r
to d ay and a p ath fo r the future .
®
FactoryTalk Transaction Manager
Activation
Directory
Security
Diagnostics
Audit
Live Data
3
3
3
3
3
3
Alarms &
Events
Allen-Bradley, FactoryTalk, Rockwell Automation, RSLinx, RSLinx Enterprise and RSLogix are trademarks of Rockwell Automation, Inc.
All other trademarks are the property of their respective owners.
Publication FTALK-PP011A-EN-P – June 2007
Copyright © 2007 Rockwell Automation, Inc. All Rights Reserved. Printed in USA.