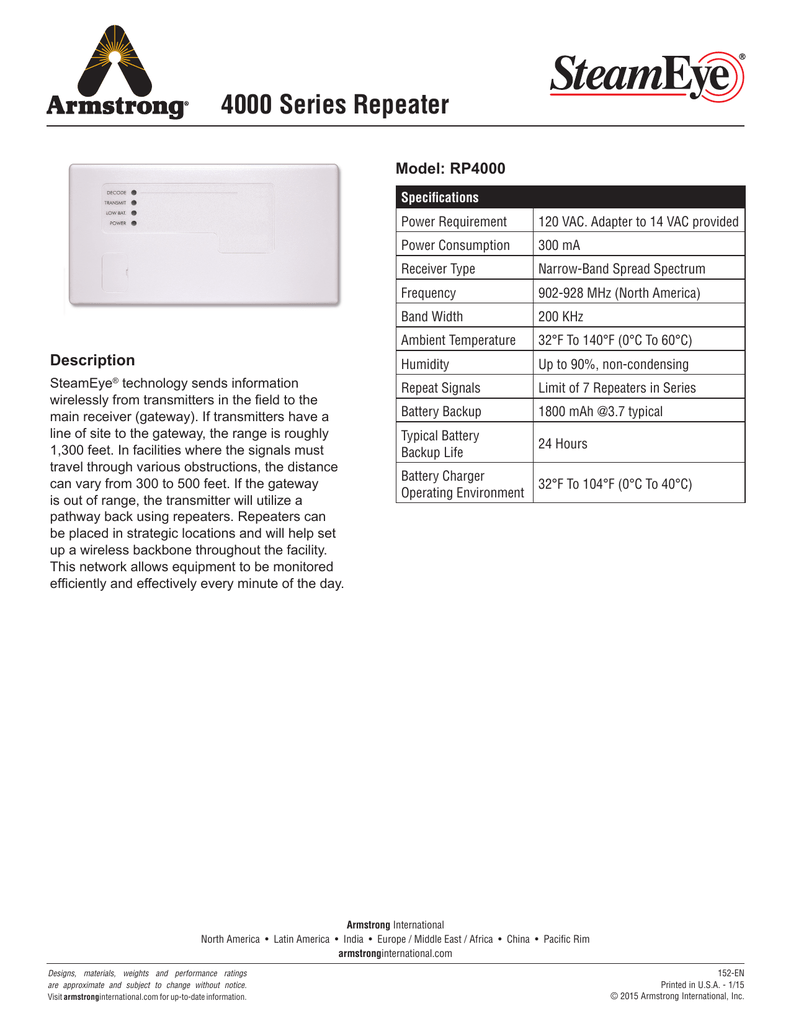 4000 Series Repeater
Model: RP4000
Specifications
Power Requirement
120 VAC. Adapter to 14 VAC provided
Power Consumption
300 mA
Receiver Type
Narrow-Band Spread Spectrum
Frequency
902-928 MHz (North America)
Band Width
200 KHz
Ambient Temperature
32°F To 140°F (0°C To 60°C)
Description
Humidity
Up to 90%, non-condensing
SteamEye technology sends information
wirelessly from transmitters in the field to the
main receiver (gateway). If transmitters have a
line of site to the gateway, the range is roughly
1,300 feet. In facilities where the signals must
travel through various obstructions, the distance
can vary from 300 to 500 feet. If the gateway
is out of range, the transmitter will utilize a
pathway back using repeaters. Repeaters can
be placed in strategic locations and will help set
up a wireless backbone throughout the facility.
This network allows equipment to be monitored
efficiently and effectively every minute of the day.
Repeat Signals
Limit of 7 Repeaters in Series
Battery Backup
1800 mAh @3.7 typical
Typical Battery
Backup Life
24 Hours
Battery Charger
Operating Environment
32°F To 104°F (0°C To 40°C)
®
Armstrong International
North America • Latin America • India • Europe / Middle East / Africa • China • Pacific Rim
armstronginternational.com
Designs, materials, weights and performance ratings
are approximate and subject to change without notice.
Visit armstronginternational.com for up-to-date information.
152-EN
Printed in U.S.A. - 1/15
© 2015 Armstrong International, Inc.

* Your assessment is very important for improving the work of artificial intelligence, which forms the content of this project