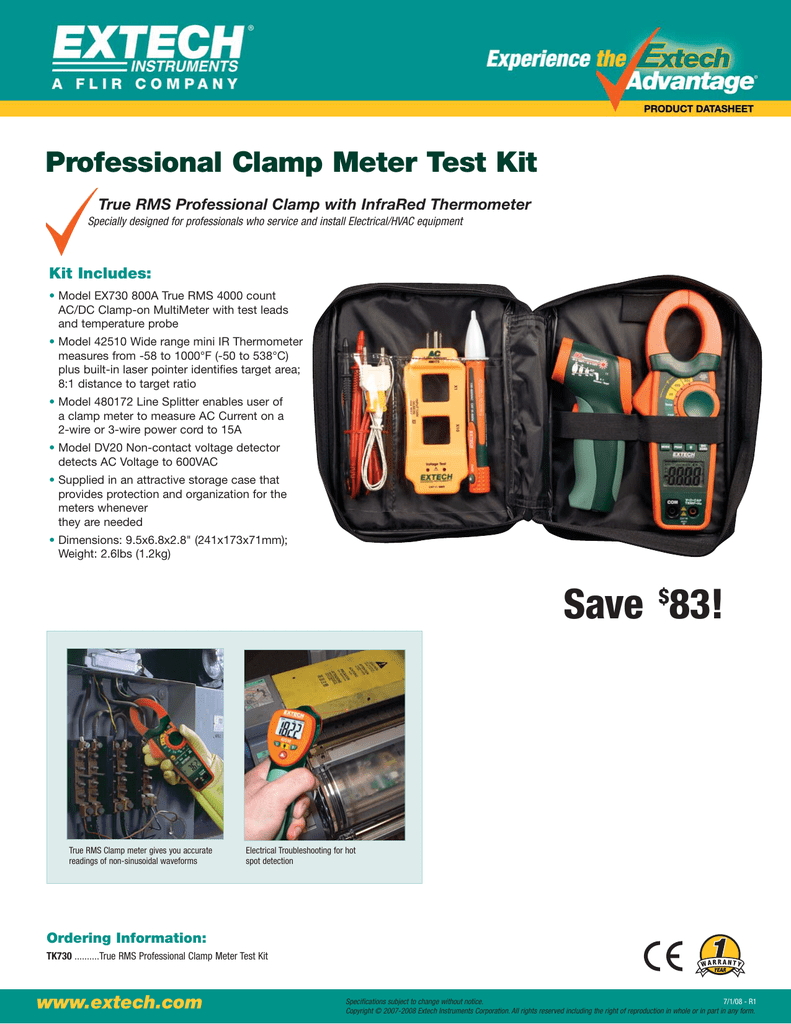 Professional Clamp Meter Test Kit
True RMS Professional Clamp with InfraRed Thermometer
Specially designed for professionals who service and install Electrical/HVAC equipment
Kit Includes:
• Model EX730 800A True RMS 4000 count
AC/DC Clamp-on MultiMeter with test leads
and temperature probe
• Model 42510 Wide range mini IR Thermometer
measures from -58 to 1000°F (-50 to 538°C)
plus built-in laser pointer identifies target area;
8:1 distance to target ratio
• Model 480172 Line Splitter enables user of
a clamp meter to measure AC Current on a
2-wire or 3-wire power cord to 15A
• Model DV20 Non-contact voltage detector
detects AC Voltage to 600VAC
• Supplied in an attractive storage case that
provides protection and organization for the
meters whenever
they are needed
• Dimensions: 9.5x6.8x2.8" (241x173x71mm);
Weight: 2.6lbs (1.2kg)
Save $83!
True RMS Clamp meter gives you accurate
readings of non-sinusoidal waveforms
Electrical Troubleshooting for hot
spot detection
Ordering Information:
TK730 ..........True RMS Professional Clamp Meter Test Kit
www.extech.com
Specifications subject to change without notice.
7/1/08 - R1
Copyright © 2007-2008 Extech Instruments Corporation. All rights reserved including the right of reproduction in whole or in part in any form.

* Your assessment is very important for improving the work of artificial intelligence, which forms the content of this project