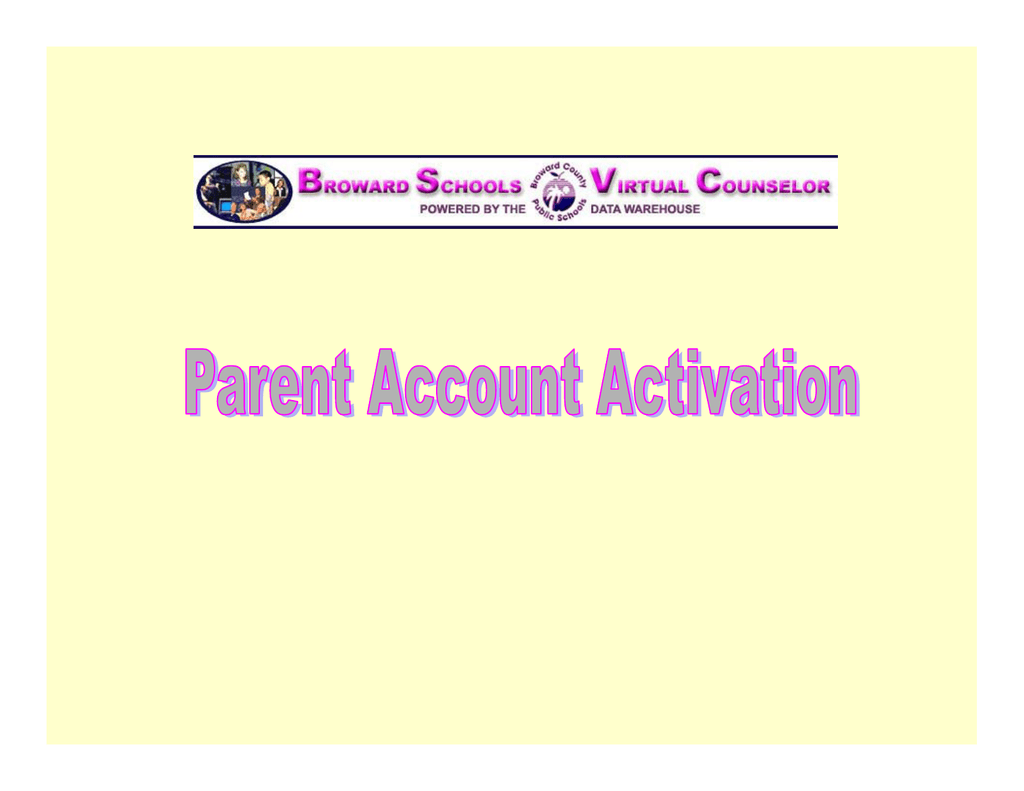 Virtual Counselor can be found at WWW.BROWARDSCHOOLS.COM.
Just click on the Virtual Counselor link.
Next click the Parent button.
If you do not have a parent ID click here.
Read the Broward County's Public Schools' Policy 5306. If you agree with
the policy press the Continue button.
This screen informs the parent or guardian that the information
entered to obtain an ID is verified against what the school has in the
computer system. If they have difficulty in accessing Virtual
Counselor they are urged to contact their child's school.
Enter your information in this screen.
TERMS: Student Information System
The information is verified
against the parent contact
information in TERMS. The
adult applying for a parent ID
must be the child's parent or
legal guardian.
Enter the child's
information in this
screen.
TERMS: Student Information System
The child's information is
verified against TERMS.
You are asked to choose a reminder question and then enter the answer
to this reminder question. You would be asked this question to reset your
password if you ever forget your password and need to reset it.
Once the system has issued your ID and password you can enter enter Virtual
Counselor through this screen.
You will see your child's name in this screen. Click on the GO button to
view your child's student information. To add another child to your ID just
Click Here and enter their information in the next screens that appear.
The first Virtual Counselor screen to appear is the Student
Absence screen.
Choose EASYIEP in the dropdown menu to view your child's IEP
information.
Easy IEP Documents Tab
• Click on the blue document you want to
view.

* Your assessment is very important for improving the work of artificial intelligence, which forms the content of this project