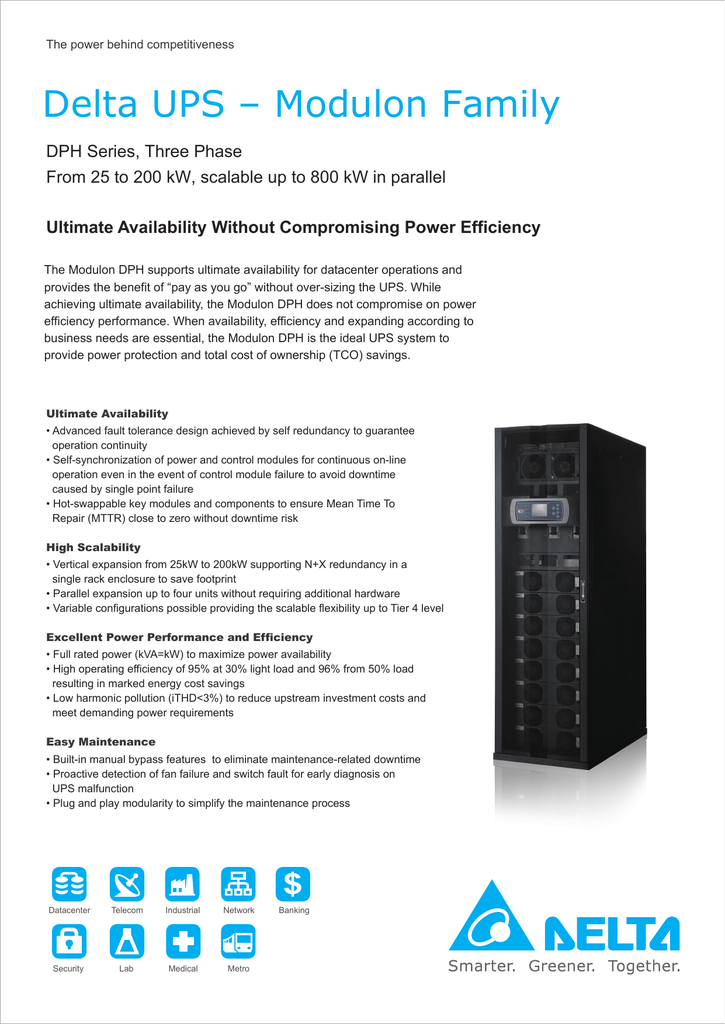 The power behind competitiveness
Delta UPS – Modulon Family
DPH Series, Three Phase
From 25 to 200 kW, scalable up to 800 kW in parallel
Ultimate Availability Without Compromising Power Efficiency
The Modulon DPH supports ultimate availability for datacenter operations and
provides the benefit of "pay as you go" without over-sizing the UPS. While
achieving ultimate availability, the Modulon DPH does not compromise on power
efficiency performance. When availability, efficiency and expanding according to
business needs are essential, the Modulon DPH is the ideal UPS system to
provide power protection and total cost of ownership (TCO) savings.
Ultimate Availability
• Advanced fault tolerance design achieved by self redundancy to guarantee
operation continuity
• Self-synchronization of power and control modules for continuous on-line
operation even in the event of control module failure to avoid downtime
caused by single point failure
• Hot-swappable key modules and components to ensure Mean Time To
Repair (MTTR) close to zero without downtime risk
High Scalability
• Vertical expansion from 25kW to 200kW supporting N+X redundancy in a
single rack enclosure to save footprint
• Parallel expansion up to four units without requiring additional hardware
• Variable configurations possible providing the scalable flexibility up to Tier 4 level
Excellent Power Performance and Efficiency
• Full rated power (kVA=kW) to maximize power availability
• High operating efficiency of 95% at 30% light load and 96% from 50% load
resulting in marked energy cost savings
• Low harmonic pollution (iTHD<3%) to reduce upstream investment costs and
meet demanding power requirements
Easy Maintenance
• Built-in manual bypass features to eliminate maintenance-related downtime
• Proactive detection of fan failure and switch fault for early diagnosis on
UPS malfunction
• Plug and play modularity to simplify the maintenance process
$
Datacenter
Telecom
Industrial
Network
Security
Lab
Medical
Metro
Banking
Delta UPS – Modulon Family
DPH Series, Three Phase
From 25 to 200 kW, scalable up to 800 kW in parallel
Technical Specifications
25
50
75
100
125
150
175
200
Power Rating (kVA)
25
50
75
100
125
150
175
200
Power Rating (kW)
25
50
75
100
125
150
175
200
Model
Input
Output
Interface
DPH
Nominal Voltage
380/220V, 400/230V, 415/240V (3 phase, 4-wire +G)
Voltage Range
176~276 / 305~477 Vac *
Current Harmonic Distortion
<3% **
Power Factor
> 0.99
Frequency
50/60 Hz
Voltage
380/220V, 400/230V, 415/240V (3 phase, 4-wire +G)
Output Power Factor
1 (kVA = kW)
Voltage Harmonic Distortion
≤ 2% (linear load)
Voltage Regulation
±1% (static)
Frequency
50 or 60 Hz
Frequency Regulation
±0.05 Hz
Overload Capacity
≤ 125%: 10 minutes; ≤ 150%: 1 minute
Standard
Parallel port x 2, Smart slot x 2, Dry contact output x 6,
Control and LCD Display Panel
Dry contact input x 6, SNMP card x 2, Battery dry contact x 6
SNMP card IPv6, ModBus card, Relay I/O control card,
Optional
EnviroProbe, Battery cabinet temperature sensor,
Battery cabinet status cable
Conformance
Safety & EMC
CE, EN62040-1
Other Features
Parallel Redundancy and Expansion
Module and system redundancy; Maximum 4 units up to 800 kW
Emergency Power Off
Local and remote
Battery start
Yes
Event Log
3000 records
External Battery Cabinet
Optional
AC-AC
96%
ECO Mode
99%
Operating Temperature
0 ~ 40 ºC
Relative Humidity
0 ~ 90% (non-condensing)
Efficiency
Environment
Physical
Audible Noise (at one meter)
< 62 dBA
Dimensions (WxDxH)
600 x 1090 x 2000 mm
Weight
382 kg
414 kg
446 kg
478 kg
510 kg
542 kg
* When input voltage is 140/242~176/305 Vac, the sustainable loading is from 60% to 100% of the UPS capacity.
** When input harmonic distortion is less than 1%.
All specifications are subject to change without prior notice.
2007~ 2008 Forbes Asia's
Fabulous 50
2009 Frost & Sullivan
Green Excellence Award for
Corporate Leadership
www.deltapowersolutions.com
Leaflet_UPS_DPH_en-us_V4
Delta's Manufacturing
System Certified by
ISO 9001 and ISO 14001
Standards
IECQ Certificate of
Hazardous Substance
Process Management
574 kg
Scalable and Hot-swappable
606 kg
The Modulon DPH is designed
in modern IT aesthetics
aligned with Delta InfraSuite
datacenter solutions.

* Your assessment is very important for improving the work of artificial intelligence, which forms the content of this project