Motorola A840 - Cell Phone - CDMA2000 1X User manual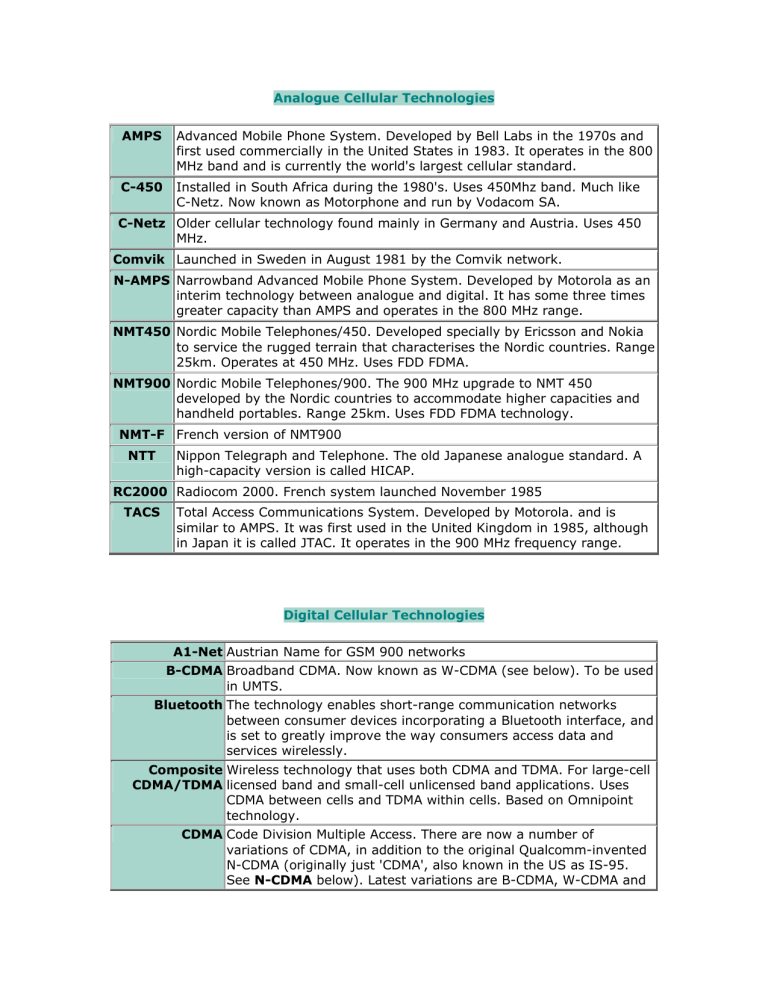 Analogue Cellular Technologies
AMPS
Advanced Mobile Phone System. Developed by Bell Labs in the 1970s and
first used commercially in the United States in 1983. It operates in the 800
MHz band and is currently the world's largest cellular standard.
C-450
Installed in South Africa during the 1980's. Uses 450Mhz band. Much like
C-Netz. Now known as Motorphone and run by Vodacom SA.
C-Netz Older cellular technology found mainly in Germany and Austria. Uses 450
MHz.
Comvik Launched in Sweden in August 1981 by the Comvik network.
N-AMPS Narrowband Advanced Mobile Phone System. Developed by Motorola as an
interim technology between analogue and digital. It has some three times
greater capacity than AMPS and operates in the 800 MHz range.
NMT450 Nordic Mobile Telephones/450. Developed specially by Ericsson and Nokia
to service the rugged terrain that characterises the Nordic countries. Range
25km. Operates at 450 MHz. Uses FDD FDMA.
NMT900 Nordic Mobile Telephones/900. The 900 MHz upgrade to NMT 450
developed by the Nordic countries to accommodate higher capacities and
handheld portables. Range 25km. Uses FDD FDMA technology.
NMT-F French version of NMT900
NTT
Nippon Telegraph and Telephone. The old Japanese analogue standard. A
high-capacity version is called HICAP.
RC2000 Radiocom 2000. French system launched November 1985
TACS
Total Access Communications System. Developed by Motorola. and is
similar to AMPS. It was first used in the United Kingdom in 1985, although
in Japan it is called JTAC. It operates in the 900 MHz frequency range.
Digital Cellular Technologies
A1-Net Austrian Name for GSM 900 networks
B-CDMA Broadband CDMA. Now known as W-CDMA (see below). To be used
in UMTS.
Bluetooth The technology enables short-range communication networks
between consumer devices incorporating a Bluetooth interface, and
is set to greatly improve the way consumers access data and
services wirelessly.
Composite Wireless technology that uses both CDMA and TDMA. For large-cell
CDMA/TDMA licensed band and small-cell unlicensed band applications. Uses
CDMA between cells and TDMA within cells. Based on Omnipoint
technology.
CDMA Code Division Multiple Access. There are now a number of
variations of CDMA, in addition to the original Qualcomm-invented
N-CDMA (originally just 'CDMA', also known in the US as IS-95.
See N-CDMA below). Latest variations are B-CDMA, W-CDMA and
composite CDMA/TDMA. Developed originally by Qualcomm, CDMA
is characterized by high capacity and small cell radius, employing
spread-spectrum technology and a special coding scheme. It was
adopted by the Telecommunications Industry Association (TIA) in
1993. The first CDMA-based networks are now operational. BCDMA is the basis for 3G UMTS (see below).
cdmaOne First Generation Narrowband CDMA (IS-95). See above.
cdma2000 The new second-generation CDMA MoU spec for inclusion in IMT2000.
It consists of various iterations, inclusing 1xEV, 1XEV-DO, and MC
3X
cdma2000 1xEV (Evolution) is an enhancement of the cdma2000 standard of
1XEV the Telecommunications Industry Association (TIA). The CDMA
1xEV specification was developed by the Third Generation
Partnership Project 2 (3GPP2), a partnership consisting of five
telecommunications standards bodies: CWTS in China, ARIB and
TTC in Japan, TTA in Korea, and TIA in North America. The 1xEV
specification is known as TIA/EIA/IS-856 "CDMA2000 High Rate
Packet Data Air Interface Specification." It promises around 300
kbps speeds on a 1.25Mhz channel.
cdma2000 1xEV-DO or data-only is an enhancement of the cdma2000 1X
1XEV-DO standard. It promises around 300 kbps speeds on a 1.25Mhz
channel.
CT-2 A second generation digital cordless telephone standard. CT2 has
40 carriers x 1 duplex bearer per carrier = 40 voice channels.
CT-3 A third generation digital cordless telephone, which is very similar
and a precursor to DECT.
CTS GSM Corldless Telephone System. In the home environment, GSMCTS phones communicate with a CTS Home Base Station (HBS),
which offers perfect indoor radio coverage. The CTS-HBS hooks up
to the fixed network and offers the best of the fixed and mobile
worlds: low cost and high quality from the Public Switched
Telephone Network (PSTN), services and mobility from the GSM.
D-AMPS Digital AMPS, a variation of AMPs. Uses 3-timeslot variation of
(IS-54) TDMA, also known as IS-54. An upgrade to the analogue AMPS.
Designed to address the problem of using existing channels more
efficiently, DAMPS (IS-54) employs the same 30 kHz channel
spacing and frequency bands (824-849 and 869-894 MHz) as
AMPS. By using TDMA instead of FDMA, IS-54 increases the
number of users from 1 to 3 per channel (up to 10 with enhanced
TDMA). An AMPS/D-AMPS infrastructure can support use of either
analogue AMPS phone or digital D-AMPS phones. This is because
the Federal Communications Commission mandated only that
digital cellular in the U.S. must act in a dual-mode capacity with
analogue. Both operate in the 800 MHz band.
DCS 1800 Digital Cordless Standard. Now known as GSM 1800. GSM operated
in the 1,800 MHz range. It is a different frequency version of GSM,
and (900 MHz) GSM phones cannot be used on DCS 1800 networks
unless they are dual band.
DECT Digital European Corldless Telephone. Uses 12-timeslot TDMA. This
started off as Ericsson's CT-3, but developed into ETSI's Digital
European Cordless Standard. It is intended to be a far more
flexible standard than the CT2 standard, in that it has more RF
channels (10 RF carriers x 12 duplex bearers per carrier = 120
duplex voice channels). It also has a better multimedia
performance since 32kbit/s bearers can be concatenated. Ericsson
has developed a dual GSM/DECT handset.
EDGE UWC-136, the next generation of data heading towards third
generation and personal multimedia environments builds on GPRS
and is known as Enhanced Data rate for GSM Evolution (EDGE). It
will allow GSM operators to use existing GSM radio bands to offer
wireless multimedia IP-based services and applications at
theoretical maximum speeds of 384 kbps with a bit-rate of 48 kbps
per timeslot and up to 69.2 kbps per timeslot in good radio
conditions.
E-Netz The German name for GSM 1800 networks.
Flash-OFDM Flash-OFDM (Orthogonal Frequency Division Multiplexing) is a new
signal processing scheme from Lucent/Flarion that will support high
data rates at very low packet and delay losses, also known as
latencies, over a distributed all-IP wireless network. The lowlatency will enable real-time mobile interactive and multimedia
applications. It promises to deliver higher quality wireless service
and better cost effectiveness than current wireless data
technologies.
FDMA Frequency Division Multiple Access
GERAN GERAN is a term used to describe a GSM and EDGE (Enhanced
Data rates for GSM Evolution) based 200 kHz radio access
network. The GERAN is based on GSM/EDGE Release 99, and
covers all new features for GSM Release 2000 and subsequent
releases, with full backward compatibility to previous releases.
GMSS Geostationary Mobile Satellite Standard, a satellite air interface
standard developed from GSM and formed by Ericsson, Lockheed
Martin, U.K. Matra Marconi Space and satellite operators Asia
Cellular Satellite and Euro-African Satellite Telecommunications.
GSM Global System for Mobile Communications. The first European
digital standard, developed to establish cellular compatibility
throughout Europe. It's success has spread to all parts of the world
and over 80 GSM networks are now operational. It operates at 900
MHz.
IDEN iDEN® (Integrated Digital Enhanced Network). Launched by
Motorola in 1994, this is a Private Mobile radio system from
Motorola's Land Mobile Products Sector (LMPS) iDEN technology,
currently available in the 800 MHz, 900 Mhz and 1.5 GHz bands. It
utilizes a variety of advanced technologies, including state-of-theart vocoders, M16QAM modulation and TDMA (Time Division
Multiple Access). It allows Commercial Mobile Radio Service
(CMRS) operators to maximize the dispatch capacity and provides
the flexibility to add optional services such as full-duplex telephone
interconnect, alphanumeric paging and data/fax communication
services.
iMode Launched in February 1999, this fast-growing system from NTT
DoCoMo uses compact HTML to provide WAP-like content to iMode
phones.
IMT DS Wideband CDMA, or WCDMA.
IMT MC Widely known as cdma2000 and consisting of the 1X and 3X
components.
IMT TC Called UTRA TDD or TD-SCDMA.
IMT SC Called UWC-136 and widely known as EDGE.
IMTFT Well-known as DECT.
Inmarsat International Martime Satellite System which uses a number of
GEO satellites. Available as Inmarsat A,B,C,and M.
Iridium Mobile Satellite phone/pager network launched November 1998.
Uses TDMA for inter-satellite links. Uses 2GHz band.
IS-54 TDMA-based technology used by the D-AMPS system at 800 MHz
IS-95 CDMA-based technology used at 800 MHz
IS-136 TDMA-based technology
JS-008 CDMA based standard for 1,900 MHz.
N-CDMA Narrowband Code Division Multiple Access, or plain old original
'CDMA'. Also known in the US as IS-95. Developed by Qualcomm
and characterized by high capacity and small cell radius. Has a
1.25Mhz spread spectrum air interface. It uses the same frequency
bands as AMPS and supports AMPS operation, employing spreadspectrum technology and a special coding scheme. It was adopted
by the Telecommunications Industry Association (TIA) in 1993. The
first CDMA-based networks are now operational.
Near Field NFC technology enables short-range communication networks
Communication between consumer devices incorporating an NFC interface, and is
set to greatly improve the way consumers access data and services
wirelessly.
PACS-TDMA An 8-timeslot TDMA-based standard, primarily for pedestrian use.
Derived from Bellcore's wireless access spec for licensed band
applications. Motorola supported.
PCS Personal Communications Service. The PCS frequency band is 1850
to 1990 MHz, which encompasses a wide range of new digital
cellular standards like N-CDMA and GSM 1900. Single-band GSM
900 phones cannot be used on PCS networks. PCS networks
operate thoughout the North America.
PDC Personal Digital Cellular is a TDMA-based Japanese standard
operating in the 800 and 1500 MHz bands.
PHS Personal Handy System. A TDD TDMA Japanese-centric system
that offers high speed data services and superb voice clarity. Really
a WLL system with only 300m to 3km coverage.
SDMA Space Division Multiple Access, thought of as a component of Third
Generation Digital Cellular/UMTS
TDMA Time Division Multiple Access. The first U.S. digital standard to be
developed. It was adopted by the TIA in 1992. The first TDMA
commercial system began in 1993. A number of variations exist.
Telecentre-H A proprietary WLL system by Krone. Range 30km, in the 350-500
MHz and 800-1000 Mhz range. Uses FDD FDM/FDMA and
TDM/TDMA technologies.
TETRA TErrestrial Trunked RAdio (TETRA) is a new open digital trunked
radio standard which is defined by the European
Telecommunications Standardisation Institute (ETSI) to meet the
needs of the most demanding professional mobile radio users.
TETRA-POL Proprietary TETRA network from Matra and AEG. Does not
conform to TETRA MoU specifications
UltraPhone A proprietary WLL system by IDC. Range 30 km, in the 350-500
110 MHz range. Uses FDD FDM/TDMA technologies. The UltraPhone
system allows 4 conversations to operate simultaneously on every
25kMhz-spaced channel. A typical UP 24-channel WLL system can
support 95 full duplex voice circuits in 1.2kHz of spectrum.
UMTS Universal Mobile Telephone Standard - the next generation of
global cellular which should be in place by 2004. Proposed data
rates of <2Mbps, using combination TDMA and W-CDMA. Operates
at around 2GHz
W-CDMA One of the latest components of UMTS, along with TDMA &
cdma2000. It has a 5Mhz air interface and is the basis of higherbandwidth data rates.
WiMAX WiMax (802.16a) is a more robust standard for high-speed
broadband wireless delivery to laptops and desktops. The position
of the 802.16a standard parallels that of WLAN technology in the
late 1990 s
WLL Wireless Local Loop limited-number systems are usually found in
remote areas where fixed-line usage is impossible. Most modern
WLL systems use CDMA technology.

* Your assessment is very important for improving the work of artificial intelligence, which forms the content of this project