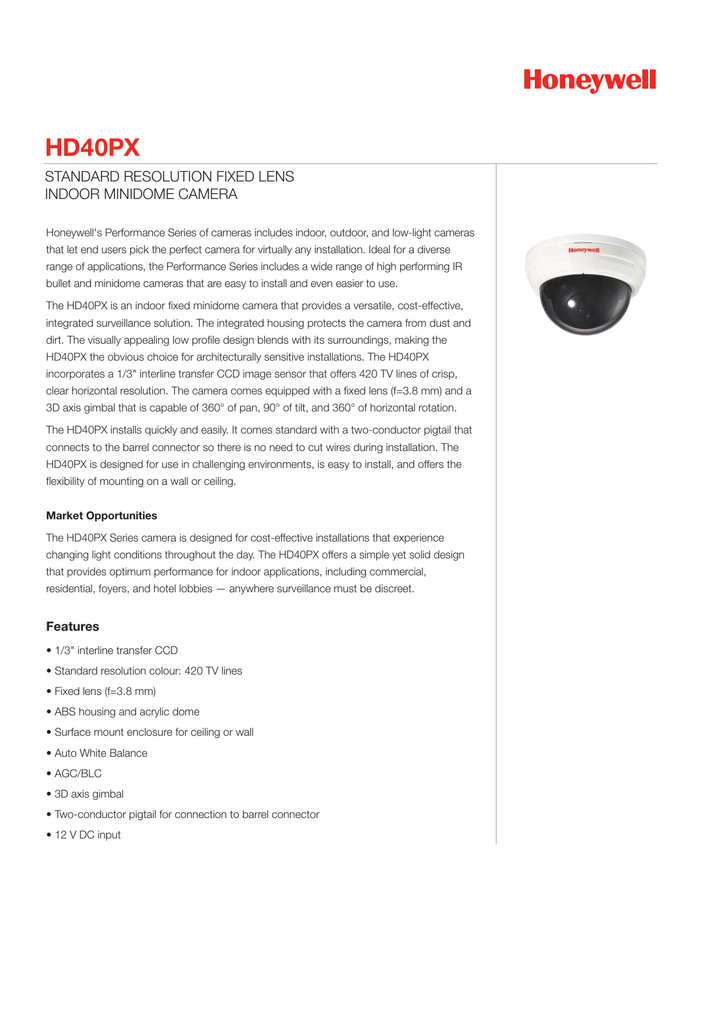 HD40PX
STANDARD RESOLUTION FIXED LENS
INDOOR MINIDOME CAMERA
Honeywell's Performance Series of cameras includes indoor, outdoor, and low-light cameras
that let end users pick the perfect camera for virtually any installation. Ideal for a diverse
range of applications, the Performance Series includes a wide range of high performing IR
bullet and minidome cameras that are easy to install and even easier to use.
The HD40PX is an indoor fixed minidome camera that provides a versatile, cost-effective,
integrated surveillance solution. The integrated housing protects the camera from dust and
dirt. The visually appealing low profile design blends with its surroundings, making the
HD40PX the obvious choice for architecturally sensitive installations. The HD40PX
incorporates a 1/3" interline transfer CCD image sensor that offers 420 TV lines of crisp,
clear horizontal resolution. The camera comes equipped with a fixed lens (f=3.8 mm) and a
3D axis gimbal that is capable of 360° of pan, 90° of tilt, and 360° of horizontal rotation.
The HD40PX installs quickly and easily. It comes standard with a two-conductor pigtail that
connects to the barrel connector so there is no need to cut wires during installation. The
HD40PX is designed for use in challenging environments, is easy to install, and offers the
flexibility of mounting on a wall or ceiling.
Market Opportunities
The HD40PX Series camera is designed for cost-effective installations that experience
changing light conditions throughout the day. The HD40PX offers a simple yet solid design
that provides optimum performance for indoor applications, including commercial,
residential, foyers, and hotel lobbies — anywhere surveillance must be discreet.
Features
• 1/3" interline transfer CCD
• Standard resolution colour: 420 TV lines
• Fixed lens (f=3.8 mm)
• ABS housing and acrylic dome
• Surface mount enclosure for ceiling or wall
• Auto White Balance
• AGC/BLC
• 3D axis gimbal
• Two-conductor pigtail for connection to barrel connector
• 12 V DC input
HD40PX
SPECIFICATIONS
Operational
Environmental
Video Standard
PAL
Scanning System
2:1 interlaced
Image Sensor
1/3" Interline Transfer CCD
Temperature
Operating: –10°C to 45°C
Storage: –20°C to 60°C
Relative Humidity
0% to 90%, non-condensing
Recommended Accessories
Number of Pixels
(H x V)
510 x 492
Minimum Illumination
0.1 lux (colour)
Horizontal Resolution
420 TVL
Video Output
1.0 Vp-p, composite @ 75 ohms
Regulatory
Sync System
Internal
Emissions
FCC Part 15B, Class A
S/N Ratio
50 dB or more (AGC off)
Immunity
EN 50130-4
Auto Gain Control
Automatic Electronic
Shutter
Auto
White Balance
Auto (AWB)
BLC
Auto
Gamma
0.45
Lens Type
Fixed (f=3.8 mm)
Angle of View
H: 70°
V: 51°
Input Voltage
12 V DC ± 10%
Power Consumption
2.5 W (max)
Dimensions
(113 mm)
(76.7 mm)
Electrical
12 V DC/500 mA Plug-in Regulated 2.1
mm Coaxial Plug UL Listed/CSA Certified
HPT12DC500
(42.7 mm) (34 mm)
1/60 – 1/120,000 s
Power Supply
Mechanical
(85 mm)
Dimensions
(W x H)
113.0 mm x 76.7 mm
Weight
0.21 kg
Construction
Connectors
Housing: ABS
Dome: Acrylic
Finish: Light gray
Video Output: BNC connector
Power Input: 2.1 mm plug
NOTE: Honeywell reserves the right, without notification,
to make changes in product design or specifications.
)
5
(4.
mm
Ordering
HD40PX
Indoor Fixed Minidome Camera, 1/3" CCD, 420
TVL, 3.8 mm Fixed Lens, 12 V DC, PAL
(85 mm)
Honeywell reserves the right to alter the specification
of products without notice.
For additional information,
please visit www.honeywell.com/security/uk
Honeywell Security Group
Aston Fields Road
Whitehouse Industrial Estate
Runcorn
WA7 3DL
UK
Tel: +44 (0)1928 754 028
www.honeywell.com
HVS-HD40PX-01-UK(0213)DS-E
February 2013
© 2013 Honeywell International Inc.

* Your assessment is very important for improving the work of artificial intelligence, which forms the content of this project