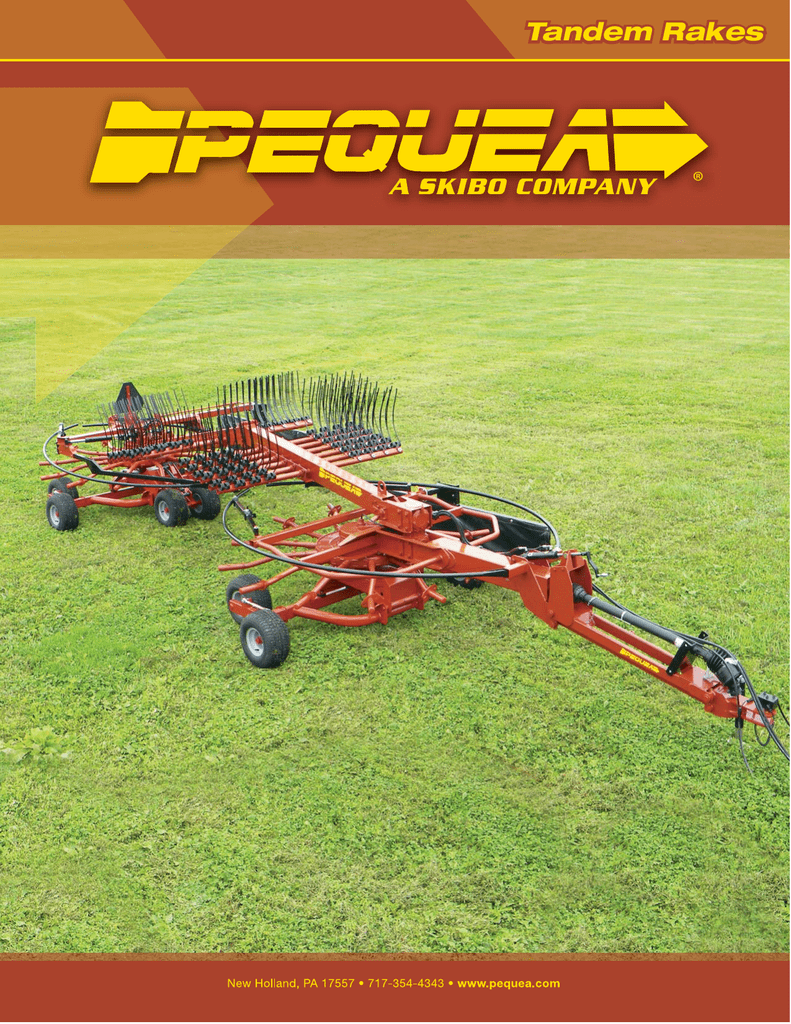 Tandem Rakes
®
Tandem Rakes
The Pequea HR24TS features superior raking quality, productivity and flexibility. Our Tandem Rotary Rake allows you to rake either
two separate or one combined windrow to serve most bailing or chopping applications. The Pequea HR24TS Tandem Rake features
removable arms for easy storage making it the convenient, versatile choice for your raking needs.
24'
12'
Single Windrow
Double Windrow
24' Clean sweep raking width
27' Working width
98'' Transport width
78'' Transport height
Rear hydraulic curtain adjustment
Removable arms
12'
•
•
•
•
•
•
Double Windrow
HR24TS
Raking Width Diagrams
Tandem Rakes
Specifications
Working Width
Raking Width
Transport Width
Gear Box
Gear Reduction
Tine Arms
Double Tines per Arm
PTO HP Requirement
Hydraulic Requirement
Direction of Raking Action
Weight
Tandem Axles
Wheels & Tires
HR24TS
27'
24'
98"
Sealed/Greasable
9.7 : 1
13
4
50
8 GPM/1800 PSI - 1 Remote
Left
3840 lbs.
Standard
18.5 x 8 Flotation Tire / Painted Steel 4-Bolt Rim
Pequea reserves the right to change specifications, design and price of products
described in this literature without notice. © 2010 Pequea.

* Your assessment is very important for improving the work of artificial intelligence, which forms the content of this project