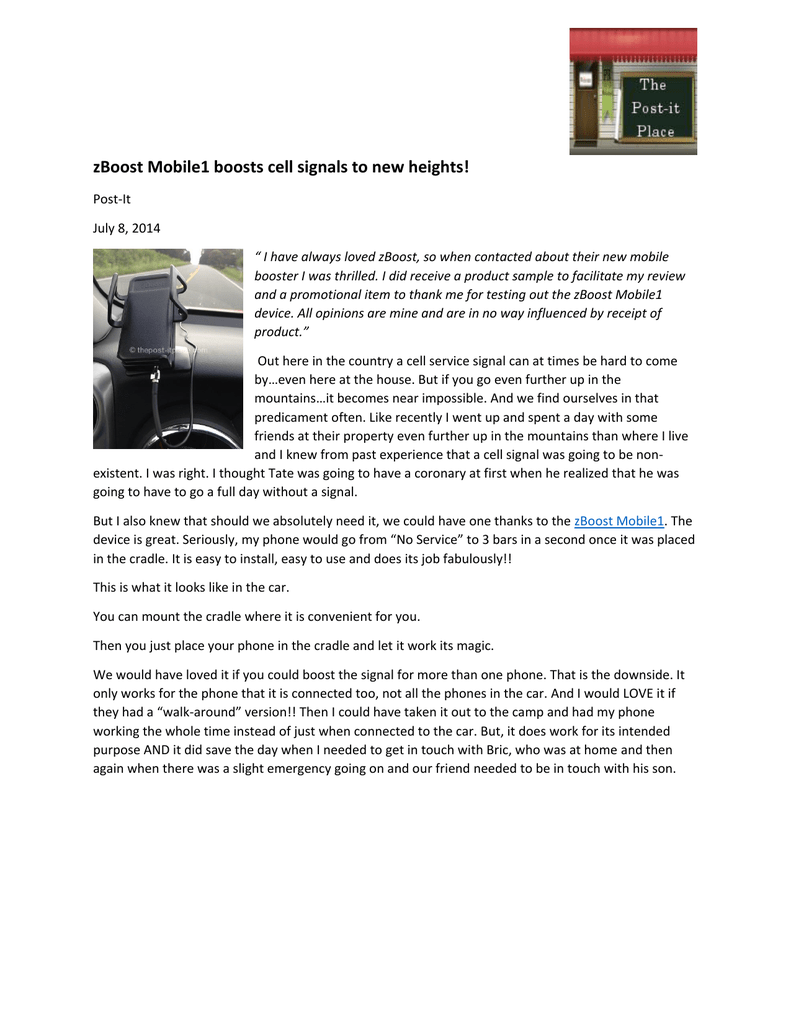 zBoost Mobile1 boosts cell signals to new heights!
Post-It
July 8, 2014
" I have always loved zBoost, so when contacted about their new mobile
booster I was thrilled. I did receive a product sample to facilitate my review
and a promotional item to thank me for testing out the zBoost Mobile1
device. All opinions are mine and are in no way influenced by receipt of
product."
Out here in the country a cell service signal can at times be hard to come
by…even here at the house. But if you go even further up in the
mountains…it becomes near impossible. And we find ourselves in that
predicament often. Like recently I went up and spent a day with some
friends at their property even further up in the mountains than where I live
and I knew from past experience that a cell signal was going to be nonexistent. I was right. I thought Tate was going to have a coronary at first when he realized that he was
going to have to go a full day without a signal.
But I also knew that should we absolutely need it, we could have one thanks to the zBoost Mobile1. The
device is great. Seriously, my phone would go from "No Service" to 3 bars in a second once it was placed
in the cradle. It is easy to install, easy to use and does its job fabulously!!
This is what it looks like in the car.
You can mount the cradle where it is convenient for you.
Then you just place your phone in the cradle and let it work its magic.
We would have loved it if you could boost the signal for more than one phone. That is the downside. It
only works for the phone that it is connected too, not all the phones in the car. And I would LOVE it if
they had a "walk-around" version!! Then I could have taken it out to the camp and had my phone
working the whole time instead of just when connected to the car. But, it does work for its intended
purpose AND it did save the day when I needed to get in touch with Bric, who was at home and then
again when there was a slight emergency going on and our friend needed to be in touch with his son.
Otherwise, without the zBoost we
would all have been out of luck! So
for those that live/travel in remote
areas or areas that have poor
reception, you are in luck!!
The zBoost Mobile1 cell phone
signal booster extends an invehicle cell zone (phone must be in
the cradle). The dual band booster
captures the signal outside of your
car and amplifies it on the inside
for a stronger signal. The unit
boosts voice and text for all major
carriers.
Easy installation – Package includes everything you need: a bi-directional amplifier unit housed in a
sturdy, lightweight cradle. The cradle amplifier connects to the dash-mount bracket and also connects to
the vehicle's 12V power through a power adapter via USB cable.

zBoost phone cradle for hands-free operation

Adhesive dash-mount bracket with swivel base

Power adapter with USB cable

External magnetic mount antenna with cable
Benefits Include:

Boosts signal for voice and text for all phones

Boosts in-vehicle signal for a single user

Reduces dropped calls and dead zones

Works with all major cellular service providers

"Hands-free" operation

Extends cell phone battery life

Extends cell phone range
Bric and Tate had my zBoost mobile installed in just a few minutes with no problems what so ever. They
said it was so easy I could have done it myself and it requires no special tools or equipment. The retail
cost is around $89.99 and can be purchased directly from zBoost and at some major retailers.

* Your assessment is very important for improving the work of artificial intelligence, which forms the content of this project