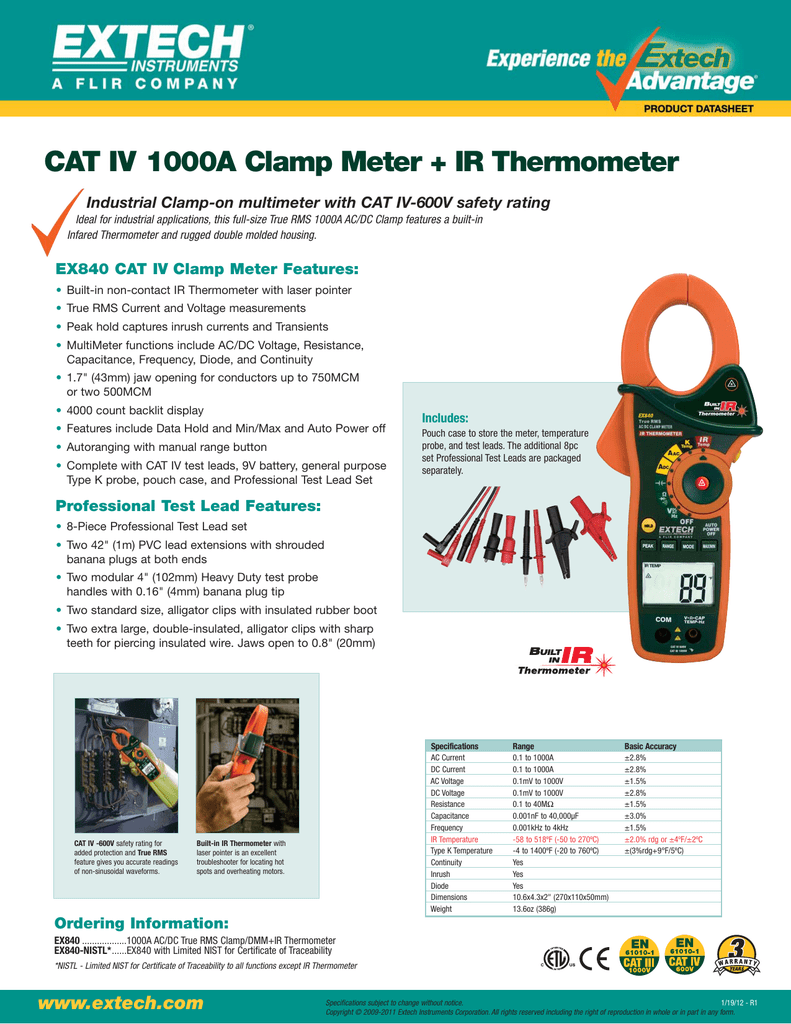 CAT IV 1000A Clamp Meter + IR Thermometer
Industrial Clamp-on multimeter with CAT IV-600V safety rating
Ideal for industrial applications, this full-size True RMS 1000A AC/DC Clamp features a built-in
Infared Thermometer and rugged double molded housing.
EX840 CAT IV Clamp Meter Features:
• Built-in non-contact IR Thermometer with laser pointer
• True RMS Current and Voltage measurements
• Peak hold captures inrush currents and Transients
• MultiMeter functions include AC/DC Voltage, Resistance,
Capacitance, Frequency, Diode, and Continuity
• 1.7" (43mm) jaw opening for conductors up to 750MCM
or two 500MCM
• 4000 count backlit display
• Features include Data Hold and Min/Max and Auto Power off
• Autoranging with manual range button
• Complete with CAT IV test leads, 9V battery, general purpose
Type K probe, pouch case, and Professional Test Lead Set
Includes:
Pouch case to store the meter, temperature
probe, and test leads. The additional 8pc
set Professional Test Leads are packaged
separately.
Professional Test Lead Features:
• 8-Piece Professional Test Lead set
• Two 42" (1m) PVC lead extensions with shrouded
banana plugs at both ends
• Two modular 4" (102mm) Heavy Duty test probe
handles with 0.16" (4mm) banana plug tip
• Two standard size, alligator clips with insulated rubber boot
• Two extra large, double-insulated, alligator clips with sharp
teeth for piercing insulated wire. Jaws open to 0.8" (20mm)
CAT IV -600V safety rating for
added protection and True RMS
feature gives you accurate readings
of non-sinusoidal waveforms.
Specifications
AC Current
DC Current
AC Voltage
DC Voltage
Resistance
Capacitance
Frequency
IR Temperature
Type K Temperature
Continuity
Inrush
Diode
Dimensions
Weight
Built-in IR Thermometer with
laser pointer is an excellent
troubleshooter for locating hot
spots and overheating motors.
Range
0.1 to 1000A
0.1 to 1000A
0.1mV to 1000V
0.1mV to 1000V
0.1 to 40MΩ
0.001nF to 40,000μF
0.001kHz to 4kHz
-58 to 518ºF (-50 to 270ºC)
-4 to 1400ºF (-20 to 760ºC)
Yes
Yes
Yes
10.6x4.3x2" (270x110x50mm)
13.6oz (386g)
Basic Accuracy
±2.8%
±2.8%
±1.5%
±2.8%
±1.5%
±3.0%
±1.5%
±2.0% rdg or ±4ºF/±2ºC
±(3%rdg+9°F/5ºC)
Ordering Information:
EX840 ..................1000A AC/DC True RMS Clamp/DMM+IR Thermometer
EX840-NISTL*......EX840 with Limited NIST for Certificate of Traceability
*NISTL - Limited NIST for Certificate of Traceability to all functions except IR Thermometer
www.extech.com
Specifications subject to change without notice.
1/19/12 - R1
Copyright © 2009-2011 Extech Instruments Corporation. All rights reserved including the right of reproduction in whole or in part in any form.

* Your assessment is very important for improving the work of artificial intelligence, which forms the content of this project