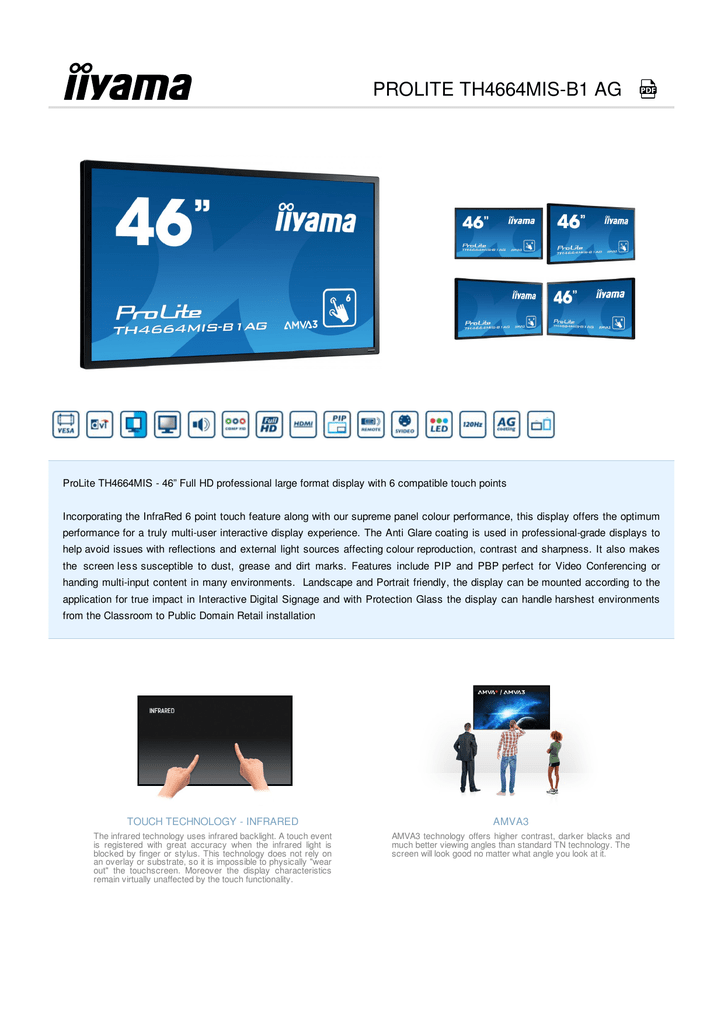 PROLITE TH4664MIS-B1 AG
ProLite TH4664MIS - 46" Full HD professional large format display with 6 compatible touch points
Incorporating the InfraRed 6 point touch feature along with our supreme panel colour performance, this display offers the optimum
performance for a truly multi-user interactive display experience. The Anti Glare coating is used in professional-grade displays to
help avoid issues with reflections and external light sources affecting colour reproduction, contrast and sharpness. It also makes
the screen less susceptible to dust, grease and dirt marks. Features include PIP and PBP perfect for Video Conferencing or
handing multi-input content in many environments. Landscape and Portrait friendly, the display can be mounted according to the
application for true impact in Interactive Digital Signage and with Protection Glass the display can handle harshest environments
from the Classroom to Public Domain Retail installation
TOUCH TECHNOLOGY - INFRARED
AMVA3
The infrared technology uses infrared backlight. A touch event
is registered with great accuracy when the infrared light is
blocked by finger or stylus. This technology does not rely on
an overlay or substrate, so it is impossible to physically "wear
out" the touchscreen. Moreover the display characteristics
remain virtually unaffected by the touch functionality.
AMVA3 technology offers higher contrast, darker blacks and
much better viewing angles than standard TN technology. The
screen will look good no matter what angle you look at it.
1. DISPLAY CHARACTERISTICS
DIAGONAL
TOUCHTECHNOLOGY
46"; 116.8cm
infrared, multitouch (6 compatible touch points - HID, supported only under Windows® 7/8), activated by
finger or pen
PANEL
AMVA3 LED-Backlit, AG80 Coated Glass
DISPLAY AREA H X W
572.67 x 1018.08 mm; 22.5" x 40.1"
RESPONSE TIME
6.5 ms
CONTRAST
4 000 : 1 typical
CONTRAST
40 000 : 1 ACR
BRIGHTNESS
500 cd/m² typical
BRIGHTNESS
440 cd/m² with touch panel
VIEWING ZONE
horizontal/vertical: 178°/ 178°; right/left: 89°/ 89°; up/down: 89°/ 89°
PIXEL PITCH H X V
0.53025 x 0.53025 mm
NATIVE RESOLUTION
Full HD 1080p, 1920 x 1080 ( 2.1 megapixel)
SYNCHRONIZATION
Separate Sync
ASPECT RATIO
16 : 9
DISPLAY COLOURS
1.073 billion (8 bit + FRC)
LIGHT TRANSMITTANCE
88%
PIP (PICTURE IN PICTURE)
PIP, PBP
MAX. NON-STOP OPERATING TIME
18 hours/day (IRFM on)
2. INTERFACES & CONNECTORS
ANALOG INPUT CONNECTOR
VGA, RCA (VIDEO), S-Video, BNC jack, mini jack
DIGITAL INPUT CONNECTOR
DVI-D, HDMI, DisplayPort
HDCP
yes
AUDIO-SIGNAL-INPUT
mini jack, RCA L/R(2x)
OUTPUT CONNECTOR
RS232C, RCA (L/R), VGA (D-Sub), BNC jack (VIDEO)
INPUTS
RS232C, RCA (L/R), mini jack, BNC jack, S-Video, USB (for touch connectivity), RJ45 (for LAN control)
3. SPECIAL FEATURES
PLUG & PLAY
CONTROLS
VESA DDC2B™
On-Screen-Display in 7 languages (EN, FR, ES, NL, DE, PL, RU) controlled by back controls or a
remote control
picture (picture mode, backlight, contrast, brightness, chroma, phase, sharpness, colour temp., noise
reduction, film mode, rest), sound (sound mode, treble, bass, balance, surround, speaker, audio
USER CONTROLS
source, reset), screen (PAP setting, display wall, aspect, adjust screen, freeze, touch feature), setting
(language, schedule, power save, control setting, network settings, set monitor ID, HDMI control,
advanced, information, reset all)
SPEAKERS
2 x 12 W (Stereo)
SAFETY
CE, CB, TÜV-Bauart, CU
VESA MOUNTING
400 x 200 mm
COLOUR
Black
EXTERNAL CONTROLS
yes
ORIENTATION
portrait/landscape
4. ACCESSORIES
DRIVER
INCLUDED ACCESSORIES
multi-touch: Windows® 7/8, Android (limited support), Linux (HID compliant), single-touch: Vista, XP,
Mac
power cable, VGA (D-Sub) signal cable, DVI-D signal cable, USB cable, remote control, touch pen,
iiyama logo sticker, quick start guide, safety guide
5. POWER MANAGEMENT
POWER SUPPLY
AC 100 - 240 V, 50 / 60 Hz
POWER SUPPLY UNIT
internal
POWER USAGE
132 W typical; max. 0.5 W in Power management mode
POWER MANAGEMENT
VESA DPMS
6. EU ENERGY EFFICIENCY LABEL
ENERGY EFFICIENCY CLASS
A
ON MODE POWER CONSUMPTION
97.7W
ANNUAL ENERGY CONSUMPTION
143 kWh/annum*
VISIBLE SCREEN DIAGONAL
117 cm; 46"; ( 46'' segment )
This is information under Regulation (EU) No 1062/2010.
*Based on the power consumption of the television operating 4 hours per day for 365 days. The actual energy consumption will depend on how the television is
used.
7. DIMENSIONS & WEIGHT
DIMENSIONS W X H X D
1065.5 x 621 x 102 mm
WEIGHT
28 kg
All trademarks and registered trademarks acknowledged. E & O E. Specification subject to change without notice. All LCD's comply with ISO-9241-307:2008 in
connection with pixel defects.
© IIYAMA CORPORATION (
). ALL RIGHTS RESERVED.