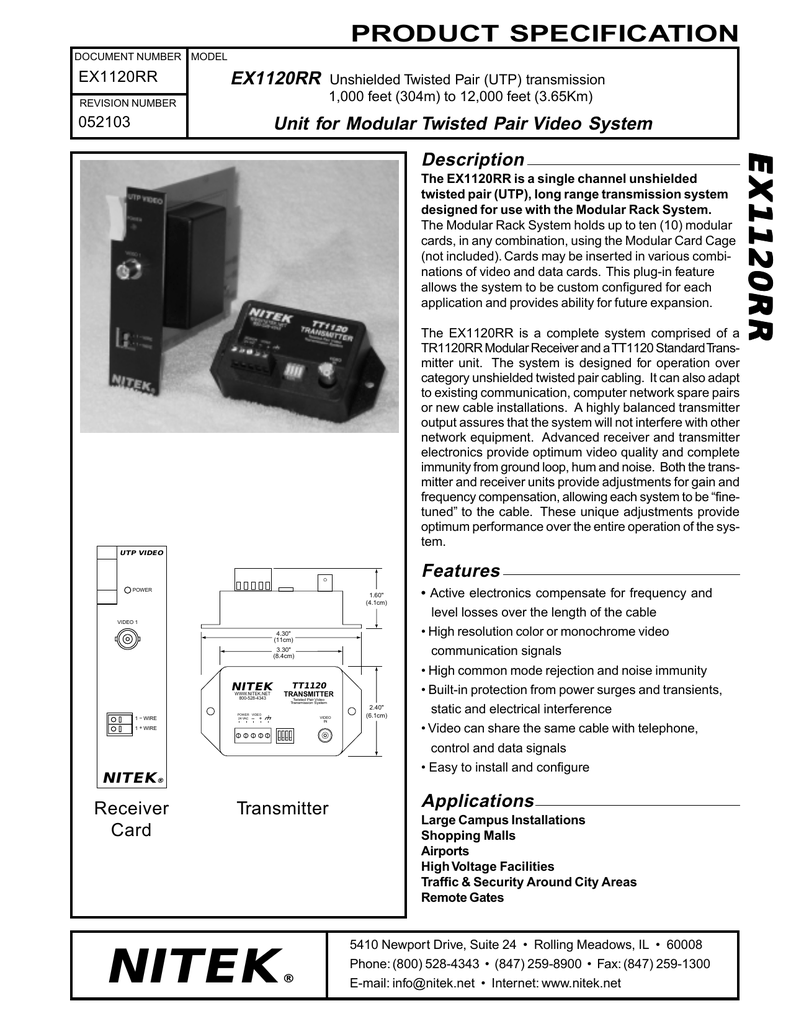 PRODUCT SPECIFICATION
DOCUMENT NUMBER MODEL
EX1120RR
EX1120RR
REVISION NUMBER
052103
Unshielded Twisted Pair (UTP) transmission
1,000 feet (304m) to 12,000 feet (3.65Km)
Unit for Modular Twisted Pair Video System
The EX1120RR is a single channel unshielded
twisted pair (UTP), long range transmission system
designed for use with the Modular Rack System.
The Modular Rack System holds up to ten (10) modular
cards, in any combination, using the Modular Card Cage
(not included). Cards may be inserted in various combinations of video and data cards. This plug-in feature
allows the system to be custom configured for each
application and provides ability for future expansion.
The EX1120RR is a complete system comprised of a
TR1120RR Modular Receiver and a TT1120 Standard Transmitter unit. The system is designed for operation over
category unshielded twisted pair cabling. It can also adapt
to existing communication, computer network spare pairs
or new cable installations. A highly balanced transmitter
output assures that the system will not interfere with other
network equipment. Advanced receiver and transmitter
electronics provide optimum video quality and complete
immunity from ground loop, hum and noise. Both the transmitter and receiver units provide adjustments for gain and
frequency compensation, allowing each system to be "finetuned" to the cable. These unique adjustments provide
optimum performance over the entire operation of the system.
UTP VIDEO
Features
POWER
1.60"
(4.1cm)
VIDEO 1
4.30"
(11cm)
3.30"
(8.4cm)
NITEK
WWW.NITEK.NET
800-528-4343
1 - WIRE
TT1120
TRANSMITTER
Twisted Pair Video
Transmission System
POWER VIDEO
24 VAC
VIDEO
IN
- +
1 + WIRE
NITEK®
Receiver
Card
Transmitter
NITEK
®
2.40"
(6.1cm)
• Active electronics compensate for frequency and
level losses over the length of the cable
• High resolution color or monochrome video
communication signals
• High common mode rejection and noise immunity
• Built-in protection from power surges and transients,
static and electrical interference
• Video can share the same cable with telephone,
control and data signals
• Easy to install and configure
Applications
Large Campus Installations
Shopping Malls
Airports
High Voltage Facilities
Traffic & Security Around City Areas
Remote Gates
5410 Newport Drive, Suite 24 • Rolling Meadows, IL • 60008
Phone: (800) 528-4343 • (847) 259-8900 • Fax: (847) 259-1300
E-mail: info@nitek.net • Internet: www.nitek.net
EX1120RR
Description
TECHNICAL SPECIFICATION
Transmitter Unit
Receiver Unit
Size
1.6"(4.1cm)H x 4.3"(11cm)W x
2.4"(6.1cm)D
Power Requirements
24 VAC @2 watts (2 VA)
Input
1 vpp composite video
monochrome or color
Output
Size
1 card slot
Power Requirements
Card powered by Modular Rack
Input
Balanced low voltage current loop
Output
1 vpp composite video
monochrome or color
Common Mode
Rejection
70dB+
Balanced low voltage current loop
System
Video Format
RS170, NTSC, PAL, SECAM,
CCIR (Color or B/W)
Ordering Information
PART
Video Input
1 vpp composite video
monochrome or color
Operating Frequency
1 MHz to 10 MHz
Recommended
Transmission
Distances
Monochrome - 1,000 ft. (304 m) to
12,000 ft. (3.65 Km)
Color - 1,000 ft. (304 m) to
9,000 ft. (2.74 Km)
UTP Category
Category UTP Cabling
Temperature Range
-40 degrees C to +85 degrees C
Humidity Range
0 to 98%, non-condensing
Enclosure Material
ABS Plastic
DESCRIPTION
EX1120RR Applications of 1,000 ft (304m) to 12,000 ft (3.65Km)
Modular Rack Cabinet with power supply
RK400
Wire and Cable Recommendations
Twisted Sender systems are recommended for use with
unshielded twisted pair (UTP) wiring. The systems will operate
over wire gauges from 26 AWG through 12 AWG but are
optimized for 24 AWG. Category cabling may be used. Individually shielded pairs should be avoided, as they drastically
reduce the operating range of the systems. Multi-pair cable
(>15 pairs) with an overall shield is acceptable. Video can be
operated in the same communication cable coexistent with
telephone, computer, control signals, power voltages and other
video signals. While video may be routed through telephone
punch down block terminals, any bridge-taps, also called Ttaps and any resistive, capacitive or inductive devices MUST BE
removed from the pair. For more specific information regarding
wire types, gauges and proper installation techniques, please
call 800-528-4343 for technical assistance. More information
is also available on the CCTV System Design Guide Sheet.
Receiver
TR1120RR
Transmitter
TT1120
POWER
Twisted Pair Video
Transmission System
POWER VIDEO
24 VAC
Monitor or other
video input
VIDEO 1
VIDEO
IN
- +
Camera or
other video
source
*Twisted wires
1 - WIRE
1 + WIRE
Power
Transformer
Specifications subject to change without notice.
Twisted Sender is a trademark of Northern Information Technology, Inc.
© Copyright 2003 Northern Information Technology, Inc.

* Your assessment is very important for improving the work of artificial intelligence, which forms the content of this project