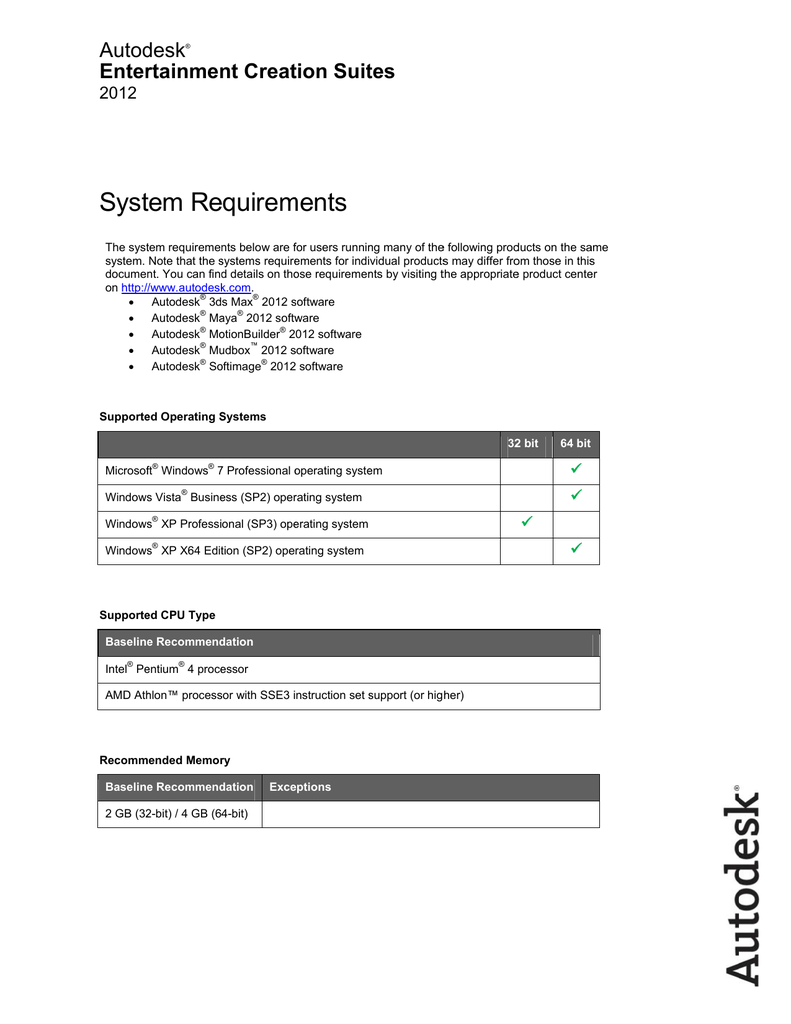 Autod
desk
Enterrtainmen
nt Creattion Suittes
®
2012
Systtem Re
equirem
ments
The systtem requiremen
nts below are for
f users runnin
ng many of the
e following prod
ducts on the sa
ame
system. Note that the systems
s
require
ements for individual productss may differ fro
om those in thiss
documen
nt. You can find
d details on tho
ose requiremen
nts by visiting tthe appropriate
e product cente
er
on http:///www.autodesk
k.com.

Autodesk® 3ds Max® 2012 software
s
®
aya® 2012 softw
ware

Autodesk Ma

Autodesk® Mo
otionBuilder® 2012 software
Autodesk® Mu
udbox™ 2012 software
s

®

Autodesk So
oftimage® 2012 software
Supporte
ed Operating Systems
S
32
2 bit
64 bit
Microsofft® Windows® 7 Professional operating
o
syste
em

Windows
s Vista® Busine
ess (SP2) operrating system

Windows
s® XP Professional (SP3) ope
erating system
Windows
s® XP X64 Edittion (SP2) operating system
Supporte
ed CPU Type
Baseline
e Recommend
dation
Intel® Pe
entium® 4 proce
essor
AMD Ath
hlon™ process
sor with SSE3 instruction set support
s
(or hig her)
Recommended Memorry
Baseline
e Recommend
dation
2 GB (32
2-bit) / 4 GB (64
4-bit)
Exce
eptions


Recommended Graphics Hardware
Baseline Recommendation
Exceptions
Direct X® 9.0c application
programming interface or
higher
Qualified 512 MB hardwareaccelerated OpenGL® 2.0
(and higher) professional
graphics cards
Recommended Display Resolution
Baseline Recommendation
Exceptions
1280x1024
Recommended Hard Disk
Baseline Recommendation
Exceptions
17 GB free hard drive space
to install all commercial
applications on the same
system
Education Suite for Entertainment Creation will require a
minimum of 17 GB free disk space
Entertainment Creation Suites Standard will require a
minimum of 13 GB free disk space
Entertainment Creation Suites Premium will require a
minimum of 14 GB free disk space
Users should allocate an additional 2 GB hard drive space
for swap space
Pointing Device
Baseline Recommendation
Exceptions
Three-button mouse or
certified Wacom® tablet
Browser
Baseline Recommendation
®
®
Microsoft Internet Explorer
7.0 internet browser or
®
®
higher, or Mozilla Firefox
®
web browser, or Apple
®
Safari web browser
Exceptions
Media
Baseline Recommendation
Exceptions
USB 2.0
Education Suite for Entertainment Creation will require a
DVD-ROM drive
Network
Baseline Recommendation
Exceptions
Ethernet adapter or wireless
internet card
Autodesk is not responsible for errors or failures of Autodesk software arising from the installation
of updates, extensions or new releases issued by third party hardware or software vendors for the
qualified software or hardware identified in this document (or for any other third party software or
hardware that you may use in connection with Autodesk products).
Autodesk, Maya, MotionBuilder, Mudbox, Softimage, and 3ds Max are registered trademarks or trademarks of Autodesk, Inc.,
and/or its subsidiaries and/or affiliates in the USA and/or other countries. All other brand names, product names, or trademarks
belong to their respective holders. Autodesk reserves the right to alter product and services offerings, and specifications and
pricing at any time without notice, and is not responsible for typographical or graphical errors that may appear in this
document. © 2011 Autodesk, Inc. All rights reserved.

* Your assessment is very important for improving the work of artificial intelligence, which forms the content of this project