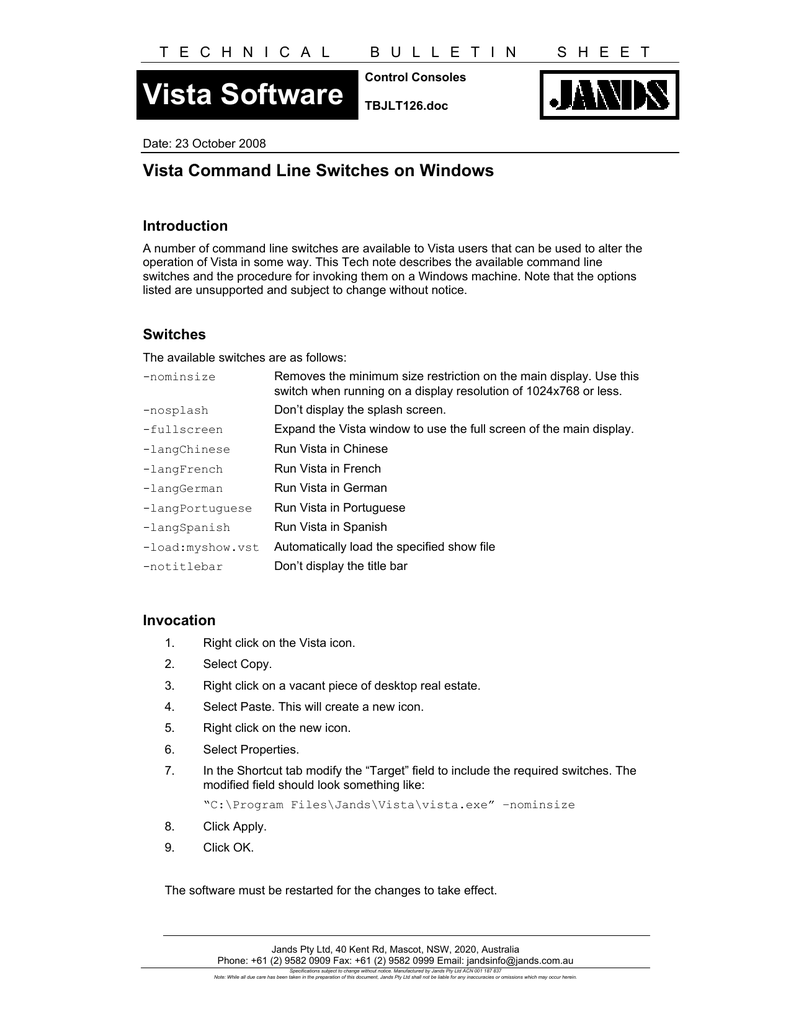 T E C H N I C A L
Vista Software
B U L L E T I N
S H E E T
Control Consoles
TBJLT126.doc
Date: 23 October 2008
Vista Command Line Switches on Windows
Introduction
A number of command line switches are available to Vista users that can be used to alter the
operation of Vista in some way. This Tech note describes the available command line
switches and the procedure for invoking them on a Windows machine. Note that the options
listed are unsupported and subject to change without notice.
Switches
The available switches are as follows:
Removes the minimum size restriction on the main display. Use this
switch when running on a display resolution of 1024x768 or less.
-nominsize
-nosplash
Don't display the splash screen.
-fullscreen
Expand the Vista window to use the full screen of the main display.
-langChinese
Run Vista in Chinese
-langFrench
Run Vista in French
-langGerman
Run Vista in German
-langPortuguese
Run Vista in Portuguese
-langSpanish
Run Vista in Spanish
-load:myshow.vst
Automatically load the specified show file
-notitlebar
Don't display the title bar
Invocation
1.
Right click on the Vista icon.
2.
Select Copy.
3.
Right click on a vacant piece of desktop real estate.
4.
Select Paste. This will create a new icon.
5.
Right click on the new icon.
6.
Select Properties.
7.
In the Shortcut tab modify the "Target" field to include the required switches. The
modified field should look something like:
"C:\Program Files\Jands\Vista\vista.exe" –nominsize
8.
Click Apply.
9.
Click OK.
The software must be restarted for the changes to take effect.
Jands Pty Ltd, 40 Kent Rd, Mascot, NSW, 2020, Australia
Phone: +61 (2) 9582 0909 Fax: +61 (2) 9582 0999 Email: jandsinfo@jands.com.au
Specifications subject to change without notice. Manufactured by Jands Pty Ltd ACN 001 187 837
Note: While all due care has been taken in the preparation of this document, Jands Pty Ltd shall not be liable for any inaccuracies or omissions which may occur herein.

* Your assessment is very important for improving the work of artificial intelligence, which forms the content of this project