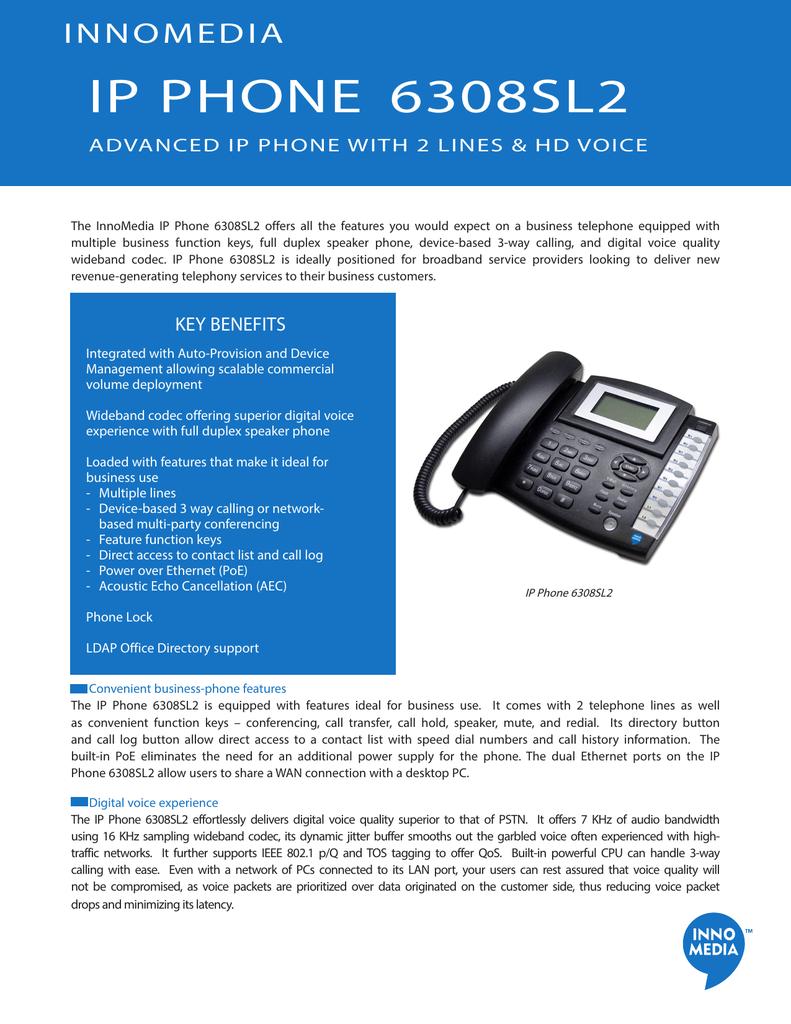 INNOMEDIA
IP PHONE 6308SL2
ADVANCED IP PHONE WITH 2 LINES & HD VOICE
The InnoMedia IP Phone 6308SL2 offers all the features you would expect on a business telephone equipped with
multiple business function keys, full duplex speaker phone, device-based 3-way calling, and digital voice quality
wideband codec. IP Phone 6308SL2 is ideally positioned for broadband service providers looking to deliver new
revenue-generating telephony services to their business customers.
KEY BENEFITS
Integrated with Auto-Provision and Device
Management allowing scalable commercial
volume deployment
Wideband codec offering superior digital voice
experience with full duplex speaker phone
Loaded with features that make it ideal for
business use
- Multiple lines
- Device-based 3 way calling or networkbased multi-party conferencing
- Feature function keys
- Direct access to contact list and call log
- Power over Ethernet (PoE)
- Acoustic Echo Cancellation (AEC)
IP Phone 6308SL2
Phone Lock
LDAP Office Directory support
Convenient business-phone features
The IP Phone 6308SL2 is equipped with features ideal for business use. It comes with 2 telephone lines as well
as convenient function keys – conferencing, call transfer, call hold, speaker, mute, and redial. Its directory button
and call log button allow direct access to a contact list with speed dial numbers and call history information. The
built-in PoE eliminates the need for an additional power supply for the phone. The dual Ethernet ports on the IP
Phone 6308SL2 allow users to share a WAN connection with a desktop PC.
Digital voice experience
The IP Phone 6308SL2 effortlessly delivers digital voice quality superior to that of PSTN. It offers 7 KHz of audio bandwidth
using 16 KHz sampling wideband codec, its dynamic jitter buffer smooths out the garbled voice often experienced with hightraffic networks. It further supports IEEE 802.1 p/Q and TOS tagging to offer QoS. Built-in powerful CPU can handle 3-way
calling with ease. Even with a network of PCs connected to its LAN port, your users can rest assured that voice quality will
not be compromised, as voice packets are prioritized over data originated on the customer side, thus reducing voice packet
drops and minimizing its latency.
INNOMEDIA IP PHONE 6308SL2
Plug-and-play through auto-provisioning
Compliant with many provisioning protocols, the IP Phone 6308SL2 can be quickly and easily auto-provisioned.
This makes it easy for subscribers to install while reducing your operation costs by providing remote software
upgrade, system provisioning and configuration capabilities. The device automatically checks for firmware updates
and downloads the latest configurations.
Remote Device Management
IP Phone 6308SL2 works with the InnoMedia Device Management System (DMS), allowing remote device
management. The DMS provides a convenient and reliable vehicle for operators or support personnel to manage
the device with a network view, MIB configuration, event alarm, fault management, performance monitoring, as
well as the ability to remotely connect to the device via Telnet, web, or perform SNMP Get and Set even when the
device is behind NAT/firewalls.
A.
B.
C.
D.
E.
F.
G.
H.
I.
J.
K.
L.
Soft Keys
128 x 64 Graphics LCD
Message Waiting Power/Network Status/DND/Mute
Speed Dial Keys (M1-M8)
Line Keys (L1-L2)
Menu Navigation Keys
Voice Mail
Flash
Mute
Directory
Re-dial
Speaker Phone Key
A
B
C
D
F
G
J
H
K
I
L
DC
Input
WAN
LAN
2
E
INNOMEDIA IP PHONE 6308SL2
SPECIFICATIONS AND FEATURES
Call Agent/Softswitch
• SIP 2.0
• MGCP 1.0
• GR303
• NCS 1.0
• OAM & P
• TCP/IP, UDP, DHCP, RTP, RTCP, ARP, ICMP, HTTP 1.0, S NTP, TFTP, DNS
Codec Support
• G.711 and one of the following:
• G.726
• G.728, G.729E
• G.723.1, G.729A
• G.722
Voice Quality
• Line Echo Cancellation
• Voice Activity Detection
• Comfort Noise Generation
• Acoustic Echo Cancellation
• Silence Suppression
Quality of Service
• QoS IEEE 802.1p/q
• TOS Tagging
• Built-in Priority Switch
• RFC2833
Network Interface
• Dual 10/100 Base-T Uplink/Downlink ports
• PoE 802.11af
Audio Interface
• Handset
– Adjustable Volume Control
Setting Displayed on LCD
• Speakerphone
– Adjustable Volume Control
Setting Displayed on LCD
Physical
• Dimension: 2.5x7x9 in (HxWxD)
• Weight: 1lb, 12 oz
Power Supply
• Input: AC 100-240V, 0.3A max., 50-60Hz
• Output: DC 12V, 1.0A
Power Consumption
• Talk: DC 12V @ 0.4 Amps (4.8W)
• Idle: DC 12V @0.2 Amps (2.4W)
3
Display
• 128 x 64 Graphics LCD Display
• Visual Message Waiting Indicator (VMWI)
Phone Features
• Date and Time Display
• Mute
• Call Logging
• Flash
• Last Number Redialing
• Caller ID
• Call Timer
• Call Forward
• 9 One-Touch Dial • Call Transfer
• 3-Way Conferencing
• Hold
• Tone Generation • Call Waiting
• DTMF Pass-Thru
• Phone Lock
• Office Directory-LDAP
Support
Menu System
• View Host IP
• Clock Setting - Manual or via SNTP
• Call Log Access
• 100-number Phonebook
• Version Info
Package Includes
• Ethernet Cable
• AC Adapter
INNOMEDIA IP PHONE 6308SL2
MODEL VARIATIONS
Numberof
Lines
7308SLM
1
6308SL2
2
7308MLY60P
2
7308MLY65P
3
PoE
LCD Size/
3 Way
Resolution Conference
Headset
Jack
3.5-inch
2x15 Char
Full
Duplex
Speaker
!
3-inch
128x64
Graphical
!
!
3-inch2x15
Char
!
!
3.5-inch
132x64
Graphical
!
!
Business WideBand
Buttons
Codec
Line Keys/
Expansion
Module
MultiLanguage
!
!
!
!
!
!
!
!
!
!
!
!
!
!
W W W.INNOMEDIA.COM
InnoMedia Pte Ltd.
10 Science Park Road #03-04
The Alpha, Singapore Science Park II, SINGAPORE 117684
Tel: (65) 6872 0828; Fax: (65) 6872 0900
InnoMedia, Inc.
1901 McCarthy Boulevard, Suite 200
Milpitas, CA 95035 USA
Tel: (408) 432-5400; Fax: (408) 941-8152
InnoMedia Technology Inc.
3F, No. 3, Industrial East Road IX
Hsinchu Science-Based Industrial Park, Hsinchu TAIWAN 300
Tel: (886) 3 564 1299; Fax: (886) 3 564 1589
InnoMedia Inc. Beijing Rep. Office
Room 1328, JingXin Building,
Jia 2# North Road Dong San Huan,
Chao Yang District
Beijing, 100027
P. R. China
Phone: (86) 10-65261186, (86) 10-65261189
Fax: (86) 10-65261186, (86) 10-65261189 ext 210
© 2008-2010 InnoMedia Inc. All rights reserved. InnoMedia and the InnoMedia logo are trademarks of InnoMedia Inc. PacketCable is a trademark
of Cable Television Laboratories, Inc. All other brand and product names may be trademarks of their respective companies. Specifications subject to
change without notice.
v2.1 05/11
!