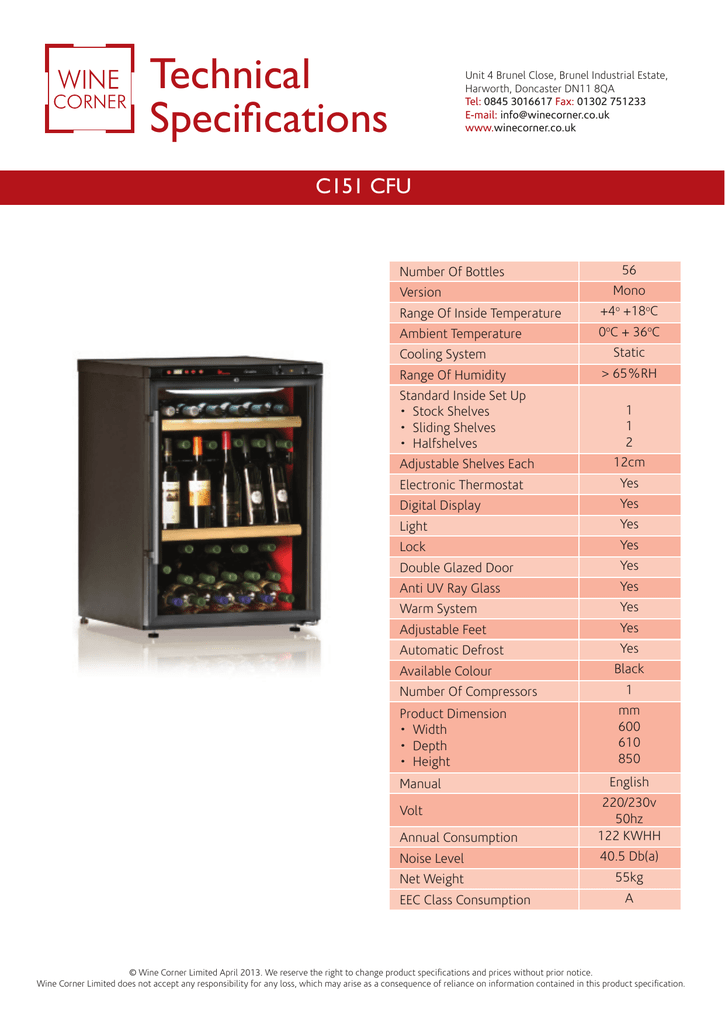 Technical
Specifications
Unit 4 Brunel Close, Brunel Industrial Estate,
Harworth, Doncaster DN11 8QA
Tel: 0845 3016617 Fax: 01302 751233
E-mail: info@winecorner.co.uk
www.winecorner.co.uk
C151 CFU
Number Of Bottles
Version
56
Mono
Range Of Inside Temperature
+4o +18oC
Ambient Temperature
0oC + 36oC
Cooling System
Range Of Humidity
Standard Inside Set Up
• Stock Shelves
• Sliding Shelves
• Halfshelves
Adjustable Shelves Each
Static
> 65%RH
1
1
2
12cm
Electronic Thermostat
Yes
Digital Display
Yes
Light
Yes
Lock
Yes
Double Glazed Door
Yes
Anti UV Ray Glass
Yes
Warm System
Yes
Adjustable Feet
Yes
Automatic Defrost
Yes
Available Colour
Number Of Compressors
Product Dimension
• Width
• Depth
• Height
Manual
Black
1
mm
600
610
850
English
Annual Consumption
220/230v
50hz
122 KWHH
Noise Level
40.5 Db(a)
Net Weight
55kg
Volt
EEC Class Consumption
A
© Wine Corner Limited April 2013. We reserve the right to change product specifications and prices without prior notice.
Wine Corner Limited does not accept any responsibility for any loss, which may arise as a consequence of reliance on information contained in this product specification.

* Your assessment is very important for improving the work of artificial intelligence, which forms the content of this project