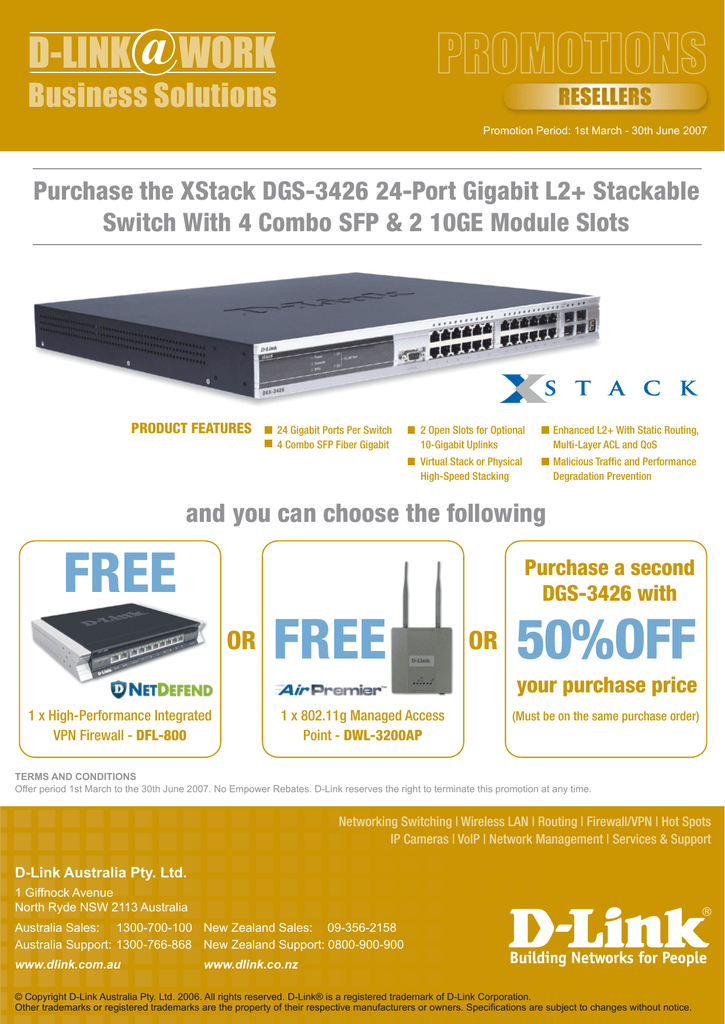 D-LINK@WORK
Business Solutions
Promotion Period: 1st March - 30th June 2007
Purchase the XStack DGS-3426 24-Port Gigabit L2+ Stackable
Switch With 4 Combo SFP & 2 10GE Module Slots
PRODUCT FEATURES
24 Gigabit Ports Per Switch
4 Combo SFP Fiber Gigabit
2 Open Slots for Optional
10-Gigabit Uplinks
Enhanced L2+ With Static Routing,
Multi-Layer ACL and QoS
Virtual Stack or Physical
High-Speed Stacking
Malicious Traffic and Performance
Degradation Prevention
and you can choose the following
FREE
OR
FREE
Purchase a second
DGS-3426 with
OR
50%OFF
your purchase price
1 x High-Performance Integrated
VPN Firewall - DFL-800
1 x 802.11g Managed Access
Point - DWL-3200AP
(Must be on the same purchase order)
TERMS AND CONDITIONS
Offer period 1st March to the 30th June 2007. No Empower Rebates. D-Link reserves the right to terminate this promotion at any time.
Networking Switching | Wireless LAN | Routing | Firewall/VPN | Hot Spots
IP Cameras | VoIP | Network Management | Services & Support
D-Link Australia Pty. Ltd.
1 Giffnock Avenue
North Ryde NSW 2113 Australia
Australia Sales: 1300-700-100 New Zealand Sales: 09-356-2158
Australia Support: 1300-766-868 New Zealand Support: 0800-900-900
www.dlink.com.au
www.dlink.co.nz
© Copyright D-Link Australia Pty. Ltd. 2006. All rights reserved. D-Link® is a registered trademark of D-Link Corporation.
Other trademarks or registered trademarks are the property of their respective manufacturers or owners. Specifications are subject to changes without notice.

* Your assessment is very important for improving the work of artificial intelligence, which forms the content of this project