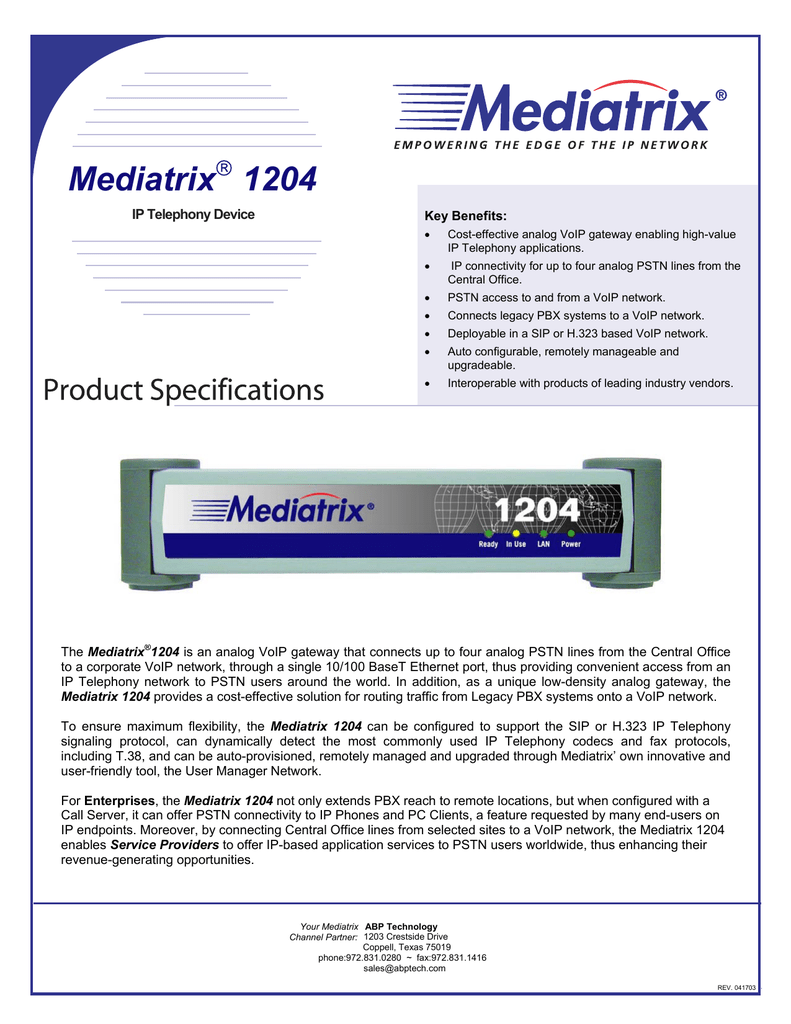 Mediatrix 1204
IP Telephony Device
Key Benefits:
•
Cost-effective analog VoIP gateway enabling high-value
IP Telephony applications.
•
IP connectivity for up to four analog PSTN lines from the
Central Office.
•
PSTN access to and from a VoIP network.
•
Connects legacy PBX systems to a VoIP network.
•
Deployable in a SIP or H.323 based VoIP network.
•
Auto configurable, remotely manageable and
upgradeable.
•
Interoperable with products of leading industry vendors.
The Mediatrix®1204 is an analog VoIP gateway that connects up to four analog PSTN lines from the Central Office
to a corporate VoIP network, through a single 10/100 BaseT Ethernet port, thus providing convenient access from an
IP Telephony network to PSTN users around the world. In addition, as a unique low-density analog gateway, the
Mediatrix 1204 provides a cost-effective solution for routing traffic from Legacy PBX systems onto a VoIP network.
To ensure maximum flexibility, the Mediatrix 1204 can be configured to support the SIP or H.323 IP Telephony
signaling protocol, can dynamically detect the most commonly used IP Telephony codecs and fax protocols,
including T.38, and can be auto-provisioned, remotely managed and upgraded through Mediatrix' own innovative and
user-friendly tool, the User Manager Network.
For Enterprises, the Mediatrix 1204 not only extends PBX reach to remote locations, but when configured with a
Call Server, it can offer PSTN connectivity to IP Phones and PC Clients, a feature requested by many end-users on
IP endpoints. Moreover, by connecting Central Office lines from selected sites to a VoIP network, the Mediatrix 1204
enables Service Providers to offer IP-based application services to PSTN users worldwide, thus enhancing their
revenue-generating opportunities.
Your Mediatrix ABP Technology
Channel Partner: 1203 Crestside Drive
Coppell, Texas 75019
phone:972.831.0280 ~ fax:972.831.1416
sales@abptech.com
REV. 041703
2
Mediatrix 1204 Technical Specifications
Technical Specifications
Rear view of the Mediatrix 1204
RJ-45 Connector
for 10/100 BaseT
Ethernet Access
Default
Settings
Switch
IP Telephony Protocols
Vocoders
Echo Cancellation
Silence Suppression
Network Management Protocols
Real-Time Transport Protocols
Ethernet Connection
PSTN Connection
QoS
Real Time Fax
Certifications
Operating Environment
Power Supply
Dimensions & Weight
RJ-11 Connectors for
Analog PSTN Lines (FXO)
Universal Power
Supply Input
SIP, H.323
G.711 (A-law, µ-law), G.723.1, G.729a,b
G.168
Silence detection / suppression level software adjustable
SNMPv2 (SIP), HTTP (H.323), TFTP, DHCP
RTP per RFC 1889, RFC 1890, RTCP
1 RJ-45 connector, 10/100 BaseT Ethernet access
4 RJ-11 connectors, analog line (FXO) interface
802.1q, DiffServ
Group 3/Super G3 Fax real time FoIP over clear channel (G.711) or T.38
Safety:
UL60950 3rd Edition (2000); CAN/CSA-C22.2 No. 60950-00; AS/NZS 3260:
1993 Class B Incorporating A1, A2, A3 and A4; ACA Technical standard
TS001-1997.
EMI / EMC:
FCC Part 15: 1998 Class A; EN55022 (1994) Class A with amendment 1(1995)
and 2 (1997); EN61000-3-2: 1995, EN61000-3-3: 1995; AS/NZS 3548: 1995
Class A; EN55024: 1998.
Telecom:
FCC Part 68: Subpart D; Industry Canada CS-03 issue 8, Part 1; TBR 21:
January 1998; ACA Technical standard TS002-1997.
Agency Approvals:
CE Marking; UL/c-UL Marking; JATE Marking.
Operating temperature: 0°C to 55°C
Storage temperature: -20°C to +70°C
Humidity: up to 80 %, non-condensing
Universal power supply, (100-250 Vac 50/60Hz) with a standard IEC320 input
connector.
Height: 5.5cm, 2.2 in, Width: 26cm, 10.2 in
Depth: 18 cm, 7.0 in, Weight: 580g, 1.8lbs
© 2002 Proprietary information of Mediatrix Telecom, Inc. All rights reserved. Do not copy without the written consent of Mediatrix Telecom, Inc. Mediatrix and the Mediatrix logo
are registered trademarks of Mediatrix Telecom, Inc. All other trademarks are held by their respective owners.
The specifications and information regarding this product are subject to change without notice. Every effort is made to ensure the accuracy of this document. However, due to
ongoing product improvements and revisions, Mediatrix Telecom, Inc. cannot guarantee its accuracy, nor can it accept responsibility for errors or omissions.