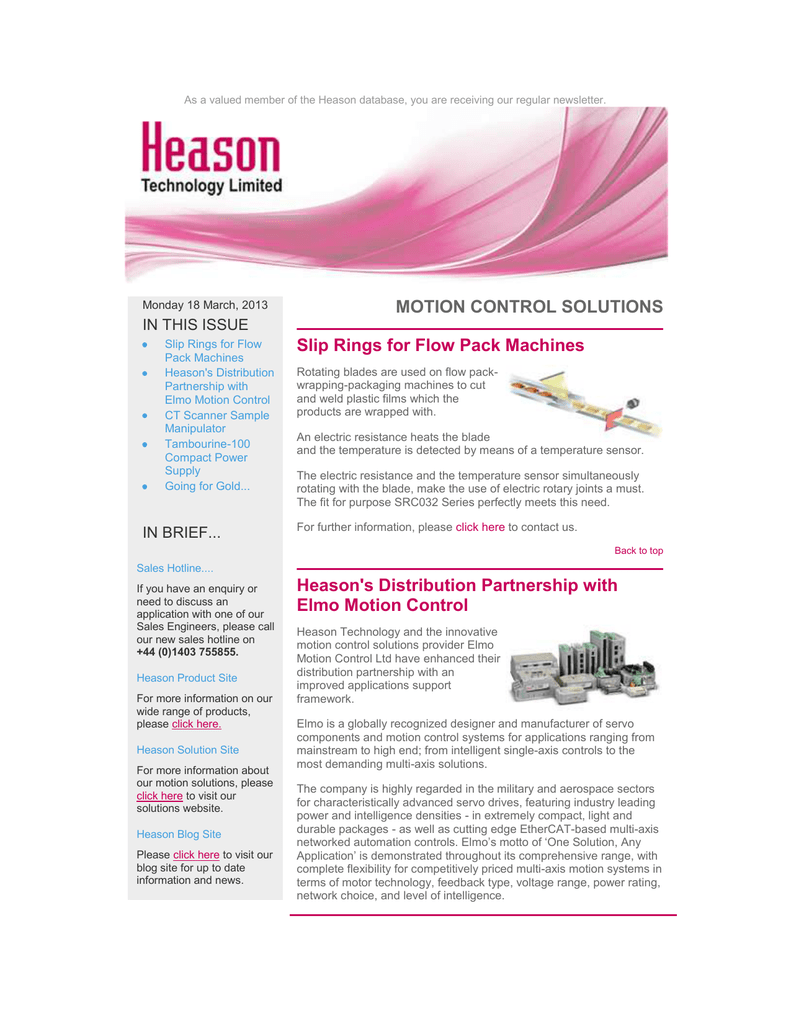 As a valued member of the Heason database, you are receiving our regular newsletter.
Monday 18 March, 2013
MOTION CONTROL SOLUTIONS
IN THIS ISSUE
Slip Rings for Flow
Pack Machines
Heason's Distribution
Partnership with
Elmo Motion Control
CT Scanner Sample
Manipulator
Tambourine-100
Compact Power
Supply
Going for Gold...
IN BRIEF...
Slip Rings for Flow Pack Machines
Rotating blades are used on flow packwrapping-packaging machines to cut
and weld plastic films which the
products are wrapped with.
An electric resistance heats the blade
and the temperature is detected by means of a temperature sensor.
The electric resistance and the temperature sensor simultaneously
rotating with the blade, make the use of electric rotary joints a must.
The fit for purpose SRC032 Series perfectly meets this need.
For further information, please click here to contact us.
Back to top
Sales Hotline....
If you have an enquiry or
need to discuss an
application with one of our
Sales Engineers, please call
our new sales hotline on
+44 (0)1403 755855.
Heason Product Site
For more information on our
wide range of products,
please click here.
Heason Solution Site
For more information about
our motion solutions, please
click here to visit our
solutions website.
Heason Blog Site
Please click here to visit our
blog site for up to date
information and news.
Heason's Distribution Partnership with
Elmo Motion Control
Heason Technology and the innovative
motion control solutions provider Elmo
Motion Control Ltd have enhanced their
distribution partnership with an
improved applications support
framework.
Elmo is a globally recognized designer and manufacturer of servo
components and motion control systems for applications ranging from
mainstream to high end; from intelligent single-axis controls to the
most demanding multi-axis solutions.
The company is highly regarded in the military and aerospace sectors
for characteristically advanced servo drives, featuring industry leading
power and intelligence densities - in extremely compact, light and
durable packages - as well as cutting edge EtherCAT-based multi-axis
networked automation controls. Elmo's motto of 'One Solution, Any
Application' is demonstrated throughout its comprehensive range, with
complete flexibility for competitively priced multi-axis motion systems in
terms of motor technology, feedback type, voltage range, power rating,
network choice, and level of intelligence.
Heason TV....
Click here to check out
some exciting footage of our
products on Heason TV.
Variohm Holdings Site
Please click here to visit the
Variohm Holdings group
website.
Need a Sensor or
Transducer?
Ixthus Instrumentation
specialises in non-contact
position sensors...
Visit Ixthus website
Variohm EuroSensor for
position, pressure, load,
temperature, vibration,
torque and force sensors...
Click here to read more.
Back to top
CT Scanner Sample Manipulator
Heason Technology has completed the
integration of a vertical positioning
system for a CT scanner used for
geological studies at the Department of
Chemical Engineering at Imperial
College London.
The CT scanner is the centrepiece of the new Qatar Carbonates and
Carbon Storage Research Centre (QCCSRC) - a $70 million, 10 year
programme in conjunction with sponsors Qatar Petroleum, Shell and
the Qatar Science and Technology Park to improve the understanding
and development of the storage of CO2 in carbonate reservoirs to help
mitigate climate change.
The QCCSRC is a multi-scale imaging facility that evaluates the
characteristics of various core rock samples combined with high
temperature and high pressures in specially prepared capsules which
can be up to 100kg in weight and 1000mm in length.
Visit Variohm website
Please click here for full story.
Back to top
FUTURE EVENTS
Heason's Forthcoming
Events....
Please keep a look out for
forthcoming coming events
at Heason. Our website is
regularly updated to show
more exhibitions and events
that we are exhibiting at.
Forthcoming events at
Heason...
Onsite Product Demo?
Ever fancied having a
dedicated product
demonstration at your own
premises? Now you can...
Heason are now running
product demos so you have
a chance to try before you
buy!
Please contact one of our
Sales Engineers for more
information on +44 (0)1403
755855.
Tambourine-100 Compact Power Supply
Smart, High Current Power Supply
for Servo Applications – up to 60kW
output power, up to 3X528VAC.
The Tambourine-100 is Elmo's latest
smart, powerful, high-current-power
supply designed to power multiple servo
drives.
Elmo's state-of-the-art, thermally
protected Tambourine-100 power
supply accepts a 3-phase voltage
source of up to 3 x 480VAC. The
Tambourine-100 brings users rich features such as a 3-phase rectifier
that incorporates a shunt-regulator, an integrated fan with a thermal
"on/off" trigger, and total current-output capability of 100A.
Along with the Tambourine-20, which rectifies AC input voltage of up to
3 x 528VAC, Elmo provides servo power supplies solutions that are
cost-efficient and meet the highest safety standards.
Please click here to email one of our Applications Engineers for more
information.
Back to top
Going for Gold...
Heason Technology's distribution
Send to a friend
Send this email to
someone you think
may be interested.
Unsubscribe
Click to instantly
unsubscribe from this
mailing list.
partner status with Kollmorgen Europe, the leading provider of motion
systems and components, has been elevated to the top 'Gold-Partner'
level following a record year in 2012.
The Gold-Partner status - the first to be awarded outside Germany or
Switzerland - consolidates the UK-wide preferred partner agreement
between the two companies. It ensures a framework of resources and
the determination to provide customers with the best possible level of
commercial and technical support across Kollmorgen's comprehensive
range of motors, drives and motion & machine application control
software.
The agreement includes a combined commitment to ensure that
Heason Technology's technical and sales support teams receive
regular Kollmorgen product and systems training, and guarantees a
competitive pricing policy combined with rapid product availability.
To read the full story, please click here.
Back to top
© 2013 Heason Technology Ltd E & OE; Motion Solutions Centre, Spring Copse Business Park, Slinfold, West
Sussex, RH13 0SZ | Tel: +44 (0)1403 755800
Having trouble reading this email? View it on your browser. Not interested anymore? Unsubscribe Instantly.