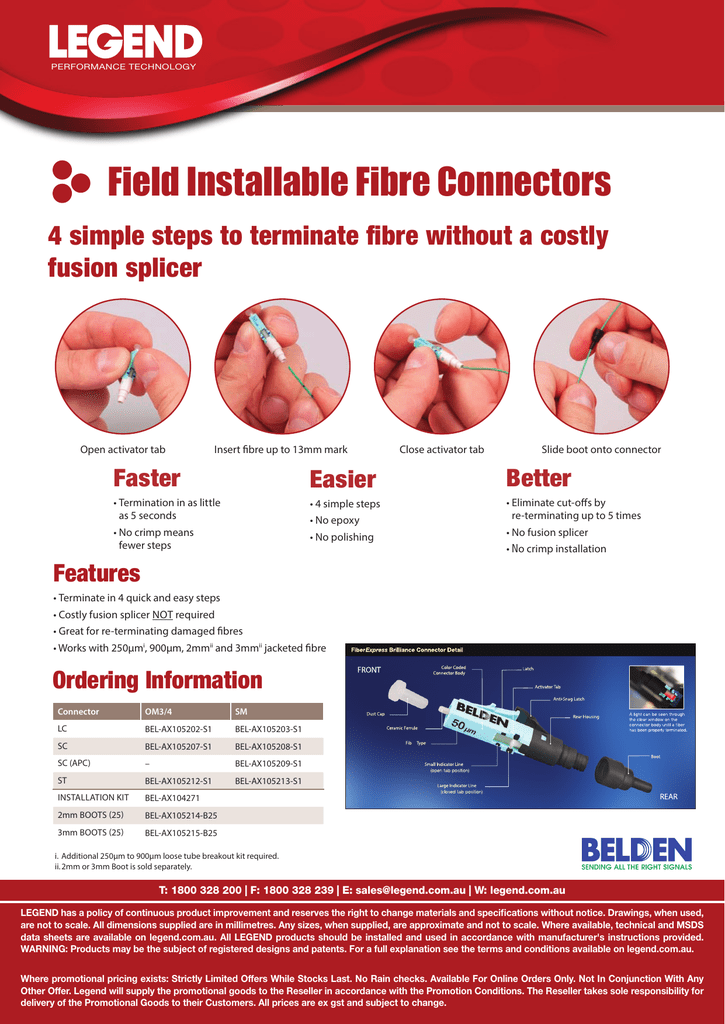 PERFORMANCE TECHNOLOGY
Field Installable Fibre Connectors
4 simple steps to terminate fibre without a costly
fusion splicer
Open activator tab
Insert fibre up to 13mm mark
Close activator tab
Slide boot onto connector
Faster
Easier
Better
• Termination in as little
as 5 seconds
• 4 simple steps
• Eliminate cut-offs by
re-terminating up to 5 times
• No crimp means
fewer steps
• No polishing
• No epoxy
• No fusion splicer
• No crimp installation
Features
• Terminate in 4 quick and easy steps
• Costly fusion splicer not required
• Great for re-terminating damaged fibres
• Works with 250µmi, 900µm, 2mmii and 3mmii jacketed fibre
Ordering Information
Connector
OM3/4
SM
LC
BEL-AX105202-S1
BEL-AX105203-S1
SC
BEL-AX105207-S1
BEL-AX105208-S1
SC (APC)
–
BEL-AX105209-S1
ST
BEL-AX105212-S1
BEL-AX105213-S1
installation kit
BEL-AX104271
2mm boots (25)
BEL-AX105214-B25
3mm boots (25)
BEL-AX105215-B25
i. Additional 250µm to 900µm loose tube breakout kit required.
ii. 2mm or 3mm Boot is sold separately.
T: 1800 328 200 | F: 1800 328 239 | E: sales@legend.com.au | W: legend.com.au
LEGEND has a policy of continuous product improvement and reserves the right to change materials and specifications without notice. Drawings, when used,
are not to scale. All dimensions supplied are in millimetres. Any sizes, when supplied, are approximate and not to scale. Where available, technical and MSDS
data sheets are available on legend.com.au. All LEGEND products should be installed and used in accordance with manufacturer's instructions provided.
WARNING: Products may be the subject of registered designs and patents. For a full explanation see the terms and conditions available on legend.com.au.
Where promotional pricing exists: Strictly Limited Offers While Stocks Last. No Rain checks. Available For Online Orders Only. Not In Conjunction With Any
Other Offer. Legend will supply the promotional goods to the Reseller in accordance with the Promotion Conditions. The Reseller takes sole responsibility for
delivery of the Promotional Goods to their Customers. All prices are ex gst and subject to change.

* Your assessment is very important for improving the work of artificial intelligence, which forms the content of this project