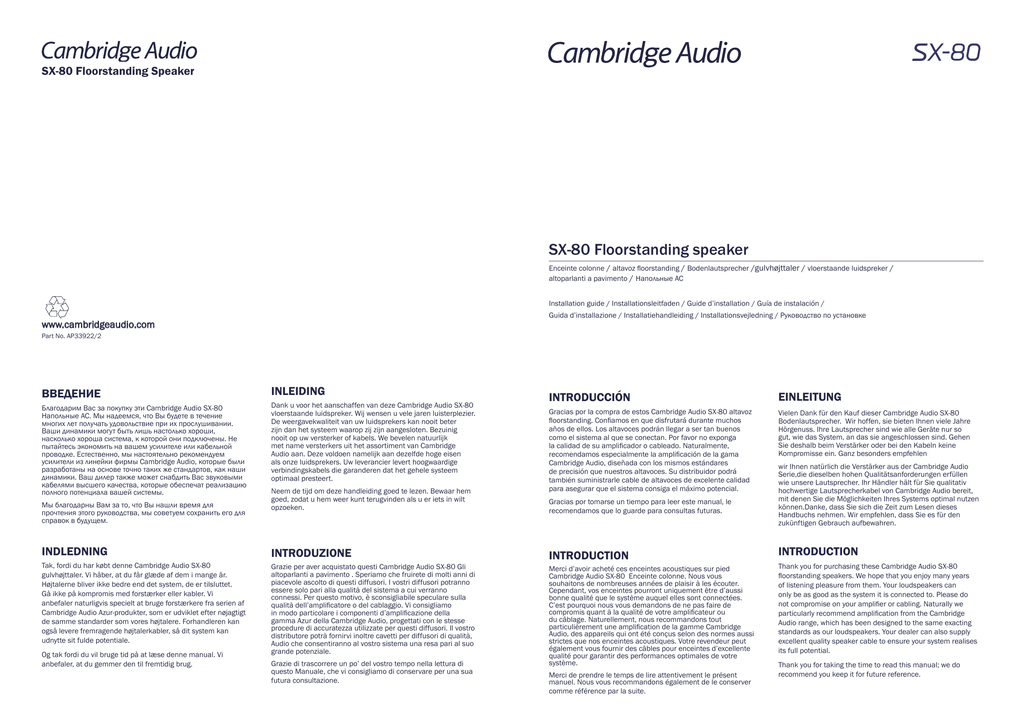 SX-80 Floorstanding Speaker
SX-80 Floorstanding speaker
Enceinte colonne / altavoz floorstanding / Bodenlautsprecher /gulvhøjttaler / vloerstaande luidspreker /
altoparlanti a pavimento / Напольные АС
Installation guide / Installationsleitfaden / Guide d'installation / Guía de instalación /
Guida d'installazione / Installatiehandleiding / Installationsvejledning / Руководство по установке
www.cambridgeaudio.com
Part No. AP33922/2
ВВЕДЕНИЕ
Благодарим Вас за покупку эти Cambridge Audio SX-80
Напольные АС. Мы надеемся, что Вы будете в течение
многих лет получать удовольствие при их прослушивании.
Ваши динамики могут быть лишь настолько хороши,
насколько хороша система, к которой они подключены. Не
пытайтесь экономить на вашем усилителе или кабельной
проводке. Естественно, мы настоятельно рекомендуем
усилители из линейки фирмы Cambridge Audio, которые были
разработаны на основе точно таких же стандартов, как наши
динамики. Ваш дилер также может снабдить Вас звуковыми
кабелями высшего качества, которые обеспечат реализацию
полного потенциала вашей системы.
Мы благодарны Вам за то, что Вы нашли время для
прочтения этого руководства, мы советуем сохранить его для
справок в будущем.
INLEIDING
Dank u voor het aanschaffen van deze Cambridge Audio SX-80
vloerstaande luidspreker. Wij wensen u vele jaren luisterplezier.
De weergavekwaliteit van uw luidsprekers kan nooit beter
zijn dan het systeem waarop zij zijn aangesloten. Bezuinig
nooit op uw versterker of kabels. We bevelen natuurlijk
met name versterkers uit het assortiment van Cambridge
Audio aan. Deze voldoen namelijk aan dezelfde hoge eisen
als onze luidsprekers. Uw leverancier levert hoogwaardige
verbindingskabels die garanderen dat het gehele systeem
optimaal presteert.
Neem de tijd om deze handleiding goed te lezen. Bewaar hem
goed, zodat u hem weer kunt terugvinden als u er iets in wilt
opzoeken.
INDLEDNING
INTRODUZIONE
Tak, fordi du har købt denne Cambridge Audio SX-80
gulvhøjttaler. Vi håber, at du får glæde af dem i mange år.
Højtalerne bliver ikke bedre end det system, de er tilsluttet.
Gå ikke på kompromis med forstærker eller kabler. Vi
anbefaler naturligvis specielt at bruge forstærkere fra serien af
Cambridge Audio Azur-produkter, som er udviklet efter nøjagtigt
de samme standarder som vores højtalere. Forhandleren kan
også levere fremragende højtalerkabler, så dit system kan
udnytte sit fulde potentiale.
Grazie per aver acquistato questi Cambridge Audio SX-80 Gli
altoparlanti a pavimento . Speriamo che fruirete di molti anni di
piacevole ascolto di questi diffusori. I vostri diffusori potranno
essere solo pari alla qualità del sistema a cui verranno
connessi. Per questo motivo, è sconsigliabile speculare sulla
qualità dell'amplificatore o del cablaggio. Vi consigliamo
in modo particolare i componenti d'amplificazione della
gamma Azur della Cambridge Audio, progettati con le stesse
procedure di accuratezza utilizzate per questi diffusori. Il vostro
distributore potrà fornirvi inoltre cavetti per diffusori di qualità,
Audio che consentiranno al vostro sistema una resa pari al suo
grande potenziale.
Og tak fordi du vil bruge tid på at læse denne manual. Vi
anbefaler, at du gemmer den til fremtidig brug.
Grazie di trascorrere un po' del vostro tempo nella lettura di
questo Manuale, che vi consigliamo di conservare per una sua
futura consultazione.
INTRODUCCIÓN
EINLEITUNG
Gracias por la compra de estos Cambridge Audio SX-80 altavoz
floorstanding. Confiamos en que disfrutará durante muchos
años de ellos. Los altavoces podrán llegar a ser tan buenos
como el sistema al que se conectan. Por favor no exponga
la calidad de su amplificador o cableado. Naturalmente,
recomendamos especialmente la amplificación de la gama
Cambridge Audio, diseñada con los mismos estándares
de precisión que nuestros altavoces. Su distribuidor podrá
también suministrarle cable de altavoces de excelente calidad
para asegurar que el sistema consiga el máximo potencial.
Vielen Dank für den Kauf dieser Cambridge Audio SX-80
Bodenlautsprecher. Wir hoffen, sie bieten Ihnen viele Jahre
Hörgenuss. Ihre Lautsprecher sind wie alle Geräte nur so
gut, wie das System, an das sie angeschlossen sind. Gehen
Sie deshalb beim Verstärker oder bei den Kabeln keine
Kompromisse ein. Ganz besonders empfehlen
Gracias por tomarse un tiempo para leer este manual, le
recomendamos que lo guarde para consultas futuras.
INTRODUCTION
Merci d'avoir acheté ces enceintes acoustiques sur pied
Cambridge Audio SX-80 Enceinte colonne. Nous vous
souhaitons de nombreuses années de plaisir à les écouter.
Cependant, vos enceintes pourront uniquement être d'aussi
bonne qualité que le système auquel elles sont connectées.
C'est pourquoi nous vous demandons de ne pas faire de
compromis quant à la qualité de votre amplificateur ou
du câblage. Naturellement, nous recommandons tout
particulièrement une amplification de la gamme Cambridge
Audio, des appareils qui ont été conçus selon des normes aussi
strictes que nos enceintes acoustiques. Votre revendeur peut
également vous fournir des câbles pour enceintes d'excellente
qualité pour garantir des performances optimales de votre
système.
Merci de prendre le temps de lire attentivement le présent
manuel. Nous vous recommandons également de le conserver
comme référence par la suite.
wir Ihnen natürlich die Verstärker aus der Cambridge Audio
Serie,die dieselben hohen Qualitätsanforderungen erfüllen
wie unsere Lautsprecher. Ihr Händler hält für Sie qualitativ
hochwertige Lautsprecherkabel von Cambridge Audio bereit,
mit denen Sie die Möglichkeiten Ihres Systems optimal nutzen
können.Danke, dass Sie sich die Zeit zum Lesen dieses
Handbuchs nehmen. Wir empfehlen, dass Sie es für den
zukünftigen Gebrauch aufbewahren.
INTRODUCTION
Thank you for purchasing these Cambridge Audio SX-80
floorstanding speakers. We hope that you enjoy many years
of listening pleasure from them. Your loudspeakers can
only be as good as the system it is connected to. Please do
not compromise on your amplifier or cabling. Naturally we
particularly recommend amplification from the Cambridge
Audio range, which has been designed to the same exacting
standards as our loudspeakers. Your dealer can also supply
excellent quality speaker cable to ensure your system realises
its full potential.
Thank you for taking the time to read this manual; we do
recommend you keep it for future reference.
LIMITED WARRANTY
HAFTUNGSBESCHRÄNKUNG
GARANTIE LIMITÉE
GARANTÍA LIMITADA
Cambridge Audio warrants this product to be free from defects in materials and workmanship (subject
to the terms set forth below). Cambridge Audio will repair or replace (at Cambridge Audio's option) this
product or any defective parts in this product. Warranty periods may vary from country to country. If in
doubt consult your dealer and ensure that you retain proof of purchase.
Cambridge Audio garantiert Ihnen, dass dieses Produkt keine Material- und Herstellungsfehler (wie
im Folgenden näher erläutert) aufweist. Cambridge Audio repariert oder ersetzt (nach der freien
Entscheidung von Cambridge Audio) dieses Produkt oder ein eventuelles defektes Teil in diesem Produkt.
Die Garantiedauer kann in den einzelnen Ländern unterschiedlich sein. Wenn Sie Fragen zu der Garantie
haben, wenden Sie sich bitte an Ihren Händler. Bewahren Sie den Kaufnachweis immer auf.
Cambridge Audio garantit ce produit contre tout défaut de matériau et de main-d'œuvre (dans les
conditions stipulées ci-dessous). Cambridge Audio peut décider de réparer ou de remplacer (à sa propre
discrétion) ce produit ou toute pièce défectueuse de ce produit. La période de garantie peut varier selon
le pays. En cas de doute, adressez-vous à votre revendeur. Veillez à toujours conserver la preuve d'achat
de cet appareil.
Cambridge Audio garantiza que este producto está libre de defectos de material y de fabricación (garantía
sujeta a las condiciones establecidas a continuación). Cambridge Audio reparará o sustituirá (a elección
de Cambridge Audio) este producto o cualquier pieza defectuosa del mismo. Los periodos de garantía
pueden ser distintos en cada país. En caso de dudas, póngase consulte a su concesionario y asegúrese
de guardar el documento acreditativo de la compra.
Wenn Sie Garantieleistungen in Anspruch nehmen möchten, wenden Sie sich bitte an den von Cambridge
Audio autorisierten Händler, bei dem Sie das Produkt gekauft haben. Sollte dieser Händler nicht in der
Lage sein, Ihr Cambridge Audio-Produkt zu reparieren, kann dieser das Produkt an Cambridge Audio oder
eine autorisierte Cambridge Audio-Kundendienststelle zurücksenden. Das Produkt muss entweder in
der Originalverpackung oder einer Verpackung, die einen gleichwertigen Schutz bietet, versandt werden.
Pour une réparation sous garantie, veuillez contacter le revendeur Cambridge Audio agréé chez qui vous
avez acheté ce produit. Si votre revendeur ne peut procéder lui-même à la réparation de votre produit
Cambridge Audio, ce dernier pourra être envoyé par votre revendeur à Cambridge Audio ou à un
Para obtener asistencia relacionada con esta garantía, le rogamos que se ponga en contacto con el
concesionario autorizado de Cambridge Audio en el que adquirió este producto. Si su concesionario no
está equipado para efectuar la reparación del producto de Cambridge Audio, este concesionario puede
devolverlo a Cambridge Audio o a un centro de servicio autorizado de Cambridge Audio. Será necesario
enviar este producto dentro de su embalaje original o en un embalaje que proporcione el mismo grado
de protección.
To obtain warranty service, please contact the Cambridge Audio authorised dealer from which you
purchased this product. If your dealer is not equipped to perform the repair of your Cambridge Audio
product, it can be returned by your dealer to Cambridge Audio or an authorised Cambridge Audio service
agent. You will need to ship this product in either its original packaging or packaging affording an equal
degree of protection.
Proof of purchase in the form of a bill of sale or receipted invoice, which is evidence that this product is
within the warranty period, must be presented to obtain warranty service.
This Warranty is invalid if (a) the factory-applied serial number has been altered or removed from this
product or (b) this product was not purchased from a Cambridge Audio authorised dealer. You may call
Cambridge Audio or your local country Cambridge Audio distributor to confirm that you have an unaltered
serial number and/or you purchased from a Cambridge Audio authorised dealer.
This Warranty does not cover cosmetic damage or damage due to acts of God, accident, misuse, abuse,
negligence, commercial use, or modification of, or to any part of, the product. This Warranty does not
cover damage due to improper operation, maintenance or installation, or attempted repair by anyone
other than Cambridge Audio or a Cambridge Audio dealer, or authorised service agent which is authorised
to do Cambridge Audio warranty work. Any unauthorised repairs will void this Warranty. This Warranty
does not cover products sold AS IS or WITH ALL FAULTS.
REPAIRS OR REPLACEMENTS AS PROVIDED UNDER THIS WARRANTY ARE THE EXCLUSIVE REMEDY OF
THE CONSUMER. CAMBRIDGE AUDIO SHALL NOT BE LIABLE FOR ANY INCIDENTAL OR CONSEQUENTIAL
DAMAGES FOR BREACH OF ANY EXPRESS OR IMPLIED WARRANTY IN THIS PRODUCT. EXCEPT TO THE
EXTENT PROHIBITED BY LAW, THIS WARRANTY IS EXCLUSIVE AND IN LIEU OF ALL OTHER EXPRESS
AND IMPLIED WARRANTIES WHATSOEVER INCLUDING, BUT NOT LIMITED TO, THE WARRANTY OF
MERCHANTABILITY AND FITNESS FOR A PRACTICAL PURPOSE.
Some countries and US states do not allow the exclusion or limitation of incidental or consequential
damages or implied warranties so the above exclusions may not apply to you. This Warranty gives you
specific legal rights, and you may have other statutory rights, which vary from state to state or country
to country.
Sie müssen einen Kaufnachweis in Form einer Kaufurkunde oder einer quittierten Rechnung vorlegen,
wenn Sie einen Anspruch auf Garantieleistungen geltend machen. Aus diesem Kaufnachweis muss
abzulesen sein, dass sich das Produkt im Garantiezeitraum befindet.
Diese Garantie wird ungültig, wenn (a) die bei der Herstellung angebrachte Seriennummer bei diesem
Produkt geändert oder entfernt wurde oder (b) dieses Produkt nicht bei einem von Cambridge Audio
autorisierten Händler gekauft wurde. Wenden Sie sich an Cambridge Audio oder den lokalen Cambridge
Audio-Vertrieb in Ihrem eigenen Land, um sicher zu stellen, dass Ihre Seriennummer nicht geändert
wurde und/oder dass Sie bei einem von Cambridge Audio autorisierten Händler gekauft haben.
Die Garantie gilt nicht für kosmetische Schäden oder Schäden durch höhere Gewalt, Unfälle,
unsachgemäße Behandlung, Unachtsamkeit, kommerziellen Einsatz oder durch Änderungen des
Produkts bzw. von Teilen des Produkts. Diese Garantie umfasst keine Schäden durch unsachgemäßen
Betrieb, unsachgemäße Wartung oder Installation oder durch Reparaturen, die von anderen
Personen als von Cambridge Audio oder einem Cambridge Audio-Händler oder einem autorisierten
Kundendienstmitarbeiter, der von Cambridge Audio für das Ausführen von Garantieleistungen befugt ist,
vorgenommen werden. Durch jede nicht autorisierte Reparatur wird diese Garantie unwirksam. Diese
Garantie gilt nicht für Produkte, die verkauft werden AS IS (WIE SIE SIND) oder WITH ALL FAULTS (MIT
ALLEN FEHLERN).
DIE HAFTUNGSANSPRÜCHE DES BENUTZERS BESCHRÄNKEN SICH AUF DIE IN DIESER GARANTIE
ENTHALTENEN REPARATUREN ODER ERSATZLEISTUNGEN. CAMBRIDGE AUDIO HAFTET NICHT FÜR
ZUFÄLLIGE ODER FOLGESCHÄDEN DURCH DIE VERLETZUNG IRGENDEINER AUSDRÜCKLICHEN ODER
IMPLIZITEN GARANTIE BEI DIESEM PRODUKT. AUßER DORT, WO DIES GESETZLICH UNTERSAGT IST, IST
DIESE GARANTIE EXKLUSIV UND TRITT SIE AN DIE STELLE ALLER ANDEREN AUSDRÜCKLICHEN ODER
IMPLIZITEN GARANTIEN, WELCHER ART AUCH IMMER, EINSCHLIEßLICH, ABER NICHT BESCHRÄNKT AUF,
VERKAUFSGARANTIE UND FUNKTIONSGARANTIE FÜR EINEN PRAKTISCHEN ZWECK.
Einige Länder und US-Staaten erlauben keinen Ausschluss oder keine Beschränkung von zufälligen oder
Folgeschäden bzw. impliziten Garantien, so dass die oben genannten Ausschlüsse für Sie eventuell nicht
gelten. Diese Garantie erteilt Ihnen spezifische gesetzliche Rechte; es ist auch möglich, dass Sie andere
Rechtsansprüche haben, die in jedem Staat und jedem Land anders aussehen können.
The crossed-out wheeled bin is the European Union symbol for indicating separate collection
for electrical and electronic equipment. This product contains electrical and electronic equipment which should be reused, recycled or recovered and should not be disposed of with unsorted regular waste. Please return the unit or contact the authorised dealer from whom you
purchased this product for more information.
Die durchgestrichene Abfalltonne auf Rädern ist das Symbol der Europäischen Union, das
das getrennte Sammeln von Elektro- und Elektronikgeräten anzeigt. Dieses Gerät enthält elektrische und elektronische Teile, die wiederverwendet, recycelt oder wiederhergestellt werden
können und nicht mit unsortiertem normalem Restabfall entsorgt werden dürfen. Bitte geben
Sie das Gerät zurück oder wenden Sie sich für weitere Informationen an Ihren Fachhändler,
von dem Sie dieses Gerät gekauft haben.
service après-vente Cambridge Audio agréé. Le cas échéant, vous devrez expédier ce produit dans son
emballage d'origine ou dans un emballage offrant un degré de protection équivalent.
Une preuve d'achat telle qu'une facture attestant que le produit est couvert par une garantie valable doit
être présentée pour tout recours à la garantie.
Cette garantie est annulée si (a) le numéro de série d'usine a été modifié ou supprimé de ce produit ou
(b) ce produit n'a pas été acheté auprès d'un revendeur Cambridge Audio agréé. Pour confirmer que le
numéro de série n'a pas été modifié ou que ce produit a été acheté auprès d'un revendeur Cambridge
Audio agréé, vous pouvez appeler Cambridge Audio ou le distributeur Cambridge Audio de votre pays.
Cette garantie ne couvre pas les dommages esthétiques ou les dommages dus ou faisant suite à des cas
de force majeure, à un accident, à un usage impropre ou abusif, à la négligence, à un usage commercial
ou à une modification d'une partie quelconque du produit. Cette garantie ne couvre pas les dommages
dus ou faisant suite à une utilisation, à un entretien ou à une installation inappropriés ou à une réparation
opérée ou tentée par une personne quelconque étrangère à Cambridge Audio ou qui n'est pas revendeur
Cambridge Audio ou technicien agréé, autorisé à effectuer des travaux d'entretien et de réparation sous
garantie pour Cambridge Audio. Toute réparation non autorisée annule cette garantie. Cette garantie ne
couvre pas les produits vendus " EN L'ÉTAT " ou " WITH ALL FAULTS ".
LES RÉPARATIONS OU REMPLACEMENTS EFFECTUÉS DANS LE CADRE DE CETTE GARANTIE CONSTITUENT
LE RECOURS EXCLUSIF DU CONSOMMATEUR. CAMBRIDGE AUDIO DÉCLINE TOUTE RESPONSABILITÉ
POUR TOUT DOMMAGE ACCESSOIRE OU INDIRECT DE LA RUPTURE DE TOUTE GARANTIE EXPRESSE OU
IMPLICITE CONCERNANT CE PRODUIT. SAUF DANS LA MESURE PRÉVUE PAR LA LOI, CETTE GARANTIE
EXCLUT TOUTE AUTRE GARANTIE EXPRESSE OU IMPLICITE DE QUELQUE SORTE QUE CE SOIT, Y COMPRIS,
SANS LIMITATION, LA GARANTIE RELATIVE À L'APTITUDE DU PRODUIT À ÊTRE COMMERCIALISÉ ET À ÊTRE
UTILISÉ DANS UNE APPLICATION PARTICULIÈRE.
Certains pays et États des États-Unis n'autorisent pas l'exclusion ou la limitation des dommages
accessoires ou indirects ou les exclusions de garanties implicites. Par conséquent, les limitations
ou exclusions ci-dessus peuvent ne pas s'appliquer. Cette garantie vous accorde des droits légaux
spécifiques, outre d'autres droits qui varient d'État à État ou de pays à pays.
La poubelle à roulettes barrée d'une croix est le symbole de l'Union européenne indiquant la
collecte séparée des appareils et dispositifs électriques et électroniques. Ce produit contient
des dispositifs électriques et électroniques qui doivent être réutilisés, recyclés ou récupérés,
et qui ne doivent pas être jetés avec les déchets ordinaires non triés. Veuillez remettre l'appareil au revendeur agréé chez qui vous avez acheté ce produit, ou le contacter pour plus
d'informations.
Para recibir el servicio asociado a la garantía es necesario presentar el documento acreditativo de la
compra, en la forma del documento de compraventa o la factura con el sello de pago, que demuestra que
el producto se encuentra dentro del periodo de garantía.
Esta garantía no es válida si (a) se ha alterado el número de serie asignado en fábrica o se ha eliminado
del producto o (b) no se compró este producto en un concesionario autorizado de Cambridge Audio.
Puede llamar a Cambridge Audio o al distribuidor local de Cambridge Audio en su país para confirmar
que dispone de un número de serie no alterado y/o que el producto se ha adquirido en un concesionario
autorizado de Cambridge Audio.
Esta garantía no cubre los daños superficiales, los daños causados por fuerza mayor, accidente, uso
indebido, abuso, negligencia, uso comercial o modificación del producto o de cualquiera de sus piezas.
Esta garantía no cubre los daños debidos a la utilización, mantenimiento o instalación indebidos, al
intento de reparación por parte de cualquier persona o entidad distintos de Cambridge Audio o un
concesionario suyo, o de un centro de servicio autorizado para llevar a cabo trabajos asociados a la
garantía de Cambridge Audio. Cualquier reparación no autorizada anulará esta garantía. Esta garantía no
cubre los productos vendidos "TAL CUAL" o "CON TODOS LOS DEFECTOS".
LAS REPARACIONES O LAS SUSTITUCIONES TAL COMO SE ESTABLECEN EN ESTA GARANTÍA SON EL
RECURSO ÚNICO Y EXCLUSIVO DEL CONSUMIDOR. CAMBRIDGE AUDIO NO SE HACE RESPONSABLE
DE NINGÚN DAÑO INCIDENTAL O EMERGENTE POR EL INCUMPLIMIENTO DE CUALQUIER GARANTÍA
EXPRESA O IMPLÍCITA SOBRE ESTE PRODUCTO. EXCEPTO HASTA EL GRADO PROHIBIDO POR LA LEY,
ESTA GARANTÍA ES EXCLUSIVA Y SUSTITUYE A CUALQUIER OTRA GARANTÍA EXPRESA O IMPLÍCITA DE
CUALQUIER TIPO, INCLUSIVE, PERO NO LIMITADA A, LA GARANTÍA DE COMERCIALIZACIÓN O ADECUACIÓN
A UN PROPÓSITO PRÁCTICO DETERMINADO.
Algunos países y estados de los Estados Unidos no permiten la exclusión o limitación de los daños
incidentales o emergentes o de las garantías implícitas, por lo que es posible que las exclusiones citadas
más arriba no sean aplicables para Usted. Esta garantía le otorga derechos legales específicos y es
posible que tenga otros derechos legales que pueden ser distintos en función del estado o país.
El cubo con ruedas tachado es el símbolo de la Unión Europea para indicar un conjunto separado de equipos eléctricos y electrónicos. Este producto contiene equipos eléctricos y electrónicos que deben ser reutilizados, reciclados o recuperados y no deben desecharse con
los desperdicios habituales sin clasificar. Por favor devuelva el equipo o póngase en contacto
con el distribuidor autorizado a quien compró este producto para obtener más información.
LIMITI DI GARANZIA
GARANTIEBEPALINGEN
BEGRÆNSET GARANTI
ОГРАНИЧЕННАЯ ГАРАНТИЯ
Cambridge Audio garantisce che questo prodotto sia privo di difetti relativamente al materiale e alla
lavorazione (soggetti ai termini sotto indicati). Cambridge Audio riparerà o sostituirà (a discrezione di
Cambridge Audio) questo prodotto o ogni parte difettosa presente in questo prodotto. I periodi di garanzia
variano da paese a paese. In caso di dubbi, contattare il rivenditore ed assicurarsi di conservare la prova
d'acquisto.
Cambridge Audio garandeert dat dit product vrij is van defecten in materialen en uitvoering (onderworpen
aan de hieronder uiteengezette bepalingen). Cambridge Audio zal dit product of eventuele defecte
onderdelen in dit product repareren of vervangen (naar keuze van Cambridge Audio). Garantieperiodes
kunnen van land tot land verschillen. Raadpleeg bij twijfel uw leverancier en bewaar altijd uw
aankoopbewijs.
Cambridge Audio garanterer, at dette produkt er fri for defekter i materialer og udførelse (med forbehold
af nedenstående betingelser). Cambridge Audio vil reparere eller udskifte dette produkt eller eventuelle
defekte dele i produktet (efter Cambridge Audios valg). Garantiperioden kan variere fra land til land.
Kontakt din forhandler, hvis du er i tvivl, og sørg for at gemme købskvitteringen.
Компания Cambridge Audio гарантирует, что это изделие не имеет материальных и производственных
дефектов (при условии соблюдения условий, сформулированных ниже). Компания Cambridge Audio
будет производить ремонт или замену (по выбору компании Cambridge Audio) этого изделия или любых
дефектных деталей в этом изделии. Гарантийные сроки могут быть различными в разных странах. В
случае сомнения, проконсультируйтесь у дилера и сохраняйте документы, подтверждающие покупку.
Per ottenere l'assistenza in garanzia, contattare il rivenditore autorizzato Cambridge Audio da cui è
stato acquistato questo prodotto. Se il rivenditore non è in grado di effettuare la riparazione del prodotto
Cambridge Audio, è possibile restituire il prodotto tramite il rivenditore a Cambridge Audio o ad un
centro autorizzato all'assistenza tecnica Cambridge Audio. Sarà necessario spedire il prodotto nel suo
imballaggio originale o in un imballaggio che consenta una protezione di pari grado.
Als u service wilt tijdens de garantieperiode, neem dan contact op met de geautoriseerde Cambridge
Audio-leverancier waar u dit product hebt aangeschaft. Als uw leverancier niet in staat is de reparatie
van uw Cambridge Audio-product uit te voeren, kan het door uw leverancier worden doorgestuurd naar
Cambridge Audio of naar een geautoriseerde servicevertegenwoordiger van Cambridge Audio. U dient dit
product te verzenden in zijn oorspronkelijke verpakking of in een verpakking die een gelijke mate van
bescherming biedt.
Per ottenere l'assistenza in garanzia, è necessario conservare la prova d'acquisto sotto forma di scontrino
di vendita o di fattura, a dimostrazione che questo prodotto è nel periodo di garanzia.
Tale garanzia non è valida se (a) il numero di serie applicato in fabbrica è stato rimosso dal prodotto o se
(b) questo prodotto non è stato acquistato presso un rivenditore autorizzato Cambridge Audio. È possibile
contattare Cambridge Audio o il distributore Cambridge Audio locale per confermare che il numero di serie
non è stato manomesso e/o che si è acquistato il prodotto presso un rivenditore autorizzato Cambridge
Audio.
Questa garanzia non copre danni estetici o danni dovuti a casi di forza maggiore, incidenti, uso improprio,
uso eccessivo, omissione, uso commerciale o manomissione di qualsiasi parte del prodotto. Questa
garanzia non copre danni dovuti a funzionamento, manutenzione o installazione inadeguati o a tentativi
di riparazione da parte di personale che non sia Cambridge Audio o del rivenditore Cambridge Audio, o di
un centro di assistenza autorizzato agli interventi in garanzia Cambridge Audio. Eventuali riparazioni non
autorizzate annulleranno questa garanzia. La garanzia non copre i prodotti venduti "NELLE CONDIZIONI
IN CUI SI TROVANO" o "CON OGNI DIFETTO".
LA RIPARAZIONE O LA SOSTITUZIONE FORNITI SECONDO QUANTO PREVISTO DA QUESTA GARANZIA
SONO DIRITTO ESCLUSIVO DELL'ACQUIRENTE. CAMBRIDGE AUDIO NON SARÀ RESPONSABILE DI
ALCUN DANNO INCIDENTALE O CONSEGUENTE PER VIOLAZIONE DI QUALSIASI GARANZIA ESPRESSA
O IMPLICITA DI QUESTO PRODOTTO. SALVO NEI CASI DIVERSAMENTE PREVISTI DALLA LEGGE, QUESTA
GARANZIA È ESCLUSIVA ED IN VECE DI OGNI ALTRA GARANZIA ESPRESSA O IMPLICITA, INCLUSA, MA
NON LIMITATAMENTE A, LA GARANZIA DI COMMERCIABILITÀ ED IDONEITÀ PER UN PARTICOLARE SCOPO.
Poiché alcuni paesi e Stati americani non consentono l'esclusione o la limitazione di danni diretti o
indiretti o le garanzie implicite le suddette esclusioni non potrebbero applicarsi al caso specifico. Questa
garanzia conferisce specifici diritti legali, ed è possibile godere di altri diritti, che variano da Stato a Stato
o da paese a paese.
Il contenitore a rotelle per rifiuti, sormontato da una croce, rappresenta il simbolo dell'Unione
Europea per indicare una raccolta separata dei dispositivi e apparecchiature elettriche ed
elettroniche. Questo prodotto contiene parti elettriche ed elettroniche che devono essere riutilizzate, riciclate o riceperate, e non deve pertanto essere gettato assieme ai normali rifiuti
non riordinati. Potete restituire quest'apparecchio al negoziante, o mettervi in contatto con il
distributore autorizzato presso il quale lo avevate acquistato per ulteriori informazioni.
Om in aanmerking te komen voor service tijdens de garantieperiode, dient u een aankoopbewijs te
overleggen in de vorm van een verkoopnota of een ontvangen factuur, die het bewijs vormt dat dit product
binnen de garantieperiode valt.
Deze Garantie is ongeldig indien (a) het in de fabriek aangebrachte serienummer is veranderd of
is verwijderd van dit product of (b) dit product niet is aangeschaft bij een geautoriseerde Cambridge
Audio-leverancier. U kunt Cambridge Audio of de distributeur van Cambridge Audio in uw land bellen
om te controleren of u een ongewijzigd serienummer hebt en/of dit product is aangeschaft bij een
geautoriseerde Cambridge Audio-leverancier.
Deze Garantie dekt geen cosmetische schade of schade ontstaan door overmacht, ongelukken, verkeerd
gebruik, misbruik, nalatigheid, commercieel gebruik of modificatie van het product of enig onderdeel
ervan. Deze Garantie dekt geen schade ontstaan door onjuiste bediening, onderhoud of installatie, of
pogingen tot reparatie door ieder ander dan Cambridge Audio of een Cambridge Audio-leverancier, of
een geautoriseerde servicevertegenwoordiger die toestemming heeft om garantiewerkzaamheden te
verrichten voor Cambridge Audio. Elke reparatie waarvoor geen toestemming is gegeven, maakt deze
Garantie ongeldig. Deze Garantie dekt geen producten die zijn verkocht ALS ZODANIG of MET ALLE
GEBREKEN.
REPARATIES OF VERVANGINGEN ZOALS UITGEVOERD OP GROND VAN DEZE GARANTIE, VORMEN HET
EXCLUSIEVE RECHTSMIDDEL VAN DE CONSUMENT. CAMBRIDGE AUDIO IS NIET AANSPRAKELIJK VOOR
ENIGE INCIDENTELE SCHADE OF GEVOLGSCHADE BIJ SCHENDING VAN ENIGE EXPLICIETE OF IMPLICIETE
GARANTIE IN DIT PRODUCT. UITGEZONDERD VOOR ZOVER DIT BIJ WET VERBODEN IS, IS DEZE GARANTIE
EXCLUSIEF EN VERVANGT DEZE ALLE ANDERE GARANTIES, UITDRUKKELIJK OF IMPLICIET, WAARONDER
MAAR NIET UITSLUITEND DE GARANTIE VAN VERKOOPBAARHEID EN GESCHIKTHEID VOOR EEN BEPAALD
DOEL.
In sommige landen en in bepaalde staten van de V.S. is de uitsluiting of beperking van incidentele schade
of gevolgschade of impliciete garanties, zodat de bovengenoemde uitsluitingen mogelijk niet voor u
gelden. Deze Garantie geeft u specifieke wettelijke rechten en u hebt mogelijk nog andere wettelijke
rechten die van staat tot staat of van land tot land kunnen verschillen.
De doorgekruiste verrijdbare afvalbak is het symbool van de Europese Unie waarmee wordt
aangegeven dat elektrische en elektronische apparatuur gescheiden dient te worden ingezameld. Dit product bevat elektrische en elektronische inrichtingen die opnieuw moeten worden
gebruikt, gerecycled of hersteld en niet mogen worden weggegooid bij het ongesorteerde normale afval. Breng het apparaat terug of neem contact op met de bevoegde dealer waarbij u dit
product hebt gekocht voor meer informatie.
Kontakt venligst den autoriserede forhandler af Cambridge Audio-produkter, som dette produkt er købt
hos, hvis der er behov for service under garantien. Hvis din forhandler ikke er i stand til at reparere dit
Cambridge Audio-produkt, kan det indsendes af din forhandler til Cambridge Audio eller en autoriseret
servicerepræsentant for Cambridge Audio. Dette produkt skal indsendes i enten den originale indpakning
eller en indpakning, der giver en tilsvarende beskyttelse.
Købskvittering i form af en salgsaftale eller kvitteret faktura, som viser, at garantiperioden endnu er
gældende, skal fremvises for at opnå service inden for garantien.
Denne garanti er ugyldig, hvis (a) det fra fabrikkens side trykte serienummer er ændret eller fjernet fra
dette produkt, eller hvis (b) dette produkt ikke er købt hos en autoriseret forhandler af Cambridge Audioprodukter. Du kan kontakte Cambridge Audio eller den lokale distributør af Cambridge Audio-produkter for
at kontrollere, om serienummeret er uændret og/eller om produktet er købt hos en autoriseret forhandler
af Cambridge Audio-produkter.
Denne garanti dækker ikke kosmetiske skader eller skader, som skyldes force majeure, uheld, fejlagtig
anvendelse, misbrug, uagtsomhed, kommerciel anvendelse eller ændring af produktet eller dele af
produktet. Denne garanti dækker ikke skader, der er en følge af forkert anvendelse, vedligeholdelse
eller installation eller forsøg på reparation, som udføres af andre end Cambridge Audio, en forhandler
af Cambridge Audio-produkter eller en autoriseret servicerepræsentant, som er autoriseret til at udføre
servicearbejde under Cambridge Audios garanti. Enhver reparation, der udføres af uautoriserede
personer, gør denne garanti ugyldig. Denne garanti dækker ikke produkter, der er solgt SOM BESET eller
MED ALLE FEJL.
REPARATIONER ELLER UDSKIFTNING I MEDFØR AF DENNE GARANTI ER FORBRUGERENS ENESTE
RETSMIDDEL. CAMBRIDGE AUDIO ER IKKE ERSTATNINGSPLIGTIG I FORBINDELSE MED HÆNDELIGE
SKADER ELLER FØLGESKADER ELLER BRUD PÅ UDTRYKKELIGE ELLER UNDERFORSTÅEDE GARANTIER
FOR DETTE PRODUKT. BORTSET FRA DET OMFANG, DET FORBYDES VED LOV, ER DENNE GARANTI
EKSKLUSIV OG TRÆDER I STEDET FOR ALLE ANDRE UDTRYKKELIGE OG UNDERFORSTÅEDE GARANTIER
AF ENHVER ART, HERUNDER - MEN IKKE BEGRÆNSET TIL - GARANTIER FOR SALGBARHED OG EGNETHED
TIL ET SÆRLIGT FORMÅL.
I nogle lande tillader retspraksis ikke udelukkelse eller begrænsning i forbindelse med hændelige skader
og/eller følgeskader eller udelukkelse af underforståede garantier, hvorfor ovenstående udelukkelser
muligvis ikke gælder i dit land. Denne garanti giver dig særlige juridiske rettigheder, og du kan desuden
have andre lovmæssige rettigheder, som varierer fra land til land.
Для получения гарантийного обслуживания, пожалуйста, обращайтесь к авторизованному дилеру
компании Cambridge Audio, у которого Вы купили это изделие. Если ваш дилер не имеет нужного
оборудования для ремонта вашего изделия компании Cambridge Audio, то оно может быть возвращено
через вашего дилера в компанию Cambridge Audio или к авторизованному агенту по обслуживанию
компании Cambridge Audio. Вам следует отправить это изделие либо в его оригинальной упаковке,
либо в такой упаковке, которая обеспечивает аналогичный уровень защиты.
Для получения гарантийного обслуживания следует представить документ, подтверждающий покупку
в форме счета или принятого инвойса, служащими доказательством того, что данное изделие
находится в пределах гарантийного срока.
Эта гарантия недействительна, если (a) на этом изделии изменен или удален фабричный серийный
номер или (b) это изделие не было куплено у авторизованного дилера компании Cambridge Audio. Вы
можете позвонить в компанию Cambridge Audio или к вашему местному агенту по продаже компании
Cambridge Audio для подтверждения того, что у Вас имеется неизмененный серийный номер и/или
что Вы сделали покупку у авторизованного дилера компании Cambridge Audio.
Эта гарантия не распространяется на косметическое повреждение или на поломку, вызванную
непредвиденными обстоятельствами, несчастным случаем, неправильным употреблением,
злоупотреблением, небрежностью, коммерческим использованием или модификацией изделия или
любой его части. Эта гарантия не распространяется на повреждение, вызванное неподходящим
действием, обслуживанием или установкой, или ремонтом, предпринятым кем-то другим, кроме
компании Cambridge Audio или дилера компании Cambridge Audio, или авторизованного агента по
обслуживанию, имеющего разрешение от компании Cambridge Audio на проведение гарантийных
работ. Любые недозволенные ремонты будут приводить к лишению пользования этой гарантией. Эта
гарантия не распространяется на изделия, проданные "КАК ОНИ ЕСТЬ" или "БЕЗ ОТВЕТСТВЕННОСТИ
ПРОДАВЦА ЗА ДЕФЕКТЫ".
В СООТВЕТСТВИИ С ЭТОЙ ГАРАНТИЕЙ, РЕМОНТЫ ИЛИ ЗАМЕНЫ - ЭТО ИСКЛЮЧИТЕЛЬНОЕ СРЕДСТВО
ЗАЩИТЫ ПОТРЕБИТЕЛЯ. КОМПАНИЯ CAMBRIDGE AUDIO НЕ ДОЛЖНА БЫТЬ ОТВЕТСТВЕННОЙ ЗА
ЛЮБЫЕ НЕПРЕДВИДЕННЫЕ ИЛИ ПОСЛЕДУЮЩИЕ УБЫТКИ В СВЯЗИ С НАРУШЕНИЕМ ЛЮБОЙ
ЯВНОЙ ИЛИ ПРЕДПОЛАГАЕМОЙ ГАРАНТИИ НА ЭТО ИЗДЕЛИЕ. КРОМЕ СЛУЧАЕВ, ЗАПРЕЩЕННЫХ
СОГЛАСНО ЗАКОНУ, ЭТА ГАРАНТИЯ ЯВЛЯЕТСЯ ИСКЛЮЧИТЕЛЬНОЙ И ЗАМЕНЯЕТ ВСЕ ДРУГИЕ ЯВНЫЕ
И ПОДРАЗУМЕВАЕМЫЕ ЛЮБЫЕ ГАРАНТИИ, ВКЛЮЧАЯ, НО НЕ ОГРАНИЧИВАЯСЬ ЭТИМ, ПРИГОДНОСТЬ
ДЛЯ ПРОДАЖИ И СООТВЕТСТВИЕ ДЛЯ ПРАКТИЧЕСКОЙ ЦЕЛИ.
Некоторые страны и штаты США не допускают исключения или ограничения непредвиденных или
последующих убытков или подразумеваемых гарантий, так что вышеупомянутые исключения могут
не распространяться на Вас. Эта Гарантия дает Вам определенные законные права, и Вы можете
иметь другие установленные законом права, которые изменяются в зависимости от законов
конкретного штата или данной страны.
Den overstregede skraldebøtte er den Europæiske Unions symbol for separat indsamling af
elektrisk og elektronisk affald. Dette produkt indeholder elektrisk og elektronisk udstyr, som
skal genbruges eller genindvindes og ikke må kasseres sammen med usorteret almindeligt
affald. Indlever venligst enheden eller kontakt den autoriserede forhandler, som du har købt
dette produkt af, hvis du ønsker mere information.
Ящик с колесами и с крестом – это символ Евросоюза для указания на отдельную
коллекцию электрического и электронного оборудования. Это изделие содержит
электрические и электронные компоненты, которые должны быть повторно использованы,
переработаны или восстановлены и не должны утилизироваться совместно с
несортированными обычными отходами. Постарайтесь возвратить устройство или
обратитесь к авторизованному дилеру, у которого Вы приобрели это изделие, для получения
дополнительной информации.
Read all instructions
SX-80 Floorstanding Speaker
Vermeiden Sie Extremtemperaturen
Éviter des températures extrêmes
Bitte lesen Sie die gesamte Anleitung
Evite temperaturas extremas
Veuillez lire toutes les instructions
Evitare temperature estreme
Lea todas las instrucciones
Sensitivity
Vermijd extreme temperaturen
Leggere tutte le istruzioni
87dB
Undgå ekstreme temperaturer
Lees alle instructies
Избегайте предельных температур
Læs alle instruktioner
Frequency response
Прочтите все инструкции
40Hz-20kHz
Ca
m
Impedance
8 Ohms
Drive units
2 x 165mm (6.5") woofers
1 x 25mm silk dome tweeter
Recommended amplifier power
Speaker dimensions (h x w x d)
Weight
bri dge Audio
10-100 Watts
950 x 200 x 276mm
(37.4 x 7.9 x 10.9" )
Avoid damp
Avoid direct sunlight
Vermeiden Sie Feuchtigkeit
Vermeiden Sie direkte Sonneneinstrahlung
Éviter l'humidité
Éviter les rayons directs du soleil
Evite la humedad
Evite la luz directa del sol
Evitare l'umidità
Evitare la luce solare diretta
Vermijd vocht
Vermijd rechtstreeks zonlicht
Undgå fugt
Undgå direkte sollys
Избегайте воздействия влаги
Избегайте попадания прямых солнечных лучей
Avoid solvent-based cleaners
Secure all cables
Vermeiden Sie auf Lösungsmitteln basierende Reinigungsmittel
Befestigen Sie alle Kabel gut
Éviter les produits d'entretien à base de solvant
Protéger tous les câbles
Evite utilizar limpiadores basados en disolventes
Asegure todos los cables
Evitare detergenti basati su solventi
Fissare tutti i cavi
Vermijd schoonmaakmiddelen met oplosmiddel
Bevestig alle snoeren
Brug ikke rengøringsmidler med opløsningsmiddel
Sæt alle kabler godt fast
Избегайте применения чистящих средств, содержащих
Надежно закрепите все кабели
13.1kg (28.8lbs)
растворители
SX-80 SINGLE-WIRING / SINGLE-WIRING / CABLAGE SIMPLE / CABLEADO SIMPLE / CABLAGGIO
SINGOLO / ENKELVOUDIGE BEDRADING / ENKELTLEDNING / ОДНОПРОВОДНОЕ СОЕДИНЕНИЕ
CABLING
CABLAGGIO
Connect speakers to your amplifier/receiver with high
quality speaker cable.
Collegare i diffusori all'amplificatore/sinto-amplificatore
mediante cavi per diffusori di qualità elevata,
IMPORTANT! Ensure positive (+) and negative (-)
connections are matched.
IMPORTANTE! Assicurarsi che i collegamenti positivo (+)
e negativo (-) corrispondano.
VERKABELUNG
KABELS
Schließen Sie die Lautsprecher mit hochwertigen
Lautsprecherkabeln an Ihren Verstärker/Receiver an.
Gebruik hoogwaardige luidsprekerkabel om uw
luidsprekers aan te sluiten op uw versterker/receiver.
WICHTIG! Achten Sie auf die richtigen Anschlüsse, also
(+) an (+) und (-) an (-).
BELANGRIJK! Zorg ervoor dat de positieve (+) en
negatieve (-) verbindingen overeenstemmen.
CABLAGE
KABELFØRING
Connecter les enceintes à votre amplificateur/récepteur
avec des câbles pour enceintes de haute qualité.
Forbind højtalerne til din forstærker/receiver med et
højtalerkabel af høj kvalitet.
IMPORTANT ! Assurez-vous que les connexions positives
(+) et négatives (-) correspondent.
VIGTIGT! Sørg for, at de positive (+) og negative (-)
forbindelser passer.
CABLEADO
КАБЕЛЬНЫЕ ПОДСОЕДИНЕНИЯ
Conecte los altavoces a su amplificador/receptor con un
cable de altavoces de alta calidad.
¡IMPORTANTE! Asegúrese de que las conexiones de los
terminales positivo (+) y negativo (-) coincidan.
Подсоединяйте динамики к вашему усилителю/
приемнику звуковыми кабелями высшего качества.
ВАЖНО! Соблюдайте правильность подключения
положительных (+) и отрицательных (-) клемм.
Running In / Einspielen lassen / Rodage / Funcionamiento / Rodaggio / Inwerken / Inkörning /
POSITIONING
Ideally the speakers and listening position should
be located equal distances apart, but feel free to
experiment with positioning until you are happy with the
sound.
Предварительная обкатка
T o improve the sound of your speakers, perform a 'running in' process. Position the speakers facing each other, wire one
speaker out of phase, and run for 36 hours.
POSITIONIERUNG
Idealerweise sollten sich die Lautsprecher und
die Hörposition in gleichem Abstand voneinander
befinden. Sie können aber gern mit der Positionierung
experimentieren, bis Sie mit dem Klang zufrieden sind.
Führen Sie zur schnellen Verbesserung des Klangs Ihrer neuen Lautsprecher einen "Einspiel"-Vorgang durch. Stellen Sie
die Lautsprecher zueinander zeigend auf. Verkabeln Sie einen Lautsprecher außerhalb der Phase und lassen Sie sie 36
Stunden ununterbrochen einspielen.
POSITIONNEMENT
Pour améliorer le son de vos enceintes acoustiques, procédez à une session de rodage. Placez les enceintes face à face,
câblez une de celles-ci hors phase et faites-les fonctionner pendant 36 heures.
Idéalement, les enceintes et l'emplacement d'écoute
doivent être situés à égale distance, mais n'hésitez pas
à essayer d'autres positionnements jusqu'à ce que vous
soyez satisfaits du son.
Para mejorar el sonido de los altavoces realice un proceso de "funcionamiento inicial". Coloque los altavoces mirándose
entre sí, cablee un altavoz fuera de fase y déjelos funcionar durante 36 horas.
COLOCACIÓN
Idealmente los altavoces deben estar a la misma
distancia del punto de escucha, pruebe hasta encontrar
la colocación con la que quede satisfecho con el sonido.
DISPOSIZIONE
Come disposizione ideale, i diffusori e la posizione
d'ascolto dovrebbero trovarsi equidistanti, ma sarà
meglio provare con differenti posizionamenti, fino ad
ottenere il suono più soddisfacente possibile.
PLAATSING
In een ideale situatie zouden er gelijke afstanden
moeten zijn tussen de luidsprekers onderling en ten
opzichte van de luisterpositie, maar experimenteer
gerust met de plaatsing tot u tevreden bent met het
geluid.
Per migliorare il suono dei diffusori, eseguire un processo di 'rodaggio'. Posizionare i diffusori uno di faccia all'altro,
collegare un diffusore fuori fase, e lasciar funzionare per 36 ore.
VALG AF POSITION
Om het geluid van uw luidsprekers te verbeteren moeten zij worden ingewerkt. Plaats de luidsprekers zodanig dat zij
op elkaar gericht staan, draai de aansluitsnoeren (links/rechts) van één luidspreker om, en laat ze gedurende 36 uur
werken.
РАСПОЛОЖЕНИЕ
Utför en "inkörningsprocess" för att förbättra högtalarnas ljud. Placera högtalarna så att de är vända mot varandra,
koppla en högtalare ur fas och kör högtalarna i 36 timmar.
Ideelt set bør højtalerne og lyttepositionen placeres med
ens afstand, men prøv dig frem, indtil du er tilfreds med
lyden.
В идеальном случае динамики и место слушателя
должны быть на одинаковых расстояниях друг от
друга, но все же желательно поэкспериментировать с
размещением до получения наилучшего звучания.
If the speakers are placed close to a wall, the bass may
become too strong. We have provided foam bass tuning
bungs that will reduce bass output when inserted into
the ports.
Wenn die Lautsprecher dicht an der Wand stehen,
wird der Bass eventuell zu stark. Wir haben
Schaumbassdämpfer mitgeliefert, welche die
Bassleistung verringern, wenn sie in die Anschlüsse
eingesetzt werden.
Si les haut-parleurs sont placés à côté d'une paroi, les
basses risquent d'être trop fortes. Nous avons donc
prévu des bouchons en mousse qui, une fois insérés
dans les ports, réduiront la sortie des basses.
Si los altavoces se colocan cerca de una pared, el sonido
de los bajos puede ser demasiado fuerte. El nivel de
salida de los bajos se puede controlar insertando en los
puertos los tapones de espuma que se incluyen.
Se gli altoparlanti sono posizionati vicino a una parete, i
bassi potrebbero diventare troppo forti. Nella dotazione
sono compresi tappi di gommapiuma da utilizzare sui
condotti dei bassi in grado di ridurre l'uscita dei bassi
una volta inseriti nelle porte.
Indien de luidsprekers dichtbij een muur worden
geplaatst, kan de bas te sterk worden. We hebben
schuimrubberen basdempers meegeleverd die het geluid
van de bas zullen beperken wanneer deze in de poorten
worden geplaatst.
Om högtalarna ställs på nära en vägg kan basen bli
för kraftig. Vi tillhandahåller skumgummiproppar som
minskar basutmatningen när de förs in i portarna.
Если АС расположены или близко к стене,
низкочастотные (НЧ) составляющие аудиосигнала
могут воспроизводиться слишком громко. В комплект
поставки входят заглушки для регулировки тембра НЧ
из пеноматериала, установка которых в отверстия
фазоинверторов АС позволяет снизить громкость НЧсоставляющих.
Для улучшения звучания ваших громкоговорителей проведите процесс 'обкатки'. Расположите громкоговорители
друг напротив друга, подключите один из громкоговорителей в противофазе и включите их на 36 часов.