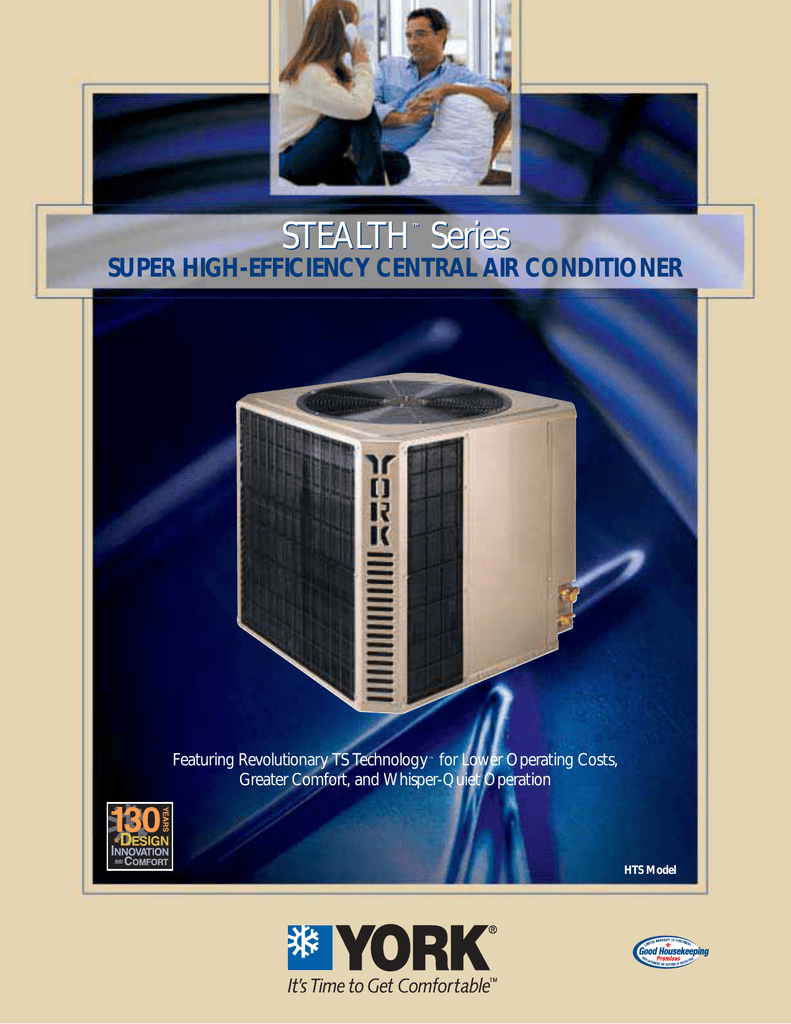 STEALTH Series
™
SUPER HIGH-EFFICIENCY CENTRAL AIR CONDITIONER
Featuring Revolutionary TS Technology for Lower Operating Costs,
Greater Comfort, and Whisper-Quiet Operation
™
HTS Model
It's Time to Make a Better Choice
WITH THE YO
F
ew things are as important as the comfort of your family.
And nobody understands the need for a quiet, efficient home comfort system better than YORK.
That's why we offer the YORK Stealth Series with our revolutionary Twin-Single (TS™) compressor
technology. This innovative cooling system provides more of what you're looking for
compared to a conventional air conditioning system. Like quieter operation,
increased energy efficiency, greater
reliability and reduced operating costs.
How TS Technology Works for Your Comfort.
With TS compressor technology you get two levels of
cooling performance. One level for those "maximum load"
situations, when cooling needs are highest, and another for less demanding
cooling situations. At the higher setting (Stage 2), both pistons operate to
deliver maximum cooling power. But under typical conditions (up to 70%
of the time in most areas), the unique crank-shaft
rotates in the opposite direction, and only one piston
operates (Stage 1). That's when the incredible advantages
of TS Technology kick in.
Leading-Edge Technology From the Inside Out
The Brains Behind TS Comfort.
Permanently lubricated
fan motor needs no
annual servicing
York's Comfort Enhancer™
Control is the microprocessor
intelligence behind Twin Single
Performance, reducing start-stop
Mufflers, compressor
mounts and specially
designed sound
blankets reduce
sound and vibration
Tough guard
protects coils
cycles by up to 74%. The
control
memorizes
the last run
High gloss powder paint
application over primercoated steel offers protection
against the elements
cycle to
adjust the
starting sequence for enhanced
temperature and humidity
Copper tube/aluminum
fin coils set the industry
standard for durable,
efficient operation
Solid core filter-drier
protects compressor
Twin-Single
Compressor
delivers economy,
comfort, and
longer system life
regulation.
e For Your Home Comfort System
RK STEALTH SERIES
Get Comfortable with all the Advantages of TS Technology.
Increased Efficiency & Reduced Costs—The Stealth unit can reach 15+ SEER* which is more than double
Now You Can
Get Even More
Comfortable.
the efficiency of many older units. Over the years, it could actually pay for itself, delivering up to 60% savings
in operating costs. Calculate your own cost savings with the Energy Savings Map and Chart below!
To Use The Map and Chart:
Using the map, locate the Zone you live in. Determine
the SEER of your current system. Cross-reference your
Zone and current SEER in the table to determine
your approximate annual cooling costs. The difference
between your current cost and that of a higherSEER unit is your estimated annual savings.
Cooling
Efficiencies
(SEER)
6.0
8.0
10.0
12.0
15.0
Zone 1
Approximate Annual Cooling
Operating Costs
Zone 2
Zone 3
Zone 4
Zone 5
$424
318
255
212
171
$544
403
326
272
219
$1204
$1204
903
722
602
$484
Example:
$767
575
460
383
309
(Based on 2001 DOE national average price for electricity
(0.0837/kwh). Assuming the use of 36,000 BTU nominal
capacity. Information derived using Elite Energy Audit Program.
Cooling based on Bin data. Operating cost based on 2,100 sq.
ft. and occupancy of 4 people. Actual savings may vary.)
$1,204 – $452 = $752
(Your estimated
annual savings)
*SEER=Seasonal Energy Efficiency Ratio. The higher
the SEER rating number, the more energy efficient the unit.
The government's established minimum rating for air
conditioning is 10.
That's a 62% Savings!
Stealth® AC
$738
554
443
369
297
Standard AC
Temperature Control Comparison
Stealth Series…The Very Name
Says "Quiet" — With lighter
compressor loads and reduced
blower speeds in Stage 1
Comfort Zone
operation, TS technology
keeps things whisper-quiet
Time
Designed To Keep You In The
with dramatically reduced
sound levels.
Takes the "Stop and Go" Out
Comfort Zone — Fewer startstop cycles helps in maintaining
constant temperatures, not to
Up to 74% fewer start-stop cycles
of Your Comfort System—
Standard
AC Unit
85
Decibels
Imagine driving your car by
flooring the accelerator at each
mention fewer hot and cold
green light, only to screech to a
spots. And, the longer operating
halt at the next red light. Think
cycles increase air circulation,
which helps decrease air
Stealth
AC
72
Decibels
of the wasted fuel and the wear
on your vehicle. A TS System
stratification and improves
runs longer, more efficient cycles
humidity control.
with less wear-and-tear.
Extend your quiet, efficient
comfort to every day of the
year by adding a high quality
YORK furnace to your home
comfort system. Our variablespeed air handlers and
furnaces feature electronically
commutated motor (ECM)
technology that uses less
electricity than a 100-watt
light bulb and are designed
to meet a wider range
of airflow requirements.
Bottom line,
your new York
Stealth Series
unit is built
for years of
trouble-free
service that's assured by a
10-Year Limited Warranty on
the Twin Single Compressor,
and a Five-Year Limited
Warranty on all
other parts.
For even more
peace of mind,
consider
purchasing
™
a York Care Comfort Plan
providing total parts and
labor coverage for up to ten
years. Ask
your York
Dealer
for details.

* Your assessment is very important for improving the work of artificial intelligence, which forms the content of this project