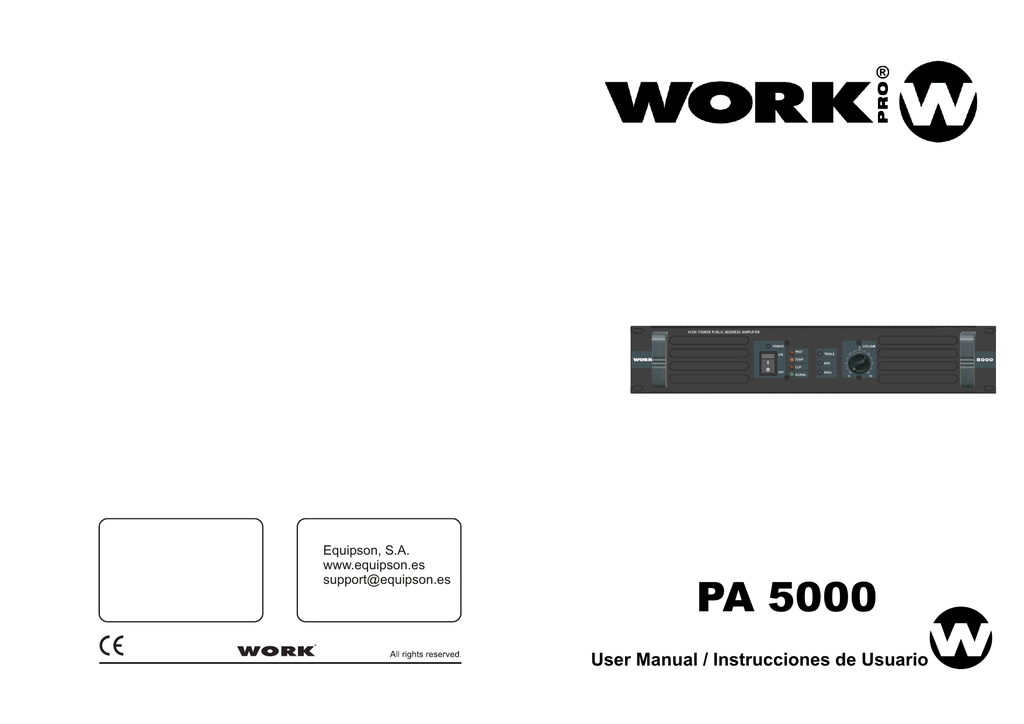 Equipson, S.A.
www.equipson.es
[email protected]
PA 5000
User Manual / Instrucciones de Usuario
PA 5000
480 W PA AMPLIFIER
AMPLIF. DE MEGAFONIA DE 480 W
English Version
Page 1
Versión Español
Página 6
This symbol on the product or on its packaging indicates that this product
shall not be trated as household waste. Instead it shall be handed over to
the applicable collection point for the recycling of electrical an electronic
equipment. By ensuring this product is disposed of correctly, you will help
prevent potential negative consequences for the environment and human
health, which could otherwise be caused by inappropriate waste handling
of this product. The recycling of amterials will help to conserve natural
resources. For more detailed information sabout recycling of this product,
please contact your local city office, your household waste disposal service
or the shop where you purchased the product.
Este símbolo en su equipo o embalaje, indica que el presente producto
no puede ser tratado como residuos domésticos normales, sino que deben
entregarse en el correspondiente punto de recogida de equipos electrónicos
y eléctricos. Asegurándose de que este producto es desechado
correctamente, Ud. está ayudando a prevenir las consecuencias negativas
para el medio ambiente y la salud humana que podrían derivarse de la
incorrecta manipulación de este producto. EL reciclaje de materiales
ayuda a conservar las reservas naturales. Para recibir más información,
sobre el reciclaje de este producto, contacte con su ayuntamiento, su
punto de recogida más cercano o el distribuidor donde adquirió el producto.
SAFETY RELATED SYMBOLS
CAUTION
5. DIAGRAMA DE CABLEADO
RISK OF ELECTRIC SHOCK
DO NOT OPEN
Balanceado
Tip
Ring
Sleeve
Tip
Ring
Sleeve
1
2
3
1
2
3
Tip
Ring
Sleeve
1
2
3
Tip
Ring
Sleeve
1
2
3
Tip
1
2
3
Desbalanceado
Sleeve
1
2
3
Screen
Sleeve
Tip
Ring
Sleeve
Tip
Ring
Sleeve
Tip
Centre
Screen
Sleeve
Tip
Ring
Sleeve
Screen
1
2
3
6. ESPECIFICACIONES TECNICAS
XLR Balanceado
1/4"TRS
Impedancia
de entrada
Sensibilidad
de entrada
Modos
Alternating current /voltage.
Hazar dous live term inal .
ON: Denotes the apparatus turns on.
Centre
1
2
3
Entrada
Protective grounding terminal.
Tip
Sleeve
220V
The symbol is used in the service documentation to indicate that specific
component shallbe only replaced by
theco mponent specified in that documentation for safetyreasons.
Centre
Tip
Alimentación
The symbolis u sed to indicate that some
hazardous liveter minals are involved
within thisap paratus,ev en under the
normal operating conditions.
OFF: Denotes the apparatusturns off, be cause of using the single pole switch, be sure
to unplug the AC powerto prevent any electric shock before you proceed your service.
WARNING
: Describes precautions that
should be observed to prevent the danger
of injury or death to the user.
CAUTIO N : Desc ribe s pre cauti onstha t
shouldbe observed to prevent danger of the
apparatus.
20K
0 dB
WARNING
Mono
0- 4
0- 8
0-70V (10. 2 )
0-100V(20. 8 )
Power Supply
Ensure t he sourc e voltage matches th e
voltage of the power supplybefore turning
Salida
480W
ON the apparatus .
Distorsión
<0.5%
Respuesta
de frecuenc.
SNR
50Hz-22KHz -3dB
Unplug this apparatus during
lightning
storms or when unu sed for long periods
of time.
Dimensiones
483(W) 400(D)
88.8(H)mm
Salida
Volt/Impedanc.
User Manual / Manual de uso
External Connection
The external wiring connected to the output hazardous live terminals requires
Pag. 10
installation by an instructed person, or
the use of ready-made leads or cords.
Do not Remove any Cover
Ther e are mayb e som e area s wit h hig h
voltagesin side, to reduce the risk of electric
shock, do not removean yco ver if the power
supply is connected.
The cover should be removed by the qualifiedpersonnel only .
No user serviceable parts inside.
Fuse
Topr event a fi re, make sure to usefu ses
with specifi ed standard (current , volt age,
type) . Do not use a diff ere ntfu se or shor t
ci rcuitth e fuse hold er.
Be for e re plac ing th e fu se, tu rnOF F th e
ap par atu s an d di sco nne cte d th e po wer
sour ce.
Protective Grounding
Make s ure to con nect the pr otectiv e
grounding to prevent any electric shock
before turning ON the apparatus.
Never cut off the internal or external protective grounding wire or disconnect the
wiring of protective grounding terminal.
Operating Conditions
This apparatus shall not be exposed to
dripping or splashing and that no objects
filled with liquids, such as vases, shall be
placed on this apparatus.
To reduce the risk of fire or electric shock,
do not expose this apparatus to rain or
moisture.
Do not use this apparatus near water.
Install in accordance
with the manufacturer's
instructions. Do not install near any heat
sources such as radiators, heat registers,
stoves, or other apparatus (includin
g am-
plifiers) that produce heat. Do not block
any ventilation openings.
No naked flame sources, such as lighted
candles, should be placed on the apparatus
IMPORTANTSAFETY INSTRUCTIONS
Read these instructions.
Follow all instructions.
Keep these instructions.
Heed all warnings.
Only use attachments/accessories spec-
any servicing other than thatco ntained in the
operating instructions unless you are qualified
todo so .
4. DIAGRAMA DE CONEXIONES DE SALIDA
Servicing is required whenth e apparatus has
been damaged in any way ,such as power
supply cord orpl ug is damaged , liquid has
been spilled or objectsha ve fallen into the
apparatus, the apparatushas beenexpose d
to rain or moisture, does not operate normally,
orhas been dropped.
ified by the manufacturer .
Power Cord and Plug
Do not defeat the safety purpose of the
polarized or grounding type plug.
A polari zed pl ug has two bl ades wit h
ing
type plug h as two blad es and a thir d
groundin g prong. T he wide blade o r the
third pr ong are provide dfor you r safety.
one wider than the other . A ground
If the provided plug does not fit into your
outlet, consult an electrician for replace ment of the obsolete outlet.
Protect the power cord from being w alked on or pinc hed pa rticula rly at pl ugs ,
conveni ence re ceptacle s, and t he poin t
where they exit from the apparatus.
Cleaning
When the apparatus needs a cleaning, you
can blow off dust from the apparatus with
a blower or clean with rag etc.
Don'tuse solvents such as benzol, alcohol,
or other fluids with very strong volatility and
flammability for cleaning the apparatus body.
Clean only with dry cloth.
Servicing
Refer all servicing to qualified personnel. To
reduce the riskof electric shock, do not perform
User Manual / Manual de uso
Pag. 9
3. PANEL TRASERO
TABLE OF CONTENTS
1. FEATURES LIST.......................................................................1
2. FRONT PANEL.........................................................................2
3. REAR PANEL...........................................................................3
1. Conector de alimentación
Este conector se usa para alimentar la unidad. Después de asegurarse que
el valor de tensión es el correcto, conecte el cable a la toma externa.
2. Terminales de salida
Estos terminales están disponibles tanto para salida de tensión (70/100 V) e
impedancia ( 4/8 Ohms)
3. Ventilador
Se usa para acelerar la circulación de aire para reducir la temperatura interna
de la unidad (el aire circula de delante hacia atrás). La velocidad del ventilador
aumenta al hacerlo la temperatura.
4. Entrada XLR y Jack 1/4"
Conectores estéreo balanceados para conectar señales de entrada
5. Terminales de conexión LINK
Puede ser usado para puentear señal de entrada a otra unidad
6. BREAKER
Cuando esta unidad esta sobrecargada o con sobre tensión, se desconecta
automáticamente para proteger otros equipos.
7. Terminal COM
Terminal común de salida
NOTA: NO DEBE SER CONECTADO A TIERRA
User Manual / Manual de uso
Pag. 8
4. OUTPUT CONNECTION DIAGRAM........................................4
5. WIRING DIAGRAM..................................................................5
6. TECHNICAL SPECIFICATIONS...............................................5
2. PANEL FRONTAL
1. FEATURES LIST
The amplifiers are pure high power amplifiers and applied for PA system. They present
with the following specific features
1 balanced input
1 6.3 Jack stereo input
1 signal indicated light (the light on as output signal
0.2V)
1 peak indicated light (the light on as clips in output signal)
2
1
4 3 5 678 9
11
10
1 protection indicated light (lights as too high inner temperature and other breakdowns,
meanwhile, the output automatically cut off)
4 Ohm and 8 Ohm low impedance output and 70/100V high voltage output
1. Interruptor de red
Este interruptor se usa para encender/apagar la unidad. La unidad se encienda en la
posición ON y se apaga en la posición OFF.
Speaker short circuit protecting function (clip light on as speaker output shortcircuit
and overloading.In this case, please cut off the power and do not restartthe unit without
examining whether there is a short circuit or overloading)
Signal auto compressing function (don't produce output distortion accordingto the pre
or output intensity of different sound source). When the temperature is too high, the
output signal will diminish automatically (the output de creases as the inner temperature
is too high the output signal is cut off automatically as the temperature continues rising
and the PROT light is on).
Adopt the advanced surge current control elements and can eliminate voltage fluctuation
of the electric fence caused by too big current when starting the unit in traditional
high power amplifiers.
2. LED POWER
Este LED se ilumina al encender la unidad y se apaga al hacerlo la etapa
3. LED SIG
Este LED se ilumina cuando la salida está sobre 200 mV
4. LED CLIP
Este LED se enciende cuando la distorsión excede de 0.5% y significa que la señal de
salida es demasiado fuerte, así que debe reducir el nivel. (Si parpadea el LED significa
que funciona la función autocompresión, si está encendido permanentemente, significa
que la señal ha excedido el rango de compresión)
5. LED TEMP
Cuando la unidad tiene demasiada temperatura, el sistema de protección actúa y
enciende el LED. Durante este tiempo, no hay señal de salida. La unidad no funcionará
hasta que la temperatura esté por debajo del valor standard, en ese momente se apaga
la protección y el LED.
6. LED PROT
Se enciende cuando la unidad no funciona con normalidad.
P.E. Cortocircuito en la salida o sobrecarga
7. Control de agudos
Permite ajustar las frecuencias altas en un rango de +/- 12 dB
8. Control de medios
Permite ajustar las frecuencias medias en un rango de +/- 12 dB
9. Control de graves
Permite ajustar las frecuencias bajas en un rango de +/- 12 dB
10. Asa
Permite el fácil transporte de la unidad
11. Control de volumen
Permite el ajuste de volumen
User Manual / Manual de uso
Pag. 1
User Manual / Manual de uso
Pag. 7
2. FRONT PANEL
1. LISTA DE CARACTERISTICAS
Este amplificador de gran potencia tiene su aplicación en sistemas de megafonía y presenta las
siguientes características:
- 1 entrada balanceada
- 1 entrada jack estéreo
- 1 indicador de señal (se enciende al sobrepasar la salida en 0.2 V)
- 1 indicador de pico (se enciende cuando la salida "clipa")
- 1 indicador de protección (se ilumina cuando la temperatura interna es muy elevada y
automáticamente corta el funcionamiento de la unidad).
- Salida de 4 ohmios y 8 ohmios de impedancia y 70/100 V de linea
2
1
4 3 5 678 9
11
10
1). The POWER switch
The POWER switch is used to turn the power of the unit on and off. The power is on when the switch
is in "ON"position;the power is off when the switch is in "OFF"position.
2). The POWER LED
The LED lights up when the power is on; the LED lights off when the power is off.
3). The SIG LED
The LED lights up when the output is above 200mV.
- Función de protección de cortocircuito en altavoces (el LED de clip se enciende ante cortocircuito
o sobrecarga. En ese caso, apague la unidad y examine posibles cortocircuitos o sobrecargas en
la salida)
- Función auto compresión de la señal. Cuando la temperatura es muy alta la señal disminuye
automáticamente y si continúa aumentando la temperatura, automáticamente se corta el
funcionamiento de la unidad y se enciende el LED PROT.
- Control de protección de corriente que elimina las fluctuaciones de tensión o altas corrientes
de arranque.
4). The CLIP LED
The LED lights up when the distortion exceeds 0.5 ,and it means that the output signal is too strong,
so you should reduce pre-output signal(if the LED lights up half or slightly, it means auto compression
Function starts; if it's fully on, it means that the pre-signal is too strong and has exceeded the compression
ra n g e ).
5). The TEMP LED
W h e n t h e u n it is t o o h o t , t h e t e m p e r a tu r e p r o t e c t io n s y s t e m fu n c t io n s a n d th e L E D lig h t s u p .
During the protection, there is no signal output. The unit doesn't restart to work until the temperature
g o e s d o w n to th e n o r m a l s ta n d a r d , th e te m p e r a tu r e p r o te c tio n s y s te m is o u t o f fu n c tio n a n d
the LED lights off.
6). PROT LED
When the unit operates abnormally
(e.g. Output load short circuit protection or over load protection), the LED lights up.
7). Built-in Treble control
W hen Treble is not enough or too high, adjust the Treble properly. The adjusting range is
+12dB.
8. Built-in Middle control
When the broadcasting sound is not clear, adjust the Middle properly.
9.Built-in Bass control
When the Bass is not enough or too high, adjust the Bass properly. The adjusting range is
+12dB.
10. Handle
The handle is for the convenience of carrying the unit.
11. Volume control
This knob is used to adjust volume.
User Manual / Manual de uso
Pag. 6
User Manual / Manual de uso
Pag. 2
TABLA DE CONTENIDOS
It can no be earthed
User Manual / Manual de uso
Pag. 3
1. LISTA DE CARACTERISTICAS
6
2. PANEL FRONTAL
7
3. PARA TRASERO
8
4. DIAGRAMA DE CONEXIONES DE SALIDA
9
5. DIAGRAMA DE CABLEADO
10
6. ESPECIFICACIONES TECNICAS
10
INSTRUCCIONES IMPORTANTES
DE SEGURIDAD
- Lea la instrucciones cuidadosamente
- Sigua todas instrucciones
- Conserve las instrucciones
- Tenga presente todos los avisos
- Utilice únicamente accesorios y repuestos
especificados por el fabricante.
Cable de red y enchufe
No inutilice el polo de toma de tierra del
enchufe. Es por seguridad.
Si la toma donde va a instalar la unidad
no dispone de la adecuada toma de tierra,
contacte con un electricista especializado
para sustituir la toma obsoleta.
Proteja el cable de pisadas o pinzamientos
particularmente en las zonas donde sale
del aparato o de la toma de red.
Limpieza
Cuando el aparato necesite limpieza, debe
utilizar un aspirador para aspirar el polvo
acumulado en la unidad.
No use disolventes como bencenos, alcoholes
u otros fluidos de gran volatilidad o
inflamables para la limpieza del aparato.
Use un paño seco para ello.
Reparación
Diríjase a un tecnico especializado. Para
rediucir el riesgo de descargas electricas
no trate de utiliar el aparato más allá de
lo descrito en este manual ha menos que
sea una persona cualificada para ello.
La reparación es requerida cuando el
aparato ha sido dañado de alguna manera
así como el cable de red o enchufe, haya
caido líquido en la unidad u otros objetos
sobre el aparato, haya sido expuesto a la
lluvia o humedad, no funcione con
normalidad o haya caido al suelo.
User Manual / Manual de uso
Pag. 4
SIMBOLOS DE SEGURIDAD
5. WIRING DIAGRAM
CAUTION
Balanced
RISK OF ELECTRIC SHOCK
DO NOT OPEN
Tip
Ring
Sleeve
TIP RIN⨀
SLEEVE
SLEEVE RIN⨀
TIP
1
2
3
Tip
Ring
Sleeve
1
2
3
Tip
TIP RIN⨀
SLEEVE
Ring
Sleeve
Este símbolo se usa para indicar que
hay algunos terminales peligrosos
en la unidad bajo condiciones de uso
normales.
1
2
3
Unbalanced
Tip
Ring
Sleeve
1
2
3
Tip
1
2
3
TIP RIN⨀
SLEEVE
TIP SLEEVE
Sleeve
1
2
3
Centre
Screen
Tip
TIP SLEEVE
SLEEVE TIP
Tip
Sleeve
Sleeve
Tip
Ring
Sleeve
Tip
Ring
Sleeve
Tip
Centre
Screen
TIP RIN⨀
SLEEVE
SLEEVE RIN⨀
TIP
Sleeve
TIP SLEEVE
Este simbolo es usado para indicar
que el componente especificado
sólo debe ser sustituido por el
marcado ene el manual
Tip
Ring
Sleeve
Terminal de masa
Corriente/Tensión alterna
Centre
Terminal peligroso
Screen
TIP RIN⨀
SLEEVE
1
2
3
1
2
3
ON: Denota que el aparato está encendido
OFF Denota que la unidad está apagada
Asegúrese de apagar la unidad para prevenir
descargas eléctricas electricas.
Output
480W
Power
supplier
Input
connector
220V
Input
impedance
Input
sensitivity
Using
method
20K
AVISO: Describe las precauciones que deben
ser tenidas en cuenta para evitar el peligro
de daños en el usuario.
PRECAUCION: Describe la precauciones
que deben ser observadas para prevenir
dañosen la unidad
0dB
AVISO
Single Unit
Outpu t
voltage/impedance
Output power
480W
Distortion
<0.5%
Frequency
response
50Hz-22KHz -3dB
Alimentación
Asegúrese de que el voltaje marcado
es el mismo que el de la toma antes
de encender la unidad
Desconecte la unidad durante las
tormentas electricas o si no va a ser
usado durante largo tiempo
SNR
Dimensions
(L W H)
Conexión Externa
483(W) 400(D)
88.8(H)mm
User Manual / Manual de uso
Hay algunas áreas con tensiones elevadas
en el interior, para reducir el riesgo de
descargas electricas no quite ninguna tapa
con la red conectada.
La tapa deber ser retirada sólo por personal
especializado.
No hay elementos de control para el
usuario en el interior
Fusible
Para prevenir fuego, asegúrese de usar
fusibles del valor especificado de corriente
tensión y tamaño. No use uno diferente
o cortocircuite el fusible.
Antes de sustituirlo, apague la unidad de
la red.
Terminal de masa
Asegúrese de conectar este terminal para
evitar descargas eléctricas durante el
funcionamiento de la unidad.
Nunca corte o desconecte el cable interno
o externo de masa.
Condiciones de funcionamiento
BalancedXLR
1/4"TRS
0- 4
0- 8
0-70V (10. 2 )
0-100V(20. 8 )
No quite ninguna tapa
El cableado externo a los terminales de
salida requiere la instalación por parte
de una persona especializada
Pag. 5
Este aparato no debe ser expuesto al
goteo o caída de líquidos en su interior
Para reducir el riesgo de descargas
electricas, no exponga la unidad a la
humedad o la lluvia.
No use este aparato cera del agua.
Instalelo de acuerdo a las instrucciones
del fabricante. No lo instale cerca de
fuentes de calor como radiadores o
registros de calor, estufas u otros
aparatos (incluidos amplificadores) que
produzcan calor. No bloquee las
aberturas de aire de la unidad.