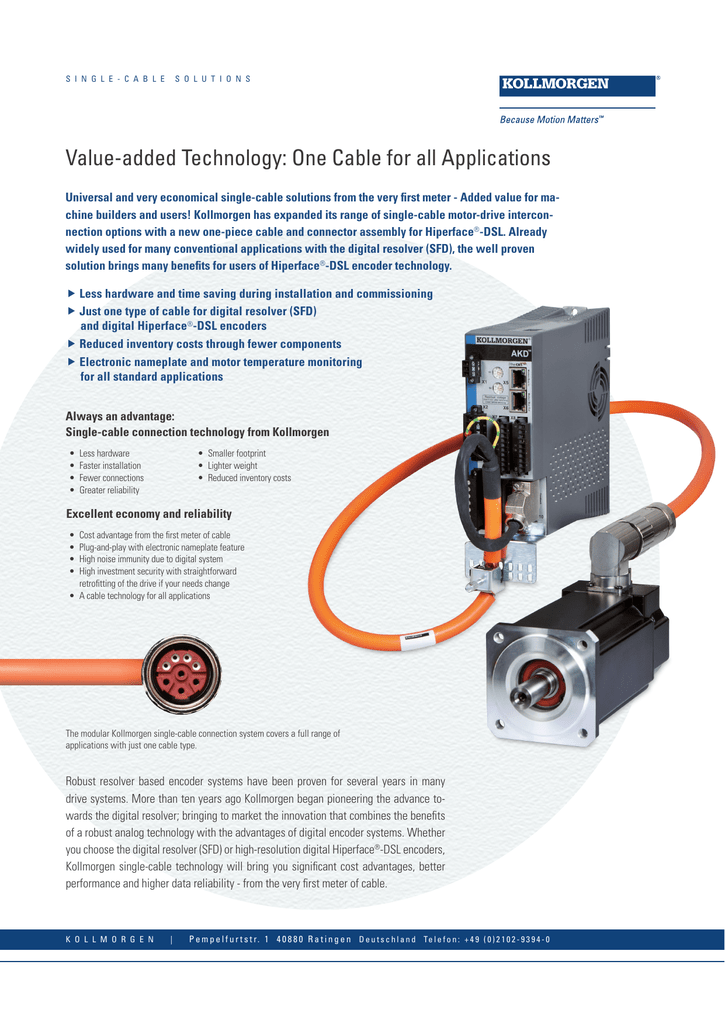 S I N G L E - C A B L E
S O L U T I O N S
Value-added Technology: One Cable for all Applications
Universal and very economical single-cable solutions from the very first meter - Added value for machine builders and users! Kollmorgen has expanded its range of single-cable motor-drive interconnection options with a new one-piece cable and connector assembly for Hiperface®-DSL. Already
widely used for many conventional applications with the digital resolver (SFD), the well proven
solution brings many benefits for users of Hiperface®-DSL encoder technology.
ffLess hardware and time saving during installation and commissioning
ffJust one type of cable for digital resolver (SFD)
and digital Hiperface®-DSL encoders
ffReduced inventory costs through fewer components
ffElectronic nameplate and motor temperature monitoring
for all standard applications
Always an advantage:
Single-cable connection technology from Kollmorgen
• Less hardware
• Faster installation
• Fewer connections
• Greater reliability
• Smaller footprint
• Lighter weight
• Reduced inventory costs
Excellent economy and reliability
• Cost advantage from the first meter of cable
• Plug-and-play with electronic nameplate feature
• High noise immunity due to digital system
• High investment security with straightforward
retrofitting of the drive if your needs change
• A cable technology for all applications
The modular Kollmorgen single-cable connection system covers a full range of
applications with just one cable type.
Robust resolver based encoder systems have been proven for several years in many
drive systems. More than ten years ago Kollmorgen began pioneering the advance towards the digital resolver; bringing to market the innovation that combines the benefits
of a robust analog technology with the advantages of digital encoder systems. Whether
you choose the digital resolver (SFD) or high-resolution digital Hiperface®-DSL encoders,
Kollmorgen single-cable technology will bring you significant cost advantages, better
performance and higher data reliability - from the very first meter of cable.
K O L L M O R G E N
|
P e m p e l f u r t s t r. 1 4 0 8 8 0 R a t i n g e n D e u t s c h l a n d Te l e f o n : + 4 9 ( 0 ) 2 1 0 2 - 9 3 9 4 - 0
S I N G L E - C A B L E
S O L U T I O N S
Single-cable Solutions in Practice
Innovation from Kollmorgen: Single-cable covers all standard applications!
The advantages of the single-cable technology are obvious: As each axis includes both motor power and feedback in a single cable assembly, it removes the need for one cable and
two connectors. Thus installation cost are reduced by half - and with the removal of two
connections - sources of error also decline. The performance of high-resolution feedback
systems is not required for some applications. Here, the Kollmorgen Smart Feedback Device (SFD), under the generic term "digital resolver (SFD)", offers a digital feedback system
that can be used for many common applications. These cost-effective feedback systems
offer the further benefit of single-cable technology where high resolution encoder systems
are not needed - economically from the first meter!
Single-cable drive packages with scalable functionality and performance
Servomotors with single-cable option
Servo Drive
Stall
Torque
[Nm]
Peak
Torque
[Nm]
Digital
Resolver
SFD
Hiperface®
DSL
Holding
Brake*
AKD
Standard
AKD
BASIC
AKD
PDMM
AKM1
0,40
1,44






AKM2
1,42
4,82






AKM3
2,88
10,22






AKM4
6,00
20,40






AKM5
14,30
38,40






AKM6
24,50
65,20






* In combination with digital resolver (SFD) from June 2013
Single-cable drive packages with AKM Washdown- and Washdown Food grade servo motors, for packaging applications in the food industry or use in rough environments, are
available.
The powerful AKD PDMM servo drive with integrated motion control and an AKM servo motor.
Just one example of the flexibility of Kollmorgen's modular single-cable system.
K O L L M O R G E N | w w w. k o l l m o r g e n . c o m
© 2012 Kollmorgen Corporation KM_FY_000184_RevA_UK
Specifications are subject to change without notice. It is the responsibility of the product user to determine the suitability of this product for a specific application. All trade marks are the property of their respective owners.

* Your assessment is very important for improving the work of artificial intelligence, which forms the content of this project